Happy Monday everyone!
I hope you all had the best weekend! Ours was jam-packed with fun things, including a dinner date to RA Sushi, an engagement party for our close friends, cleaning out closets, followed by a shopping spree (okay, that was just me) and the Jon Pardi + Luke Bryan concert at Sprint Center last night was the cherry on top! I was a little tired when the alarm went off this morning, but it was totally worth it. I'll be sure to get a good night's sleep tonight to make up for it — after I watch Bachelor in Paradise, of course. Ugh, I hate that this show is consuming four hours of my life each week, but I just can't. stop. watching. It's so entertaining to me. Thankfully, I know a lot of you are watching too, so you won't judge me. ; )
Anyway, back to the real reason you are here — FOOD IN KANSAS CITY. This post is long overdue, because I get messages on Instagram all the time asking for restaurant recs in KC. I don't know about you guys, but I am just awful at coming up with ideas on the spot. Last week using the "questions" feature on IG stories, I asked you all to tell me your favorite spots for dinner, drinks, or really anything in KC! I got an overwhelming amount of responses, so I figured it would be best to share them here. This way I can also add to the list in the future as I try new and exciting places or hear about them from you. 🙂
I actually went to the trouble of categorizing them by location (i.e. plaza, Westport, Park Place, Downtown, etc.), which will be especially helpful if you are out of town and not familiar with most of these spots. If I messed up and put something in the wrong group, please let me know! I have lived in the KC area my whole life, but I'm super directionally challenged and struggle with knowing where things are. The first step is admitting it, right?
I also tried to include whether they are a good spot for brunch, lunch/dinner, drinks, etc. based on all of your help!
Here we go!
Country Club Plaza
Gram & Dun (awesome patio)
Cooper's Hawk (great food and wine; $$)
Tannin Wine Bar
Rye
Zocalo (Mexican/margs)
O'Dowds (good food; rooftop bar)
Seasons 52 (fancy; amazing food)
Jax (good seafood; rose on tap)
Classic Cup (good for lunch)
The Oliver
Park Place/Leawood/Prairie Village
RA Sushi (reasonably priced; good happy hour)
The Grille (upscale; great food)
North
Pig & Finch (grapefruit cocktail)
La Bodega
Room 39 (Leawood & KCMO)
801 Chophouse
The Ainsworth (known for their mac & cheese stuffed cheeseburger)
The Mixx – lots of healthy options, great salad bar
t.Loft – healthy, casual; bowls, juices, shakes and snacks
Caffeteria – great brunch/lunch and dinner options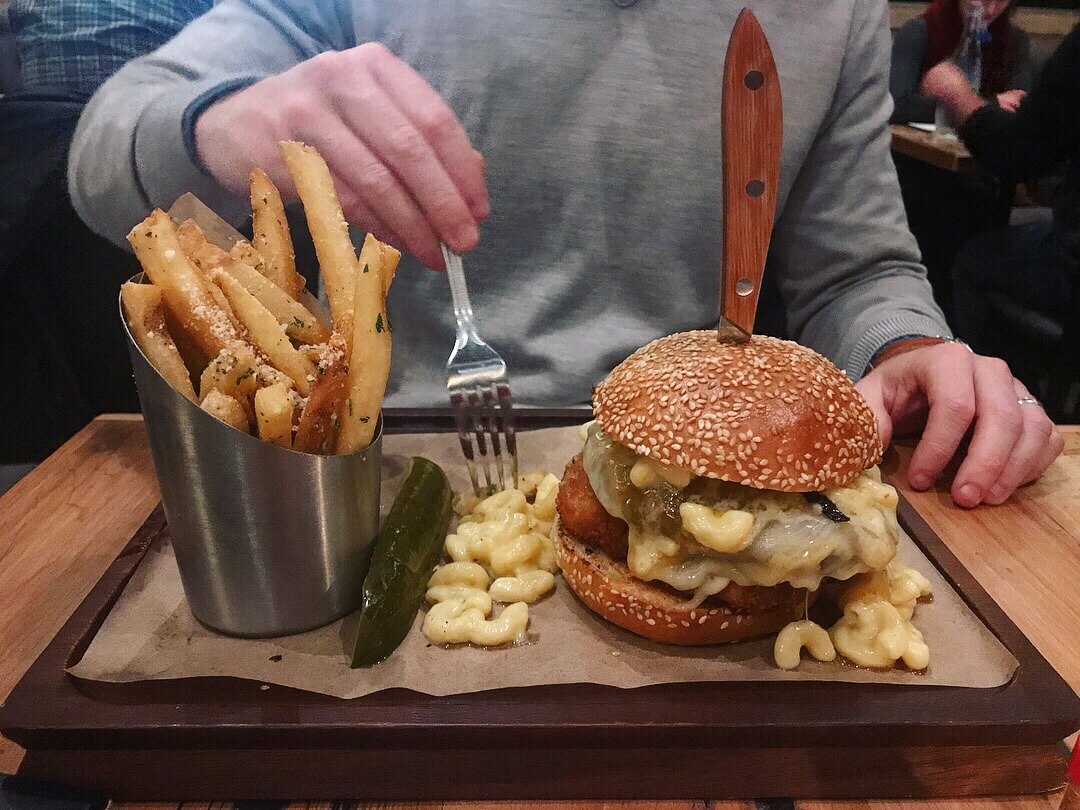 Downtown Kansas City/Power & Light/Crossroad's
SOT (drinks)
Julep (drinks)
County Road Ice House
Cafe Gratitude
iTap (tons of draft beer; can bring in your own food)
Nara (sushi)
Rockhill Grille
Taco Republic (lots of outdoor seating; delicious Mexican)
Mission Taco
Tom's Town
The Jacobson
Boulevard Tavern
Milwaukee Deli (great pizza)

Ron Rico (Puerto Rican food & best mojitos)

Cafe Trio (patio is great for happy hour)

Chezelle (for breakfast/brunch – great crepes)
Grinders Pizza
Extra Virgin (great happy hour)
Manifesto (great drinks, candlelit, used to be a speakeasy)
Westside Local
Il Lazzarone for pizza & draft beer
El Patron (Mexican)
Manny's (Mexican)
Empanada Madness
Los Tules – downtown, great Mexican
Corvino's
Ca'Va
Brown & Loe
Green Lady Lounge (good live music)
Ruby Jean Juicery – on Troost
Affare (especially for brunch)
Bar K (dog park, restaurant & bar)

Farmhouse

The Russell
Extra Virgin
Paul & Jack's Tavern (North KC)
Pierpont's
Blue Line – good food, drinks & atmosphere
You Say Tomato – good brunch
Osteria Il Centro – good food, pasta, wine
Beignet – New Orleans-themed spot serving sweet & savory beignets & crêpes along with classic Cajun dishes
Vietnam Cafe – for dinner/iced coffee
Trezo Mare – Italian dining
Novel – contemporary, American cuisine
The Rieger
Anton's — American tavern spotlighting dry-aged steaks & numerous draft beers
Nomad's – coffee & cocktail bar
Lidia's – Italian
Westport/Waldo/Brookside
Beer Kitchen — great brunch, lunch & dinner
HopCat (good food; rooftop bar)
TikiCat (good drinks; cool atmosphere)
Brookside Barrio (amazing Mexican, great drinks)
Char Bar (good food; outdoor games)
Summit Grill (great food; brunch-dinner)
Port Fonda (great Mexican; drinks)
Bluestem (great drinks & food)
McCoy's
Bella Napoli in Brookside
Blue Sushi Sake Grill (in Westwood)
Pot Pie
Aladdin's
Ragazza (for dinner)
Artego Pizza
West Bottoms/River Market
Voltaire
Swordfish Tom's (Crossroads; for drinks)
Antler Room
Tribe (River Market)
KC Taco Company
The Ship – fun for drinks
South KC (Olathe, Overland Park)
Coco Bolo's (great Mexican food/drinks)
Rock 'n Brews
Tavern at Mission Farms / Prairie Village
Story
K Macho's (Mexican)
Red Door Grill
D'Bronx (pizza)
Garozzo's (Italian)
J. Alexander's
Jalapeno's (Mexican)
Dolce Bakery
McLain's
Sushi UNI
Third Street Social (Lee's Summit)
Pearl Tavern (Lee's Summit; great seafood)
Jasper's Italian Restaurant
I hope this extensive list helps give you some ideas of new places to try in Kansas City! Even though I was born and raised in this area, it amazes me how many of these places I haven't tried, or even heard of! We definitely need to get out more. ; ) Thank you all so much for helping me create this list! Like I said, I will try to continually update it as I come across any new hidden gems, and I'm going to try to start crossing some of these off of my list! Please let me know if you try anything new that you found here! 🙂
Have a great week!
XO,
Shanna