Healthy Crockpot Lasagna with Chicken and Veggies
Healthy Crockpot Lasagna with Chicken and Veggies is a staple in our home, because it's quick, easy and SO delicious. I hope it will become a staple in yours as well!
Whenever I'm planning meals for the week, I always ask Ethan if there's anything specific he wants on the menu. His typical response is, "I trust you". While I totally appreciate his trust in me, sometimes I'm really looking for some inspiration!
Last Sunday, I told him I wanted to make a crockpot meal, so we were brainstorming a few different options. I made SkinnyTaste's turkey, white bean & pumpkin chili the previous week, so chili was off the table. Every time Ethan does offer up an opinion regarding our meals for the week, he requests lasagna in some form. It never fails.
If you haven't tried it already, see my Lasagna Roll-Up recipe for another tasty option.
why crockpot meals are perfect for sundays
I love having crockpot meals for dinner on Sundays. This is mostly because Sunday is my "get shit done" day. It's the day I do my grocery shopping & meal prepping for the week, so it's nice to have something cooking itself while I'm busy with other things. In addition, it makes a ton of food for just the two of us. You know what that means — leftovers for work lunches the next few days. You just can't beat leftovers, amiright?
Once Ethan requested lasagna, I hopped on Pinterest and searched "healthy crockpot lasagna". Of course, there were approximately five billion hits, but I landed on this version from Pinch of Yum. I have made several of her recipes before and I've never been disappointed. I figured this one would be no different!
POY's version is vegetarian; however, all you wives out there probably know that men typically want some meat for dinner (at least mine does). I added lean ground chicken to ours (hence the name), but feel free to keep it veggie if that's your style! We were already having a few other meatless meals that week. I figured I'd add some meat here so Ethan didn't go too crazy. 😉 I made a few other adjustments to the recipe, but if you want to check out the original, click here.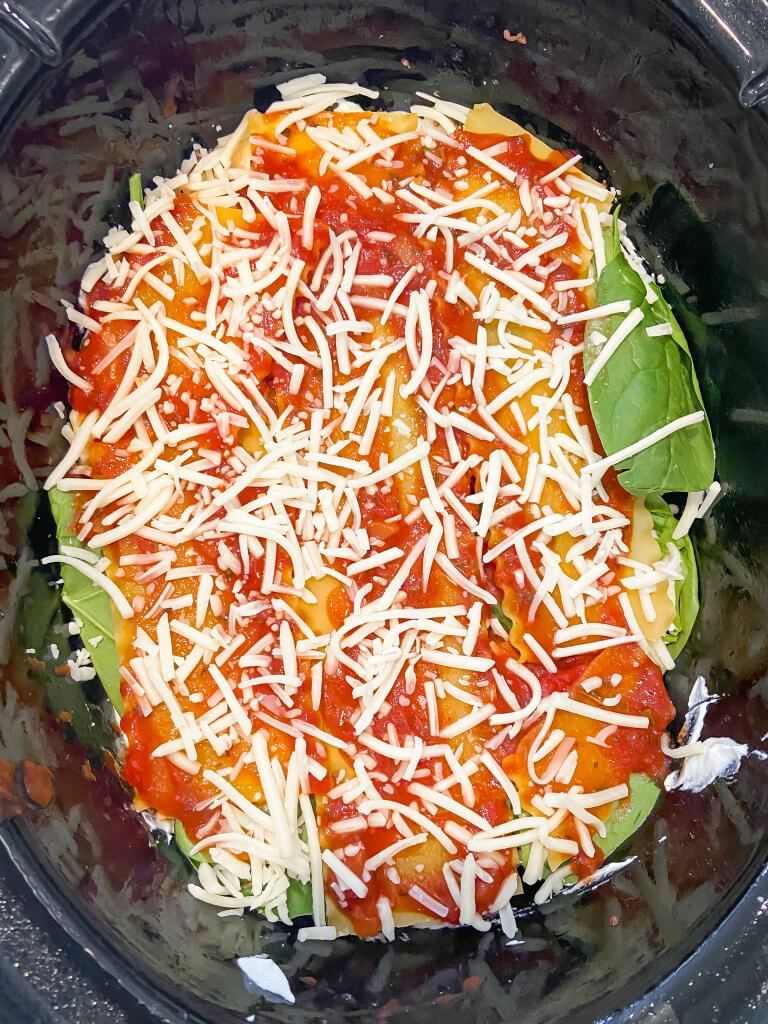 healthy crockpot lasagna with chicken and veggies: super easy and full of nutrition
This meal is extremely easy and kinda fun to make. Ethan loves it and it tastes just as delicious reheated! That is hard to come by if you ask me! I also feel good about everything that's in it. Whole grains, lots of greens, and lean, healthy sources of protein! Delizioso!
If you mess up the order of the layers, don't fret. It's honestly just a big ol' mess at the end anyway. You're bound to get a little bit of everything once you scoop it out! As you can see from my pictures, it's not the prettiest meal either; it's what's on the inside that counts, right? ; ) Okay, Healthy Crockpot Lasagna with Chicken and Veggies recipe, coming right up!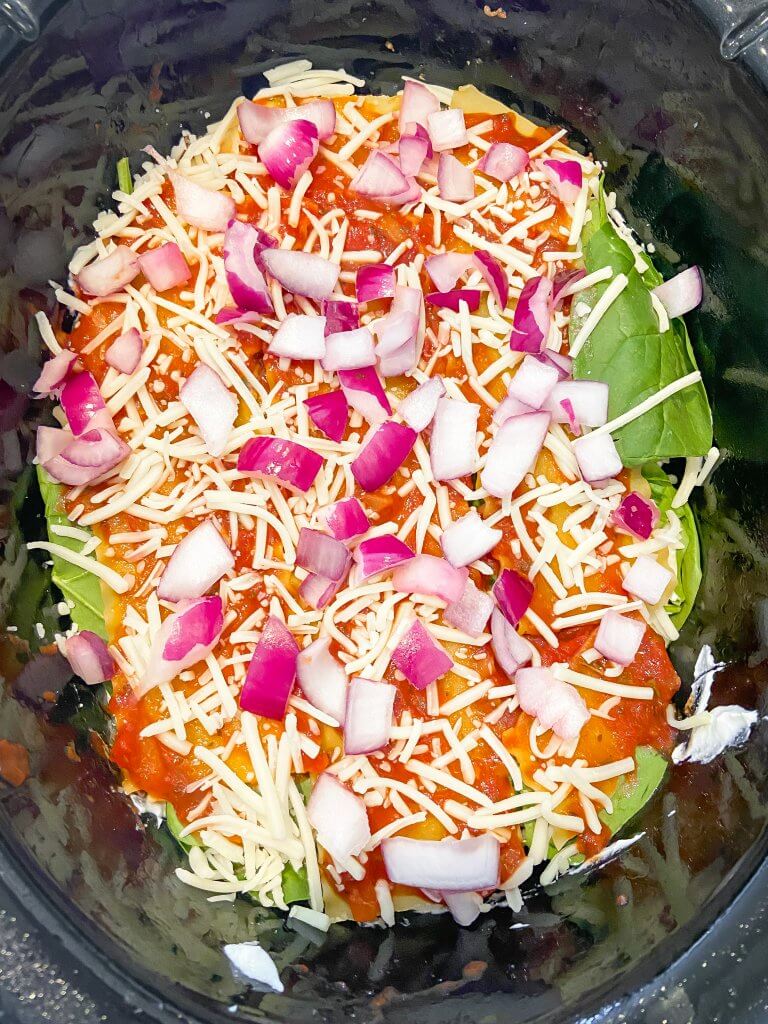 Healthy Crockpot Lasagna with Chicken and Veggies
This Healthy Crockpot Lasagna with Chicken and Veggies is delicious and packed with nutritious ingredients. The best part is the crockpot does most of the work for you!
Ingredients
1

lb

lean ground chicken

or ground meat of choice

1

medium yellow onion

chopped

1/2

Tbsp

garlic

minced

24

oz

marinara sauce

9

lasagna noodles

whole wheat if available

1 1/2

cups

ricotta cheese

1 1/2

cups

plain Greek yogurt

3-4

cups

fresh spinach

2

cups

shredded mozzarella cheese
Optional toppings:
Shredded Parmesan cheese, chopped red onion, Italian seasoning, additional sauce for serving
Instructions
First, cook the lean ground chicken in a skillet over medium-high heat. Once chicken is browned and cooked through, transfer to a large bowl and set aside.

Next, cook the chopped yellow onion and garlic in the same pan, for about 2-3 minutes. Once cooked, transfer to the same bowl as the ground chicken, and stir to combine.

Spray the crockpot with nonstick cooking spray. Spread ~1/2 cup of marinara sauce on the bottom so the noodles don't stick.

Break 3 noodles so that they fit and mostly cover the bottom of the crockpot, as pictured above.

Layer the ingredients in this order:

-1/2 cup of ricotta + 1/2 cup of plain Greek yogurt (I combine these in a measuring cup before spreading over noodles)

-1/3 of your turkey and onion/garlic mixture

-1 cup of fresh greens

-2/3 cup of shredded mozzarella cheese

-1/2 cup marinara sauce

Repeat layers two more times for a total of three complete layers. End with a layer of noodles on top, covered with a thin layer of sauce and a little bit more shredded cheese. Top with chopped red onions, if desired, before turning crockpot on to cook.

Cover and cook on high for 3 hours or low for 5-6 hours. Use a pasta claw to scoop it out of the crockpot, or cut with a knife.

Serve with Italian seasoning and Parmesan cheese on top, if desired.
Notes
Pinch of Yum recommends turning the crockpot off and letting the lasagna sit for an hour to allow the moisture to get soaked up. We don't do this and it turns out fine!
Nutrition
Calories:
397
kcal
Carbohydrates:
34
g
Protein:
30
g
Fat:
15
g
Saturated Fat:
7
g
Cholesterol:
87
mg
Sodium:
756
mg
Potassium:
874
mg
Fiber:
2
g
Sugar:
6
g
Vitamin A:
1805
IU
Vitamin C:
10.6
mg
Calcium:
344
mg
Iron:
2.5
mg
Voila! This Healthy Crockpot Lasagna with Chicken and Veggies is sure to please the whole family!
Tag me on Instagram @wellnessforthewin and use the hashtag #wellnessforthewin so I can see your creations! Or pin this recipe on Pinterest so you can easily refer back to it. Trust me – you'll want to make it again. 😉
Enjoy!
Shanna