How To Make Roasted Vegetables
If I had a dollar for every pan of roasted veggies I have made in my lifetime, I would be rich. If I had a dollar for every time someone asked me how I make my roasted veggies, I would be even richer. I'm sharing exactly how to make roasted vegetables in this post, so you can say goodbye to boring, mushy, flavorless veggies forever. You're welcome. ; )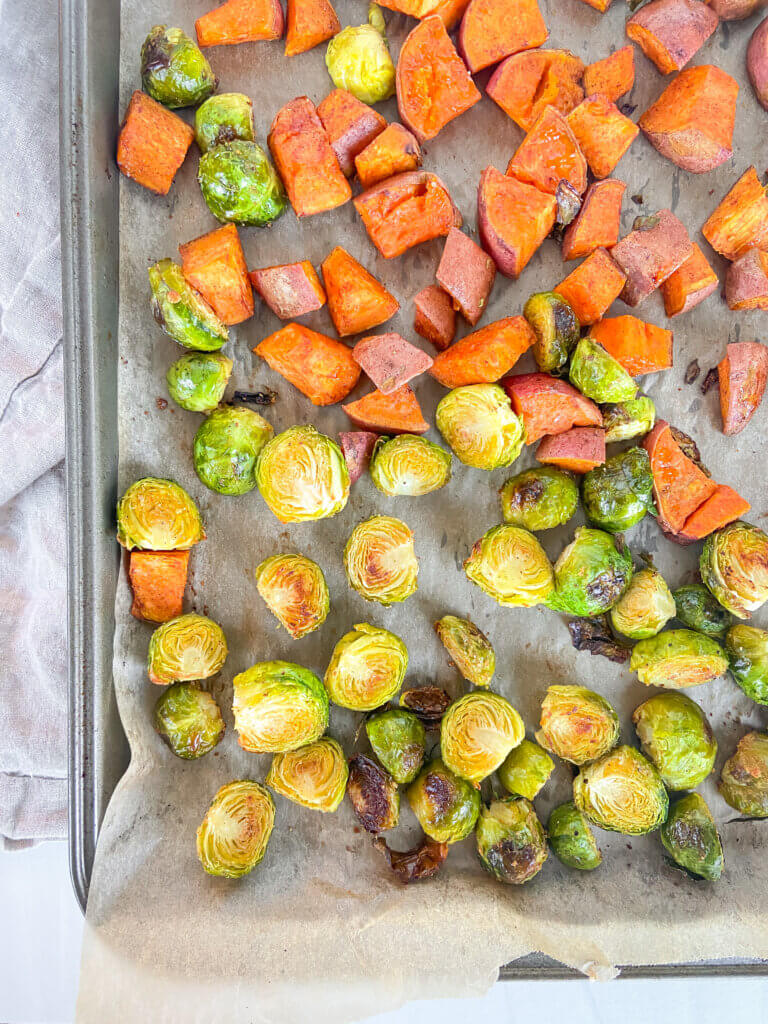 are roasted vegetables healthy?
YES! Roasted vegetables are extremely nutritious!
Vegetables contain a wide variety of vitamins and minerals, as well as fiber — which has so many amazing health benefits — plus phytochemicals and antioxidants that may reduce inflammation and help fight off disease.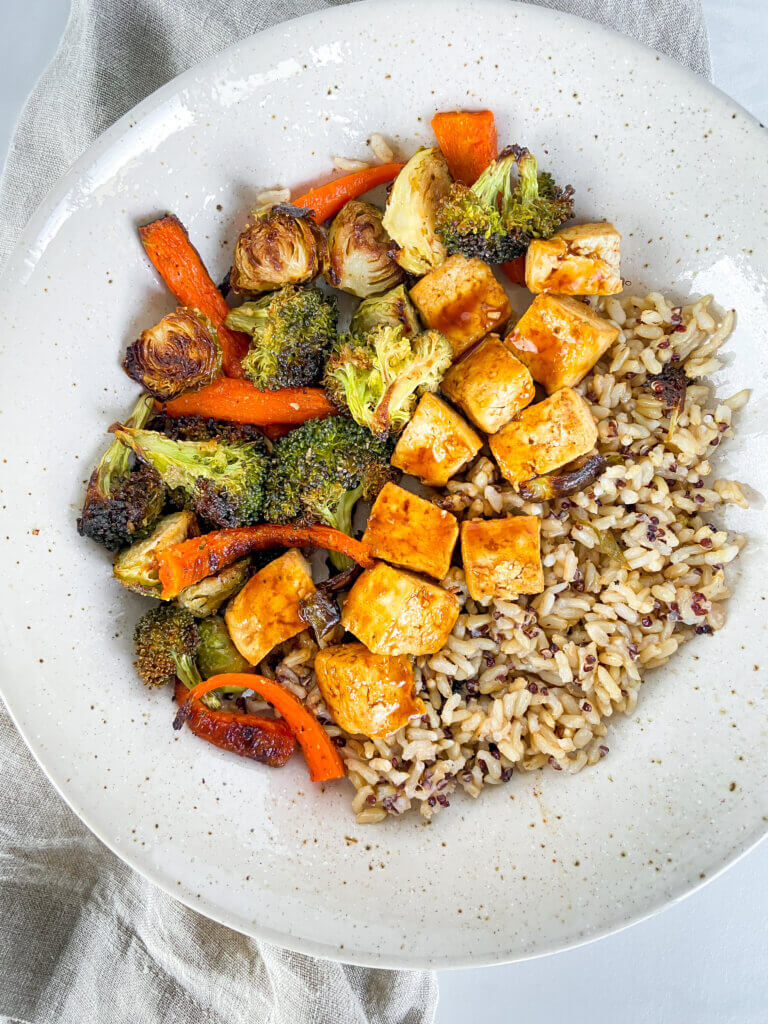 I also want to add that roasted vegetables taste WAY better than some other methods of cooking (looking at you, steaming). In my opinion, roasting produces the most delicious flavor and makes them taste amazing! I have converted several clients to veggie lovers thanks to this easy cooking method. If you've disliked a certain veggie in the past, try it again roasted and see if you change your mind! Especially Brussels sprouts. Trust me. ; )
which is healthier: cooked or raw vegetables?
I'm sure you've heard at some point that cooking vegetables depletes the nutrients, and in some cases, that may be true; however, cooking certain veggies actually enhances the availability of some of the nutrients in them.
Water-soluble vitamins, including B vitamins and vitamin C, are most vulnerable during cooking. Cooking methods where the vegetables come in less contact with water retain more nutrients, including steaming, roasting, grilling and stir-frying. Boiling causes the most nutrient losses.
Head to this article written by a Registered Dietitian for more information on which cooking methods are best for which vegetables in order to get the most nutrition.
Bottom line: "No one cooking method will preserve 100% of the nutrients and protective phytochemicals in vegetables." – Leslie Beck, RD
The best thing you can do is incorporate a wide variety of fruits and vegetables in your diet, and enjoy some cooked and some raw to reap the most benefits.
why you should add a source of fat to your vegetables
Many vegetables contain fat-soluble vitamins, including vitamins A, E and K. The last fat-soluble vitamin, vitamin D, is mostly found in fortified dairy products, egg yolks, cereals and fatty fish, but the best way to get it is from the sun!
Note: Vitamin D is actually a pretty common deficiency since we can't fully meet our needs through food, unlike most other nutrients, especially during the winter months, so you might consider getting your levels checked with your doctor and/or considering supplementation.
Our bodies can't absorb these fat-soluble nutrients unless we consume them with some type of fat source, so it's actually important to include some fat, such as oil! We'll touch on which kinds I recommend next.
Not only does adding a fat source help with absorption of important nutrients, but it also significantly enhances the flavor and makes vegetables taste SO much better. Don't be afraid of fat! Yes, fat is more calorie dense, so you do want to be mindful of quantity overall, but it is an important part of our diets, has important health benefits and can really help with satisfaction and satiety after eating.
what is the best oil for roasting vegetables?
I recommend using extra virgin olive oil, olive oil or avocado oil for your roasted vegetables. (Click here for more information on the smoke point of olive oil.)
I typically use anywhere from one to three tablespoons of oil, depending on the amount of veggies I'm making at the time. I like to make a large amount at once so I have enough for leftovers the next day or two.
I often get questions about how I get my veggies to stay crispy the next few days. Unfortunately, they are not going to be as crispy leftover as they are fresh, but I still enjoy them! To each their own. I typically just heat them up in the microwave, but reheating them in the air fryer is a great way to crisp them back up!
what temperature is best for roasting vegetables?
I usually roast my vegetables at 400 degrees Fahrenheit, and no higher than 425 degrees. At this temperature, usually about 25-30 minutes is all you need! Of course, all ovens cook a little differently, so you may need more or less time. The first few times you're making these, keep an eye on them to see what length of time is best!
My secret to perfectly roasted veggies is flipping them halfway through, around the 15-minute mark. This just helps them cook more evenly and thoroughly! You can also gauge how well they are cooking and determine if you might want to add or reduce the cook time.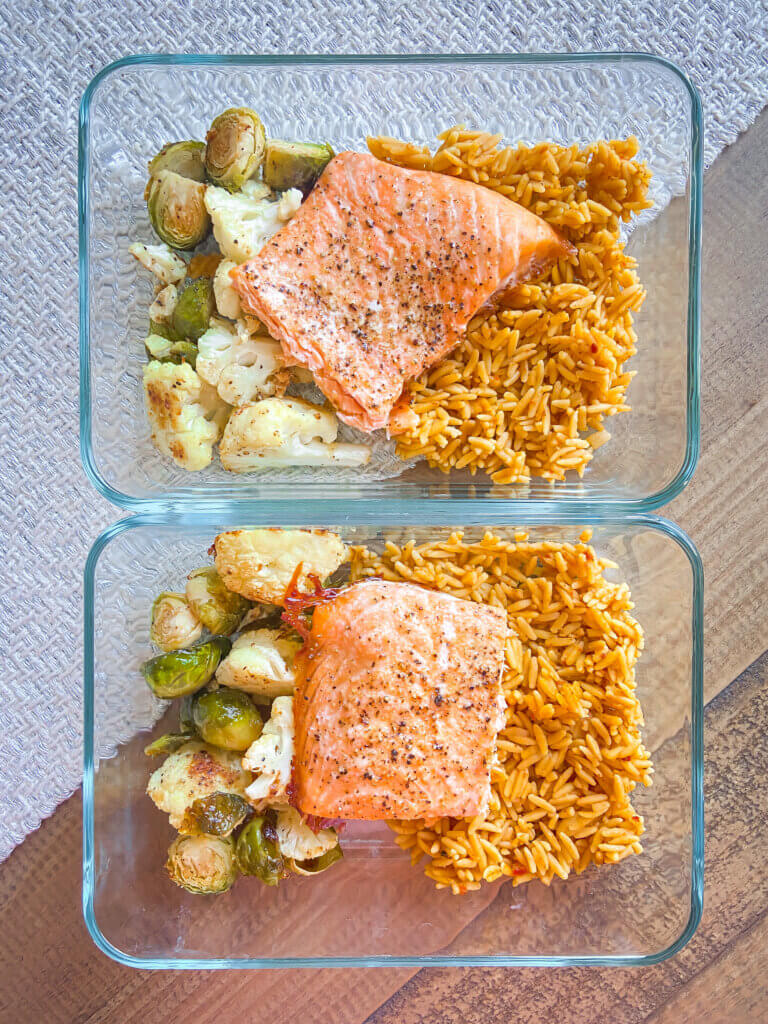 Another thing I wanted to note is that sometimes if I am cooking too many things at once (i.e. have multiple pans in the oven on both racks), then they don't cook as quickly or the air doesn't circulate as evenly. In that case, I will typically swap the racks that the pans are on when I am tossing them at that 15-minute mark.
what should I season roasted vegetables with?
This is totally up to you, but I personally like to go very simple with my seasonings.
I simply use fresh cracked salt & pepper and garlic powder for the following:
Broccoli
Cauliflower
Brussels sprouts
Zucchini
Onion
If I'm making carrot or sweet potato "fries", I mix things up a bit. I like to add garlic powder, fresh cracked salt & pepper, paprika, and chili powder to make them taste more like seasoned fries. Such a delicious savory mix!
Majority of the time for sweet potatoes, I like to go sweet and add nothing but cinnamon and EVOO or avocado oil. Tastes SO good with almond butter drizzled on top. YUM. Don't knock it 'til you try it!
what about salt?
I used to avoid adding salt to my food, including my roasted vegetables, but now I do add some fresh cracked salt majority of the time! Salt can really enhance the flavor of foods, and believe it or not, the salt shaker actually isn't the biggest culprit when it comes to sodium intake in the typical American diet.
The biggest contributors of sodium to most people's diets? Processed foods and restaurant foods. Preparing fresh foods at home more often (like these roasted vegetables) is a great way to significantly reduce overall sodium intake. So there is definitely room to add a pinch of salt to your veggies!
However, if you are like me and have a baby you're feeding, too, you will want to avoid adding salt until AFTER cooking and just add it to your individual portion, since babies kidneys can't handle a lot of sodium. It is inevitable that you will have ingredients in your foods here and there that contain sodium, but it's good to cut back where you can. Check out my post on baby-led weaning here for more info on feeding babies!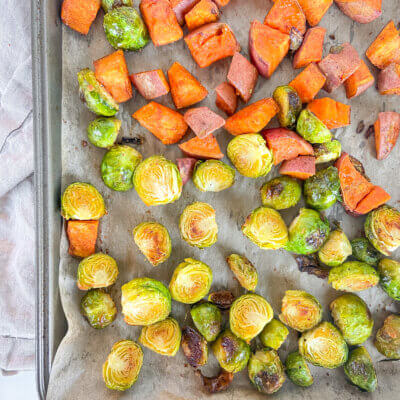 Simple Roasted Vegetables
Simple Roasted Vegetables are super easy to make and taste SO much better than steamed veggies! If you are not a veggie lover, this will change your life – trust me!
Ingredients
3

Tbsp

extra virgin olive oil

2

medium sweet potatoes

chopped

2

cups

broccoli

cut into florets

2

cups

cauliflower

cut into florets

Fresh cracked black pepper

to taste

2

tsp

garlic powder

more as needed

2

tsp

cinnamon

more as needed
Instructions
Preheat oven to 400 degrees Fahrenheit.

Prepare a large baking sheet: line with parchment paper or foil and spray with nonstick cooking spray.

Place your cauliflower and broccoli florets in a large bowl. Drizzle with extra virgin olive oil to lightly coat. Season with fresh cracked black pepper and garlic powder and toss until oil and seasonings are evenly distributed. Transfer seasoned veggies to prepared baking sheet.

Wipe out the bowl with a paper towel. Add chopped sweet potatoes to the bowl, and repeat the same steps, except season with cinnamon. (Prefer a savory flavor or making sweet potato fries? Add chili powder, paprika, garlic powder and salt and pepper.) Again, toss until oil and seasonings are evenly distributed and sweet potatoes are lightly coated. Transfer to prepared baking sheet.

Make sure there is enough room on the pan for the veggies to be slightly spread out. If they are too crowded on the pan, they will steam, not roast. If needed, use two medium sized baking pans and evenly distribute the veggies.

Place in preheated oven for 30 minutes. Set a timer for 15 minutes so you can toss them halfway through using a spatula. Remove them around the 30 minute mark when they are slightly browned and tender crisp. Cook for more or less time, depending on your preference.

Serve hot. Store in an airtight container in the refrigerator for up to 3 days. Reheat in the microwave OR to get them nice and crispy again, reheat in an air fryer for a few minutes.
Nutrition
Calories:
123
kcal
Carbohydrates:
14
g
Protein:
2
g
Fat:
7
g
Saturated Fat:
1
g
Sodium:
45
mg
Potassium:
353
mg
Fiber:
3
g
Sugar:
3
g
Vitamin A:
6337
IU
Vitamin C:
44
mg
Calcium:
41
mg
Iron:
1
mg
Now you know how to make roasted vegetables, and I am confident you will love them! Please let me know if you have any questions that went unanswered in this post! And if you give them a try, be sure to tag me on IG at @wellnessforthewin so I can see your creations, and share the love by pinning this on Pinterest! 🙂
Enjoy,
Shanna