Five-Ingredient Guacamole
Is the day after Cinco de Mayo too late to be posting a guacamole recipe? I mean, guacamole is delicious at all times, right? After almost three years of blogging you'd think I'd be getting better at the whole planning ahead for holidays thing. But, no such luck. It's crazy how you get through one season of life and you think things will slow down for a while, but then new things pop up and life continues to be one big, busy blur. Don't get me wrong; I like being busy and I've been having so much fun with all the events and activities we've had going on lately. Just don't expect me to get any better at planning ahead in regards to blog posts and recipes. Maybe year four will be my year. 😉
This weekend I made a fresh batch of guac for the first time in who knows how long. Probably since I originally posted this recipe. In case you didn't know, it's been on my Side Dishes & Dips page for over a year (but this version has been tweaked a bit). I'm still slowly creating individual posts for each recipe on my site so there is a clickable link and you don't have to scroll through 15 recipes to find the one you need. Again, maybe by year four this process will finally be complete. Fingers crossed.
Pictured below is my absolute favorite kitchen tool, the Vidalia Chop Wizard. You can chop up a whole onion in just a few minutes with NO tears, and it is perfectly diced! I don't know about you guys, but I just love a uniformly cut onion. Total food nerd over here. Anyway, I use this thing at least twice a week and love it so much. It's only $19 and worth every penny. Click here to snag your own.
The recipe I made on Friday night was extremely simple and required minimal time and effort, which I know we all love. I just combined some super ripe avocados, half a can of diced tomatoes, chopped red onions I already had in the fridge, a splash of lime juice, some pepper, and BAM. It was done in 5 minutes and it was delicious.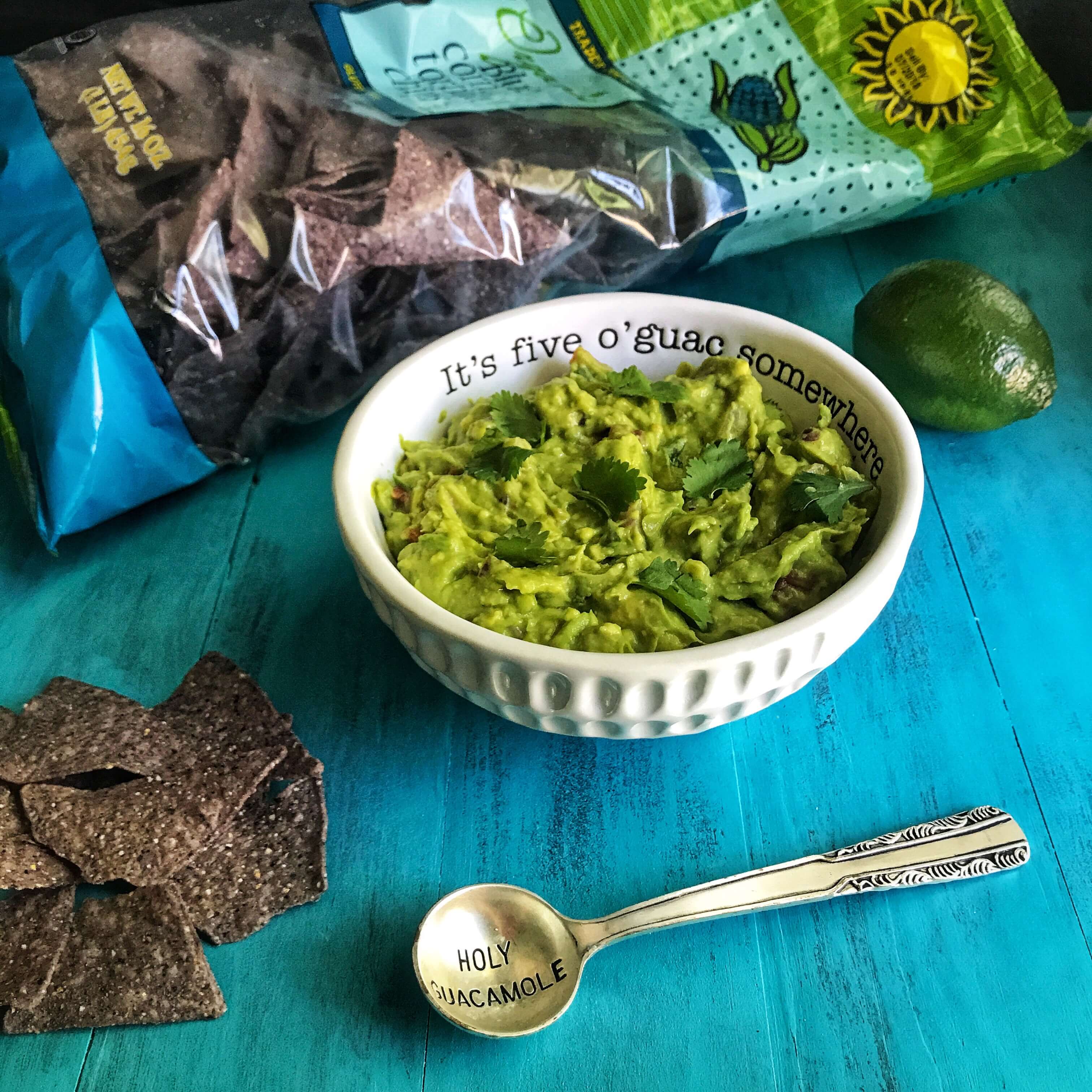 The recipe I'm sharing below has a little bit more to it, but I honestly think the simple version is just as tasty. However, I do love me some garlic & a little bit of spice in pretty much everything I eat, so I'm a big fan of this version too. As with all of my recipes, feel free to adjust according to your personal taste! If you don't like spicy, omit the cayenne pepper; if you don't like cilantro, just leave it out, etc.!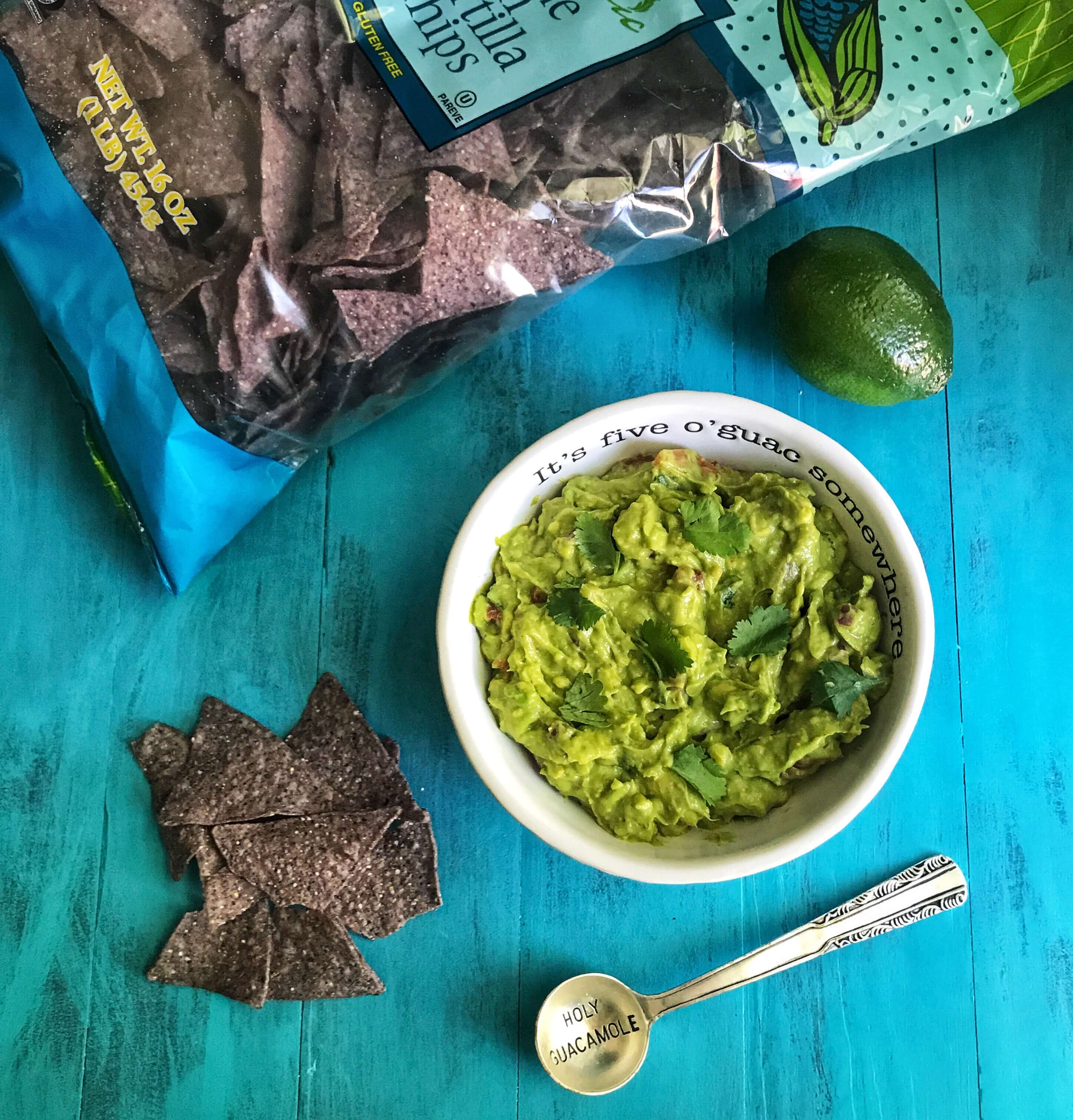 I rarely add salt to recipes, and tried to leave it out of this one since you'll most likely be enjoying it with salty tortilla chips, but Ethan (my husband and built in taste-tester) thought it needed salt, so I did add a pinch. As always, it's your call how much you add! Either way, I loved eating the guac with these blue corn tortilla chips from Trader Joe's!
Now you don't have to spend extra on guac at Chipotle, or even go there at all! Just whip up my At-Home Chipotle Burrito Bowl along with this Five-Ingredient Guac and you are ALL SET!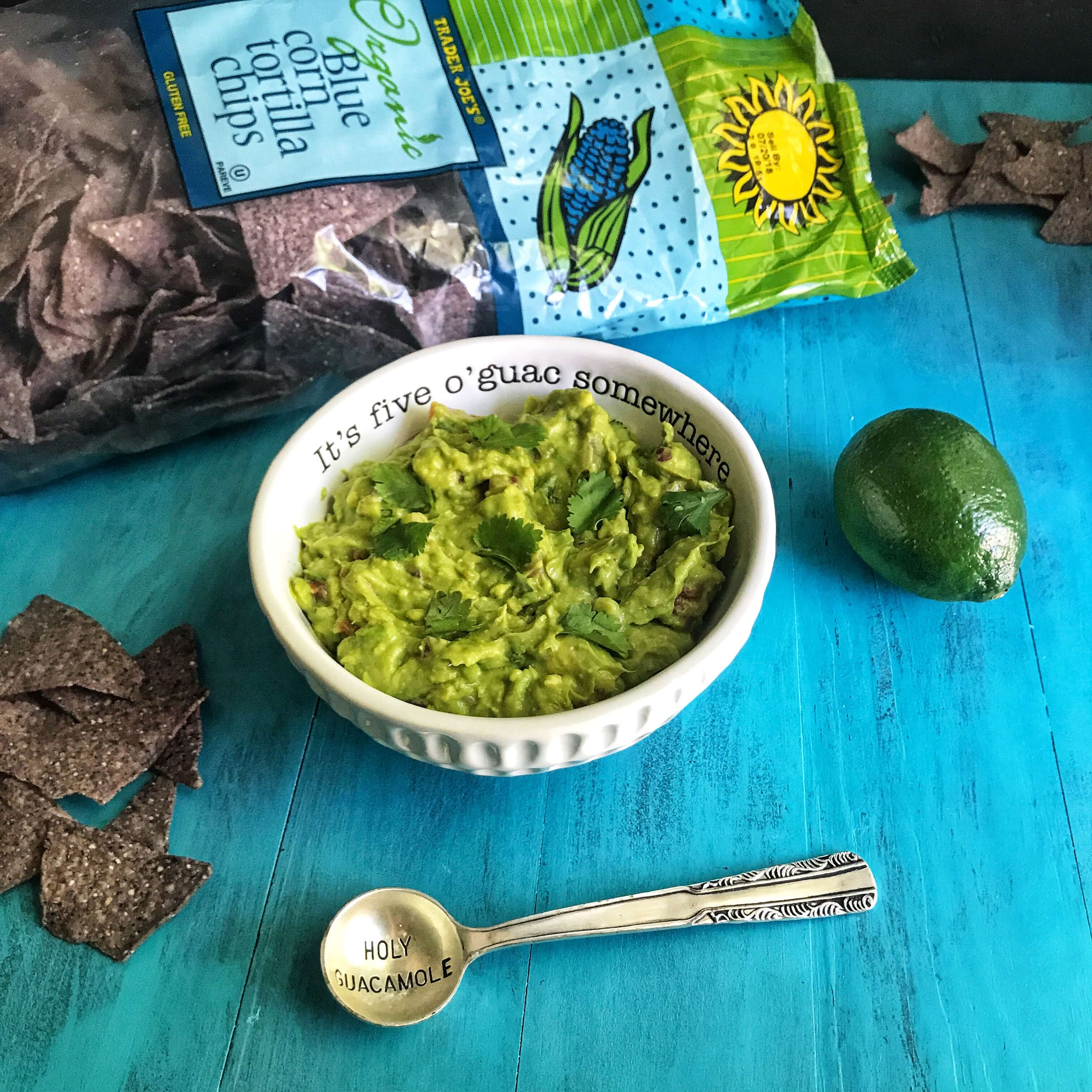 Five-Ingredient Guacamole
A quick and easy recipe for fresh, homemade guacamole, so you no longer have to spend extra at Chipotle!
Ingredients
4

ripe avocados

scooped from peel

Juice from 1 lime

1/3

cup

+ 2 Tbsp finely chopped red onion

1/3

cup

canned diced tomatoes

can also use a fresh Roma tomato, but canned is SO easy

2

cloves

garlic

minced

1-2

Tbsp

chopped cilantro

optional

1/8

tsp

cayenne pepper

optional; add more if you like spicy

Salt & fresh cracked black pepper

to taste
Instructions
Partially mash avocados with a fork in a large bowl, squeeze lime juice over the top and continue to mash to reach desired consistency.

Add chopped red onions to avocado mixture along with diced tomato, garlic, cilantro, cayenne pepper and season with salt and pepper to taste. Stir to combine.
I hope you all had an amazing Cinco de Mayo! Cheers! : )
Shanna
#WellnessForTheWin #MoreGuacPlease #Guacamole