Superfood Salad with Sweet Potatoes and Ginger Almond Dressing
This Superfood Salad with Sweet Potatoes and Ginger Almond Dressing has pretty much been on repeat ever since I first whipped it up with our last Purple Carrot meal box.
In case you're not familiar, Purple Carrot is a plant-based meal delivery service and they have some seriously delicious meals. What I love most about them is that the recipes are so unique. They consist of foods and flavor combinations that I never would've thought of myself!
If you are wanting to reduce your meat intake OR increase your veggie intake, I highly recommend giving Purple Carrot a try! You can use my code SHANNA for $30 off your first Purple Carrot box! (@purplecarrotxo on Instagram)
Disclosure: I previously participated in paid, sponsored posts on Instagram with Purple Carrot; however, this post is not sponsored.
how to make a satisfying salad
I shared these tips in an Instagram caption, but I think they are worth sharing here as well because it's a common misconception that salads have to be a low-calorie, boring diet food, and that just isn't true!!!
I firmly believe that salads should be delicious and satisfying, and actually leave you feeling full. Here is the equation for how to make a salad that does just that.
what is the healthiest lettuce for salads?
First, let's start with the base. There are lots of options here, but ideally you want to go with some of the darker greens as opposed to iceberg lettuce, because they offer way more nutrients, not to mention flavor!
Some nutritious and tasty options for your greens include spinach, spring mix, kale, romaine, etc. If you love arugula, consider mixing it with another one of the aforementioned greens for more nutrients, or even shaved Brussels sprouts!
Click here to learn about some more healthy greens & their individual nutritional benefits.
what to add to a salad to make it filling?
This is where your protein and fat come in! Both are important in terms of nutrition, as well as satiety – AKA, actually leaving you full and satisfied.
Fat is important because including it can help your body absorb the fat-soluble vitamins (A, D, E and K) from the other components of the salad,. This is true for all of your meals, so don't fear fat! Be sure to incorporate healthy sources often. We'll talk about some examples in a moment.
Healthy Protein Sources To Add To Salad
Your protein can come from either plant or animal sources, but if you're making an entree salad, don't skip the protein!
Some healthy animal sources include: grilled salmon, chicken, shrimp, steak or hard-boiled eggs.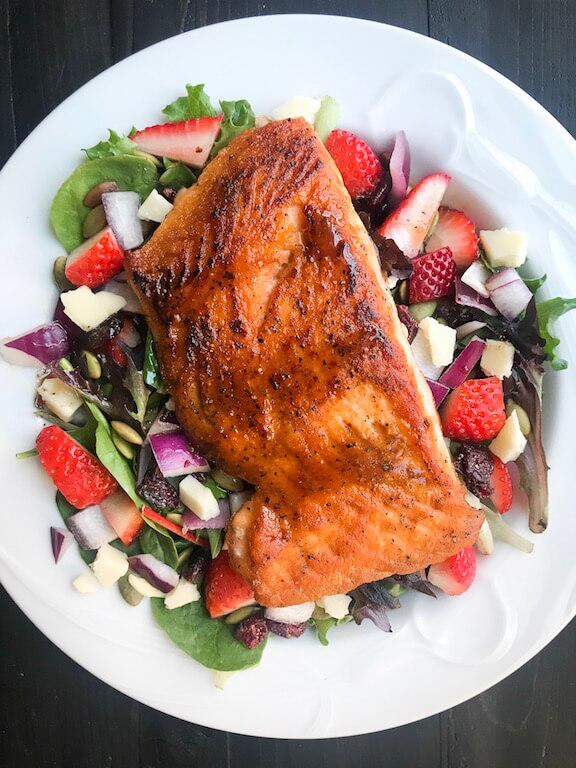 Some healthy plant-based protein sources include: beans or legumes like roasted chickpeas (which also provide fiber), edamame, tofu or tempeh.
Healthy Fat Sources To Add To Salad
Some healthy sources of fat to include in your salad could be any type of nuts (cashews, almonds, walnuts, macadamia nuts, pecans, etc.), seeds (pumpkin seeds, hemp seeds, sunflower seeds, etc.), avocados, or a heart-healthy oil like EVOO in your salad dressing.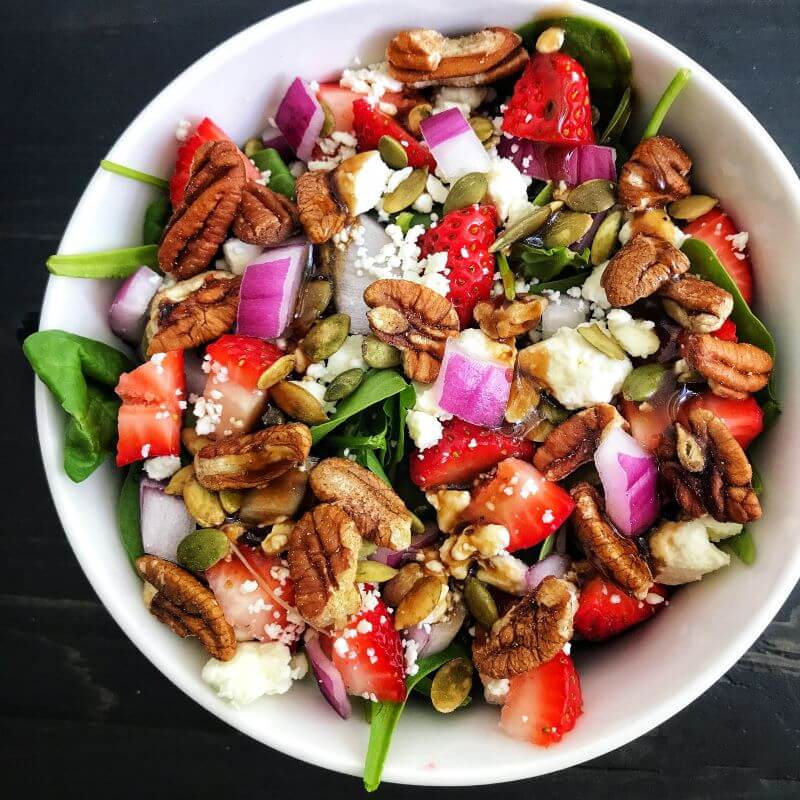 You can also add any type of cheese you love, such as feta, goat cheese, Parmesan, and more!
Salmon or tuna would provide some anti-inflammatory omega-3 fats, as well as a healthy dose of protein, to any salad!
are salads low in carbs?
Salads can be low in carbs, but they don't have to be! We all have different nutritional needs and goals, so you can customize your salad according to your needs, and of course, your taste buds!
You'll see that this particular Superfood Salad contains more carbohydrates than some, but it's still extremely nutritious. Carbs are not the enemy, and can provide some really great energy and nutrients.
If you're eating an entree salad as a post-workout meal, including some higher carbohydrate foods like starchy veggies and/or whole grains would be a good idea to help you replenish the carb stores lost during your workout.
Carbohydrate Sources To Add To Salad
Fruit
Veggies
Whole grains
When it comes to fruit, try to stick with whole fruit, like blueberries or strawberries, to limit added sugars. If you're choosing dried fruit, see if there's a reduced sugar option. If not, it's not the end of the world! Dried cranberries are honestly a non-negotiable on my salads, and I'm able to find 50% reduced sugar ones at the store! Good enough for me. : )
You can add starchy and/or non-starchy veggies to your salad. This Superfood Salad includes sweet potato (a starchy veggie) and it's a DELICIOUS addition. Other starchy veggies include peas, potatoes and corn.
The non-starchy veggie possibilities are endless. Think carrots, onions, celery, peppers, Brussels sprouts, cauliflower, broccoli, mushrooms, etc. Non-starchy veggies contain carbohydrate, but mostly in the form of fiber, and they have very little impact on blood sugars. They are extremely nutritious, too, so feel free to load up on as many of these as you want!
Whole grains can add some fiber and flavor to salads as well, but they are a less common addition. These Superfood Bowls include quinoa, which is a tasty topping, especially combined with all the others. I don't always add grains, like quinoa or farro, to my salads, but if I have them prepped in the fridge, why not?!
how can i add flavor to my salad without dressing?
Short answer: you can't. Just kidding… kind of. But seriously, you don't have to go through life eating dry salads. If you're worried about the ingredients in store-bought salad dressings, then make your own! It honestly couldn't be easier.
Of course there are lots of ways to add flavor to salads besides dressings such as herbs and spices, flavorful cheeses like feta, fruit, etc. But dressing really just brings everything together nicely, don't you think?
Some of my favorite brands for dressing are Sir Kensington's and Bolthouse Farms.
Dressing For This Superfood Salad with Sweet Potatoes
I'm not exaggerating when I tell you that this salad dressing is the best thing I've ever put on my salads. It honestly just MAKES the whole salad. There could probably be dirt underneath and I would still eat it.
This Ginger Almond Dressing consists of:
Fresh lemon juice
Almond butter
Chile garlic sauce
Fresh ginger
Salt
That's it! If you need to take some shortcuts on this, no judgement. AKA, use pre-made lemon juice and/or ground ginger from a spice jar. I'm guilty of both most of the time.
Ingredients in this Superfood Salad with Sweet Potatoes
I'm going to tell you the ingredients that the original Purple Carrot recipe calls for, but I want you to know that it is VERY versatile and you can really make it your own. If you want to sub oranges for grapefruit (or totally omit this), that's fine! If you want dried cranberries instead of dried blueberries, or to add some cheese, do your thing.
When it comes to cooking, there are no rules! Not the case when it comes to baking though. Usually you gotta follow those instructions or you'll be screwed. ; )
Ingredients You Need:
Sweet Potatoes
Red or White Quinoa
Dressing Ingredients Mentioned Above
Grapefruit
Baby Spinach or greens of choice
Walnuts
Hemp seeds
Dried Blueberries
Okay, let's get to the recipe for this Superfood Salad with Sweet Potatoes and Ginger Almond Dressing!
Superfood Salad with Sweet Potatoes and Ginger Almond Dressing
This Superfood Salad with Sweet Potatoes and Ginger Almond Dressing is delicious, plant-based, full of nutrition and extremely flavorful. It's also versatile, so feel free to mix it up according to your taste!
Ingredients
Superfood Salad
1

sweet potato

1/2

Tbsp

avocado oil

1/3

cup

red quinoa

or white

1

grapefruit

4

oz

baby spinach

1/4

cup

walnuts

2

Tbsp

hemp seeds

2

Tbsp

dried blueberries

or cranberries
Ginger Almond Dressing
1

lemon

1

oz

fresh ginger

or 1/4 tsp ground ginger

3

Tbsp

creamy almond butter

1

Tbsp

chile garlic sauce
Instructions
Preheat the oven to 425 degrees Fahrenheit. Cut the sweet potato into 1 inch thick wedges or "fries". Place wedges on a baking sheet and toss with 1 Tbsp of avocado oil and a pinch of salt and pepper. For more seasoning, add: garlic powder, paprika and chili powder.

Roast sweet potatoes for about 20-25 minutes. Toss halfway through to brown evenly.

Using a fine mesh strainer, rinse the quinoa. Then combine it with 2/3 cup water in a small saucepan. Bring to a boil, reduce to a simmer and cover with a lid. Cook until the grains burst and all of the water is absorbed, about 12-15 minutes.

Cut the lemon in half. Peel and mince 1 Tbsp ginger. Add just half the lemon juice, minced ginger, almond butter, as much chile garlic sauce as you'd like, 3 Tbsp water and a pinch of salt to a medium bowl. Whisk to combine. (If taking shortcuts, use ~2 Tbsp lemon juice total, divided, and 1/4 tsp ground ginger.)

Supreme the grapefruit by trimming the ends and cutting away the peel and white pith. Over a medium bowl, remove the segments with a knife and drop them into the bowl. Squeeze the remaining juice out of the membrane into the bowl. Add the spinach and toss with a pinch of salt and pepper. (You can also simply peel and chop the grapefruit.)

Add the remaining lemon juice to the quinoa and toss. To serve, place the spinach salad in shallow bowls and top with quinoa, roasted sweet potato wedges, walnuts, hemp seeds, and dried blueberries and/or any other desired toppings. Drizzle with ginger almond sauce. Toss and enjoy!

Reserve any leftovers in an airtight container in the refrigerator for up to 2 days. Dressing can be kept for up to a week in the fridge.
Nutrition
Calories:
669
kcal
Carbohydrates:
76
g
Protein:
21
g
Fat:
36
g
Saturated Fat:
3
g
Sodium:
505
mg
Potassium:
1238
mg
Fiber:
14
g
Sugar:
26
g
Vitamin A:
16030
IU
Vitamin C:
85
mg
Calcium:
249
mg
Iron:
7
mg
I hope you love this Superfood Salad with Sweet Potatoes and Ginger Almond Dressing as much as me! Please be sure to tag me in your loaded salad creations on Instagram @wellnessforthewin so I can share them! Also, share the love by pinning this post on Pinterest if you found it helpful. : )
Thank you and talk soon!
Shanna