Mexican Grilled Chicken Salad
Today I am sharing the third and final recipe that I've created in partnership with Tres Agaves! I have loved coming up with some Mexican-inspired recipes that you can pair with their delicious Tequila and Organic Mixers for this series. Mexican food & margs just NEVER disappoint, am I right? This Mexican Grilled Chicken Salad with Chipotle Ranch Dressing is no exception.
Disclosure: this post is sponsored by Tres Agaves and I am being compensated for social promotion. However, all opinions expressed are my own; Tres Agaves is a brand that we truly use and love!
Why I'm extra excited About This Mexican Grilled Chicken Salad
I have been looking forward to sharing this recipe for a while now, for a few different reasons. First of all, I've been dreaming it up for months. If I ever go to a restaurant and there is something remotely close to this on the menu, you can pretty much guess what I'll be ordering. Well, Ethan can at least.
I guess that's why I decided to make my own version to live on the blog permanently, AND why I partnered up with a local KC restaurant, Unforked, to create a very similar recipe to be featured on their menu this summer. Sadly, it is just going to be a seasonal item there, so once it's off their menu, it'll be gone for good. (Unless you all love it so much that you demand it be permanent.)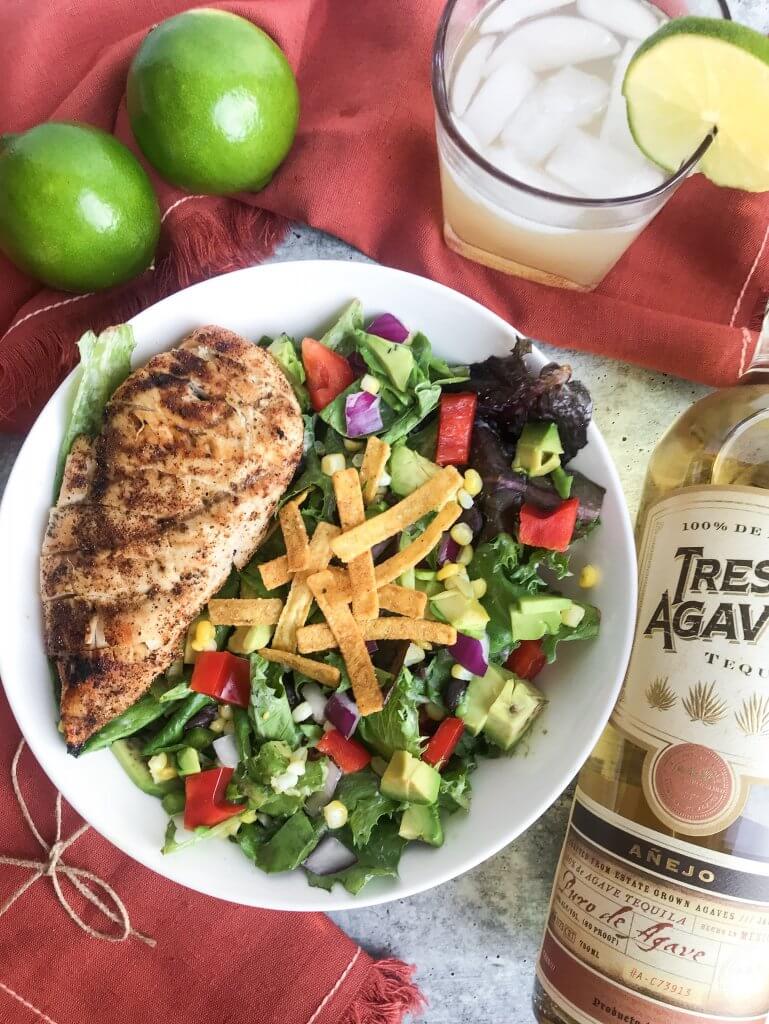 But don't worry! Now you will be able to find it here anytime you have the craving for a loaded Mexican salad AND you can make yourself a Tres Agaves margarita to go with it. This salad is super easy & affordable to make at home!
mexican grilled Chicken Salad: Loaded With Nutrients
Sometimes I see people eating salads that are just so sad looking — AKA mostly greens with very few toppings, and NO dressing — because they are trying to "be healthy" or eat "low calorie". But trust when I say that LOADING UP your salad is absolutely the way to go!
You will be 1000x more satisfied afterward if you add lots of veggies (fiber), as well as a source of protein (i.e. chicken or black beans) and some healthy fats (enter: avocado). Confession: I partially chose these toppings because they are super photogenic, but more importantly, they are also bursting with flavor AND nutrition!!!
Did you know that the different colors of fruits & vegetables have different nutrients (i.e. phytonutrients & antioxidants with unique benefits) to offer? Yep, it's true! That's why I always encourage my clients and followers to enjoy a wide variety of these colorful foods. Ever heard the saying "Eat The Rainbow"?
Not only does this help you feel more satisfied with your food choices (who wants to eat the same thing over and over?), but it also helps ensure that you are providing your body with lots of different nutrients to help it thrive. Vitamins and minerals are so important in certain processes that go on within the body all day every day that we don't really even think about.
pick the perfect avocado to top your salad
If you need help picking out the perfect avocado for this recipe, head to this blog post for my top tips!
Tres Agaves Anejo Tequila
I paired this recipe with a margarita using Tres Agaves Anejo Tequila and their Lime Organic Mixer. You may have noticed that I used the Blanco Tequila with my previous recipes. The Blanco is unaged, has vibrant and sweet agave aromas with notes of citrus, pear and hints of wild mint. It's super easy to sip on and ideal for mixing. We LOVE the Blanco. It's definitely our go-to.
The Anejo on the other hand is aged for ~18 months in repurposed Bourbon and Tennessee Whiskey barrels. It has smoky sweet caramel and butterscotch flavors, with floral tones and hints of rosemary and spice. It's a little more complex and has a richer flavor than the Blanco, and it's also perfect for making some fun cocktails. Check out the list of cocktail recipes on Tres Agaves' site if you need some inspiration!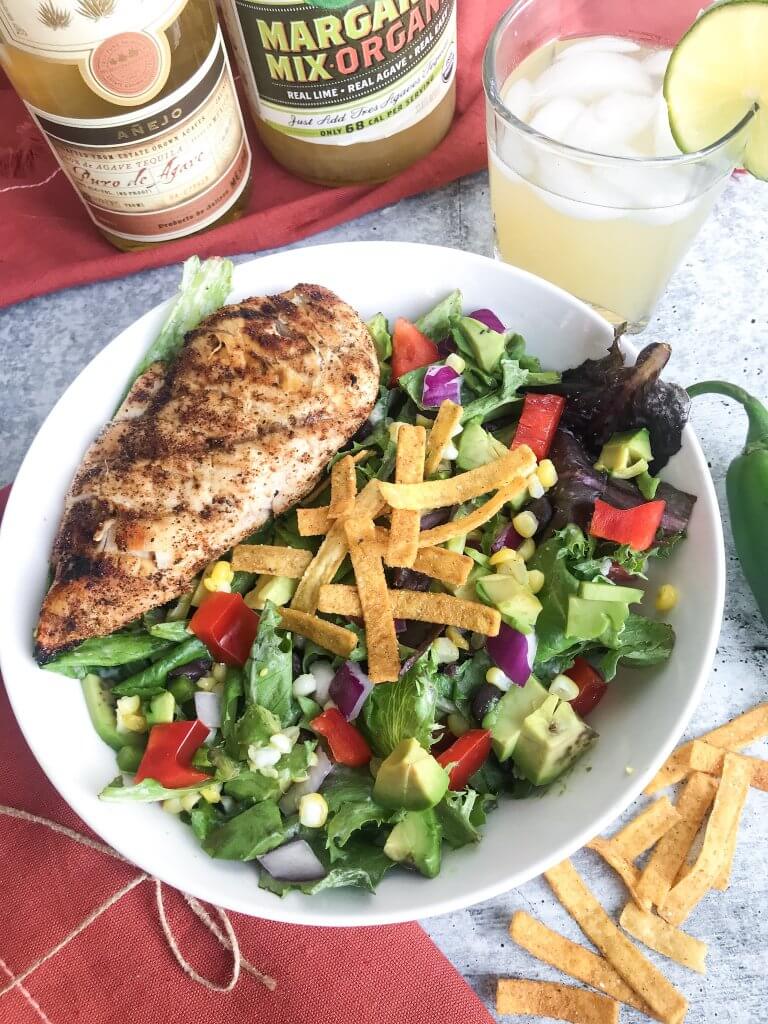 Chipotle Ranch Dressing, Courtesy of Ambitious Kitchen
I used Ambitious Kitchen's Healthy Chipotle Ranch Dressing for this recipe, because I've never tried one of her recipes that I didn't LOVE. Seriously, they are all the bomb. I did make a few tiny tweaks to it. Here is the link to her original post with the recipe. You should stay & explore and try 100 of her other recipes while you're there.
If you prefer a vegan option, you can always use salsa as your salad dressing!
Grilled corn on the cob
This is the recipe that I used for the grilled corn on the cob. I brushed mine with ghee using a silicone brush before placing on the grill, and grilled for about 10-12 minutes total, turning a few times with tongs until slightly charred. Then used a sharp knife to scrape the corn off the cob to be used as a salad topping.
You could use a can of corn, drained and rinsed, but it won't have the same yummy, grilled flavor and crunchy texture. But if you need a quicker & easier option, that should work just fine!
Mexican Grilled Chicken Salad with Chipotle Ranch Dressing
This Mexican Grilled Chicken Salad is bursting with flavor and nutrition! It's easy to make & super satisfying. The Chipotle Ranch adds the perfect kick! You will love it.
Ingredients
Grilled Chicken
0.75

lb

boneless, skinless chicken breasts

grilled (2 small/medium breasts)

Season with: garlic powder, chili powder, black pepper
Grilled Corn on the Cob
1

corn on the cob

shucked, grilled

1/2

Tbsp

ghee or butter
Spicy Southwest Salad
6

cups

spring mix

packed

1/2

cup

black beans

no-salt-added, drained and rinsed

1/2

red bell pepper

chopped

1/2

red onion

chopped

1

jalapeno

diced

1

avocado

sliced or cubed

1/4

cup

tortilla strips

garnish
Chipotle Ranch Dressing
1/2

cup

plain Greek yogurt

1

tsp

garlic powder

1/4

tsp

onion powder

1/8

tsp

cayenne pepper

1/8

tsp

chili powder

1

tsp

lemon juice

or sub apple cider vinegar

1/2

tsp

dried dill weed

1/4

tsp

salt

3/4

tsp

tabasco hot sauce

2

tbsp

water

to thin the dressing
Instructions
Preheat grill to medium-high. Season chicken breasts with garlic powder, chili powder and black pepper. Lightly coat corn on the cob with ghee using a silicone brush.

When grill is ready, add chicken and corn on the cob to grill. Close lid and cook for 8-10 minutes, turning the chicken once using a spatula. Use tongs to turn the corn on the cob after ~5 minutes. Cook until chicken reaches internal temperature of 165 F using meat thermometer, and until corn on the cob is slightly charred all over. Then remove both from grill.

Using a sharp knife, cut the grilled corn off the cob over a plate or small bowl. Set aside.

Slice chicken breasts or cut into bite-sized pieces. Set aside.

Prepare salad dressing. Add all dressing ingredients to a small bowl or mason jar and mix well until thoroughly combined. If adding to a mason jar, just close the lid and shake it up to mix well. (Dressing stays good in sealed mason jar or airtight container in the fridge for up to 1 week.)

Add all Southwest Salad ingredients to a large mixing bowl: fresh greens, corn (off the cob), black beans, chopped red onion, chopped red bell pepper, diced jalapeno, and cubed avocado. Drizzle 4 Tbsp of Chipotle Ranch Dressing over the top. Use tongs to toss salad until all ingredients are lightly coated in the dressing. Divide salad evenly into two serving dishes. Then top both salad bowls evenly with grilled chicken, tortilla strips, and any other desired toppings. Serve immediately.
Nutrition
Calories:
577
kcal
Carbohydrates:
42
g
Protein:
51
g
Fat:
25
g
Saturated Fat:
6
g
Cholesterol:
121
mg
Sodium:
618
mg
Potassium:
1789
mg
Fiber:
13
g
Sugar:
8
g
Vitamin A:
2750
IU
Vitamin C:
93.6
mg
Calcium:
109
mg
Iron:
3.3
mg
Thank you for checking out my third Tres Agaves-inspired Mexican recipe! I hope you love all three, and can't wait to see your delicious meal & Tequila creations! Be sure to tag both of us on Instagram so we can see — @wellnessforthewin and @tresagaves.
To check out the other Tres Agaves recipes I created previously, click the links below:
Cheers!
Shanna