Pan-Seared Salmon Tacos with Avocado Cream Sauce
Do you know anyone that doesn't love tacos? Because I don't think I do. Since I'm in the middle of a series of Mexican recipes in partnership with Tres Agaves, I knew I had to include tacos somehow; but not your boring old beef or chicken tacos. Today I'm sharing the recipe for Pan-Seared Salmon Tacos with Avocado Cream Sauce, and I hope you love them!
Disclosure: this post is sponsored by Tres Agaves and I am being compensated for social promotion. However, all opinions expressed are my own; Tres Agaves is a brand that we truly use and love!
TACO TUESDAY JUST GOT AN UPGRADE
Don't get me wrong; chicken and beef tacos still have a place, and they are very delicious, too. BUT don't you get bored of eating the same sources of protein all. the. time? Mix things up and try salmon, or even shrimp, tacos! The avocado cream sauce is like the cherry on top — it only takes a few minutes to make, and it takes these tacos to the next level!
WHY YOU SHOULD INCLUDE SALMON IN YOUR DIET
Did you know it's recommended to eat fatty fish (like salmon) at least two times a week? That's because salmon is loaded with omega-3 fatty acids, which are great for heart health for healthy people and those at risk of — or who have — cardiovascular disease.
According to the American Heart Assocation, research has shown that omega-3s decrease risk of abnormal heartbeats, which can lead to sudden death. They can also decrease triglyceride levels, slow growth rate of atherosclerotic plaque, and lower blood pressure (slightly).
Did I mention that salmon is also delicious? ; )
Pan-Seared Salmon Tacos + Tres Agaves Strawberry Margaritas
I don't know about you, but I love a nice, cold margarita alongside my tacos, no matter what kind they are. I whipped up a margarita on the rocks using Tres Agaves Blanco Tequila and Organic Strawberry Margarita Mix and it was the P E R F E C T combo! What do you like best? Lime or strawberry margs!? Personally, I don't discriminate. ; )
I love Tres Agaves Organic Mixers because they are made with natural ingredients, which makes margaritas taste SO refreshing and delicious.
Another equally important question: do you prefer your margaritas frozen or on the rocks? I used to be strictly a frozen marg girl, but I think I have officially converted! I'm not sure what did it for me, but I just find them so satisfying on the rocks these days. I do love a good frozen margarita on the beach though. And now I'm dreaming of vacation…
If you haven't already, check out Tres Agaves long list of delicious cocktails that you can whip up using their Tequila and Organic Mixers. Then we can all drink yummy beverages and at least pretend we are on vacation.
What I love about Tres Agaves is their commitment to using organic ingredients in their 100% de Agave Tequila and margarita mixes. They want to give you all the ingredients you need to make bar-quality margaritas at home, which is super easy with their margarita mixes.
the avocado cream sauce is next level
I found the recipe for the Avocado Cream Sauce on Recipe Tin Eats and it is SO tasty. Now I basically want to make some to drizzle on top of every Mexican recipe I make from this point forward. Bonus: it stays green and fresh in the fridge for several days! I lathered some up on a Southwest Veggie Burger, a loaded salad, and it's delish in all forms. Check out her blog for lots of delicious recipes!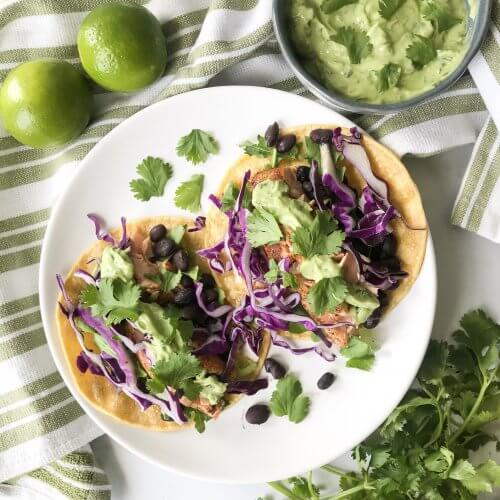 Pan-Seared Salmon Tacos with Avocado Cream Sauce
These Pan-Seared Salmon Tacos are quick & easy to make, packed with nutrition & the Avocado Cream Sauce is like the cherry on top! This is a fun way to spice up taco night at your house!
Ingredients
1

lb

wild caught salmon fillets

thawed

1

Tbsp

avocado oil

Fresh cracked black pepper and salt

to taste

1/4

tsp

chili powder, cumin, garlic powder

each

8

yellow corn tortillas

6"
Optional Toppings:
Mixed greens

spinach and arugula

Shredded red cabbage

1

can

black beans

drained and rinsed, low-sodium
Avocado Cream Sauce:
1 

avocado

ripe, large

1/3 

cup 

plain Greek yogurt

1/2 

small clove of garlic

or 1/2 tsp minced garlic

Juice of 1/2 lemon

1

Tbsp 

extra virgin olive oil

1/2 

cup 

cilantro

roughly chopped

Salt and pepper to taste
Instructions
Combine all Avocado Cream Sauce ingredients in a small/medium food processor. Pulse until the cilantro is finely chopped and sauce is creamy. Set aside.

Heat 1 Tbsp of avocado oil over medium heat in a large skillet. Pat both sides of salmon dry with paper towel. Spray or brush both sides with avocado oil. Season with fresh cracked pepper, chili powder, cumin and fresh cracked salt, to taste.

Place salmon fillets in the skillet and cook for about 4 minutes on each side, or until salmon is cooked through (internal temperature 145 F).

When it's done cooking, transfer salmon to a plate and shred using a fork. Divide salmon up between 8 corn tortillas (2 tacos per person). Heat corn tortillas in a small skillet over low heat to slightly crisp them, if desired.

Garnish with desired toppings: mixed greens, shredded red cabbage, black beans, avocado cream sauce. Other optional toppings: shredded cheese or feta cheese crumbles, salsa, red onions, corn.

Serve warm. Serve any leftover toppings on top of Sweet Potato Nachos! Store leftovers in refrigerator in airtight container for 3-4 days.
Nutrition
Calories:
495
kcal
Carbohydrates:
40
g
Protein:
33
g
Fat:
24
g
Saturated Fat:
3
g
Cholesterol:
63
mg
Sodium:
101
mg
Potassium:
1231
mg
Fiber:
11
g
Sugar:
2
g
Vitamin A:
2165
IU
Vitamin C:
13
mg
Calcium:
115
mg
Iron:
3.3
mg
Feel free to add any additional toppings you like! Corn, salsa, feta cheese crumbles, onions — the possibilities are endless! When you run out of salmon, use the leftover toppings to make some Sweet Potato Nachos! They'd be AMAZING with the Avocado Cream Sauce. Y-u-m.
I can't wait to see your delicious taco + margarita creations! 🙂 Enjoy! I have one more Tres Agaves recipe coming your way this month. Stay tuned!
Cheers,
Shanna