Carrot Cake Overnight Oats
I was recently making my Carrot Cake Oatmeal Bake with the intention of freezing it for an easy breakfast option during my maternity leave. I had some leftover shredded carrots and decided I would try creating an Overnight Oats version, too! I'm happy to report these Carrot Cake Overnight Oats turned out to be SO delicious!
Both recipes can be a great option for a healthy, balanced breakfast, but if you want to meal prep a few days worth at a time and aren't necessarily worried about a freezer-friendly option, you gotta try these!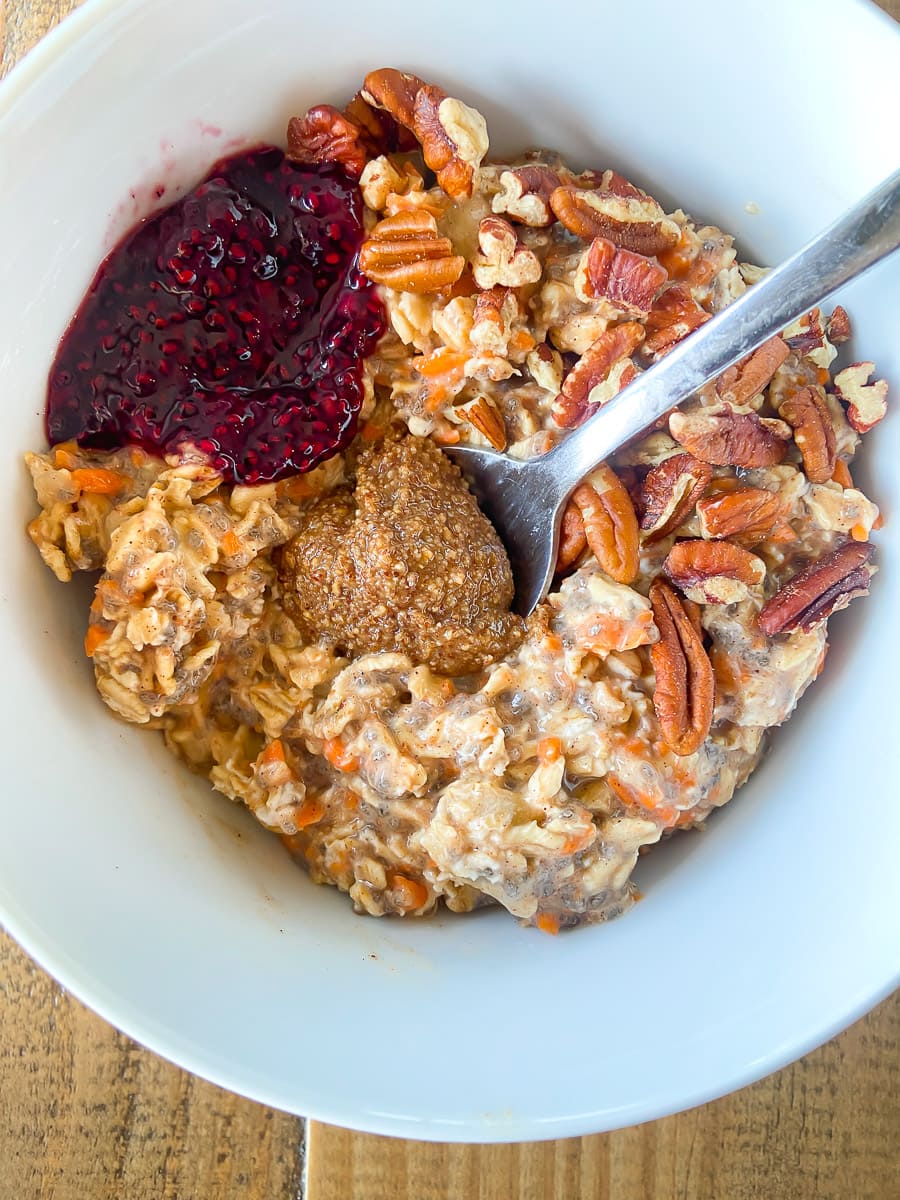 Carrot Cake Overnight Oats ingredients:
Here's what you need to make these Carrot Cake Overnight Oats!
Old fashioned oats (or quick oats — unfortunately steel-cut oats won't work for this)
Milk of choice
Chia seeds
Protein powder — vanilla or unflavored
Carrots
Banana
Cinnamon
Nutmeg
Vanilla extract
Maple syrup
Optional toppings: chopped pecans, pecan butter, homemade berry jam, Greek yogurt, etc.
are overnight oats as healthy as oatmeal?
Absolutely! Oatmeal (and carbs in general) can get a bad rap these days, but it can definitely be a super healthy way to start the day. The key is to ensure you are balancing it out with plenty of protein and fat to make it a filling, blood-sugar friendly meal.
Oatmeal itself is a whole grain and provides some good fiber and protein, and then we are adding lots of goods to increase the amount of protein, fat and fiber! Like chia seeds, nuts/seeds/nut butter, fruit (or veggies in this case), protein powder, etc.
what is the best liquid for overnight oats?
I typically use unsweetened almond milk for my overnight oats, but you can also use cow's milk, oat milk, soy milk – whatever you have on hand and prefer! I would advise against using water though. It would probably work fine, but it wouldn't turn out as creamy and yummy!
how far ahead can you prepare overnight oats?
I like to fully prep overnight oats two days' worth at a time. If you want to eat them all week long, I recommend adding all ingredients (wet AND dry) to two jars, and then prepping the other containers with just dry ingredients until you've gotten through the first two. This is especially true if you are adding fruit to it. I find the fruit can get kinda mushy and gross if you do it 4 days ahead, so that is my preferred method!
If you've already prepped the dry ingredients, then it's super quick and easy to add the liquid the night before you're ready for the next one!
do you eat overnight oats hot or cold?
This is totally personal preference! I personally love to eat them cold straight out of the refrigerator, but I know some people like to reheat them! Completely your call, but if you plan to heat them up, just make sure they are in a microwave-safe dish.
I often get asked if you *have* to make these in mason jars, and the answer is no! I just find that to be an easy option, but you can definitely use a different Tupperware container if you'd like. Just make sure it's something that has a secure lid so you can shake it up and mix really well.
If you're in the market for mason jars, I'll link a pack below! Otherwise you can find them so many places like Hobby Lobby, Michael's, Target, etc. and they're very inexpensive.
extra tips for this recipe:
You can use any protein powder you like in this recipe, but I love Clean Simple Eats Simply Vanilla! My affiliate code is wellnessforthewin to save on all of their products. I think these would also be amazing with their Snickerdoodle flavor.
If you want to use a dairy-free and/or unflavored version, I also love @needed Collagen Powder (used all throughout pregnancy) and I also love Further Food Vanilla Collagen. My affiliate code is wellnessforthewin for both of theirs also!
Homemade pecan butter is not 100% essential for this recipe BUT I have zero regrets making it and adding it!!! It was SO easy and so freaking delish. Check out the recipe for homemade pecan butter on this site here (literally took 10 minutes) and I'll link the little food processor I have and love below! It worked perfectly for this recipe — I used it to shred the carrots AND make the pecan butter! Both of which took no time at all.
If you want to try my homemade berry chia jam you see in the pictures, click here! It's so freaking good and delicious on top of oats. When it's not the holiday season, I use frozen mixed berries! ]
If you don't have protein powder or don't want to use it, you could also add some plain Greek yogurt for additional protein and creaminess.
Food processor – check out the reviews on this thing!! We have had it since we got married in 2017 and it's still in perfect condition. I also love the size. It's small and compact, yet big enough to do all the things I want to do in it, and easy to store. Highly recommend!
what I love about overnight oats
They are SO quick and easy to make
They are super balanced — you have protein, carbs, healthy fat, fiber and delicious flavor all in one
They keep you full for hours!!! I'm easily satisfied until lunch when I have these in the morning
They are so versatile – I have several other variations on my site, which I will link below!
healthy breakfast options that include oats:
Check out some of these other recipes I have on my blog!
Carrot Cake Overnight Oats
Carrot Cake Overnight Oats are quick and easy to make, healthy and balanced and make a great meal-prep breakfast during a busy week!
Ingredients
1/2

cup

old fashioned oats

1

Tbsp

chia seeds

1

scoop

protein powder

vanilla or unflavored

1/2

tsp

cinnamon

1/4

tsp

nutmeg

1/2

tsp

vanilla extract

1/3

cup

shredded carrots

1/2

banana

small, mashed

1/2

Tbsp

maple syrup

1/2

cup

milk of choice

1

Tbsp

chopped pecans

optional for topping

Homemade berry jam, plain Greek yogurt, homemade pecan butter, etc.

optional for toppings
Instructions
Combine all ingredients (besides toppings) in a mason jar. Add the lid and shake vigorously until mixed well and ingredients are evenly distributed. Let sit in the refrigerator overnight or for at least 6-8 hours.

The next day, remove from the fridge and add toppings if desired, i.e. chopped pecans, pecan butter, berries, homemade berry jam, granola, etc.

Enjoy cold immediately out of the fridge, or heat up in the microwave for about 1 minute (in a microwave safe dish).
Notes
I love Clean Simple Eats protein powder – I used their Simply Vanilla protein in this, but it would also be amazing with their Snickerdoodle flavor! My affiliate code is WELLNESSFORTHEWIN to save at cleansimpleeats.com. 
Nutrition
Calories:
526
kcal
Carbohydrates:
63
g
Protein:
35
g
Fat:
18
g
Saturated Fat:
2
g
Polyunsaturated Fat:
7
g
Monounsaturated Fat:
6
g
Trans Fat:
0.02
g
Cholesterol:
50
mg
Sodium:
243
mg
Potassium:
706
mg
Fiber:
13
g
Sugar:
19
g
Vitamin A:
7261
IU
Vitamin C:
8
mg
Calcium:
391
mg
Iron:
5
mg
I hope you love these Carrot Cake Overnight Oats as much as I do! As always, be sure to tag me on Instagram if you try this recipe, and if you love it, leave a 5-star rating and review on my blog so others can find it, too!
Appreciate you – enjoy!
Shanna