Blueberry Pecan Baked Oatmeal
This Blueberry Pecan Baked Oatmeal is the delicious, easy, meal prep breakfast you didn't know you needed in your life. But trust me, you do. ; )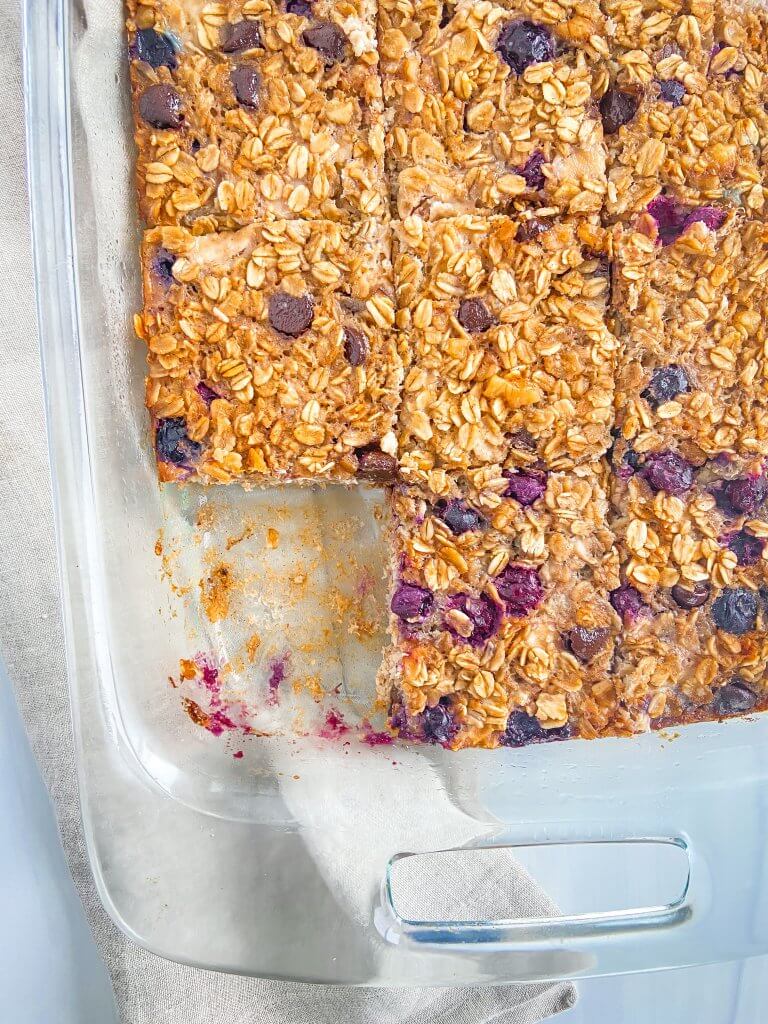 As a dietitian, I'm always blown away by the amount of clients I talk to who skip breakfast. Most people report skipping breakfast due to lack of time. (Or these days, intermittent fasting, but that's a topic for a different day).
Don't worry — I get it! When you are physically going into the office, time is precious in the morning. Especially when you have a baby. ; ) I work from home now, but in the past, I definitely always needed a prep-ahead breakfast option. Even while WFH it is nice to have a healthy option already prepared, since I'm usually still rushing around in the AM. I feel SO much better when I eat breakfast, and I always appreciate having something already made that I can quickly heat up before starting my work day.
blueberry pecan baked oatmeal makes the perfect post-workout meal
Pre-COVID and pre-baby, I worked out at 6 AM on most weekdays, then showered and got ready at the gym. I'd go straight to work and eat my pre-made breakfast at my desk once I arrived, while checking emails. Not necessarily the most glamorous or mindful way to eat, but that's real life, right?
I don't know about you, but I'm always ready for some food post-workout, so having something healthy and balanced to help refuel is key! Ideally we want to aim for a combination of carbohydrates + protein after a workout. A lot of people ask if a protein shake is necessary, and it's really not. You can get everything you need from real, whole foods after a workout, but a shake, or rather, a smoothie like this one, can be an easy, quick option as well.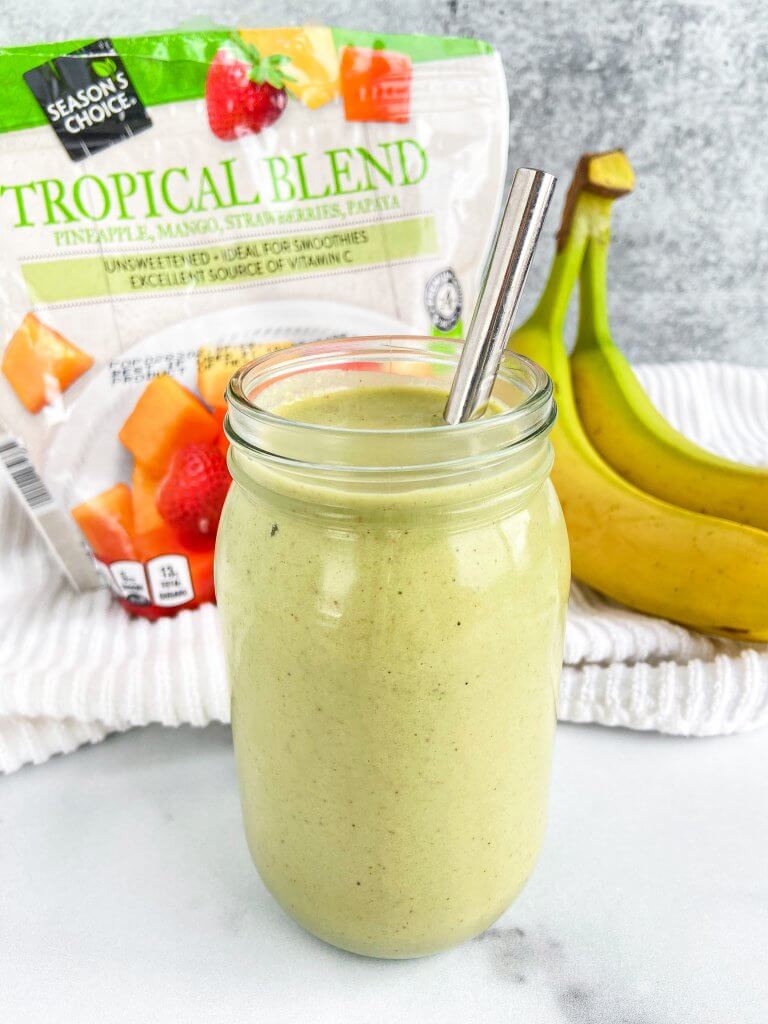 This oatmeal bake is a great source of healthy carbohydrates, which can help replenish glycogen stores lost during your workout. Oats are a very nutritious, fiber-rich whole grain, and the blueberries also provide beneficial fiber, antioxidants and other vitamins/minerals.
I add some protein powder or collagen to boost the protein content a bit, but I'll also pair with some scrambled eggs with spinach mixed in, or a hard-boiled egg or two for additional protein. This oatmeal bake would also be delicious heated up and served with some protein-rich Greek yogurt.
protein powder & collagen options with discount codes
Below I am linking some protein powder and collagen options if you are looking for some to add to recipes like this. I have discount codes for each of them and I am an affiliate for these brands, which means I do earn a commission if you use my code. With that said, I only share products that I actually use and love myself.
I also love that all of these products are third-party tested, and/or made in a cGMP facility, which ensures that the product is safe for use, and it has the ingredients and strength it claims to have.
Code: wellnessforthewin
Discount: 10%
Favorite flavors: Simply Vanilla and Cake Batter
Code: wellnessforthewin
Discount: 10%
Favorite flavors: vanilla collagen, but I also like their chocolate and unflavored option
Code: wellnessforthewin
Discount: 10%
They have a variety of supplements for mamas before, during and after pregnancy and my code applies to all of them.
other HEALTHY MEAL PREP BREAKFAST OPTIONS
If you are looking for some other ideas to make ahead for breakfast, check out these recipes linked below:
Blueberry pecan baked oatmeal: inspired by ambitious kitchen
This recipe has become one of my absolute favorites to prep ahead for breakfast, and it is husband-approved! This was inspired by Ambitious Kitchen's Strawberry Banana Chocolate Chip Baked Oatmeal recipe. Check out her original recipe here — she has A TON of incredible recipes on her site. Highly recommend trying basically all of them, especially this butternut squash and black bean enchilada skillet.
All I did to switch up this recipe was swap in frozen blueberries (I always have these on hand for smoothies and baked goods), threw in some collagen peptides for additional protein, and chopped pecans for some extra healthy fats and crunch!
If you prefer strawberries, feel free to use them instead! If you like walnuts better than pecans, go for it! You can't go wrong with any of these combinations. And let us not forget about the addition of dark chocolate chips. If anyone tells you that you shouldn't have chocolate for breakfast, tell them to go away. You don't need that negativity in your life. 😉 All foods can fit, my friends.
baked oatmeal is freezer-friendly
The most important thing I want to tell you about this recipe: it is freezer-friendly! As are most baked goods, in case you've never tried it. I simply wait for the whole pan to cool, cut into individual servings, and place them in freezer Ziploc bags before throwing in the freezer. I typically just automatically do this within 1-2 days so I don't even have to worry about it spoiling before it gets eaten, then it's ready to grab anytime I need from the freezer.
When I used to pack lunches during the week, I'd pull one out the night before and put it in a Tupperware container in our lunch boxes in the fridge, then microwave at work. Mostly importantly, I always add a nice big dollop of almond butter on top.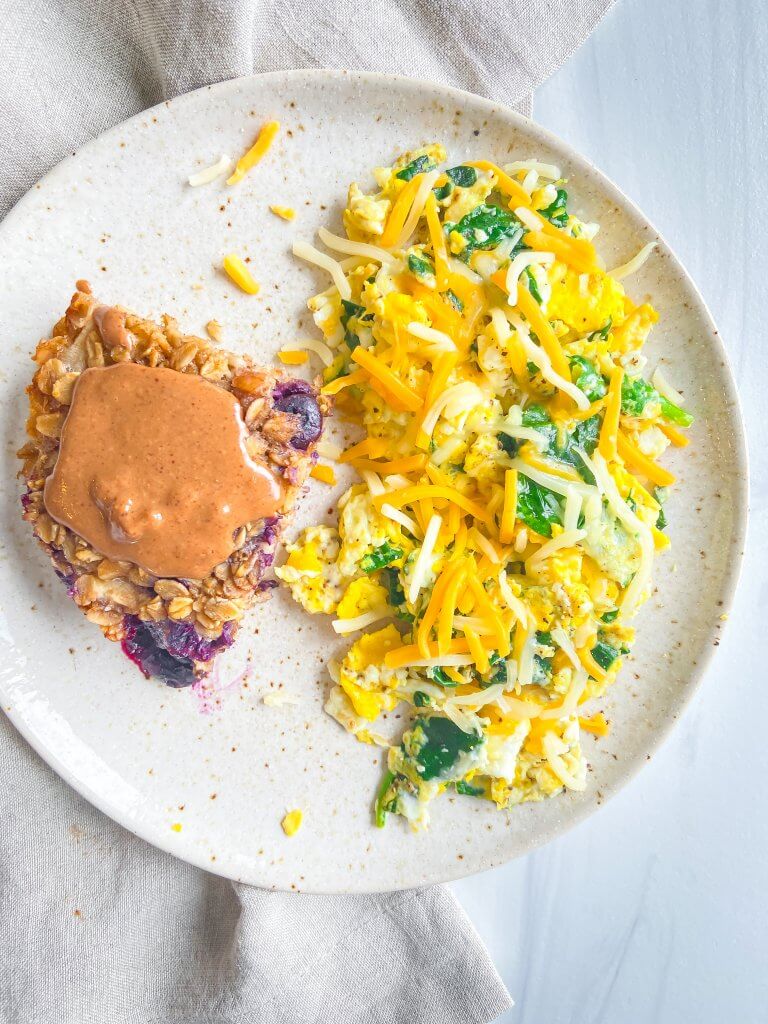 The best part about freezing things like this is that you can eat it for weeks, or months, to come, but it only last a few days when stored in the refrigerator. Don't you hate it when you put so much work into baking something, only to throw it away 4-5 days later because you forgot to eat it and it has already started growing mold? NOT ANYMORE, FRIENDS!
This is a great option for any mamas who have maternity leave coming up, also!
Blueberry Pecan Baked Oatmeal
A delicious and balanced make-ahead breakfast that you can eat on busy mornings all week long, and best of all, it's freezer-friendly!
Ingredients
1

cup

mashed banana

or ~2-3 medium bananas

2

eggs

1 ½

cups

unsweetened vanilla almond milk

or milk of choice

2

tablespoons

coconut oil

melted and cooled, or ghee/butter

1

teaspoon

vanilla extract

2 ½

cups

old fashioned rolled oats

gluten-free, if needed

2-3

scoops

collagen or protein powder

optional

1

teaspoon

baking powder

½

teaspoon

cinnamon

¼

teaspoon

salt

¾

cup

frozen blueberries

or diced strawberries

1/2

cup

chopped pecans

1/2

cup

dark chocolate chips
Instructions
Preheat oven to 350 degrees F. Spray a 9×13 pan* with nonstick cooking spray.

In a large bowl, mix together mashed banana, eggs, almond milk, coconut oil and vanilla until mostly smooth. Next, add in rolled oats, collagen (if using), baking powder, cinnamon and salt until well combined. Lastly, gently fold in blueberries, pecans and dark chocolate chips.

Pour mixture into prepared pan and bake for 25-35 minutes until edges start to become slightly golden brown. (Or until a knife inserted in the middle comes out clean.) Serve warm with a tablespoon of almond butter on top.

Store leftovers in an airtight container in the refrigerator up to 3 days, or freeze.
To Freeze:
Wait for oatmeal bake to cool, then cut into 12 squares and store in freezer Ziploc bags in the freezer for up to 6 months.
Nutrition
Calories:
195
kcal
Carbohydrates:
22
g
Protein:
4
g
Fat:
10
g
Saturated Fat:
4
g
Cholesterol:
27
mg
Sodium:
109
mg
Potassium:
248
mg
Fiber:
3
g
Sugar:
6
g
Vitamin A:
55
IU
Vitamin C:
2.6
mg
Calcium:
92
mg
Iron:
1.2
mg
If you make this recipe, don't forget to tag me @wellnessforthewin and hashtag #wellnessforthewin so I can see your creations! Save this to your "Breakfast" board on Pinterest so you can easily refer back to it. Trust me; you'll want to!
Enjoy!
Shanna