Healthy Carrot Pumpkin Muffins with Cream Cheese Frosting
These Healthy Carrot Pumpkin Muffins with Cream Cheese Frosting may or may not be one of my favorite recipes to date. Bold statement, I know, but Y U M.
Hey, Hi, Hello, How Are you?
Apologies for my hiatus. I've been very busy lately and haven't had a chance to post any recipes or blog posts in general. I hope you have been enjoying your February so far, despite the ridiculous winter weather we've been having.
If you're not in Kansas City, have you been getting absolutely DUMPED on with snow, too?! Ugh. Forever dreaming of sunshine and warmth. That damn groundhog lied. What's new.
Anyway, I have some really exciting things in the works for my blog, and I can't wait to share more about that very soon. Stay tuned. : )
Like I said, it's been a hot second since I posted a recipe, but trust me when I say this one is going to be worth the wait. If you know me well, you know that I absolutely love carrot cake, and I absolutely love all things pumpkin.
I have been thinking up a carrot cake-like recipe for a while, and it finally came to fruition a few weekends ago when I actually had some time to bake.
Inspiration behind these healthy carrot pumpkin muffins
This recipe was inspired by a few different recipes I came across on Pinterest, including my own Healthy Gingerbread Muffins, and it is pretty damn delicious if I do say so myself.
I confessed to my followers on Instagram that I made a huge baking mistake on my first go-round with this recipe, and I am fully putting the blame on coconut oil. I have had issues with coconut oil the past several times I have baked something that called for it.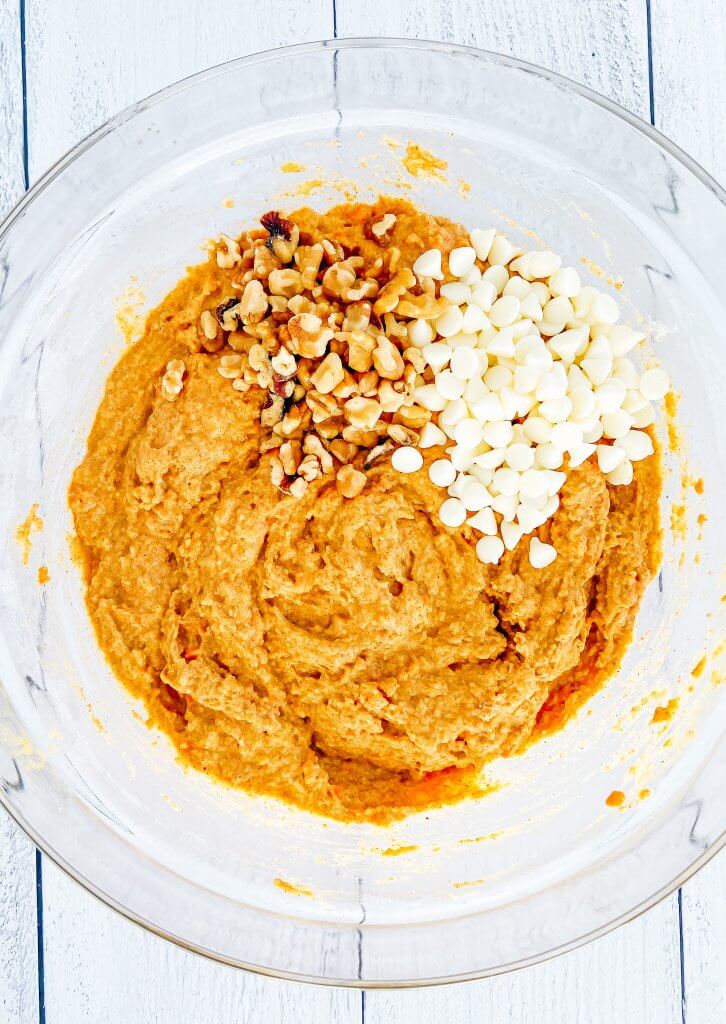 Because it is solid, and usually has to be melted, I stick it in the microwave and forget it is in there until the baked good has already been placed in the oven. This time I remembered to take it out of the microwave, and yet, it still didn't make its way into the batter. It just blended right into the dish and hung out on the counter while my muffins baked away.
Can we form a petition to make coconut oil brightly colored instead of clear so this stops happening to me? LOL. But seriously…
Nonetheless, my muffins turned out great the first time, but I knew the coconut oil would've added the perfect amount of sweetness to take them to the next level. These are super dense, tasty and packed with nutrition.
what's a carrot-flavored dessert without cream cheese frosting?
Since I am such a carrot cake lover, I felt the urge to create some kind of healthier cream cheese frosting, because honestly, what is carrot cake without cream cheese frosting?!
Of course, you can omit the frosting if you want, but I highly recommend adding it. Totally your call. Does frosting make them cupcakes? Asking for a friend…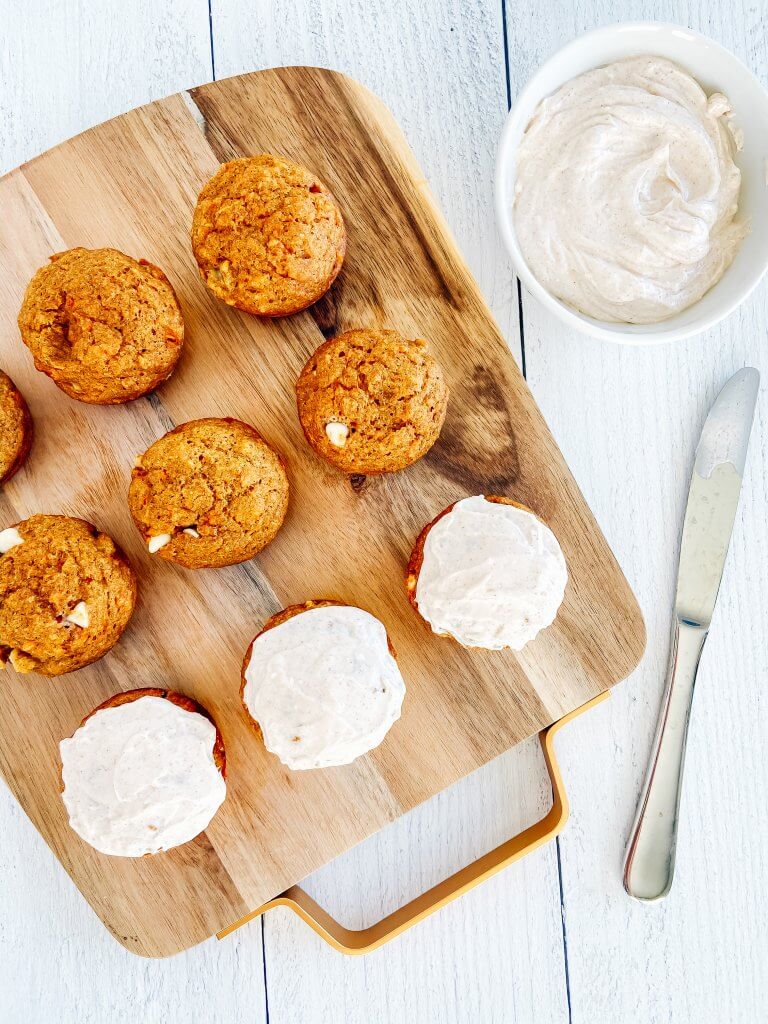 Either way, I also recommend adding white chocolate chips because the carrot + pumpkin + white chocolate combo is SO BOMB.
I'm happy to report that coconut oil made it into the recipe for round two, and they are even more delicious than I imagined. Here's the recipe!
Healthy Carrot Pumpkin Muffins with Cream Cheese Frosting
These muffins are loaded with vitamins, minerals and fiber thanks to the pumpkin puree, carrots and whole wheat flour, plus tons of other goodies! The cream cheese "frosting" is the cherry on top, and it's healthy enough that you can still get away with eating these babies for breakfast. Muffins or cupcakes? YOU decide. 😉
Ingredients
2

cups

whole wheat flour

1

Tbsp

baking powder

1

tsp

baking soda

2

tsp

ground cinnamon

1/2

tsp

ground ginger

1/4

tsp

ground nutmeg

Pinch

of salt

~1/8 tsp

2

eggs

1

cup

pumpkin puree

1/2

cup

plain Greek yogurt

1/2

cup

unsweetened applesauce

1/4

cup

maple syrup

1/4

cup

unsweetened vanilla almond milk

3

Tbsp

coconut oil

melted and cooled

1

cup

finely shredded carrots

2-3 large carrots, shredded in food processor

1

tsp

vanilla extract
Optional Mix-Ins:
1/3

cup

chopped walnuts

1/3

cup

white chocolate chips
Cream Cheese Frosting
1/2

cup

plain whipped cream cheese

1/2

cup

plain Greek yogurt

1/2

tsp

cinnamon

1/2

tsp

vanilla extract

2

tsp

honey
Instructions
Preheat oven at 350° F. Grease two muffin pans with non-stick cooking spray. (Mine made 18 muffins)

Peel large carrots and chop into 2 inch chunks. Place in food processor and pulse until finely shredded. Repeat until you have 1 cup of shredded carrot. I used 2-3 large carrots.

In a large bowl, combine dry ingredients: whole wheat flour, baking powder, baking soda, cinnamon, ginger, nutmeg, and salt. Set aside.

In a medium bowl, beat 2 eggs. Add Greek yogurt, maple syrup, coconut oil, pumpkin puree, unsweetened applesauce, unsweetened vanilla almond milk, vanilla extract, and shredded carrots. Mix well.

Pour wet ingredients into dry ingredients. Add additional mix-ins as desired, including chopped walnuts and white chocolate chips. Stir until just combined. Do not over-mix. Pour batter evenly into prepared muffin cups.

Bake for 13-15 muffins, or until a knife inserted in the center comes out clean.

While muffins are baking, prepare cream cheese frosting by combining cream cheese, Greek yogurt, cinnamon, vanilla and honey in a small bowl. Mix well. Let muffins cool for 15-20 minutes before adding frosting.

Store in the refrigerator for 3-5 days in an airtight container, or transfer to the freezer in freezer-safe bags. Reheat in the microwave to thaw. If not adding frosting, serve with a dollop of almond butter on top, if desired.
Nutrition
Calories:
160
kcal
Carbohydrates:
19
g
Protein:
4
g
Fat:
7
g
Saturated Fat:
4
g
Cholesterol:
26
mg
Sodium:
115
mg
Potassium:
231
mg
Fiber:
2
g
Sugar:
7
g
Vitamin A:
3415
IU
Vitamin C:
1.1
mg
Calcium:
82
mg
Iron:
1
mg
That's all, folks! I hope you love these Healthy Carrot Pumpkin Muffins with Cream Cheese Frosting as much as we do!
As always, please tag me in your creations at @wellnessforthewin on Instagram or my Facebook page, and pin this on Pinterest so you can make it over and over again! I can't wait to hear what you think!
XO,
Shanna