Pulled Pork Grilled Cheese
Our newest obsession in this household: Pulled Pork Grilled Cheese! This recipe is a fun, flavorful twist on an old family favorite! I mean, who doesn't love grilled cheese?! Especially when it is made with the absolute BEST, Cabot Cheese.
Disclosure: this post is sponsored by Cabot Cheese and I am being compensated monetarily; however, all opinions expressed are my own. Cabot Cheese is a brand we eat regularly in our home and absolutely love!
I used my slow cooker to prepare the pulled pork, but if you have a different method that you prefer (such as cooking it on your smoker), feel free to do that! This recipe is super easy to make and customize to your personal preferences. I'll provide several suggestions below.
ingredients needed for this pulled pork grilled cheese
As a busy new mom, I am all about EASY recipes with minimal ingredients, so I tried to keep that in mind while creating this recipe. You are always welcome to add more ingredients and spice it up if you'd like, but I wanted to keep it as simple as possible!
All you need:
Pork butt roast or pork shoulder
Barbecue sauce
Salt and pepper
Paprika
Garlic powder
Seriously Sharp Cheddar Cabot Cheese
Whole grain bread
what's the best cheese to use for grilled cheese?
Cabot Cheese is the absolute best brand of cheese out there, in my opinion. Their cheese is SO rich and flavorful and the perfect, creamy texture.
As far as flavors? The possibilities are endless, but truly, it depends on your taste preferences and your mood. ; ) If you're feeling spicy, Pepper Jack would be a fun option to use. I decided to use their Seriously Sharp Cheddar Cheese for this recipe, because it's our favorite Cabot flavor. We also tried this recipe using their Medium Cheddar cheese, and it tastes equally amazing. You really can't go wrong.
If you want it to be more like a classic grilled cheese (which many people use American cheese for), I would suggest using the Medium Cheddar Cheese. If you want to spice it up and aim for a little bit more complex flavor profile or as I mentioned, spice, try the Seriously Sharp or Pepper Jack!
As you can see on the labels below, their cheeses are naturally lactose-free, which makes them a great option for anyone who has a sensitivity to lactose, but wants to enjoy a delicious, cheesy recipe!
how to make slow cooker pulled pork
My goal with this part of the recipe was simplicity. That is what I love about the slow cooker. You can usually just toss a bunch of stuff in, walk away for a few hours, and voila — it comes out just how you wanted. Luckily, that is what happened here, and it cooked fairly quickly, too.
I used pork butt roast that was close to 3 lbs, but you can use pork butt or pork shoulder. Aim for one that is around 3-4 lbs. Then, choose any barbecue sauce you like. Again, if you like spicy, look for one that has a kick to it. If you prefer sweet, consider a honey barbecue sauce. Alternatively, you can always get a nice original flavored sauce, and add extras to the slow cooker as needed, such as chili powder OR brown sugar, depending on the flavor you're going for.
I added the pork butt, sauce, a little bit of water, and spices to my slow cooker, turned it on high, and it was ready in around 2-2.5 hours. Time will vary depending on the size of your roast; you may need closer to 3-4 hours for a larger piece of meat. Check the internal temperature with a meat thermometer around 2 hours and adjust your cook time as needed. The internal cooking temperature should be 145 degrees Fahrenheit.
Once it has reached 145 F, transfer the roast to a large bowl, and use two forks (or claws) to shred it. I left the fat on during cooking to provide a juicier product, and then removed it as I shredded. If you want to leave it there, that's okay, too! Once you're finished shredding, add the pulled pork back to the slow cooker and stir to coat with the leftover sauce and juices.
other delicious recipes to try using cabot cheese
In case you want to stock up on Cabot Cheese while you're out grabbing some for this recipe, be sure to save the recipes below to try out, too!
They have SO many delicious flavors and varieties that are perfect for all kinds of recipes, as well as healthy snacks.
substitution options and serving suggestions for pulled pork grilled cheese
There are several things in this recipe that you can easily swap out to mix it up each time or to meet your personal preferences or dietary needs. Such as:
Cheese flavor of choice — sharp cheddar, mild cheddar, pepper jack, etc.
Different types of bread — i.e. whole grain, Texas toast, gluten-free if needed, etc.
Different varieties of barbecue sauce — sweet, spicy, etc.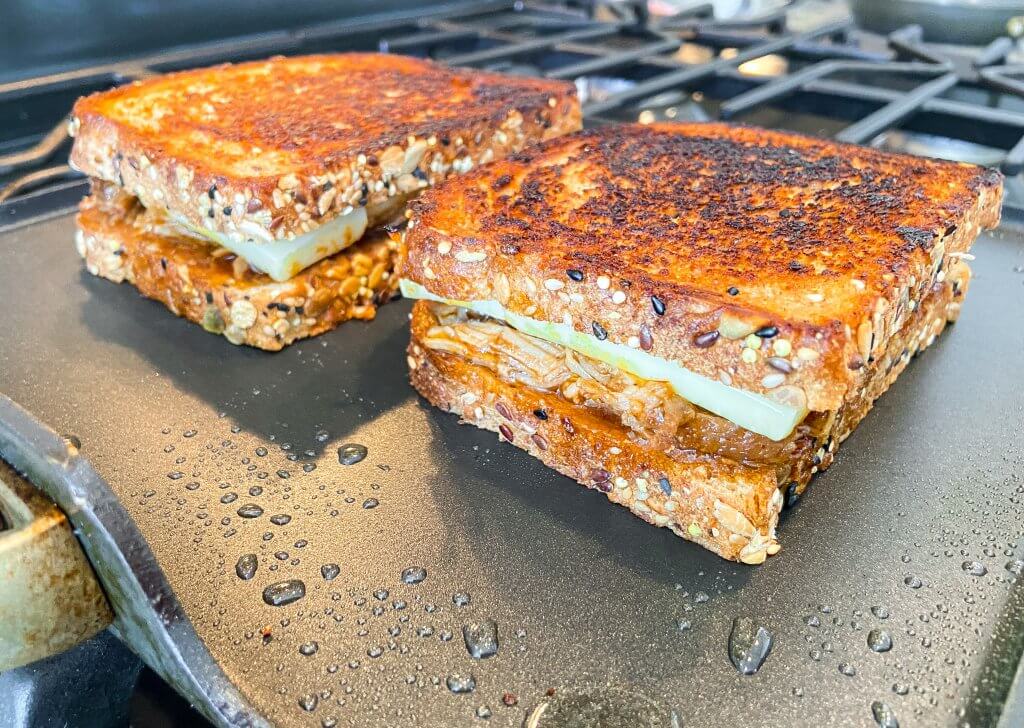 What should you serve with the pulled pork grilled cheese? Try one of the following:
Pulled Pork Grilled Cheese
Pulled Pork Grilled Cheese requires minimal ingredients, is easy to make and will please the whole family!
Ingredients
3-4

lb

pork butt roast or pork shoulder

1

cup

barbecue sauce

1/4

cup

water

1/2

tsp

paprika

1/2

tsp

garlic powder

Salt and pepper

to taste

Brown sugar and/or chili powder

optional, for sweet or spicy

12

slices

whole grain bread

12

oz

Seriously Sharp Cabot Cheese

sliced
Instructions
Spray crockpot with nonstick cooking spray. Place pork butt roast into the crockpot and add 1 cup barbecue sauce, 1/4 cup water and spices. Turn timer on 4 hours, but check temperature around 2-2.5 hours. (Internal temperature should be 145 degrees F.) Adjust cooking time as needed until 145 F is reached.

While pork is cooking, slice up your cheese, and refrigerate until it is time to make your sandwiches.

Once pork is done cooking, transfer roast to a large bowl. Use two forks to shred. Remove and discard fat, if desired. Once pork is shredded, transfer back to the crockpot and stir to coat it in the remaining sauce and juices.

Next, prepare your sandwiches. Per sandwich: use 2 slices of whole grain bread (or bread of choice), spread ~1 Tbsp of barbecue sauce on one slice, and line the other with sliced cheese, about 6 slices, as pictured above. On the half with barbecue sauce, add about 1/2 cup of pulled pork.

Place a griddle pan over medium heat on the stovetop and spray with nonstick cooking spray or melted butter, if desired.

Once pan is heated, close your sandwich(es), and cook for a few minutes per side, until bread is browned and crispy, and cheese has melted.

Serve immediately, and enjoy!

Store any leftover pulled pork in the fridge for 3-4 days in an airtight container. It is recommended to make the grilled cheese fresh and eat immediately to avoid it getting soggy during storage.
Nutrition
Calories:
762
kcal
Carbohydrates:
48
g
Protein:
63
g
Fat:
34
g
Saturated Fat:
17
g
Trans Fat:
1
g
Cholesterol:
196
mg
Sodium:
1280
mg
Potassium:
1044
mg
Fiber:
3
g
Sugar:
20
g
Vitamin A:
770
IU
Vitamin C:
1
mg
Calcium:
534
mg
Iron:
5
mg
I hope you love this Pulled Pork Grilled Cheese, too! I can't wait to hear what variations you try! Be sure to tag me @wellnessforthewin and @cabotcheese on Instagram to show us your creations!
Enjoy!
Shanna