Strawberry Feta Walnut Salad
Is it a coincidence that this Strawberry Feta Walnut Salad has red, white AND blue in it? Definitely not. As crazy as it is, the 4th of July is already right around the corner!
Independence Day usually consists of gathering with friends and family to eat delicious food, drink ice cold adult beverages (like my delicious margaritas) and celebrate the good ol' US of A.
what should i serve for 4th of july?
When I'm at some kind of backyard barbecue, I always appreciate having some fresh, healthy options available, like a fully loaded salad. I know I'm not alone in that! That's why I wanted to share this delicious recipe with you today.
I have been obsessed with variations of this salad for a while now. It has the perfect combination of flavors and textures. Fresh strawberries & blueberries, creamy feta cheese crumbles, crunchy walnuts and pepitas. Mmm-mmm good.
Some other easy, healthy and tasty party recipes you could make are:
What type of salad dressing should i use?
Sadly, I don't have a salad dressing recipe for you today. The good news is that this salad is very versatile (at least I think so) and tastes good with multiple types of dressing.
I'm going to share what I recommend using for this salad, and the rest is up to you.
Lately, Ethan and I have been loving all things by Sir Kensington's. They have a delicious Ranch dressing that is to die for. You can find their products at Walmart, Target, Sprouts, Whole Foods, and Hy-Vee for local peeps.
I also love this salad combo with balsamic vinaigrette. I'm a fan of Bolthouse Farms dressings, too. I've heard good things about Primal Kitchen salad dressing but haven't tried it myself!
If you want to try a homemade dressing, try out this Balsamic Vinaigrette recipe from my friend Alexis of Hummusapien! It has me drooling!
what i love about this strawberry feta walnut salad
I love this Strawberry Feta Walnut Salad for multiple reasons.
It contains fruit, and real talk: I'm not great at getting fruit in my diet
Makes it easy to get a ton of greens in!
It is husband-approved — Ethan absolutely loves this salad and actually requested that we make it once a week this summer
Contains omega-3 fats from the walnuts, and more healthy fats from pepitas
The feta cheese adds a salty, tangy taste as well as a creamy mouthfeel with each bite
It is quick and easy to make, and no "cooking" required!
Perfect for busy weeknights or work lunches, or 4th of July gatherings!
You can easily add a protein source to make it an entree, such as grilled chicken or pan-seared salmon
What should i wear for the 4th of july?
Okay, so this isn't salad-related, but isn't it something we all struggle with on this holiday? I mean, it's usually freaking hot outside, yet you want to look cute, but also be comfortable, and not look like a sweaty, hot mess. The summer struggle is real. (Don't get me wrong – I'd take it over the freezing cold any day.)
I personally like to go more casual for the 4th of July. You can usually find me in a pair of destroyed jean shorts + a tank of some sort + sandals. Ideally, I'd be on a boat in a swimsuit!
I found some cute items online that caught my eye that I wanted to share with you in case you're on the hunt for an Independence Day outfit or accessories!
Click the arrow to scroll through!

Recipe time!
As always, you can make this recipe your own! Feel free to add more or less of any of the ingredients, according to your personal preferences. You can even add extra toppings if you wish. Go crazy! ; )
Strawberry Feta Walnut Salad
This Strawberry Feta Walnut Salad has the perfect combination of flavors & textures and makes a refreshing side dish/meal for 4th of July or any summer day!
Ingredients
10

oz

salad greens

container of spinach or spring mix

1

cup

strawberries

fresh, sliced

1

cup

blueberries

fresh

1/2

cup

chopped walnuts

1/2

cup

pepitas

1/2

cup

feta cheese crumbles

1/3

cup

reduced sugar dried cranberries

2

tbsp

dressing of choice

per serving
Instructions
Rinse strawberries and blueberries. Slice strawberries, set aside.

Add salad greens to a large bowl. Add all other toppings and toss with salad tongs so they are evenly distributed.

Option to add dressing to salad and toss to lightly coat, or add to individual servings to avoid getting soggy.

Refrigerate for at least 15 minutes before serving. Serve chilled.

Store in airtight container in the refrigerator for 1-2 days.
Nutrition
Calories:
188
kcal
Carbohydrates:
16
g
Protein:
6
g
Fat:
13
g
Saturated Fat:
3
g
Cholesterol:
11
mg
Sodium:
202
mg
Potassium:
231
mg
Fiber:
2
g
Sugar:
9
g
Vitamin A:
605
IU
Vitamin C:
27.5
mg
Calcium:
84
mg
Iron:
1.3
mg
If you just want a single serving of this salad, use the following amounts:
4 cups salad greens of choice
1/4 cup chopped walnuts
2 Tbsp pepitas
2 heaping Tbsp chopped red onion
3 large strawberries, sliced
1/4 cup blueberries
2 Tbsp reduced sugar dried cranberries
2 Tbsp dressing of choice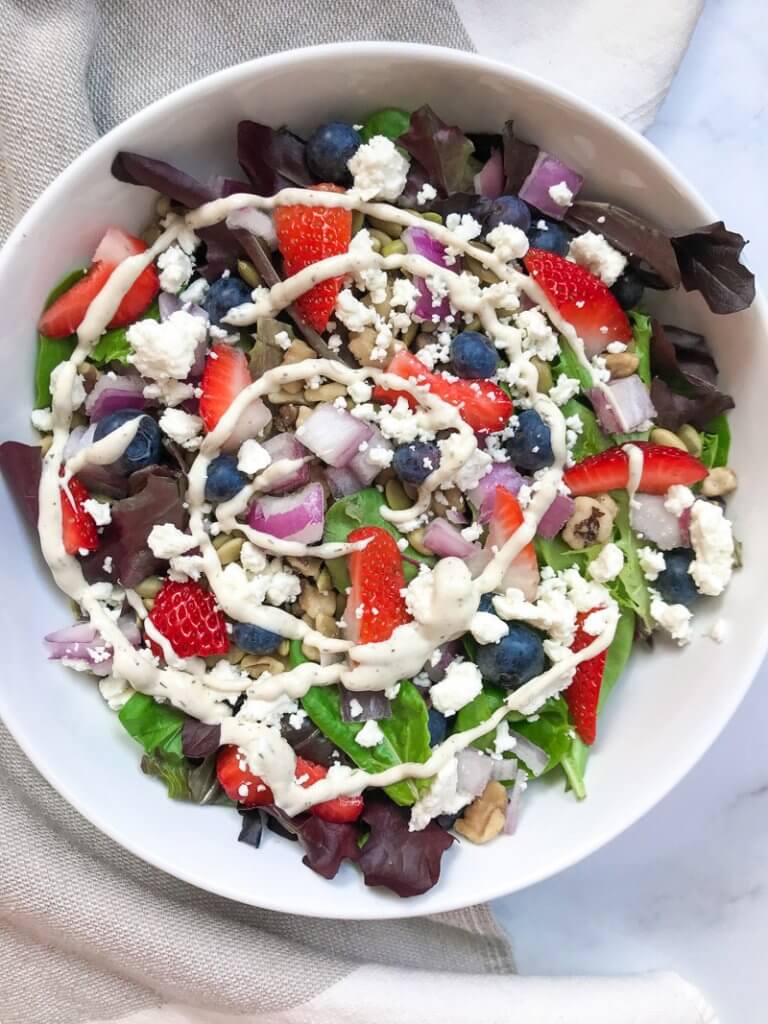 I hope you enjoy this Strawberry Feta Walnut Salad! If you make it for your 4th of July party, be sure to take photos and tag me! Pin this recipe on Pinterest so you can refer back to it later, because trust me, it's going to hit the spot ALL summer long! ; )
XOXO,
Shanna