Healthy No Bake Energy Bites
These No Bake Energy Bites are one of my OG recipes on the blog. Of course, they were inspired by Ali of Gimme Some Oven, who has tons of delicious recipes on her blog, and also happens to be a Kansas City girl! Definitely check her out if you haven't already.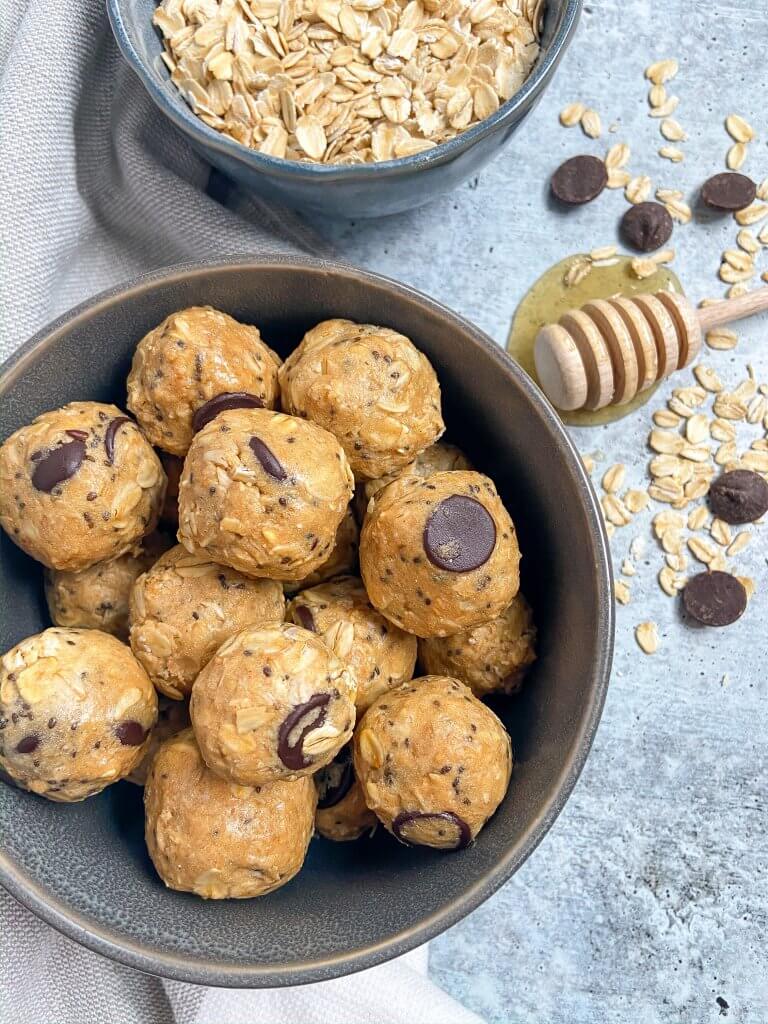 This is the third and hopefully final time that I'll be editing this post and these photos. : ) In my almost five years of blogging, I have learned SO much — about food photography, SEO (search engine optimization; AKA, making your posts rank on Google), recipe making, writing and more. And I still have A LOT to learn; I'm no expert by any means.
But that's what makes life fun, right? Things are always changing and there are always new things to learn. Sometimes that's fun, and sometimes it's extremely frustrating, especially in the blogging world, but I'll choose to look at it as "fun" for now. ; )
If there's anything I've learned throughout my life AND my blogging career, it's that your attitude and mindset about things like that matters.
what's happening in my life right now
Lately I've gotten away from writing about what's actually going on in my life in my posts and just provided info on the recipe. Which I know, the vast majority of you come here for the food. I get that, and I'm not mad at you for it. ; )
But in case the select few of you want to know what's going on in my world, I thought I'd go ahead and share some of that, too. If nothing else, it's kinda therapeutic for me to share. Like writing in a journal, but for thousands of people to see. Totally the same.
House Update
Anyway, there's a lot happening right now. The house that Ethan and I have been building over the past year will be done in 29 days, and we will be moving out of my parents house. My parents have been amazing and so gracious over the past (almost) year, but we are beyond ready for our next chapter. It doesn't seem real that it's almost here. I can't wait to show you all more once we are in!
Here are a few photos that I took throughout the process, and of course the bathroom photos are much more recent, because we are almost DONE!
Super Bowl LIV
Also, it's Super Bowl week, and the Kansas City CHIEFS are in it! So crazy and so exciting. To be completely honest, I usually get my shit done on Sundays and haven't watched many of the games this year, BUT I have watched the past few leading up to the Super Bowl.
Even though I'm a sucky fan, it has been really fun in Kansas City because there is SO much hype and excitement, just like when the Royals went to the World Series a few years back. It really is great to be a Kansas Citian.
Latest Podcast Interview with State Your Line
Speaking of loving Kansas City, I was on the State Your Line podcast this week talking all things New Year's Resolutions and starting 2020 off on the right foot. It probably isn't what you think. ; ) I'd encourage you to give it a listen! We also talk about how I got started with blogging, what I do for my full-time corporate job, and other funny things.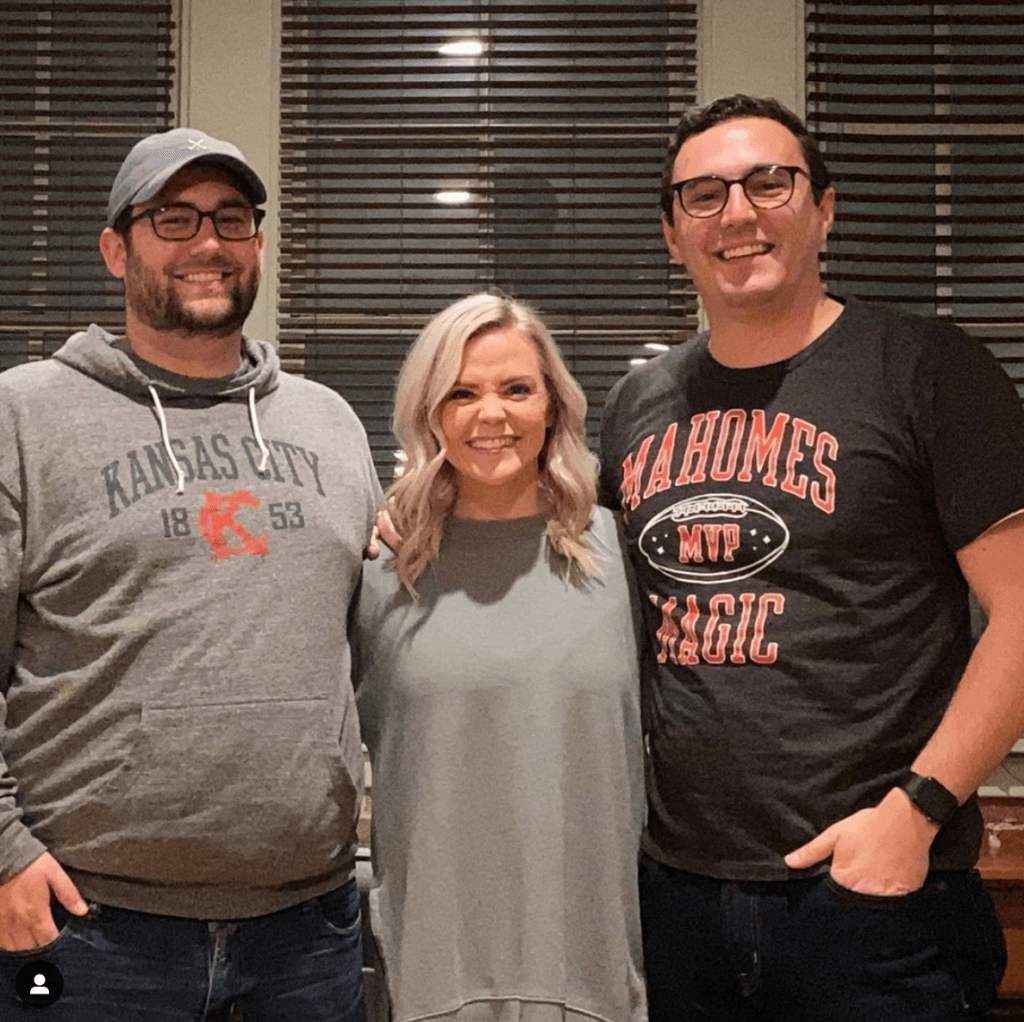 Danny and Kevin Ritz are brothers who talk about allll things KC every week & interview a variety of influential people in the city. Highly recommend checking them out! Click here to check out my interview. (Episode 39)
The Death of Kobe and Gigi Bryant
Before I move on from "what's going on right now", I have to address this horrible tragedy that occurred just four days ago. Kobe and Gigi were in a fatal helicopter accident and it has been ALL over the internet ever since, and for good reason. I will admit; I've never been a big NBA fan either, and didn't know a ton about him besides the fact that he was an incredible athlete.
From all the news coverage and videos I've seen of him over the past several days, I have learned that not only was he an incredible athlete. He was just an all-around great human, and an even better dad. And he was SO proud to be a #girldad and loved his daughters with all his heart. My prayers go out to his loved ones and everyone affected by this devastating loss.
It's unfortunate that it requires something like this to happen every so often to remind us all that life is fragile and tomorrow is not guaranteed. So remember to tell people you love them, be quick to forgive and be thankful for all that you have. <3
ingredients needed for no bake energy bites
Okay, y'all. Moving on to the recipe. These healthy no bake energy bites couldn't be simpler to make and they are seriously to. die. for. SO GOOD. You'll love them, and you probably have most of the ingredients you need to make them!
Ingredients:
Old-fashioned oats
Creamy peanut butter
Honey
Chia seeds or hemp seeds
Dark chocolate chips
Crunchy whole grain cereal of choice
Ground flaxseed OR collagen peptides/protein powder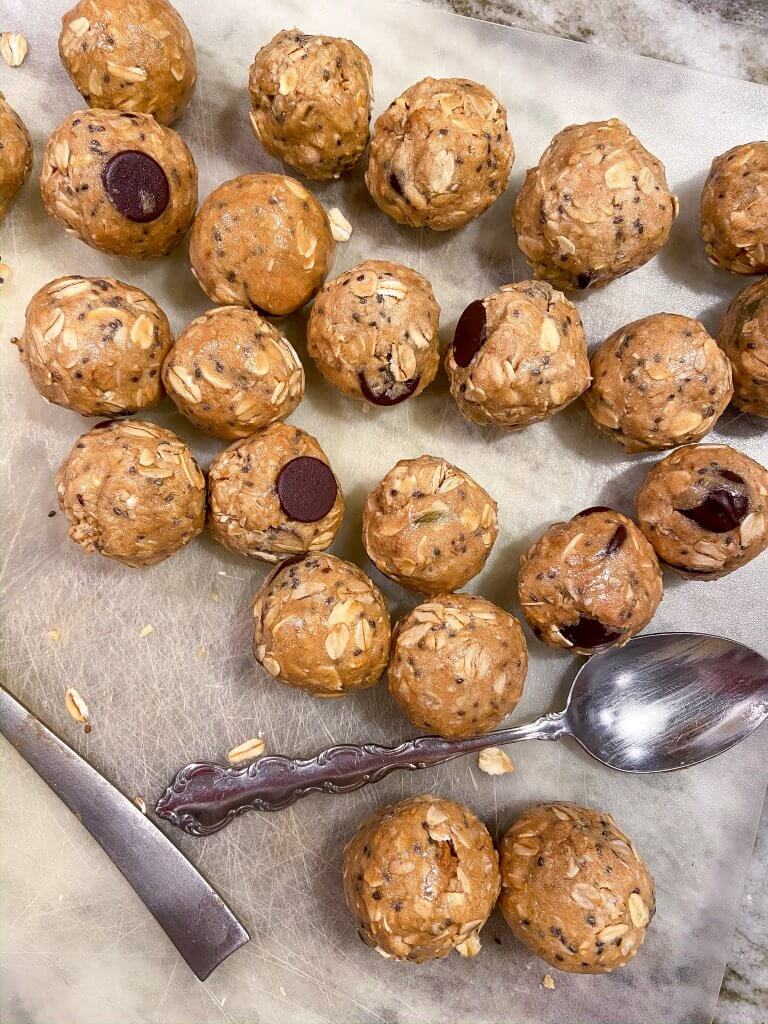 As you can see, these bites contain some whole grains, healthy fats, protein AND fiber, and most importantly, chocolate! What more could you ask for in a healthy snack? ; )
Gimme Some Oven's original recipe calls for coconut flakes. I personally am not a huge fan of coconut, so I added a whole grain cereal instead to add a little crunch, protein and fiber. If you love coconut, you can use that instead! You could also substitute unsweetened dried cranberries here.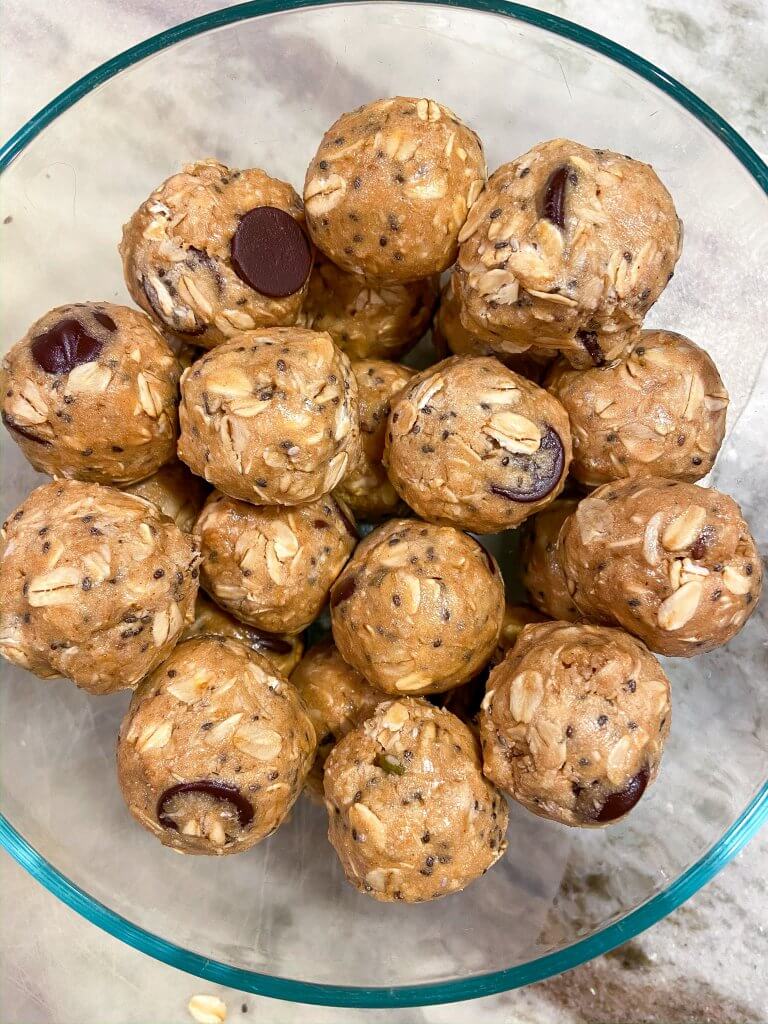 In the recipe you'll see I said Original Grape Nuts; however, I have also used Pumpkin Seed & Flax Granola/Cereal from ALDI and it worked great too, and tasted delicious! So you have some flexibility if you do go with a whole grain cereal; just make sure it is crushed up pretty well!
Just don't mess with the amounts of peanut butter and honey in this recipe, as they are quite literally the glue that hold these babies together. : )
how to make no bake energy bites
As the name suggests, these babies require no baking or cooking, which is awesome!
All you have to do is:
Combine all the ingredients in a large bowl.
Use a spoon to mix well until all ingredients are evenly distributed.
Transfer to the refrigerator to chill for half an hour.
Roll into balls.
And that's it! Literally couldn't be simpler.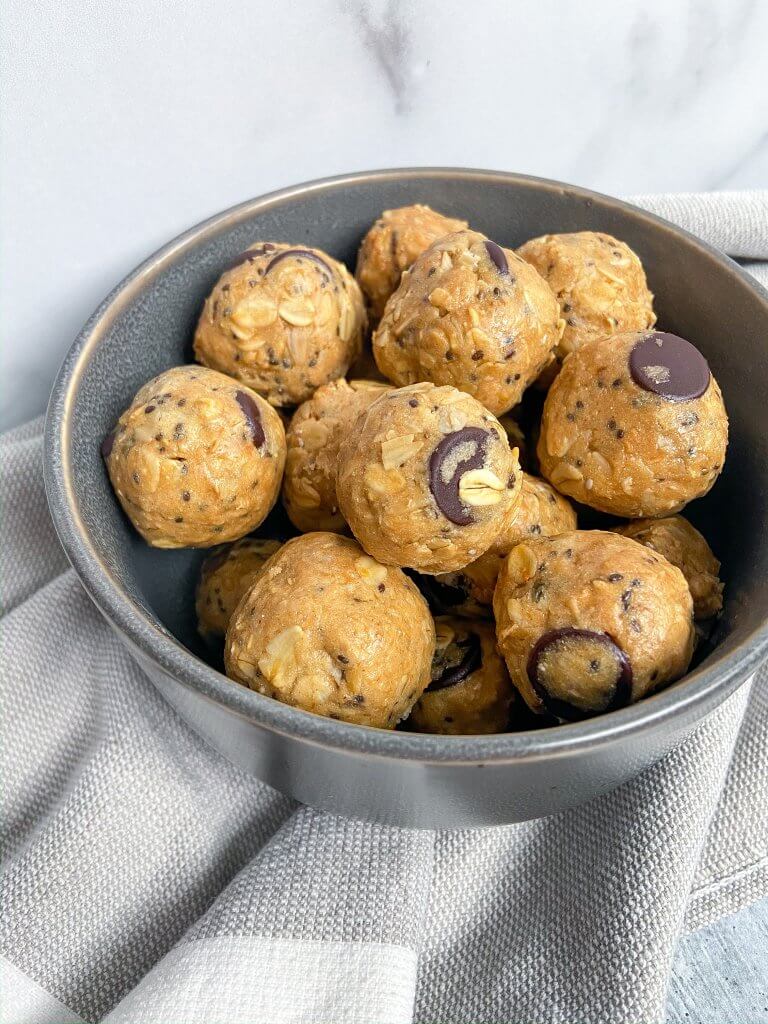 how much is a serving of these no bake energy bites?
Honestly, this is up to you! Whenever we have a batch of these around, I usually eat around two per day. I typically split them up because it gives me something to look forward to. ; )
These can be eaten as a pre-workout or post-workout snack, or really anytime you need a little boost + something sweet!
Let's get to the recipe!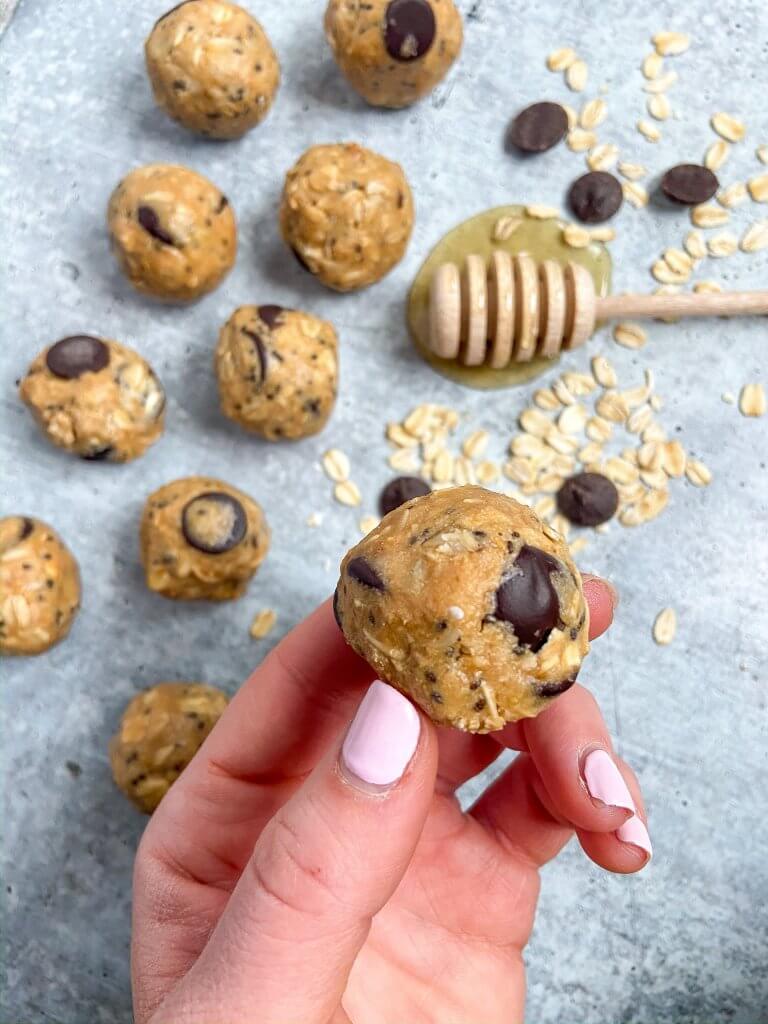 No Bake Energy Bites
These No Bake Energy Bites are full of good-for-you ingredients and make a perfect pre-workout, post-workout or on-the-go snack! Better yet, they are super quick and easy to make! 
Ingredients
1

cup

old-fashioned oats

1/2

cup

natural creamy peanut butter

1/3

cup

pure raw honey

1

Tbsp

hemp seeds

or chia seeds

2/3

cup

original Grape Nuts cereal

or any whole grain cereal, crushed

1/2

cup

ground flaxseed*

OR collagen/protein

1/3

cup

collagen peptides or protein powder*

OR ground flaxseed

1/3-1/2

cup

dark chocolate chips

or milk chocolate chips

1

tsp

vanilla extract
Instructions
Combine all ingredients in a medium-large mixing bowl and stir to combine.

Place bowl in refrigerator for at least 30 minutes to chill.

Remove from refrigerator and form into balls (about 1" in diameter, or desired size). I have found it easiest to spray my hands with non-stick cooking spray and use my hands to form the balls.

Store no bake energy bites in the refrigerator in an airtight container for up to 5-7 days.
Notes
*Note: either use ground flaxseed OR collagen peptides/protein powder. If you choose to add both, you will need more peanut butter and/or honey to even out the texture. 
I use Further Food Collagen Peptides and love them, especially the vanilla! But the flavorless version is also great to have for a variety of recipes, and it dissolves easily. Use my code wellnessforthewin for a small discount on their products. 
Nutrition
Calories:
106
kcal
Carbohydrates:
12
g
Protein:
3
g
Fat:
5
g
Saturated Fat:
1
g
Cholesterol:
1
mg
Sodium:
45
mg
Potassium:
105
mg
Fiber:
2
g
Sugar:
6
g
Vitamin A:
60
IU
Calcium:
22
mg
Iron:
2
mg
Super easy, right!? I hope you all love this recipe and that it becomes a part of your normal rotation, too!
As always, tag me on Instagram @wellnessforthewin if you give these a try, and share the love by saving this recipe to your "healthy snacks" Pinterest board! : )
Talk to you soon!
Shanna