Parmesan Garlic Roasted Asparagus
I'm so excited to share this recipe, because I feel like asparagus doesn't get enough attention. Asparagus is one of my favorite vegetables, and I think that is partly because it's so damn good-looking. Just look at that picture up there. Isn't that drool-worthy?!
I can honestly say that most of my favorite foods are vegetables. Roasted sweet potatoes, cauliflower, Brussels sprouts, carrots — you just can't compete with those. Sometimes I feel like people don't believe me that I would rather have a healthy meal like salmon and tons of vegetables than a big, rich, decadent bowl of something greasy and unhealthy. Unless that something unhealthy was Kraft shell macaroni and cheese. (I have this weird love for mac & cheese. Oh, and pizza.) But I truly do love all of the foods I eat because I feel so satisfied afterwards — not uncomfortably full or in a food coma — especially vegetables. I believe that anyone and everyone can get to the point where they love to eat these foods every day too. It's just a matter of figuring out which ones you like, and learning how to prepare them.
Whenever I ask patients or clients what they eat in a typical day, vegetables always seem to be an after-thought, if they are mentioned at all. "Meat and potatoes" is usually the reflex response for dinner meals. Then they'll go on to tell me that corn, potatoes and canned green beans are the most commonly consumed veggies in their home. Which is fine — to an extent. It's so important to incorporate a wide variety of colorful fruits and vegetables so your body can reap all the wonderful benefits of the different phytochemicals that each one can offer. Not only will the different nutrients benefit you, but spicing up your diet by trying new foods will greatly benefit you as well. No one likes to eat the same things every single day; that can get super boring. Although, if I had to do it, I easily could, because I'm totally a creature of habit (and I'm already guilty of eating a lot of the same things over and over). However, most people crave a little more variety in their diets.
I think the main thing that keeps people from eating more vegetables is "lack of time". Everyone has this idea in their heads that veggies require so much time and effort to prepare, when in fact, that just really isn't true. This whole recipe can be prepared and on your plate in about 25 minutes or less (including cook time — during which you could do all kinds of activities!), which is not so bad if you ask me. You can also do what I do most of the time, and prep them ahead of time; however, for this particular recipe, I think the asparagus tastes much better fresh out of the oven. It gets a tad bit soggy after being refrigerated, but it still heats up fine and tastes delicious to me. But I would still recommend eating it fresh if possible, which should be doable since it's so quick and easy to make! It's also nearly impossible not to eat all the asparagus straight off the pan when it comes out because it is just. that. good.
Ready? : )
Parmesan Garlic Roasted Asparagus
Makes 3-4 servings
Ingredients:
1 bunch of asparagus (approx. 1 lb.)
1 tbsp extra virgin olive oil
1 tsp garlic powder
1/2 tsp black pepper
1 tbsp grated parmesan (plus more to serve)
1 tbsp whole wheat bread crumbs
Other items needed:
Large, rimmed baking sheet
Parchment paper
Non-stick cooking spray
1 gallon Ziploc bag
Instructions:
Preheat oven to 400 F.
Wash the asparagus, pat dry, then cut off the ends.*
*By doing a little research, I just learned that apparently you can also do this by simply taking the end of the asparagus between your thumb and forefinger and bending it until it breaks. The asparagus automatically breaks where the woody part ends and the fresh, juicy asparagus begins. Who knew!? Ya learn something new every day. 
3. Transfer the trimmed asparagus to a gallon Ziploc bag, and add all other ingredients: olive oil, garlic powder, pepper, parmesan, and bread crumbs.
4. Seal Ziploc bag and shake vigorously until asparagus is evenly coated with seasonings.

5. Transfer to baking sheet lined with parchment paper and sprayed with non-stick cooking spray. Lay asparagus into an even layer.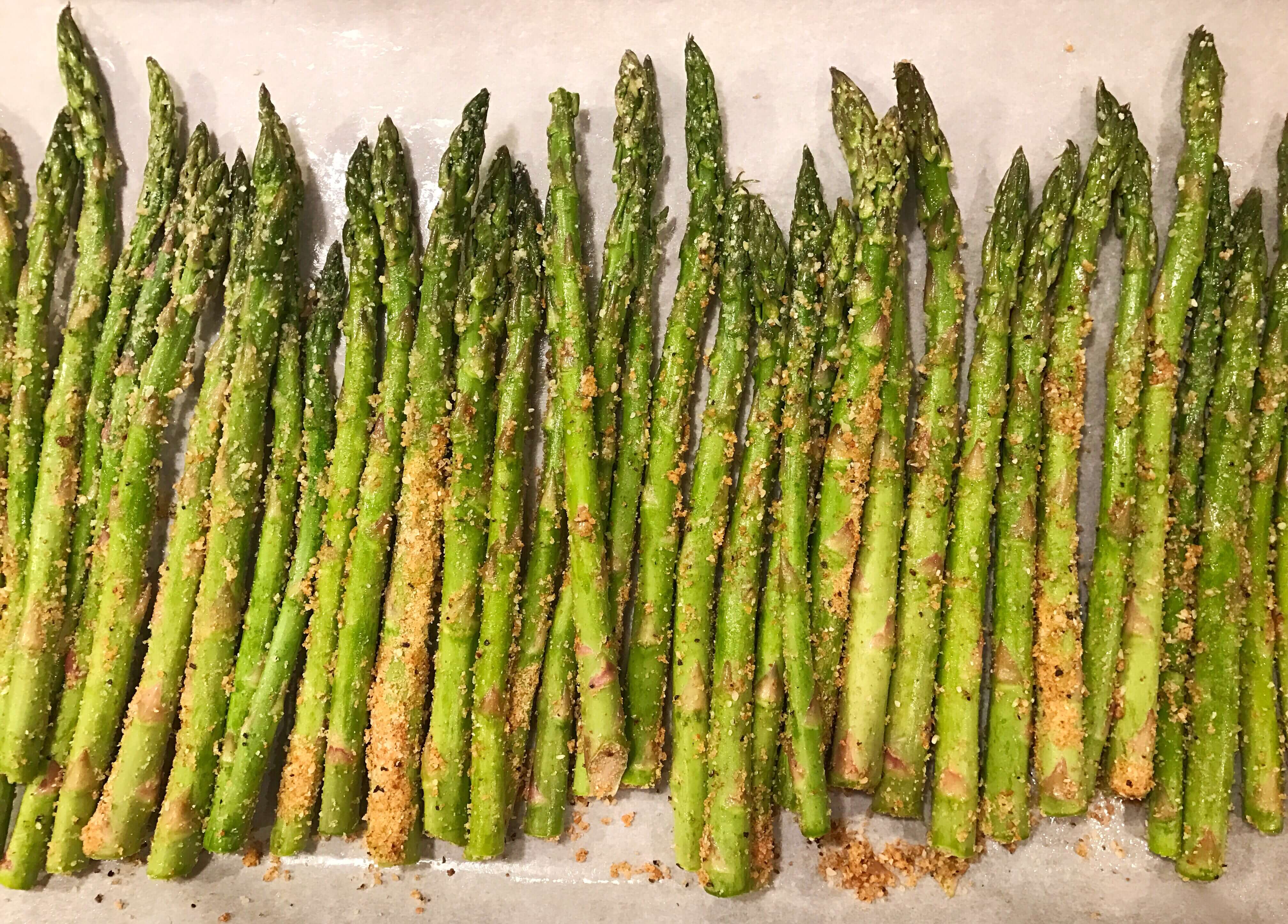 6. Put the baking sheet in oven for 12-15 minutes, or until asparagus is slightly crispy on the outside and tender on the inside.

Add additional Parmesan for serving if desired. Serve hot.
Pictured: Lean turkey burger on top of a whole wheat bun topped with spinach & arugula and ketchup (my weakness), along with roasted sweet potatoes, roasted carrot "fries" and of course, this delicious Parmesan Garlic Roasted Asparagus! 
I especially love asparagus on the grill, and now that it's (almost) officially grilling season, I will have to try this recipe out on the grill, too! I imagine it will turn out just as tasty.
Have a Happy Easter everyone! If you have a holiday dinner with your family this weekend, I think this delicious asparagus needs to make an appearance! 🙂
Shanna Stewart, RD LD
#wellnessforthewin #healthyrecipes #easy #veggiesforthewin