How To Make Pan-Seared Salmon
Every once in a while someone will ask me which foods I absolutely could not live without, or what my last meal on Earth would be. As a food-lover, it is extremely hard to choose just one specific food or meal, but I would have to say that salmon is definitely up there. I order it at restaurants a ridiculous amount – like, Ethan borderline gets mad because I never branch out, LOL – but it truly never disappoints. The good news is, it is possible to make salmon taste equally delicious at home, without the crazy expensive price tag. Today I am finally sharing How To Make Pan-Seared Salmon!
It almost feels silly calling this a "recipe" because it is so dang simple, but I realize a lot of people still don't know how to do it! I remember Googling "How To Make Pan-Seared Salmon" once upon a time, too! Every time I whip some up for dinner, I get flooded with DMs asking me how I did it. Most people are shocked when I tell them the process because it is so quick and effortless.
WHAT YOU NEED TO KNOW ABOUT Pan-seared SALMON
Things get steamy — use a higher heat cooking oil, like avocado oil (I like Chosen Foods)
Get a splatter guard (link) — trust me, you will thank me later
Thaw your salmon first, or buy it fresh
Either way, cook until it reaches an internal temperature of 145 F. Don't have a meat thermometer? YOU NEED ONE. This one is $11 and has awesome reviews.
Again, I know that salmon and seafood in general can be pricy. I personally buy mine frozen from Costco because it is more affordable to buy in bulk! It is also kinda nice to buy frozen because then you always have it on hand when you need it, and it thaws pretty quickly. Thawing it in the refrigerator overnight is ideal, but there are other options, too. Click here for more tips on thawing frozen salmon.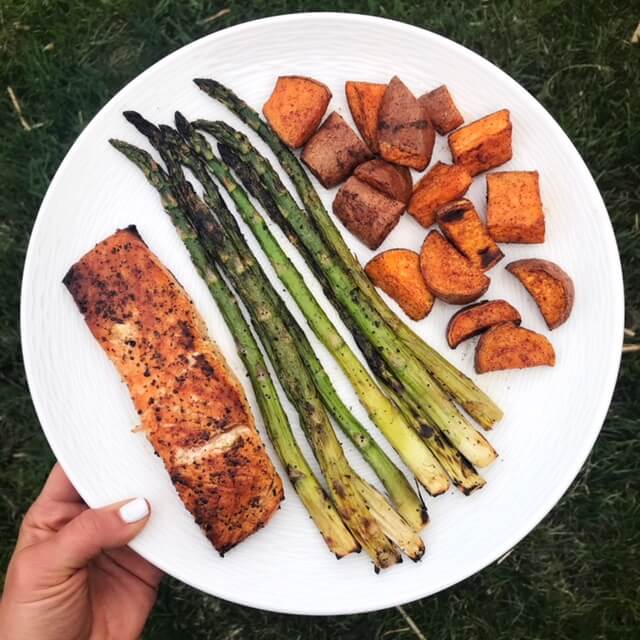 Baking is another good method for cooking salmon, but it doesn't come out crispy like pan-seared salmon does. If you haven't already made my Spicy Salmon & Broccoli Quinoa Bowls, click here and throw it on your meal plan ASAP. The salmon is baked, but that recipe is bursting with flavor.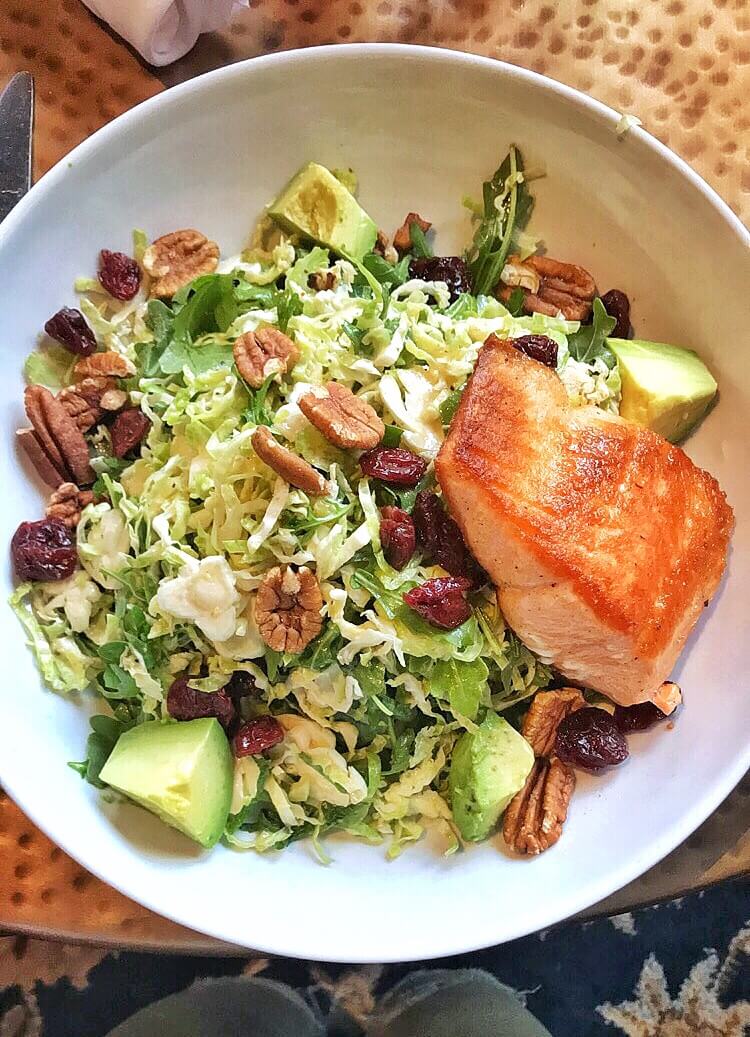 wild-caught salmon vs. farm-raised salmon
You might be wondering which is better: farm-raised or wild-caught salmon. Yes, there are a lot of benefits of wild-caught, but most people say that eating farm-raised salmon is better than eating no salmon at all. There are definitely pros and cons to both options.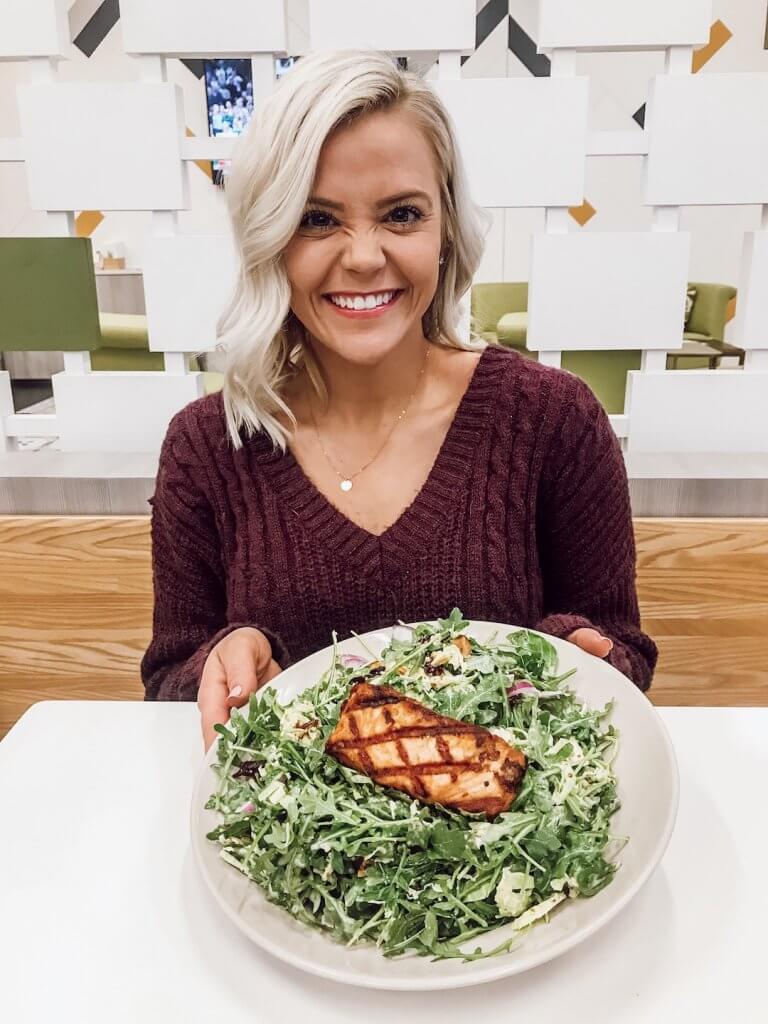 There are several factors to consider, and in many cases, it comes down to cost and what is actually available to you. Wild-caught salmon can get pretty expensive, so if farm-raised is more realistic for your family, don't let anyone make you feel badly about that! This is very similar to the organic vs. conventional produce debate. Eating conventional fruits and veggies is better than eating none at all.
Click here to read more about the differences between farm-raised and wild-caught salmon if you are curious. I think this article does a pretty good job of explaining the differences between the two, without taking sides. This can help you make an informed decision that you feel is best for you.
what is sustainable seafood?
As far as sustainability, it would be best for all of us to eat a wider variety of seafood to reduce overfishing. According to the Seafood Nutrition Partnership, shrimp, salmon and tuna make up over 50% of what we eat in America, even though there are hundreds of other species commercially available. I have to admit; we are guilty of this too! Typically we stick to shrimp and salmon, and sometimes tilapia, but there are many others we enjoy, too! I might try to branch out and purchase other kinds like cod or sole when I run out of my frozen salmon and tilapia stashes.
Okay, are you bored? Let's get to the recipe.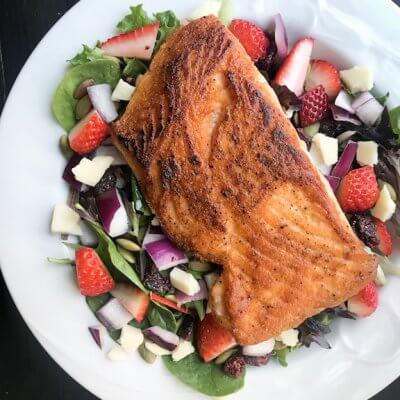 Pan-Seared Salmon
Pan-seared salmon is quick and easy to prepare, as well as a great source of protein and healthy fats to pair with deliciously roasted or grilled veggies.
Ingredients
1

salmon filet

thawed

1/2

Tbsp

avocado oil

Avocado oil spray

Fresh cracked black pepper

to taste
Instructions
Heat 1/2 Tbsp avocado oil over medium to medium-high heat in a medium sized skillet for a few minutes. (Use a large skillet if preparing more than one piece of salmon.)

Remove salmon from packaging and pat dry with a paper towel on both sides. Spray each side with avocado oil spray (or apply a thin layer of avocado oil using a silicone brush). Season with fresh cracked black pepper, to taste.

Add salmon to the heated pan and let cook for about 3-4 minutes on one side. Flip and cook for 3-4 minutes on the other side. It should be crispy and cooked through.

Use a meat thermometer to ensure that the salmon has reached an internal temperature of 145 F. When it has, remove from pan and serve hot as desired.
Serving Suggestions:
Serve on top of a large spinach salad with feta, strawberries, pepitas, red onions and balsamic vinaigrette, or alongside roasted sweet potatoes and various roasted vegetables.
Nutrition
Calories:
303
kcal
Protein:
33
g
Fat:
17
g
Saturated Fat:
2
g
Cholesterol:
93
mg
Sodium:
74
mg
Potassium:
833
mg
Vitamin A:
70
IU
Calcium:
20
mg
Iron:
1.4
mg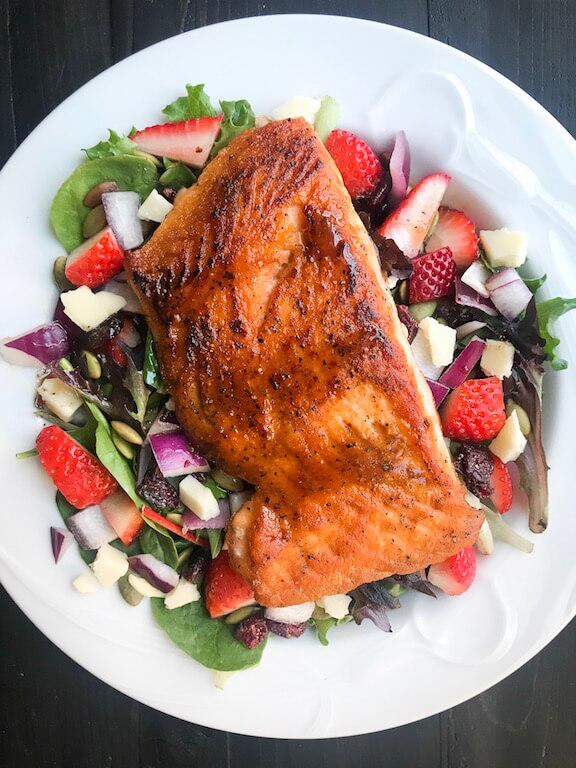 Told you it was super simple! If you've never made Pan-Seared Salmon before, now is the time! I am confident you will love it as much as I do! : )
Pin this recipe on Pinterest so you can easily refer back to it, and share with others who need some Pan-Seared Salmon in their life!
Have a great week!
Shanna