Fresh Garden Salsa Recipe
I took a poll on my Instagram stories asking if you wanted the recipe for the cinnamon rolls we had on Christmas morning, or the Death By Chocolate we had on Christmas Day, or this Fresh Garden Salsa Recipe.
The salsa won by a landslide! I guess we are all ready for some healthier foods after eating lots of sweets over the holidays, and that's perfectly okay. 🙂 Like I always say, our cravings really do all even out in the end. We just have to trust our bodies.
Don't worry — I will share the Death By Chocolate recipe soon too! No, it is not healthy, but it is damn good, and good for the soul. (In the meantime, check out this Easy Pumpkin Trifle Recipe that is basically the pumpkin version of Death By Chocolate!)
you can enjoy the holidays without food guilt
With that being said, I hope you all allowed yourselves to enjoy a variety of foods for Christmas — whether they were sweet, cheesy, salty, chocolatey, or whatever — free of any guilt.
Food is meant to be enjoyed and it's a great way to connect with the ones we love, especially over the holidays! Please don't be ashamed of any of your choices or feel the need to "make up" for anything you ate over the past week or past month. Simply try to continue to make choices that respect your body and make you feel your best. No one else can decide what that looks like for you!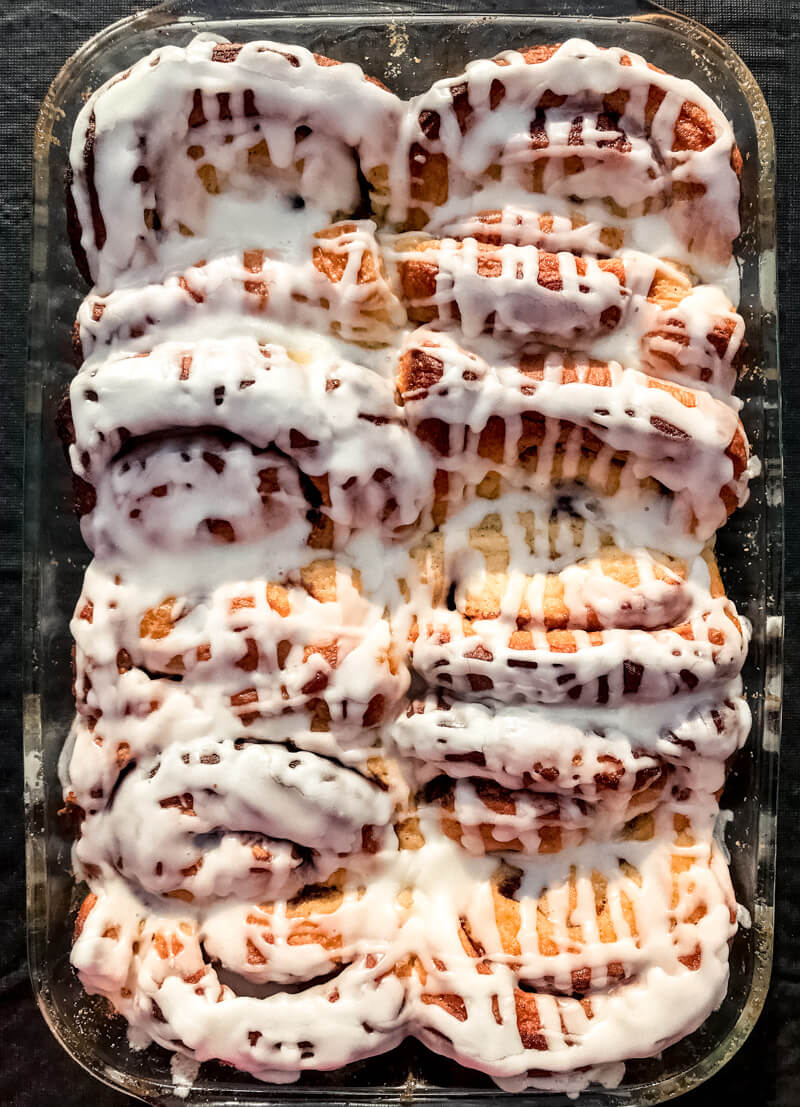 Maybe that means getting back into your typical workout routine, or giving yourself a few more days to rest and get reorganized after the chaos of the holidays. Maybe that means doing some meal planning to get healthier meals on the table that make you feel good, or finishing off leftovers from the holidays so as not to waste perfectly good food!
Again, do what you gotta do. Don't overthink it! The holidays are just a short segment of the year in the grand scheme of things. If you were having any anxiety about your choices, I hope you are feeling much better after my little pep talk. ; )
the countdown to warmer weather begins
Now that Christmas is behind us I'm just over here thinking, "Is it spring yet?"
Christmas is definitely the highlight of winter for me, and once it passes I'm immediately dreaming of warmer and longer days. Unfortunately, in Kansas, that won't be happening for several more months. I'm sincerely hoping the groundhog pulls through for us this year…
In the meantime, I'll be over here making recipes that make me feel like it's summertime, like homemade fresh garden salsa!
For Christmas Eve this year we decided to have a Mexican-themed dinner spread, which was basically the best idea ever. Mexican is so easy and it's always a crowd pleaser. We had everything from chicken enchiladas to grilled shrimp, steak fajitas & veggies, crockpot chicken tacos and of course, fresh guacamole, my salsa, and so much more. It was freaking delicious.
#foodbloggerstruggles
This salsa recipe has been on my "side dishes & dips" page for years, but I don't think it has ever gotten the attention it deserved. I'm getting so much closer to having all my old recipes updated with new photos that aren't absolutely awful. #foodbloggerproblems : \
I'm also updating the format of all of my recipes so you can easily print them if needed, and all the steps & ingredients are nice and neat and easy to read. Be patient with me; it's a process. Getting them all updated is on my list of New Year's Resolutions!
homemade fresh garden salsa > store-bought salsa
This recipe is so incredibly easy, and once you make it, you'll be wondering why you haven't been whipping up your own salsa all along. It just tastes SO fresh and delicious, and takes 20 minutes or less from start to finish. It's also easy to customize based on your personal preference (AKA how spicy or non-spicy you like your salsa).
what are the ingredients of salsa?
The ingredients in this salsa are pretty simple!
Tomatoes
Onions
Bell Peppers
Jalapeños
Cilantro
Lime Juice
Spices
how to make fresh garden salsa
I use my Ninja Blender (which I love, especially for things like this), so I have to do minimal work prior to throwing it all in the blender.
First, I wash all the veggies, cut the stems and remove the seeds from the mini sweet bell peppers, throw in the cherry tomatoes whole, cut the onion in fourths, and blend along with the spices, cilantro & lime juice. It's done in a matter of seconds! Of course feel free to taste and adjust any spices as needed.
If you are in the market for something like a Ninja Blender, I'm linking the set that I have. It's $150 and comes with a few other attachments, including a food processor and a few smoothie cups.
I love my Ninja, and it's way more affordable than other similar options, like Vitamix. It works great and all the pieces are dishwasher safe. Downside: it's bulky and a little tough to store, but we make it work, even in our little kitchen.
I mostly use my Ninja for things like this, muffins, black bean brownies, etc., and I stick with my NutriBullet for smoothies!  (It's on sale for $50 right now).
Okay, recipe time!
Fresh Garden Salsa
Store-bought salsa is good, but homemade salsa is WAY BETTER. It's just so fresh. You can make this salsa as sweet or spicy as you want. If you are looking for a sweeter salsa, use mini sweet bell peppers. If you're looking for a spicier salsa, use regular bell peppers, and add extra jalapeño peppers and chili powder/cayenne pepper.
Ingredients
12

oz

cherry tomatoes

12

small sweet bell peppers

1

medium onion

red or white

1/4

bunch

cilantro

2

limes

2

tsp

cumin

Salt and pepper

to taste

3

jalapeno peppers

optional, for spicier salsa

3-4

tsp

chili powder

optional, for spicier salsa

1

tsp

cayenne pepper

optional, for spicier salsa
Instructions
Wash all produce thoroughly and dry using a paper towel.

Chop tomatoes, bell peppers, jalapenos and onions and add to bowl.

Chop the long stems off the cilantro, and tear off the leaves. Chop up finely and add to vegetables.

Cut limes into wedges and squeeze lime juice over the top of the vegetables.

Add cumin, salt and pepper, and chili powder and cayenne pepper (if desired).

Add to blender or food processor and pulse until you reach the desired texture.

Serve with multigrain chips or over tacos and enjoy!
Nutrition
Calories:
25
kcal
Carbohydrates:
6
g
Protein:
1
g
Fat:
1
g
Saturated Fat:
1
g
Sodium:
14
mg
Potassium:
173
mg
Fiber:
2
g
Sugar:
3
g
Vitamin A:
1292
IU
Vitamin C:
50
mg
Calcium:
16
mg
Iron:
1
mg
Simple as that! Be sure to tag me on Instagram at @wellnessforthewin and hashtag #wellnessforthewin if you try out this recipe so I can see! 🙂
Spread the love and pin this recipe on Pinterest on your "Appetizers" or "Party Recipes" boards!
Enjoy!
Shanna