Spicy Salmon and Broccoli Quinoa Bowls
These Spicy Salmon and Broccoli Quinoa Bowls are probably one of my top five favorite recipes ever. They are super healthy but also bursting with flavor. Most importantly, they are easy to whip up and make awesome leftovers!
Spicy Salmon and Broccoli Quinoa Bowls: Better Than Takeout
Believe it or not, this meal tastes even better than it looks. I don't get takeout often because a) I don't like to spend the money if I don't have to, and b) restaurant foods tend to be loaded with sodium and not-so-healthy fats.
This at-home, Asian-inspired recipe has allllll the good stuff: heart-healthy fats from salmon, whole grains from quinoa, and all the greens from broccoli and sugar snap peas (which I freaking love and don't eat often enough).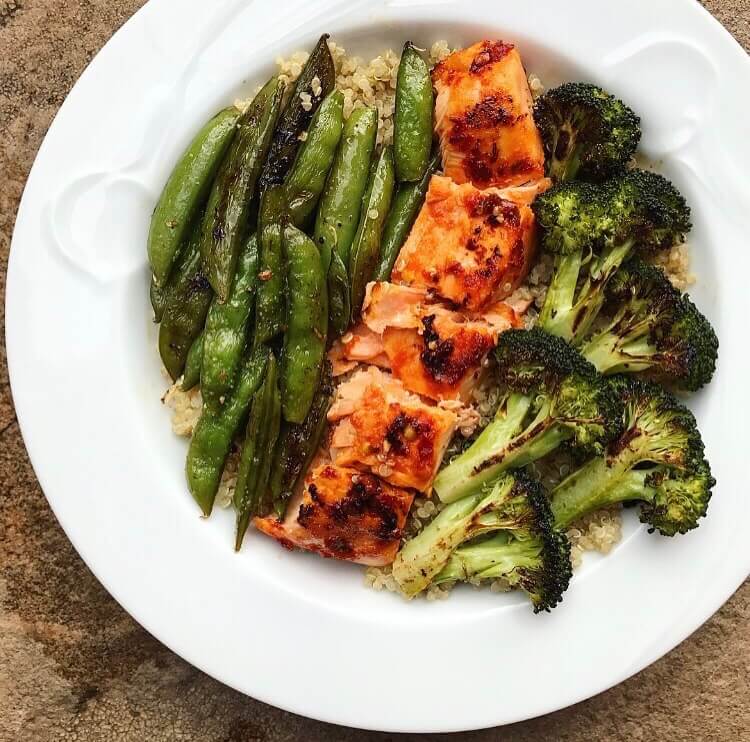 The drool-worthy sauce is the cherry on top. It has a little bit of sweet and just enough spice to give it a nice kick and slightly make your nose run by the end of the meal. I just didn't think sriracha was optional this time — sorry. If you're not a spicy fan, just leave it out! This recipe is yours to do with what you please. (But seriously, if you know what's good for you, you'll add the sriracha.)
Sweet Peas and Saffron FOR THE WIN
The original recipe is from the blog Sweet Peas and Saffron, which has a ton of other awesome recipes, most of which are meal prep / make-ahead recipes for busy people! So head there ASAP if you need some inspiration in that department. I stuck to Denise's original recipe for this one pretty closely, but made a few minor changes and additions as I went.
I added sriracha for extra spice, and some pure raw honey for a hint of sweetness.
MINCED GARLIC: THE BEST INVENTION SINCE SLICED BREAD
In case you didn't already know, jars of minced garlic exist, and they are absolute game changers. In the past, I kinda hated cooking with garlic because let's be honest; it's a pain in the ass to prep and makes your fingers sticky and stinky.
Buying a jar of pre-minced garlic, however, is LIFE CHANGING. Better yet, it lasts a while, so you can throw it in all of your recipes for a month or more, depending on how often you use it. I highly recommending purchasing a jar if you also LOVE garlic, but hate mincing it yourself.
I usually buy my jars of minced garlic at ALDI for just a few bucks!
I personally eat massive quantities of veggies, so I almost always add more than recipes call for, and leftover veggies make for the best lunches during the workweek. If you want to have leftovers, or just eat really big servings of vegetables like I do, then I would recommend making a little extra as well. On the recipe I'm sharing below, I kept the amounts from theoriginal recipe.
Spicy Salmon & Broccoli Quinoa Bowl
These Spicy Salmon & Broccoli Quinoa Bowls are nutritious, bursting with flavor & have the perfect amount of spice to them!
Ingredients
Quinoa
1

cup

quinoa

uncooked, rinsed
Sweet Chili Salmon
4

4 oz

salmon fillets

¼

cup

chili garlic sauce

2

tbsp

less-sodium soy sauce

1

tbsp

pure raw honey

1

tbsp

sriracha sauce

1

tbsp

water

2

garlic cloves

minced (or 1 tsp minced garlic from a jar)
Roasted Veggies
2

cups

sugar snap peas

2

heads

broccoli

roughly 4 cups, cut into florets

1-2

tbsp

extra virgin olive oil

2

tsp

less-sodium soy sauce

Garlic powder and black pepper

to taste
Instructions
Cook quinoa according to package instructions.

While quinoa is cooking, heat oven to 425°F. Line a large baking sheet with parchment paper sprayed with non-stick cooking spray and set aside.
Salmon:
Whisk together the chili garlic sauce, soy sauce, honey, sriracha, water and minced garlic in a small bowl.

Spray an 8×8 baking dish with non-stick cooking spray, and place the salmon in the dish. Spoon 1-2 tbsp of the sauce on top of each piece of salmon, until the top of it is coated. (Reserve some sauce to add the dish after cooking. Leaving too much sauce in bottom of the pan may result it in burning and going to waste.)

Once oven is preheated, place 8×8 pan with salmon in the oven and cook for 15-20 minutes, or until cooked through (minimum internal temperature of 145 F). You can wait and cook salmon at the same time as the veggies.
Roasted Veggies:
Place chopped broccoli and snap peas in a large bowl. Toss with olive oil and soy sauce until lightly coated. Lightly season with garlic powder and black pepper to taste, and toss until seasonings are evenly distributed.

Transfer veggies to prepped baking sheet covered with parchment paper (or foil, as pictured).

Place in the oven and roast for 10-15 minutes, remove from oven, flip veggies over, and cook for an additional 10-15 minutes, until tender and slightly browned.
To serve:
Spoon extra sauce from the bowl and/or pan over the salmon and veggies.
Notes
Enjoy with your whole family or save the leftovers to bring for lunch the next day or two! This dish tastes just as good reheated.
Nutrition
Calories:
354
kcal
Carbohydrates:
60
g
Protein:
16
g
Fat:
7
g
Sodium:
1272
mg
Potassium:
1312
mg
Fiber:
12
g
Sugar:
14
g
Vitamin A:
2425
IU
Vitamin C:
303.4
mg
Calcium:
187
mg
Iron:
5.4
mg
Quick Tip: if anyone in your family doesn't like salmon, you can swap it out for tilapia or shrimp, or even chicken! All options are equally delicious, and don't change the process for the recipe at all.
I highly recommend adding these Spicy Salmon & Quinoa Broccoli Bowls to your collection of "quick and delicious weeknight dinner recipes". ; ) Comment below or DM me on Instagram if you try it out! I am positive you will love it as much as we do. Share the love by pinning this on Pinterest so everyone can give it a shot!
Thanks so much,
Shanna