Your Favorite Posts of 2017
I cannot believe 2017 is already coming to a close. Since I was anticipating my wedding and busy with all the festivities for the first nine months of the year, time totally flew by. I can honestly say that 2017 was the best year of my life, mostly because I finally got to marry Ethan and start our lives as husband and wife, but I also had a lot of personal growth too. I tried to take some risks and put a lot more into my blog this year, and I hope you all could see that. I don't post weekly because sometimes life gets crazy, and all I want to do in the evening is watch The Office and play board games with my hubby. I hope you understand. ; ) With that being said, I am so excited for the new adventures that I have planned for 2018. Please stay tuned for a big announcement very soon about this!!
Until then, here are some of my most popular recipes & articles from 2017! In case you missed any of them, I wanted to highlight them again for you.
Thank you all so much for following along with my life and health journey. I truly appreciate all of your support, comments and questions — it's what motivates me to keep going! So thank YOU for making 2017 so great. 🙂
Here we go! Tell me — have you made anything on this list?! (PS: all recipes and articles are linked to take you directly to that post!)
Most Popular Recipes of 2017:
If you're a new follower, you will quickly learn that my husband and I eat flatbreads every week for #MeatlessMonday dinner. Not only are these flatbreads the easiest weeknight dinner ever; they are extremely delicious and loaded with healthy veggies! We add meatless veggie crumbles for our protein and love them, but you carnivores out there can definitely add grilled chicken, ground turkey or whatever your heart desires.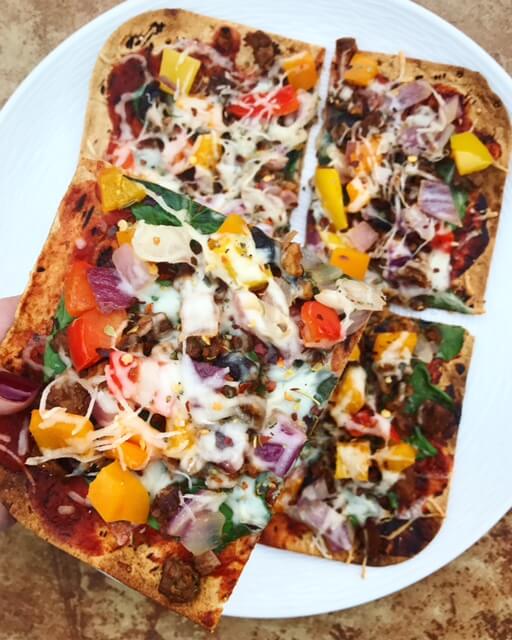 I'm going to sound like a broken record here, but this is truly another one of my favorite dinners. It's quick and easy to make, packed with veggies, and it tastes just as delicious for leftovers the next few days, making it a perfect healthy work lunch!
These bites are popular for obvious reasons. First of all, there is no baking required, hence the name. Secondly, they are the best, healthy pre/post-workout or anytime snack. Lastly, chocolate is involved and they totally satisfy your sweet tooth with mostly healthy-ish ingredients. ; ) Enough said.
These muffins are great because you only dirty one dish while making them and you can pop them in the freezer and reheat them, making breakfast on-the-go SO easy for the next week or more! They are also super versatile — you can add any and all of your favorite toppings! Chocolate chips, walnuts, blueberries, dried cranberries. The possibilities are endless. Walnuts are my favorite because they provide some crunch and heart-healthy omega-3 fats!
This Crockpot White Chicken Chili is the perfect comfort meal for the colder months. It has been one of my most popular recipes to date, and it's one of my personal favorites too! Crockpot meals are always ideal because the crockpot does 90% of the work for you.  This chili is full of lean protein and veggies, and I love topping it with avocado for an extra dose of healthy fats. We also love subbing plain Greek yogurt for sour cream as a chili topping — it's fat free, tastes amazing and provides a little extra protein!
Don't worry — this dish looks a lot fancier and more difficult than it really is. What I love about it is that you can make it with almost all frozen veggies, which means minimal prep and minimal time to make. Another perfect weeknight dish! This meal is packed with nutrition and flavor, and just like all of my other recipes, it's husband-approved!
Most Popular Articles of 2017:
I had some major skin issues a few years ago due to a reaction to an ingredient that was present in a ton of the products I owned. Thankfully I was able to identify the culprit and eliminate it from my skincare routine, but I needed some serious help recovering from all the inflammation and bringing my skin back to life. After months of facials and cleaning up my products, I finally achieved clear, beautiful skin in time for our wedding. Check out the article to learn more about my journey to wedding-ready skin!
I know, I know — I've already mentioned our wedding a few times. But this made the list of most popular posts, so I had no choice but to include it! We had some seriously amazing vendors who helped make our wedding day more perfect than I ever could have imagined. If you are in Kansas City and planning a wedding anytime soon, I highly recommend checking out this awesome lineup. Then head over to this post to see all of our professional wedding photos, taken by the amazing Brittyn Photography. I am so thankful that we have such beautiful pictures to look back on that day for the rest of our lives!
I counted calories for a very long time, and while this can be a helpful tool for some, it can be detrimental to others. I have developed a much healthier relationship with food and with myself ever since I stopped counting calories and started eating more intuitively. If you have struggled with disordered eating or obsessive eating behaviors, I highly recommend giving this a read. I hope it can help you too!
This is a follow-up post to my initial article posted above. I was proud to have stuck with my goal to stop counting calories and amazed to see the positive effect it had on my overall health, especially my mental health. I have more freedom with food now than I ever have and still don't count calories at all. And guess what? I'm still perfectly healthy and so much happier. If you want to get to that point too but need a little help with the process, please feel free to reach out to me!
I get a ton of questions about meal planning and the foods I buy at the store each week. I absolutely love sharing my favorite grocery store finds and ways to make your life easier by planning ahead and simple meal prepping. Check out my newer post "How To Avoid the Sunday Scaries" for more on meal planning!
That's all folks!
Again, thank you so much for all of your support throughout this year. It was truly one for the books and I can't wait to continue this journey with you all in 2018! If you enjoy reading my blog posts, I want to encourage you to subscribe to my blog by clicking the "follow" button in the sidebar. That way you will receive an email every time I have a new post so you never miss a thing! : )
Thanks for reading and HAPPY NEW YEAR!!!
Shanna