Dietitian-Approved ALDI Finds
If you've been following me for a while, you know my love for ALDI runs deep. I mean, can you blame me? You truly can't beat their prices, and they have really stepped up their game with all the amazing products they have to offer these days. I thought it would be helpful to share a blog post full of my Dietitian-Approved ALDI Finds.
FYI: this post was originally written in January 2018, before I ever had a working relationship with ALDI. All opinions, as always, are my own! It has been a dream to do some sponsored work with ALDI over the past few years since then!
Check out some of my posts in partnership with them!
aldi Usa is great for your wallet and your health
When Ethan and I were newly married (in September 2017), it was a bit of an adjustment combining our bank accounts and living together for the first time. Ethan also had to get used to my desire to keep the fridge, freezer and pantry fully stocked with food 24/7.
In an effort to prevent him from having a heart attack from grocery bills, we started doing most of our shopping at ALDI shortly after we got married. Little did I know, it would quickly become the place where we do 90% of our grocery shopping (this remains true several years later)!
Not only are the prices at ALDI unbeatable, but they have so many products that are super healthy and absolutely dietitian-approved. Since I rave about it all the time on Instagram, I thought I'd let you know which ALDI items are my favorites so you can keep your eyes peeled on your next trip. (Also, you can scroll through my IG for tons of #ALDIhaul cart pics & new ideas!)
Q. Does ALDI have organic foods available?
I get a lot of questions about whether or not ALDI has organic produce. Yes, they have a ton of organic items throughout the store, including the produce section. However, they have plenty of conventional produce as well.
I personally do not eat 100% organic foods, mostly because I can't afford to and I do my best to wash my produce as well as possible. However, ALDI has made it a lot easier to incorporate more organic foods into my diet at very affordable prices.
If eating 100% organic is non-negotiable for you, I completely respect that. You will still be able to find a ton of great options at ALDI, likely for half the price of organic products that you will find at other natural food stores.
I got a 16 oz bag of organic quinoa at ALDI for less than $4. Avocados at ALDI are less than $1 each. At some stores you will pay close to $3 for just ONE avocado. These prices are incredible, and the quality is absolutely worth the hype if you ask me!
Note: all ALDI stores are have slightly different offerings and prices may vary depending on the location you visit. They also cycle products in and out frequently, which makes it fun to try new things and exciting to see what they'll offer next! They especially have some awesome seasonal foods.
Alright, let's get started with all my faves!
DIETITIAN-APPROVED ALDI FINDS: PRODUCE
Other produce items at Aldi that I love, but were not pictured:
Large carrots
Baby carrots
Brussels sprouts
Snap peas
Zucchini/squash
They also have a lot of seasonal produce available, such as spaghetti squash, butternut squash and acorn squash
dietitian-approved aldi finds: grains
Some people will tell you that you can't or shouldn't eat bread. Unless you have celiac disease or a legitimate gluten intolerance, that just isn't true. I don't recommend eating it for every single meal by any means, but it can definitely be included in a healthy, well-balanced diet!
However, I do encourage choosing whole grains whenever possible since they are higher in fiber and more nutrient-dense overall! Here are some of my go-to whole grain finds at ALDI.
Next group — Dairy:
Again, if you don't tolerate dairy or don't eat it for whatever reason, just skip past this section. However, my husband and I love dairy, and eat it quite often, as it is delicious and a good source of protein and calcium. String cheese is one of our all-time favorite snacks! And you already know how much we love pizza… ?
Next Section — Dry Goods/Miscellaneous:
Meat & Eggs:
I am not a huge meat eater, and thankfully Ethan is okay with that, so I haven't tried a ton of the meat that they have available at Aldi, but here are a few of my favorites. I know they have a ton of other things to offer in the meat section that I should probably try too!
Frozen Items:
I absolutely LOVE these turkey burgers. These are only $5.99 for 12 burgers and the only ingredients are turkey, rosemary extract, and salt. That's it! They are super tasty, and as I mentioned before, we love eating them on sandwich thins.
I really like the veggie burgers pictured on the left to throw in wraps (like the whole wheat ones in the grains section), and they just got a ton of new Earth Grown veggie burgers on the right. They look super similar to all of the Morning Star and Boca products at other stores, but much cheaper. I've never tried most of them but I'm anxious to! However, I have tried the Earth Grown Black Bean burgers before and I personally don't like them. I much prefer the Morning Star black bean burgers.
Now that you know all of my favorite products, here are some of the delicious meals you can make with them!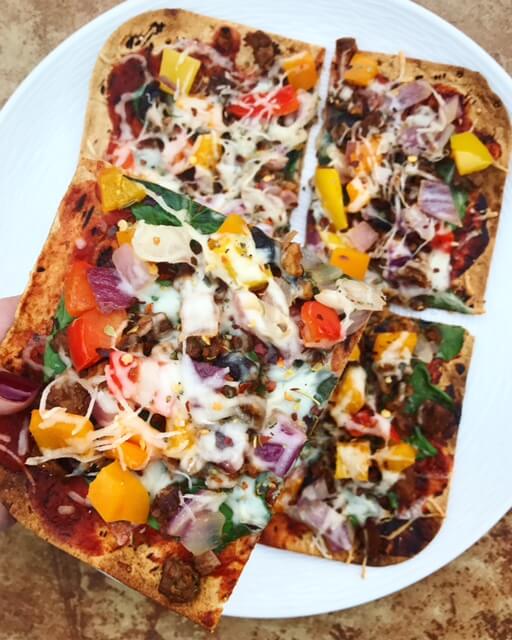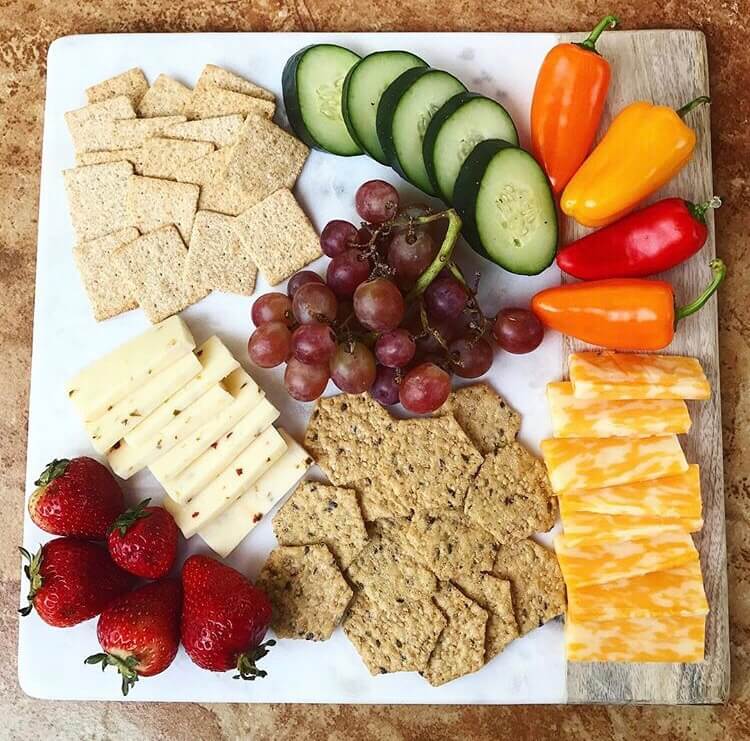 Here's an example of a smoothie I'll make using the frozen fruit from Aldi. I always freeze any bananas we don't use instead of throwing them away, and then toss them in smoothies along with strawberries, blueberries and mango chunks! Other smoothie additions that I love: Further Food Collagen (this is an affiliate link; discount code is wellnessforthewin), Greek yogurt and protein powder.
Ethan and I typically end up spending around $60 a week on groceries at Aldi, which is pretty amazing, considering the amount of items we are able to buy for that price. If you have not yet checked out Aldi, I hope this post encouraged you to do so, and gave you an idea of what to look for while you're there!
Please let me know what you think if you go check out Aldi for the first time or try any of these products!! I'd love to hear your thoughts!
Talk to you soon!
Shanna