Homemade Cranberry Chia Jam
It's hard to believe that the holidays are right around the corner, and yet, here we are, already halfway through November! Once Halloween is over, I'm officially in the holiday spirit, brainstorming recipes and gift ideas and humming Christmas songs under my breath. Since Thanksgiving is almost here, I wanted to kick things off by sharing this Homemade Cranberry Chia Jam recipe, made with ingredients from my one and only, ALDI USA.
Disclosure: this post is sponsored by ALDI USA and I am being compensated for social promotion. As always, all opinions expressed are my own. I only work with brands that align with my mission and vision for Wellness For The Win. Thank you for your support!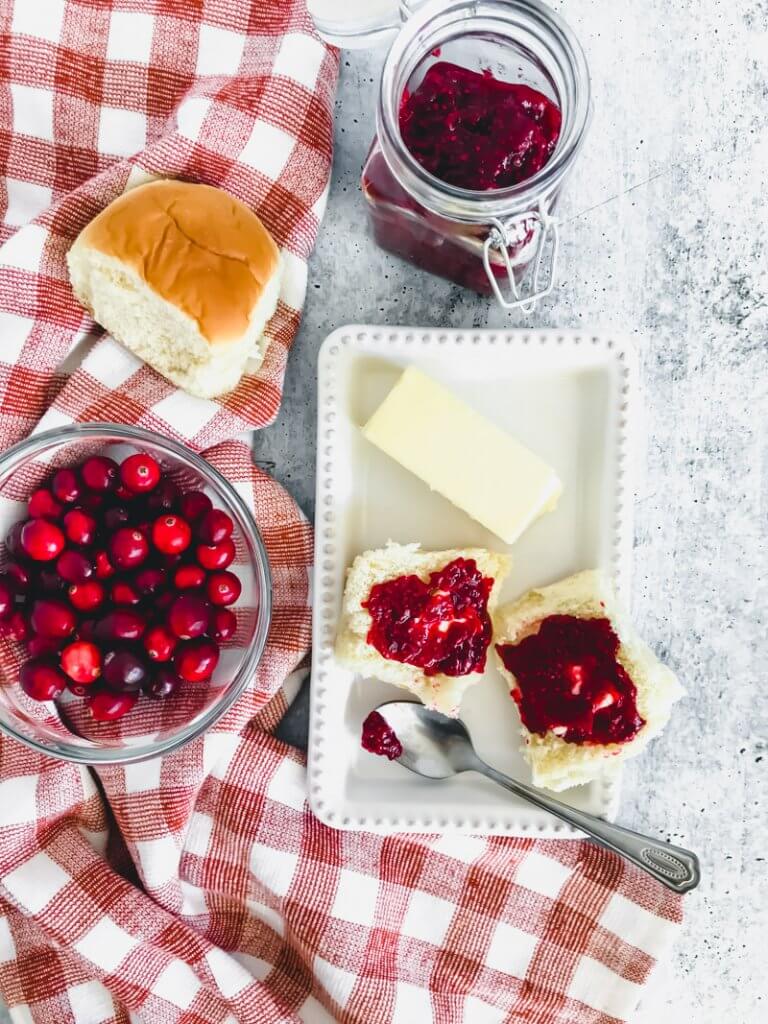 Homemade Cranberry Chia Jam > Cranberry Sauce From A Can
Cranberry sauce is one of those dishes that gets put out mostly out of obligation every Thanksgiving, but no one ever touches it. I can assure you that will NOT be the case with this Homemade Cranberry Chia Jam. Combine it with a dollop of butter on some soft, warm Hawaiian sweet rolls and mm-mmm. It'll be fighting the sweet potato casserole for the spotlight.
I don't know about your family, but rolls are a BIG deal at our Thanksgiving dinner table. We even have this special tradition centered around rolls. My uncle sits at the head of the table with a basket full of the delicious, warm bread, and whenever someone wants a roll, they let him know and he will throw it to them, no matter how far away they are seated. Read: all the way across the room.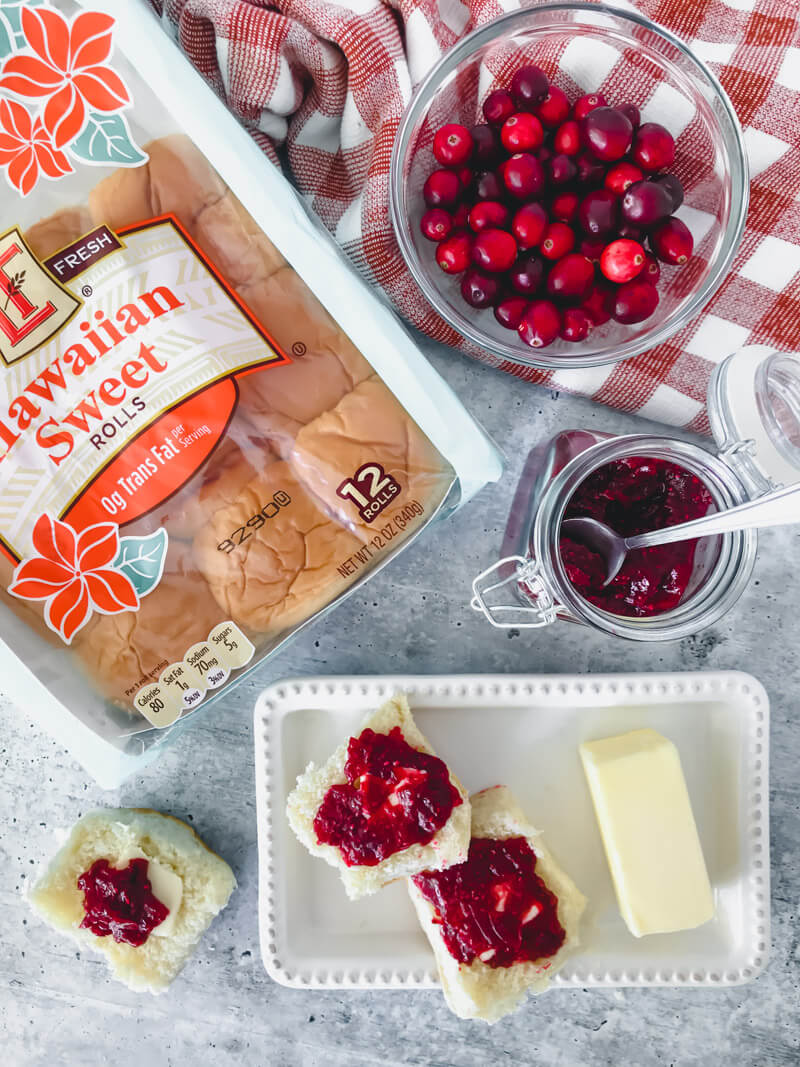 We have a fairly athletic family, so it usually goes well. But when it doesn't… the 5-second rule definitely applies. Unless one of the 12 dogs that are present beats you to it, of course. ; )
things to love about this cranberry chia jam
In case I have to convince you, here are some reasons why you'll love this jam.
It's quick and easy to make. Seriously — only 20 minutes or so and you're jammin'!
You can make it in advance. Ain't nobody got time to make jam on Thanksgiving Day. Whip this up a few days ahead of time and store in the fridge in a cute little mason jar until you're ready to serve it up.
It's healthy. Thanksgiving Day is all about balance if you ask me, so not every dish has to be totally nutritious; however, if I can get some fruit, fiber & healthy fats in while eating something super delicious, count me in.
It's full of fall flavors. Cranberry + orange is a super popular fall flavor combo, so I decided to switch things up a bit and go with a cranberry + apple mixture, along with a hint of cinnamon. I think you will love it.
It's incredibly affordable to make using ALDI ingredients!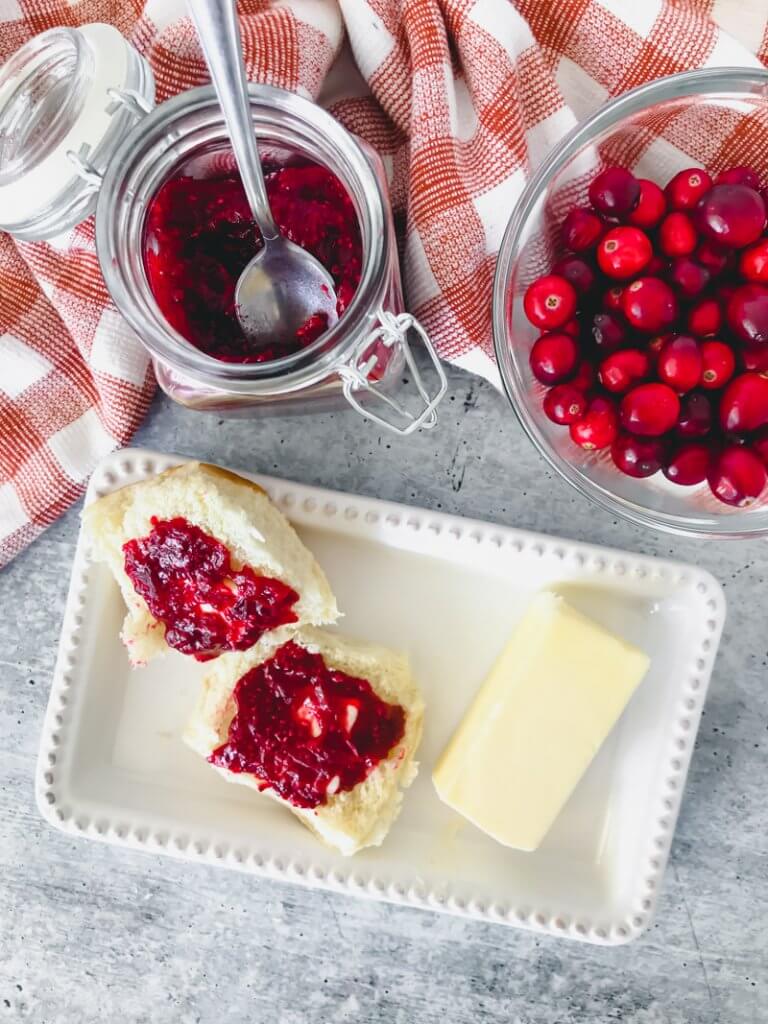 Other Dishes To Whip Up This Thanksgiving
Have I mentioned that I absolutely love Thanksgiving food? Seriously, it's all so good, especially the side dishes. Sweet potato casserole has been at the top of my list for about five years and counting, and I don't see that changing anytime soon. Besides delicious sweet rolls with butter & cranberry chia jam, obviously.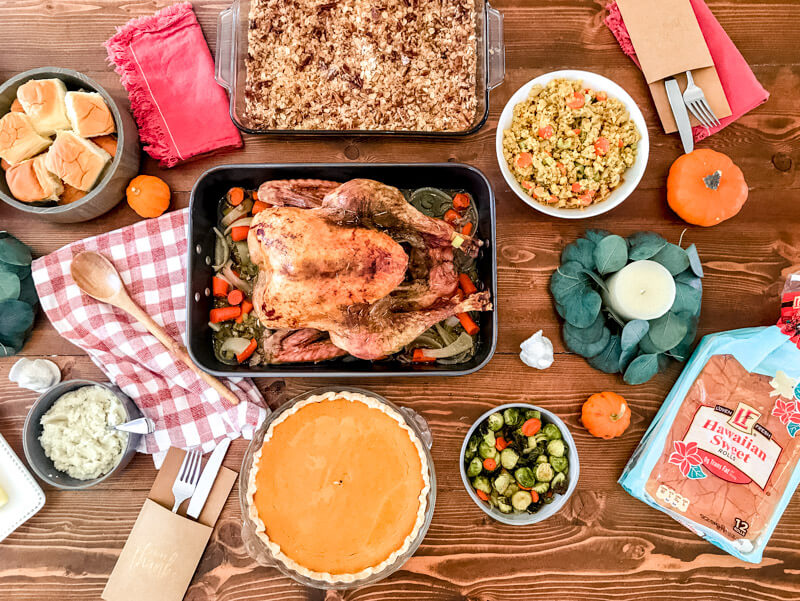 As you may or may not know, I do the vast majority of my grocery shopping at ALDI all year round. Why would I go anywhere else for the holidays? They have everything you need & more for your family's feast this year, and the prices are unbeatable, per usual.
This can be a stressful time of year, especially financially, with the pressure of decorating, purchasing gifts and other special commitments that tend to pop up around the holidays. Save money by shopping at ALDI so you can afford to splurge a little on fun activities this year. Or, use those extra dollars to buy even more delicious goodies at ALDI to contribute to your family's Thanksgiving dinner, or to someone in need.
On my trip to ALDI, I also grabbed all of the ingredients to make:
Cornbread Stuffing using their Chef's Cupboard boxed mix — I added chopped onion, celery and carrots to sneak some extra veggies in
Easy Cauliflower Mashed Potatoes using a head of cauliflower or Season's Choice Riced Cauliflower, along with some milk and butter
Sweet Potato Casserole — ALDI has the best prices for sweet potatoes, and I love using their pecan halves for this healthier recipe!
Classic Pumpkin Pie — ALDI has a Baker's Corner Pumpkin Pie Mix, so all you have to do is add the eggs and Baker's Corner Evaporated Milk! Who has time to measure all those different spices, anyway? ; )
Roasted Veggies — I love roasted Brussels sprouts all the time, and they make a great side dish addition to your Thanksgiving feast.
Pumpkin Oatmeal Chocolate Chip Cookies — we all need a little something sweet on the holiday, and these cookies are healthy-ish and so yummy.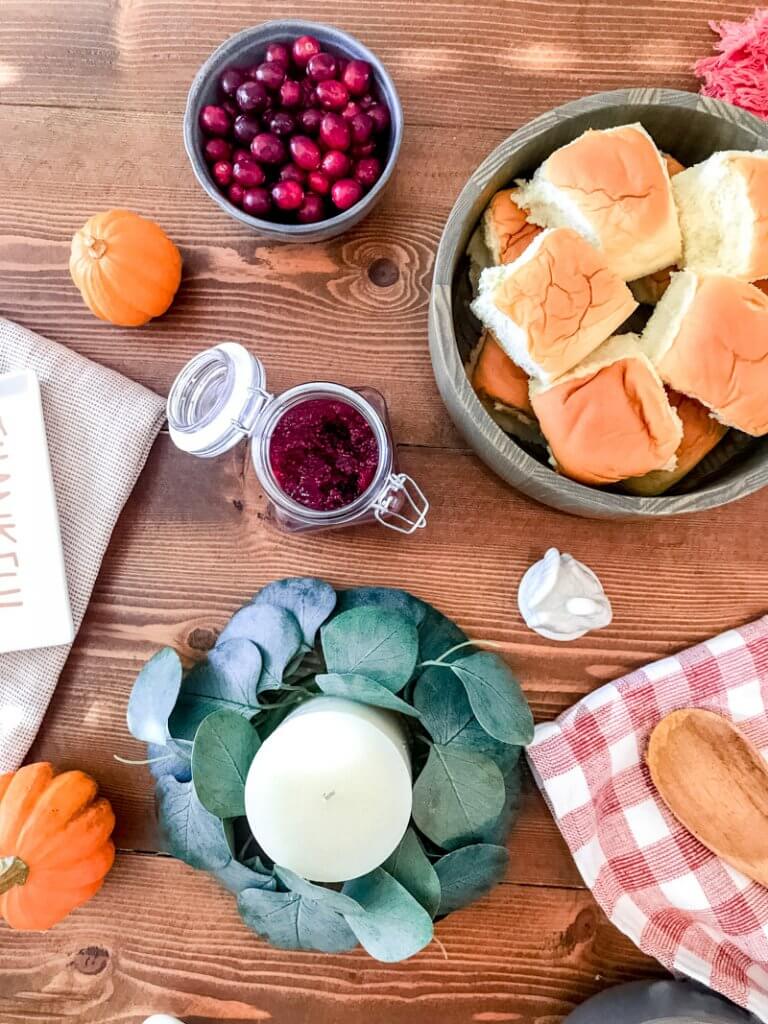 Are you ready for the recipe for the Homemade Cranberry Chia Jam? Are you as excited as I am? I hope so! Here we go.
Shout out to Veggiekins for the inspiration!
Homemade Cranberry Chia Jam
This Homemade Cranberry Chia Jam is quick and easy-to-make and the perfect addition to your Thanksgiving or Christmas feast this year! Make it ahead of time and store it in the fridge. Enjoy on a warm sweet roll with butter, and thank me later.
Ingredients
2

cups

cranberries

fresh or frozen

1/4

cup

100% apple juice

1/4

cup

Specially Selected 100% Pure Maple Syrup

1/4

tsp

vanilla extract

1/2

tsp

cinnamon

2

Tbsp

Simply Nature Chia Seeds
Instructions
Add cranberries, apple juice, maple syrup, vanilla extract and cinnamon to a small saucepan (all ingredients except chia seeds). Cook over medium heat until the cranberries start to burst, around 6-8 minutes.

Use a potato masher or other utensil to break the remaining cranberries, and remove from heat. Let cool for 10-15 minutes. Taste the mixture to make sure you're happy with the sweetness and consistency.

If you want your jam to be totally smooth, transfer cooled mixture to a food processor or blender and blend until smooth (about a minute). If you're okay with some chunks, go ahead and transfer the jam to a large mason jar, and add your chia seeds. Stir well to incorporate.

Set aside to thicken for a few hours or leave overnight to thicken in the fridge.
Notes
Serve Homemade Cranberry Chia Jam on L'Oven Fresh Hawaiian Sweet Rolls with Countryside Creamery Unsalted Butter from ALDI.
Other tasty options: on toast with whipped cream cheese, or a PB&J!
Store in the refrigerator in a sealed mason jar for 2 weeks.
Nutrition
Calories:
57
kcal
Carbohydrates:
12
g
Protein:
1
g
Fat:
1
g
Saturated Fat:
1
g
Sodium:
2
mg
Potassium:
64
mg
Fiber:
2
g
Sugar:
8
g
Vitamin A:
15
IU
Vitamin C:
3
mg
Calcium:
32
mg
Iron:
1
mg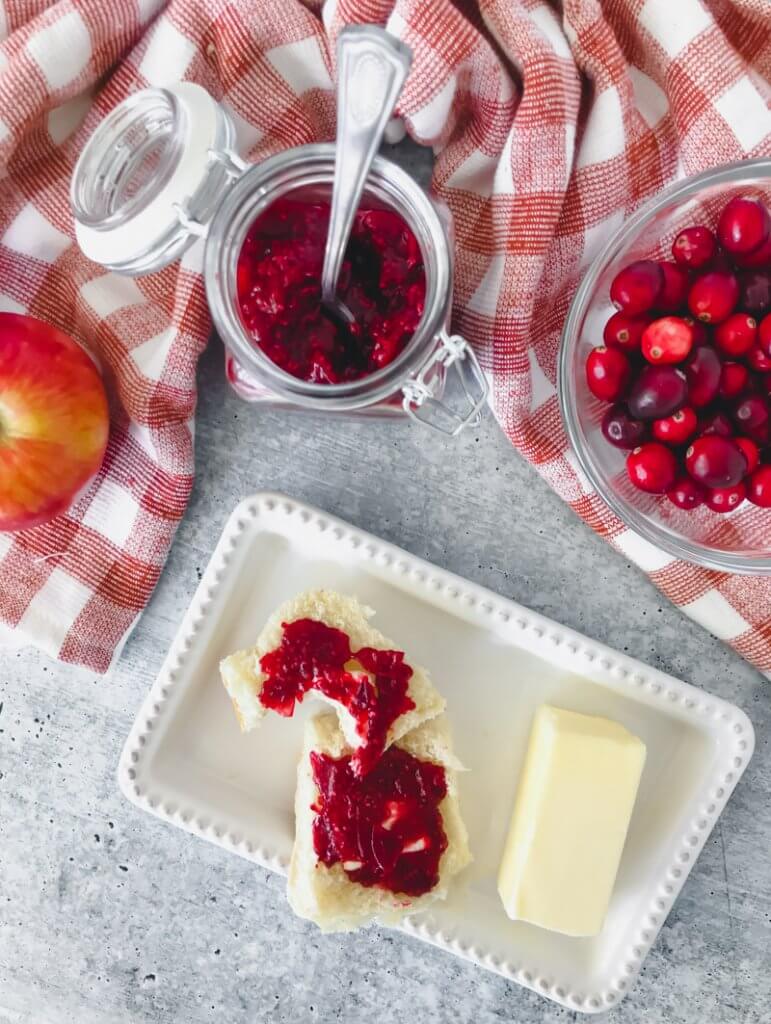 I hope you all love this Homemade Cranberry Chia Jam recipe, as well as all of the other Thanksgiving finds at ALDI USA this year! Be sure to head to your local ALDI to see everything they have in store. Click here to find a location near you.
If you try this recipe, be sure to tag us in your creations on Instagram & Facebook at @wellnessforthewin and @aldiusa, and share the love by pinning this recipe on Pinterest.
Happy Holidays!
Shanna