Easy Cauliflower Mashed Potatoes
I'm back with another recipe! I'm sorry to say that this is not exactly a new one, but it's been hiding out for a while and I'm bringing it back to life! It had been far too long since I made these Easy Cauliflower Mashed Potatoes until just recently. I think it's safe to say that they are back in the rotation for good. They are super easy to make, SO delicious and picky eater-approved!
Is cauliflower healthier than potatoes?
First, let's get one thing straight. I freaking love real potatoes, too, especially mashed potatoes. If I go to a wedding and there are no mashed potatoes on the buffet, I am very confused and disappointed. (Unless there is mac & cheese instead. Mac & cheese trumps all, obviously.)
Unfortunately, potatoes tend to get demonized in our diet-obsessed culture today, but they can absolutely fit in a healthy diet! Below I'm breaking down the nutrient profile of potatoes & cauliflower so you can compare the two. One is not necessarily superior to the other; they are just different! Kinda like comparing a banana to an avocado?!
Benefits of Potatoes:
Cooked potatoes with skin are a good source of potassium and vitamin C. Potatoes also contain folate and vitamin B6.
Potatoes are high in water when fresh
The level of fiber is highest in the skin
They contain varying levels of resistant starch, a type of fiber that feeds the good bacteria in your gut and improves digestive health
Varieties of potatoes with purple or red skin contain the highest amounts of polyphenols, a type of antioxidant! Go for the colorful kinds!
Compared to white potatoes, sweet potatoes have more vitamin C, vitamin A and fiber, and fewer calories and carbohydrates. Plus they are delicious. Click here for a more thorough nutrient comparison between white & sweet potatoes.
Potatoes get a bad rap, but it's more about how people are typically consuming them (AKA, fried). Try baking or roasting in olive oil & spices, rather than frying. This recipe looks delicious! Or my three-ingredient sweet potato fries.
Benefits of Cauliflower:
Cauliflower contains many different nutrients. It is especially high in Vitamin C (77% of the RDI in 1 cup). Other nutrients in cauliflower include vitamin K, B6, folate, pantothenic acid, potassium, manganese, magnesium, phosphorus, and choline.
Good source of fiber, which is good for gut health and digestion
Studies show that diets rich in high-fiber veggies like cauliflower may lower your risk of heart disease, cancer and diabetes
Cauliflower provides a significant amount of antioxidants, which help reduce inflammation and protect against several diseases
Very high water content
Lower carbohydrate alternative for those who need it due to medical conditions and/or dietary restrictions
Super versatile (i.e. cauliflower rice, mashed cauliflower, cauliflower crust, etc.), so it can be an easy way to sneak extra veggies in your diet, especially for picky eaters
As you can see, both potatoes and cauliflower are nutrient-rich foods. Potatoes are higher in carbohydrates, and for individuals who are watching their carbohydrate intake (due to diabetes, or other medical conditions, etc.), cauliflower can be a great, lower-carbohydrate alternative. Both have a place in a healthy, well-rounded diet.
subbing cauliflower in recipes doesn't have to feel like a diet choice
I do not follow a low-carb diet, but I genuinely LOVE cauliflower. I grew up eating spaghetti and steamed cauliflower all the time with my mom. Sounds weird, but don't knock it 'til you try it. Eating steamed cauliflower actually makes me a little nostalgic.
I think it's fun to play with foods & create unique, different recipes! When you have made peace with food and eat a variety of foods you actually enjoy, eating cauliflower crust pizza, or cauliflower mashed potatoes doesn't feel like a "diet-y" choice. It just feels like something fun and new, and it can be delicious. Unless of course you hate cauliflower. ; ) In which case, you shouldn't eat it. *But I promise you'll love this recipe.*
Other reasons I love these Easy Cauliflower Mashed Potatoes:
They are super simple to make, especially if you purchase riced or pre-chopped cauliflower
They are delicious
Great for leftovers
Heat up well in the microwave
They are husband and family-approved!
What to serve with Mashed Cauliflower
Here are a few recipes that I know would be BOMB alongside these cauliflower taters: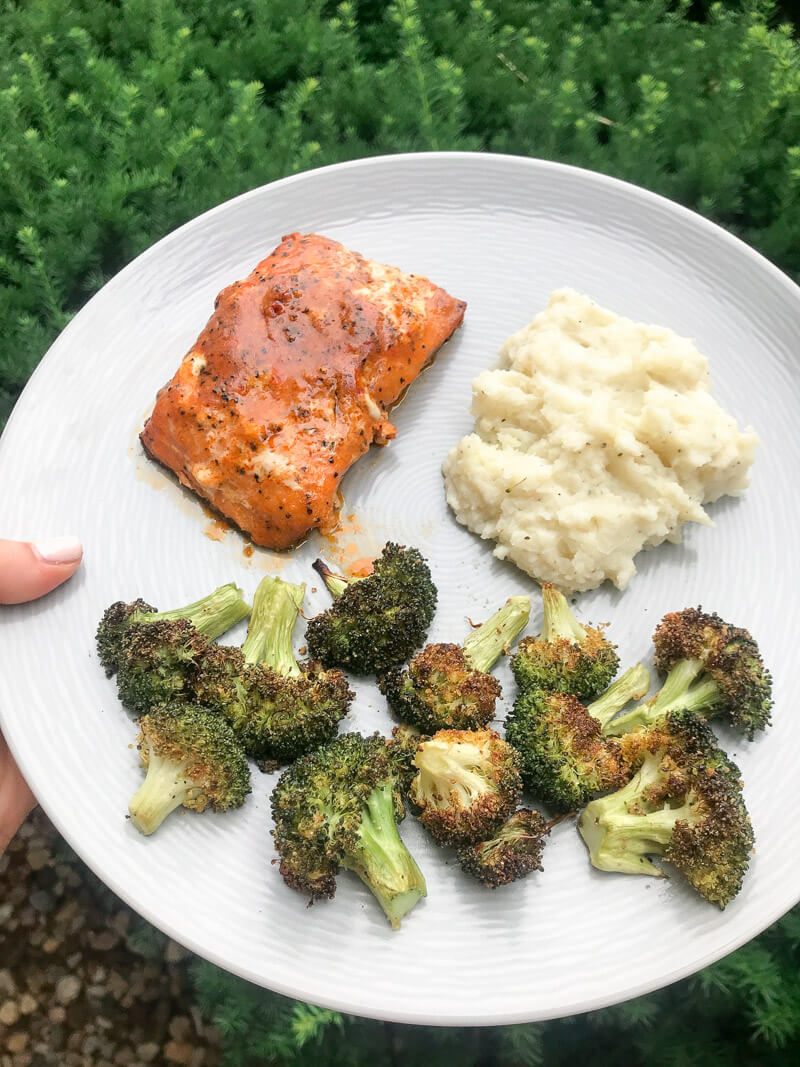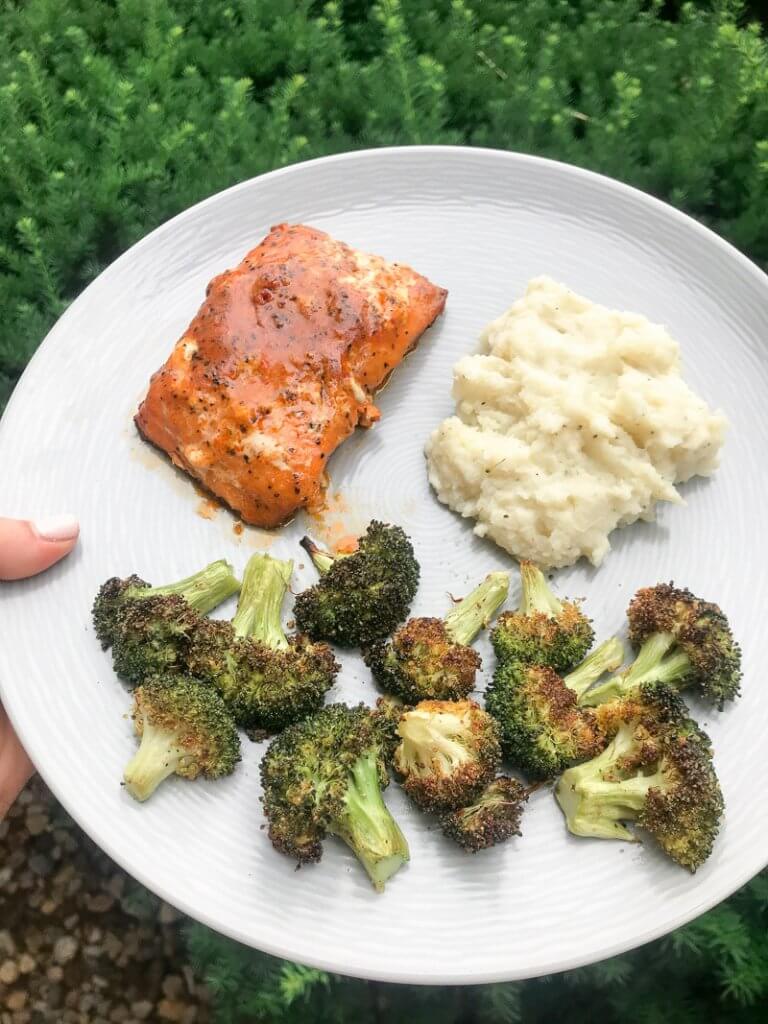 Easy Cauliflower Mashed Potatoes
These Easy Cauliflower Mashed Potatoes put a fun twist on your favorite side dish, and make it even easier to sneak in some extra veggies! They are delicious and easy to make!
Ingredients
1

head

cauliflower

medium head, cut into florets

2

tbsp

ghee

or butter

1/4

cup

half and half

or milk of choice

1/2

tsp

garlic powder

1/2

tsp

onion powder

1/2

tsp

black pepper
Instructions
Steam cauliflower florets on the stove top until it is soft and you can easily pierce it with a fork. (You can also purchase fresh or frozen steamable bags of riced cauliflower and steam in the microwave to save time. I would recommend doing 2 bags.)

Allow cauliflower to cool for a few minutes, then transfer to food processor or powerful blender. Add ghee/butter, spices and HALF of the milk/half & half, and pulse until partially combined.

With a spoon or spatula, scrape down the sides and assess the texture. Very gradually add more milk/half & half as needed, until you reach the desired consistency. Note: You may not need all of the liquid, or may need more, depending on the size of your head of cauliflower. Don't add liquid too fast and make it runny!

Pulse until well combined and it reaches a creamy texture, similar to that of regular mashed potatoes.

Serve warm. Garnish with green onions if desired.
Nutrition
Calories:
124
kcal
Carbohydrates:
8
g
Protein:
3
g
Fat:
10
g
Saturated Fat:
6
g
Cholesterol:
25
mg
Sodium:
50
mg
Potassium:
449
mg
Fiber:
3
g
Sugar:
3
g
Vitamin A:
55
IU
Vitamin C:
69.3
mg
Calcium:
48
mg
Iron:
0.6
mg
I hope you all love these Easy Cauliflower Mashed Potatoes! Pin this recipe on Pinterest so you can easily refer back and make it the next time you're trying to think of an easy and healthy side dish! : )
Enjoy,
Shanna