If you are looking for gift ideas for your 1 to 2 year old kiddos, here is a long list of ideas I gathered from lots of fellow mamas, as well as some things that we have loved for Rhett over the past year or so. I hope it will help you find some affordable items your kids will love!
I also want to point you to my Amazon Affiliate Page where you will find a ton of other items linked. I have various lists like baby/toddler toys & gift ideas, specific Christmas lists, "best sellers" and more, where you can also find some great ideas! Click here to shop my Amazon page.
You can also check out my baby gift guide from last year here.
(Disclosure: all links are commissionable – thanks for using my links this holiday season!)
Gift Guide for Toddlers: Things That Go
This can be a great age to start giving them things like cars that they can ride in and be pushed or push themselves, scooters, strider bikes, etc.! Linking several options and ideas below!
We are planning to get Rhett this little strider bike! Linked here.
We are also getting him this helmet when he rides his scooter and strider bike. Linked here!
Gift Guide For Toddlers: Clothing
Let's face it – clothes are always needed, and some clothes they might get excited about! Now that Rhett is getting closer to 2, I have found that he is much more opinionated about what he wears these days! If it has dinos or tractors on it, I can usually bank on him wanting to put it on, haha.
Charlie Hustle Clothing for Kids
If you are local to KC, you are probably familiar with Charlie Hustle. If not, they have tons of clothing for all ages so you can rep your favorite sports teams (mostly Midwest teams) and their clothes are THE BEST. Not kidding- I basically live in CH gear. The quality is amazing and they are just so incredibly comfortable, not to mention, super cute!
We have tons of K-State & Chiefs gear from Charlie Hustle, and they always have fun, special items for holidays like Mother's Day and Father's Day, etc.
If you have a little one and you're a big fan of a sports team, highly recommend checking out some of their stuff! You can always use my code WELLNESSFORTHEWIN to save 20% on regularly priced items and they have special deals going on for Black Friday as well!
SHOP CHARLIE HUSTLE HERE – use code WELLNESSFORTHEWIN to save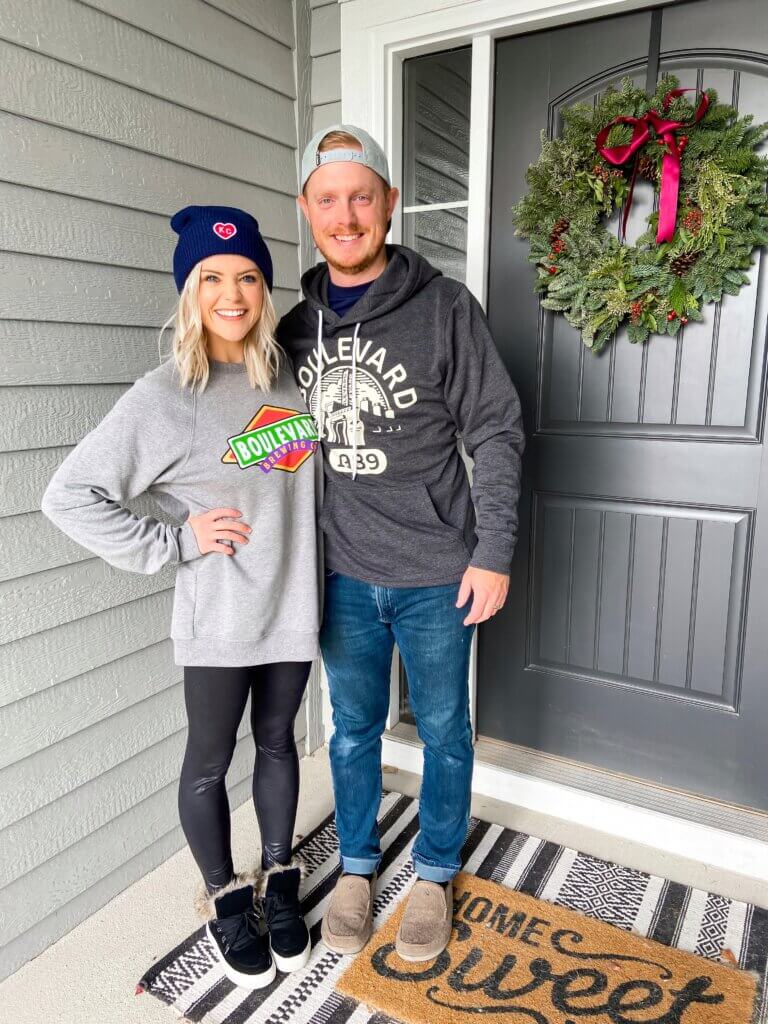 cat & jack / kid's clothing
I recently learned that Target has an insane return policy for their kid's clothing line: Cat & Jack. It is my understanding that you can return items from this brand within a year of purchase (even without a receipt) regardless of the condition, because they want to prove that their clothing is good quality and made to last. I've been told that this even applies if your kid grows out of the clothes, which is just crazy and amazing!
But the clothes from this line are super affordable AND cute, so it's just a no-brainer to start buying more Cat & Jack items. That's how they get ya. ; )
Linking just a few items below that we have recently bought or that are on my list!

toddler shoes
We love these fleece-lined crocs! The easiest toddler shoe ever. Linked here!
Gift Guide for Toddlers: Experiences > Things
Lots of people highly recommended gifting your toddler some fun experiences instead of giving them more "stuff", which I am always on board with. I want him to have some fun things to open that he will love to play with, but I know that experiences can also be an incredible option! Especially things like memberships to places you can continue to visit over and over, etc.
Here are some non-toy ideas I got from you all! Of course some of these options may differ if you live in a different area, but you get the idea!
Membership to Deanna Rose Farmstead
Membership to Union Station / Science Center
Build-A-Bear Gift Card
Barnes & Noble Gift Card
Library card
Zoo membership
Discovery center membership
Aquarium passes
Wonderscope passes
Other memberships / swim lessons / learning subscriptions, etc.
Ask family members to donate to an "adventure fund"
Asking family members to contribute to 529 account
Having family members sign up for a day to take your child for a day to do a fun activity! Outing with the grandparents, etc.
Highlights kids subscription 
Overland Park botanical garden 
Disney live shows
stocking stuffers
other miscellaneous toys
Below I'm linking a bunch of items that we have and love, plus a few that are on my list!
Bath toys — click here to see my bath post with lots of items linked
Personalized camo suitcase: linked here
Tonies box:
You can use my discount code 15SHANNA to get 15% off your entire order with the purchase of a toniebox Starter Set – this is stackable with the brand's "bundle", It takes $56 off when ordering the (most popular) 5 tonie bundle, which includes: a Toniebox, Playtime Puppy Tonie, and up to 5 additional Tonies of your choice!
SHOP TONIES HERE — Rhett has especially loved Woody and the Paw Patrol character, but also the Christmas one! But he is changing them out often and I am planning to snag a few new characters for stocking stuffers! A gift that keeps on giving and such a great screen-free toy.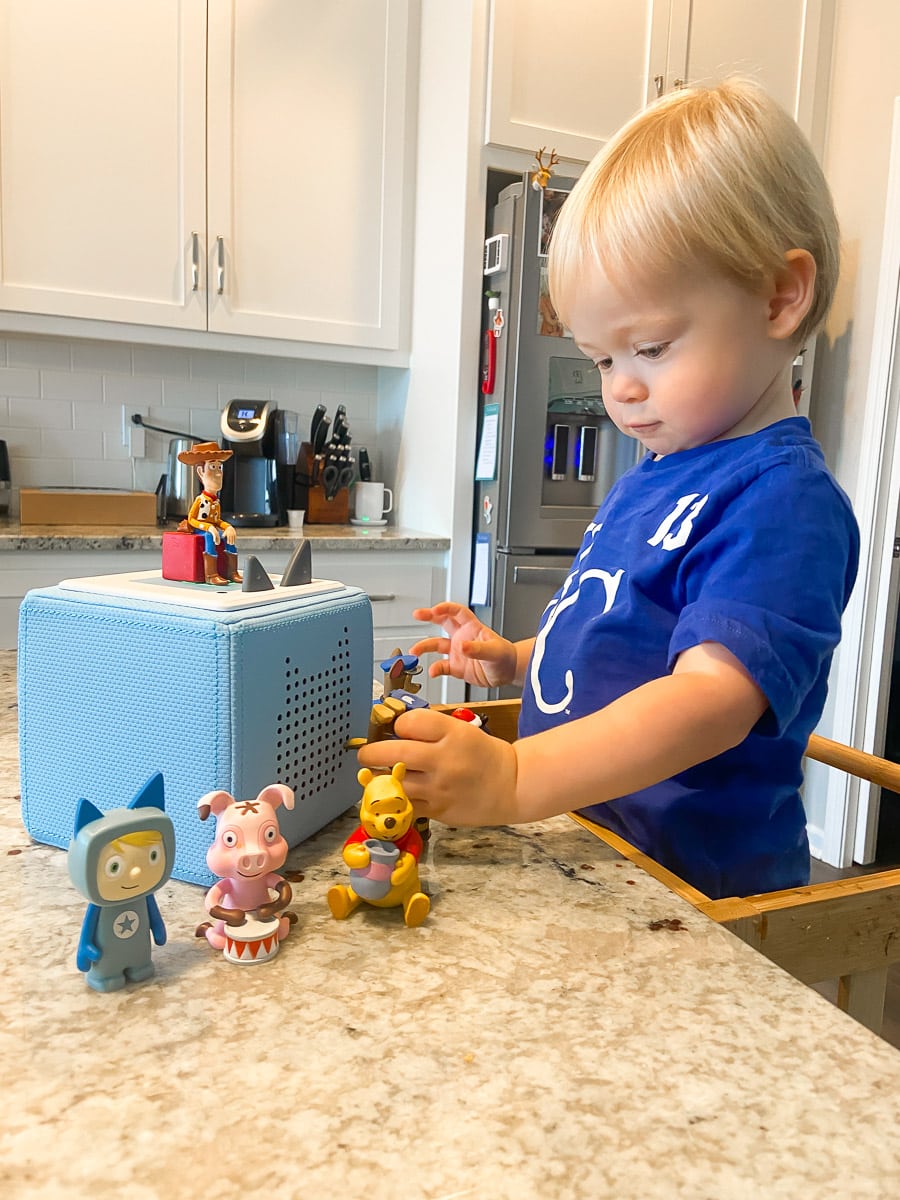 Play vacuum:
Play cleaning set:
Picasso Tiles Magnet Tiles:
Bounce House:
Toddler Table & Chairs Set:
T-Ball Set:
Slide:
Basketball Goal:
Swing:
other ideas that were submitted:
Tot tube 

Trains / train table 
Pickler triangle 
Trampoline – mini
Camping cooking set 
Bath toys / bath books 
Melissa and Doug Foldable barn set 
Easy playhouse coloring house 
Crafts 
V tech jiggle and giggle fishing set
Tool set/ drill 
Plasma car 
Pickler climber
Nugget couch 
Teepee tent 
Play kitchen + food / plates / cups, etc. 
Radio flyer tricycle 
Step 2 rollercoaster 
Potty seat attachment 
Bob books 
Dress up clothes 
Books and puzzles 
The books where you can include pics of your family members with name 
Bathtub crayons, bath robe, books, mermaid toys 
Thomas the train toys and books 
Fat brain toys ice cream truck 
Doctor kit 
Busy board
A large semi / tractor toys 
Play doh and tools for it 
Bath toys, bubbles, wiki sticks, dot markers, flash cards 
Hape kitchen and fridge 
Busy toddler gift guides 
Little outdoor play house

Art easel 

Big sibling books, step stools, winter gear 
Dinosaurs – link dino book
Melissa and doug coloring book 
Little sleepies PJs 
Jurassic live tickets, monster jam tickets 
Large soft plastic dinos on amazon 
Little tykes trampoline 
Outdoors toys 
All things farm related
Kid ipad for upcoming flight 
Piggy bank 
Jammies 
Sneakers 
Jelly cat 
Toilet attachment/ potty training books 
Melissa and doug easel 

shoes/ snow boots / new fun cups, etc. 

Green toy cupcakes for play kitchen 
Pogo pass? 
Play grill set, toddler pillow, blanket or stuffed animals 
Melissa and doug wooden train set 
Animal figurines – link set Becky got us 
Lincoln logs 
Wobble board 
Train set around the tree 
Activity art table that makes him want to eat dinner at it 
LCD writing tablet 
Farm toys 
Coloring books 
I hope this is helpful!
I know Christmas gifts can feel overwhelming and they all add up, so don't feel pressured to buy ALL the things and remember that your kiddo doesn't need all the fanciest, most expensive gifts to have a good holiday. All they need is your love and presence, some yummy food, and honestly, the boxes that things come in are always the biggest hit LOL.
Happy holidays to all of you!
XO,
Shanna