Healthy Trader Joe's Favorites
I don't go to Trader Joe's that often, but that I doesn't mean I don't absolutely love it! I definitely have my TJ's staples that I stock up on every time I make a trip there, so I wanted to share my favorite Healthy Trader Joe's Favorites with you in this post! (Well, mostly healthy anyway.)
Don't worry; ALDI USA is still my number one. 😉
HEALTHY TRADER JOE'S FAVORITES: PANTRY STAPLES
Nut Butter
Trader Joe's has an amazing selection of nut butters that I'm in love with. One of the reasons I love them so much? Because they have simple ingredients and no unnecessary stuff added. For example, their almond butter contains…. ALMONDS! And a little bit of salt if you get the salted version, of course. (Which is bomb if I do say so myself).
Some of my personal nut butter faves from TJ's include:
Creamy Almond Butter (salted or unsalted)
Crunchy Peanut Butter (salted)
Mixed Nut Butter (it contains almonds, cashews, walnuts, Brazil nuts, hazelnuts, pecans and sea salt) — this has become one of my most recent favorites! It's amazing; highly recommend.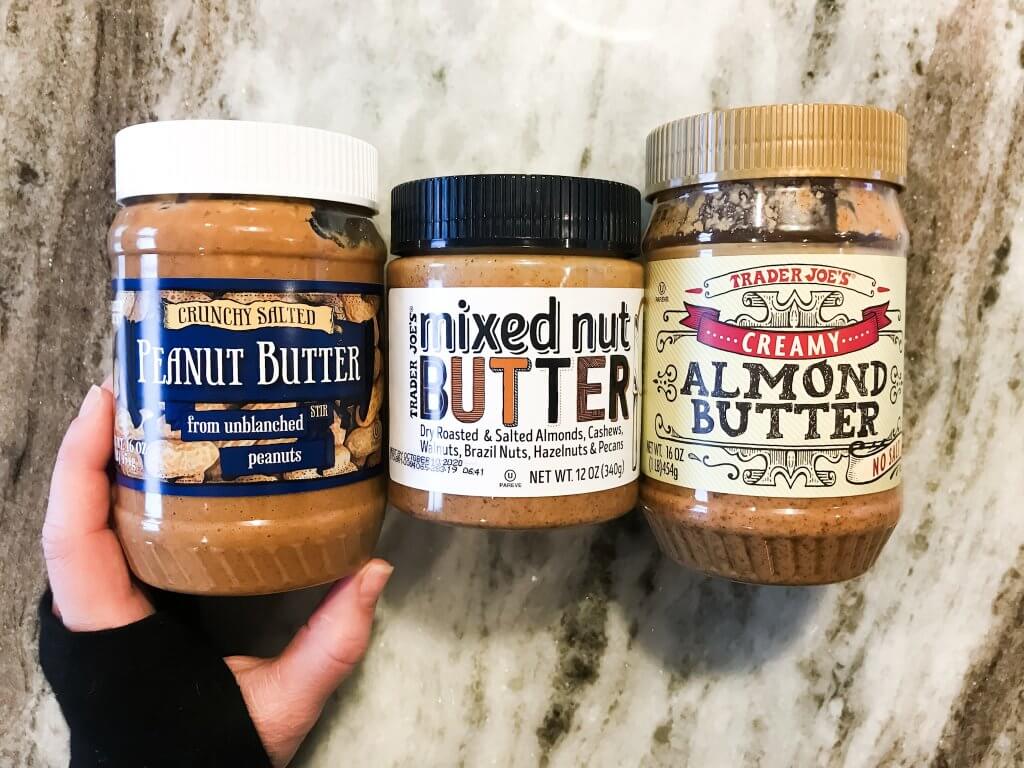 Unsweetened Dried Fruit
For whatever reason, it is EXTREMELY difficult to find dried fruit that isn't sweetened. Thankfully, not at TJ's! They have tons of dried fruit available and they usually have sweetened + unsweetened options available.
My favorites are their Unsweetened & Unsulfured Organic Dried Mango and their Unsweetened Dried Pineapple Rings.
Yes, dried fruit still contains natural sugars, but it also contains some fiber, some good nutrients, and guess what? It's delicious. Pair it with some protein or healthy fat like nuts and you've got a great, balanced snack.
Nuts
Just a few steps away from the dried fruit section, you'll find a TON of nuts. Some are salted, some are unsalted, some are seasoned, etc., but they have every type of nut you could ever ask for. And for the most part, they don't have unnecessary added oils. Some of them do, but a lot of them don't, which I like.
I typically grab some of their roasted almonds, cashews and sometimes pistachios. Again, great healthy snack options!
Organic Tomato & Roasted Red Pepper Soup
Do yourself a favor and grab four cartons of this soup on your next trip. It is THAT good. We get the low sodium option and I promise, it's still incredible.
We all have nights when we are tired and have no desire to cook. Enter: this tomato soup and whip up an old fashioned grilled cheese on some whole grain bread (I've heard TJ's Sprouted 7 Grain Bread is really good) to dip in it, OR cook up some cauliflower gnocchi to put in your soup.
Sound weird? Trust me. It's amazing. Shout out to @dashofmandi for that genius idea!!!
Everything But The Bagel Seasoning
I think that everyone knows about Everything But The Bagel Seasoning at this point (EBTB for short), but in case you didn't, now you know. It's exactly what it sounds like — the seasoning that they put on everything bagels. And it tastes delicious in and on just about, well… everything.
Especially on avocado toast, AND in the Organic Tomato & Roasted Red Pepper Soup I just mentioned!!! Try it and thank me later.
Trader Joe's Fruit Bars
I absolutely love snacking on the fruit bars from TJs! They are made with just fruit; no added sugars. They are subtly sweet and make a great pre-workout or anytime snack. They have Apple + Mango, Apple + Banana, Apple + Coconut and Apple + Strawberry. You can find them right by all of the other bars.
HEALTHY TRADER JOE'S FAVORITES: FREEZER STAPLES
ALL Of The Gnocchi
I think we all know that the hype for TJ's cauliflower gnocchi is real, but they have a ton of different gnocchi options, so let us not forget about the other delicious ones that are available (especially if and when cauli gnocchi is out of stock, because yeah… it happens.)
Gnocchi Options We LOVE:
Frozen Riced Cauliflower Stir Fry
Another super easy, yummy and healthy dinner option! Ethan and I love this riced cauliflower stir fry and make it all the time.
I typically add 2 scrambled eggs, some coconut aminos (similar to soy sauce but way less sodium), some shelled edamame, and any other extra veggies I have in the fridge or freezer, like chopped onions, peppers, etc. I usually add some shrimp as well!
Head to my Cauliflower Fried Rice recipe for more details on amounts! You can use the pre-made bag from Trader Joe's to make the process even quicker but then make some of the additions that I mentioned!
Roasted Potatoes With Peppers & Onions
These make a great, easy side dish and they are so delicious! Someone recently recommended making them in the air fryer, so I can't wait to try that next!
Chicken Cilantro Mini Wontons
My friend Aubrey of @kalekouture was the first one to introduce me to these chicken wontons and Ethan is OBSESSED. I love them too, and they are so easy. I just cook them in the microwave according to the instructions! We'll have these as a quick and easy snack or lunch on the weekends, along with something else.
I usually whip up some of the sauce from my Spicy Salmon Quinoa Bowls recipe to dip them in. Spicy and delicious – highly recommend making this to serve with the wontons!
Colorful Carrot Coins
These are frozen and make a super yummy, quick and easy side dish for weeknight dinners. Just throw them in a skillet for a few minutes and you're ready to go! Love the different colors and they are full of nutrition. : )
I would pair these with some grilled chicken or salmon and roasted Brussels sprouts!
Chili Lime Chicken Burgers
These are SUPER delicious and very quick to whip up. Great, quick weeknight dinner option — you don't have to remember to thaw anything! We also have gotten and loved the 100% whole wheat buns from TJ's to go with them. Top with some fresh greens, avocado and serve alongside roasted veggies!
tj's FAVORITES: MISCELLANEOUS
Liquid Stevia
I am obsessed with their Organic Liquid Stevia — I add some half & half and a few drops of liquid stevia to my coffee and it is BOMB. Just a few drops goes a long way, so these things last forever!
To shop the cold brew maker we are obsessed with, click here, and to shop my YETI mug, click here.
Perfect Bars
Perfect Bars are not exclusively a Trader Joe's item, but they are worth mentioning here because TJ's always has a great selection of them. They are always stocked with great flavors and I love them so.
Some of my favorite Perfect Bar flavors:
Chocolate Chip Cookie Dough
Chocolate Walnut Brownie
Trail Mix
Blueberry Cashew
I hate to mention it in my TJ's post, but if you can't find these flavors there, hop on over to Whole Foods because their selection is by far the best.
Pub Cheese
I can't believe I almost forgot to mention pub cheese. Ethan COULD NOT love anything more than Trader Joe's pub cheese. They have the original version and a spicy Cheddar + Jalapeno version. Honestly, we love both. Super yummy with any kind of crackers, pretzels — any vehicle to get the cheese into your mouth, basically. Not the healthiest item, but damn good.
Seasonal Items
Pepita Salsa: I heard people all over IG raving about this salsa, so I had to snag some for myself to see what all the hype was about. Verdict: DELISH. It's probably about to disappear, so snag some before it's gone if you can!
Dog Treats
For all the fellow dog parents out there, I had to include the fact that they have super cheap dog treats and my dogs LOVE THEM. They gobble them right up, including Harley, and he is super weird about treats, lol. We usually get the Beef Recipe Jerky Sticks and I think they are only $2 a bag!
Flowers
Okay, no — don't eat the flowers. But have you ever gone to TJ's and left without flowers? TBH I don't know if I have. They are so affordable and they have so many pretty options. I think having fresh flowers around in the house is good for your mental health, so TREAT YOSELF TO A $5 BOUQUET!
I hope you enjoyed reading up on some of my Healthy Trader Joe's Favorites and got some good ideas for your next shopping trip! Do you love any of these items too? Anything that I absolutely need to add to my grocery list!? Let me know below in the comments!
Please feel free to share the love by pinning this post on Pinterest, Facebook or wherever you spend your time! : )
XOXO,
Shanna