Cauliflower Fried Rice with Shrimp
Cauliflower Fried Rice with Shrimp is a go-to meal in my household. It's quick, easy, delicious and healthy. Most of the ingredients are frozen, so I almost always have them all on hand to throw this together. It's also super versatile. Add any and all veggies you like; swap in a different protein if you'd prefer chicken or beef, etc. Make it your own!
yes, cauliflower is low-carb, but…
If you follow me closely here and/or on Instagram, you know that I am a big advocate of an intuitive eating, #allfoodsfit kinda lifestyle. When I post recipes like this where I happen to substitute a carbohydrate-rich food with a vegetable, I often get questioned.
Before you get any crazy ideas, I want to clear up any confusion. First of all, I love carbohydrates and eat them often, including brown, white, jasmine, red or whatever color of rice. It is all delicious. However, I also freaking LOVE vegetables, especially cauliflower. The harsh reality is, a lot of people are not eating near enough vegetables. I am all for coming up with strategies that help people sneak more veggies into their diets in ways that are actually easy and enjoyable.
That's exactly what this recipe will do for you! It is loaded with tons of colorful veggies, as well as both plant-protein and protein from the shrimp. If you're not a fan of shrimp, you can easily substitute chicken or any other meat you prefer. Or you can omit the meat all together and make it vegetarian, like I do sometimes! You're still getting a good amount of protein from edamame and eggs.
coconut aminos: lower-sodium alternative
I have also started using coconut aminos in place of soy sauce because 1) they literally taste identical, and 2) they are much lower in sodium, making them a great option, especially for those who may be watching their sodium consumption. They are also soy-free for those who may have a soy allergy or have to avoid soy for any reason.
Yes, coconut aminos are a bit more expensive than soy sauce, but you will usually only use a small amount at a time, so it should last you a while! You can find them at almost any grocery store — not just health food stores! They are typically located right by the soy sauce.
Why we make this cauliflower fried rice on the reg
I honestly love Chinese food, but rarely go out to restaurants specifically to have it, mostly because it doesn't make me feel my best if it's fried or cooked in a lot of oil.
We love making dishes like this at home because:
It's much more affordable than eating out
You can increase the amount of fiber and nutrients in your meal by adding veggies and using whole grain options
Cauliflower Fried Rice + Shrimp is satisfying and filling, and husband-approved
Makes great leftovers for work lunches!
QUADRUPLE WIN.
take shortcuts… I won't tell anyone
I highly recommend buying pre-riced cauliflower to save yourself tons of time and mess. It's obviously a tad pricier than doing it yourself, but in my opinion, very worth it.
Most people I talk to say that "lack of time" is their biggest barrier to eating healthy, so if spending a couple extra bucks on pre-riced cauliflower gets you to make this recipe at home rather than ordering take-out from the nearest Chinese restaurant, do it! ALDI now has frozen riced cauliflower that is super affordable, in case you fellow ALDI-lovers were wondering. ; )
Trader Joe's also has a frozen cauliflower fried rice that contains a lot of these ingredients already, if you REALLY want to reduce cooking time. When I purchase the TJ's mix, I still add some coconut aminos, eggs, edamame and shrimp, and any additional veggies I have already cut up, like onions or peppers.
This recipe was inspired by Iowa Girl Eats! Check out her blog for tons of great gluten-free recipes if you or someone in your family has dietary restrictions and needs more GF options.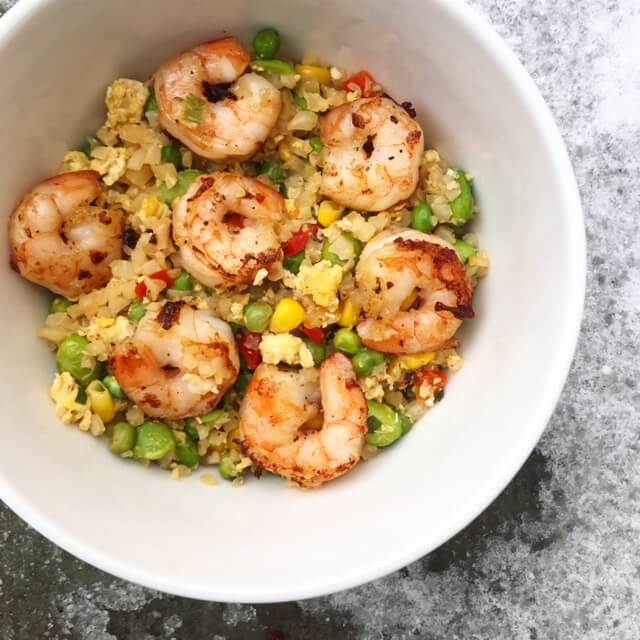 Cauliflower Fried Rice with Shrimp
This Cauliflower Fried Rice with Shrimp is quick and easy to make, delicious and loaded with nutrition!
Ingredients
1

package

cauliflower rice

fresh or frozen

1

Tbsp

+ 1 tsp sesame oil

or avocado oil

2/3

cup

frozen carrot coins

2/3

cup

frozen peas

2/3

cup

frozen shelled edamame

1

bunch

green onions

chopped

3

garlic cloves

minced

1

white onion

small, chopped

2

eggs

2

Tbsp

coconut aminos
Shrimp
1

bag frozen

cooked, peeled, deveined large shrimp (thawed)

1/2

Tbsp

extra virgin olive oil

Black pepper and garlic powder

to taste

Optional toppings: coconut aminos, sriracha sauce
Instructions
Rinse and chop the green onions, white onion and garlic cloves. Measure out frozen peas, carrots and edamame. Set aside. Reserve some green onions for garnish.

Heat 1 Tbsp of sesame or avocado oil over medium-high heat in a large, non-stick skillet. Add riced cauliflower, green onions, peas, carrots and edamame and stir-fry until cauliflower starts to get tender, around 5-6 minutes.

Push veggies to the side of the pan; add minced garlic and chopped white onion. Let garlic & onion cook for a minute, season with black pepper, and then stir them in with the rest of the veggies. Continue to stir-fry another 30-60 seconds.

Whisk 2 eggs in a small bowl with 1 tsp of sesame oil. Make a circle in the middle of the cauliflower-veggie mixture in your skillet, and pour the eggs inside. Let them cook for a minute, season with pepper, then scramble and stir to combine.

Add coconut aminos (or soy sauce) and mix in until combined. Keep pan on the burner but turn heat off.
Cooking the Shrimp:
In another large skillet, add 1/2 Tbsp of extra virgin olive oil over medium-high heat and then the thawed shrimp. Season with black pepper and garlic powder, and a small splash of coconut aminos. Sauté for a few minutes until heated through and slightly browned on both sides. Drain excess liquid if needed.

Serve cauliflower fried rice with 6-8 pieces of cooked shrimp (optional; serving size may vary depending on size of frozen shrimp you get.)

Serve with additional coconut aminos, black pepper and/or sriracha as desired.
Nutrition
Calories:
192
kcal
Carbohydrates:
15
g
Protein:
12
g
Fat:
9
g
Saturated Fat:
1
g
Cholesterol:
135
mg
Sodium:
397
mg
Potassium:
472
mg
Fiber:
4
g
Sugar:
5
g
Vitamin A:
3930
IU
Vitamin C:
36.5
mg
Calcium:
96
mg
Iron:
2.2
mg
Pin this recipe on Pinterest so you can easily refer back to it as needed! Add it to your "Easy, Healthy Dinners" section. 😉 I hope you love it as much as we do!
Shanna
#WellnessForTheWin #HomemadeTakeOut #AllTheVeggies