Peanut Butter Banana Smoothie
A few legendary combos: peanut butter and jelly, chips and salsa, milk and cookies, and last but definitely not least, peanut butter and bananas. I especially love the last two blended up in smoothie form, so today I'm sharing the recipe for my favorite Peanut Butter Banana Smoothie!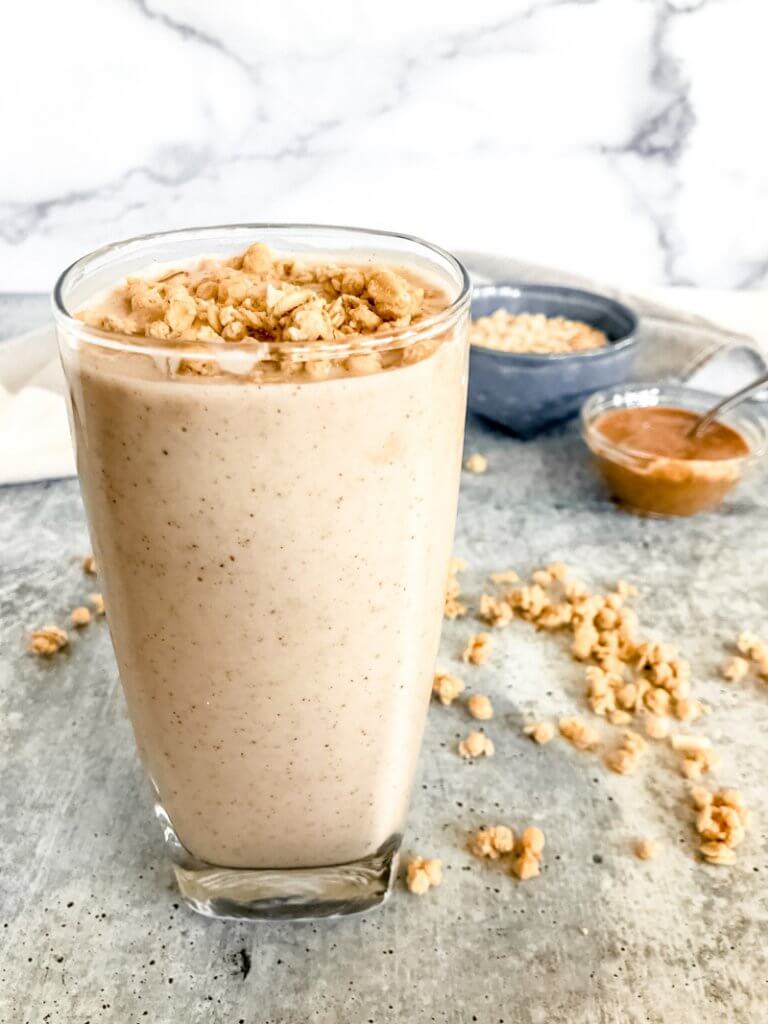 I've always loved smoothies and recommend them to clients often because they can be a super easy way to pack fruits, veggies and other nutrients in your diet. I have to admit though; the PB + banana combo has always been my go-to. Not the smoothies with berries and greens and all that fancy stuff. (Although I do enjoy those, too.)
Does that make me a bad dietitian? NO. Because both bananas and peanut butter have lots of nutrients to offer, too!
how healthy is banana and peanut butter?
As a dietitian I constantly hear people say that they avoid bananas because they are "full of sugar". Well, guess what?
Bananas are a good source of potassium, vitamin C, vitamin B6, fiber and other beneficial nutrients. Bananas contain prebiotic fiber, which is great for gut health. Prebiotics feed the good bacteria (probiotics) in our gut to keep our microbiome healthy and thriving!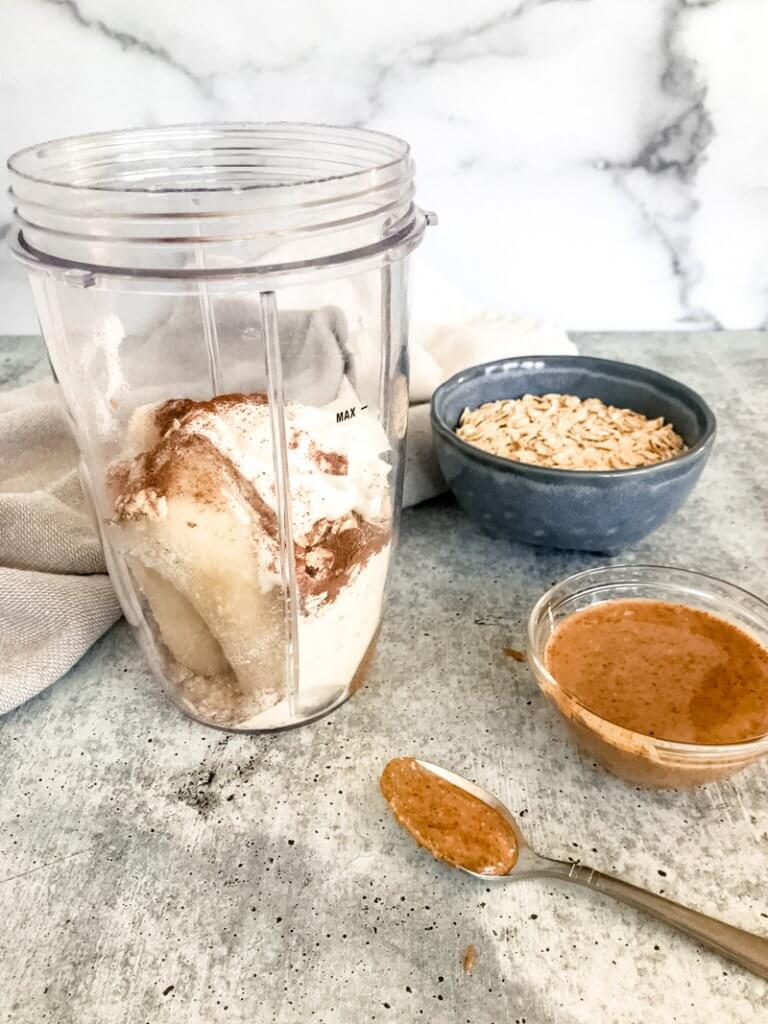 In addition, bananas are a good source of carbohydrates, which are especially important to consume after a high-intensity workout to restore the glycogen stores that were lost.
What about peanut butter? Peanut butter is a staple in my diet for many reasons. First and foremost, it's delicious. It's also a very affordable food, making it accessible to a wide variety of people.
In addition, peanut butter is full of heart-healthy fats and plant-based protein, both of which help to keep me full and satisfied long after I eat it! It also helps balance out blood sugar levels when consumed with a carbohydrate food, such as bananas.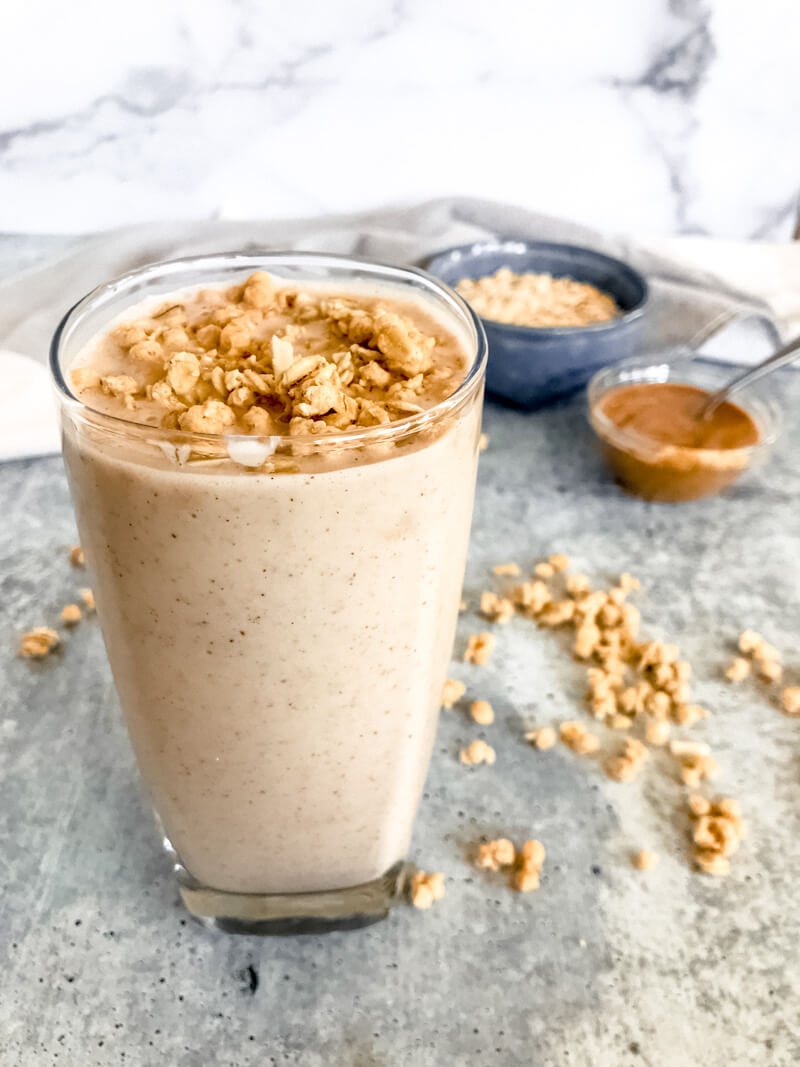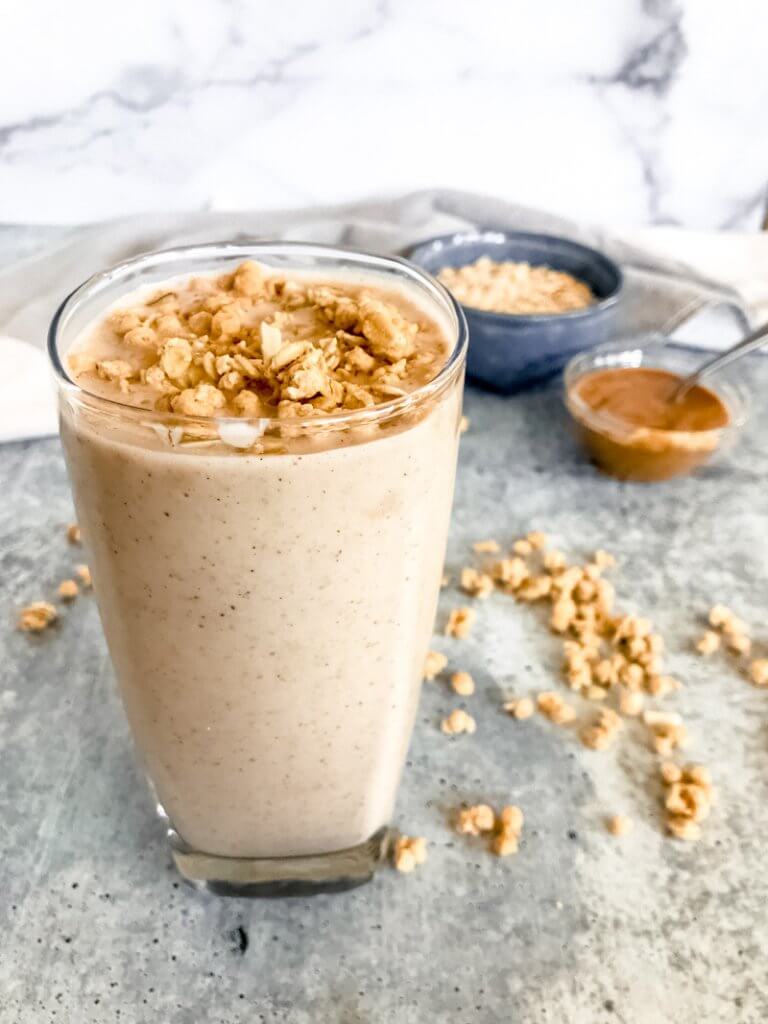 When choosing any type of nut butter, check the ingredients list to make sure it doesn't contain "partially hydrogenated oils" as this is another word for trans fats, which are bad for our health. Ideally, we want to choose nut butters that only contain nuts, and maybe a little bit of salt; any added sugars and oils are not necessary!
can i substitute almond butter in this recipe?
Absolutely! Any type of nut butter will work in this recipe.
You can use creamy or crunchy peanut butter, almond butter, cashew butter, or the delicious mixed nut butter from Trader Joe's for all I care! (That stuff is bomb, by the way, if you've never had it.)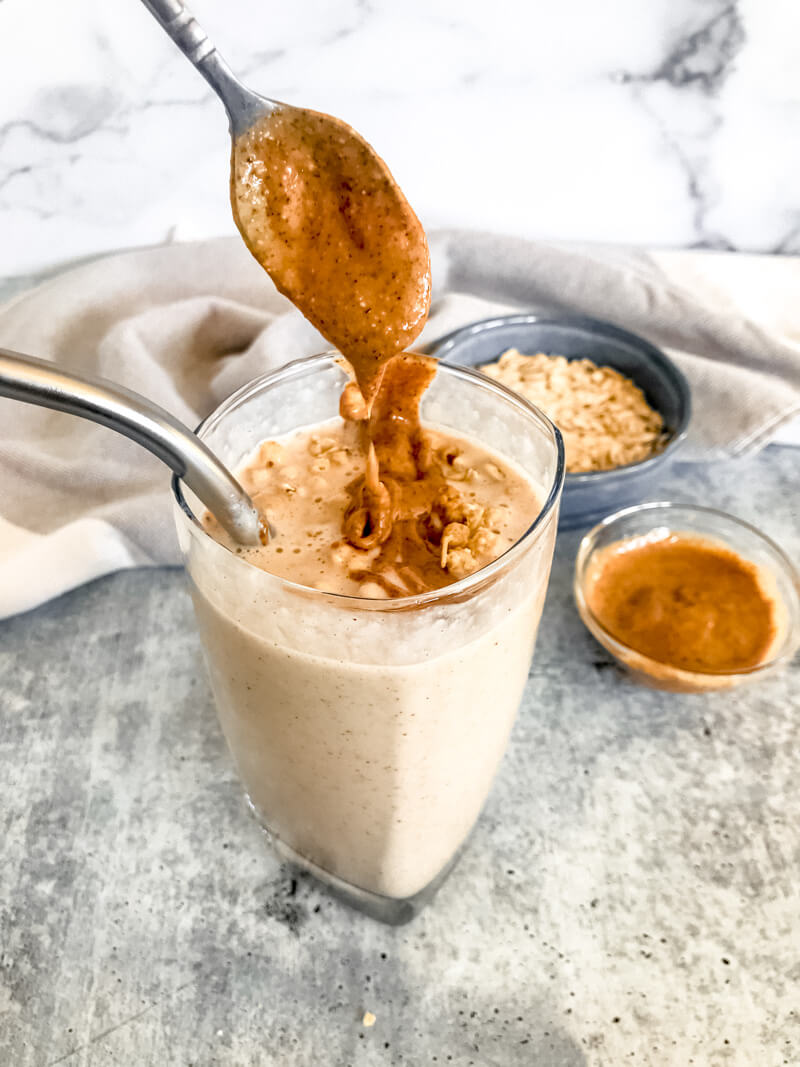 They will all taste equally delicious in this smoothie. 🙂
which protein powder is best?
You can use whichever type of protein powder you prefer in this recipe, including whey protein, plant-based protein, or even collagen peptides.
I typically prefer a whey protein isolate powder; however, I also like to use Further Food collagen sometimes for smoothies and/or overnight oats. (You can use my code WELLNESSFORTHEWIN for a small discount on Further Food products! #affiliate)
Fellow Registered Dietitian Angie of @eleatnutrition has some great blog posts on protein powder and the top brands that she recommend for both whey and plant-based powders.
Spoiler alert: protein powder supplements are not necessary in order to meet your protein needs. If you are being intentional about including good sources of protein at each meal and/or snack (especially meat-eaters), you are likely meeting your needs!
Okay, time for the recipe!
Peanut Butter Banana Smoothie
This Peanut Butter Banana Smoothie is healthy, quick & easy to whip up, and makes a great post-workout meal thanks to the combo of protein and carbs.
Ingredients
1.5

bananas

frozen, peeled

2

Tbsp

nut butter

peanut butter, almond butter, etc.

1

scoop

protein powder

vanilla

2

Tbsp

old fashioned oats

1/3

cup

Greek yogurt

plain

3/4

cup

milk

unsweetened almond or regular milk (more as needed)

1/2

cup

ice

more as needed

1/4

tsp

cinnamon
Instructions
Combine all ingredients in a blender. Blend on high for 1-2 minutes, stopping occasionally to scrape down the sides as needed.

Add additional ice and/or liquid until you reach your desired consistency.
Nutrition
Calories:
356
kcal
Carbohydrates:
38
g
Protein:
24
g
Fat:
14
g
Saturated Fat:
3
g
Cholesterol:
11
mg
Sodium:
101
mg
Potassium:
711
mg
Fiber:
5
g
Sugar:
18
g
Vitamin A:
205
IU
Vitamin C:
8
mg
Calcium:
276
mg
Iron:
1
mg
Simple as that!
Can't wait to hear what you all think of this Peanut Butter Banana Smoothie recipe! Please let me know if you give it a try in the comments. Share the love by pinning this recipe on Pinterest!
XO,
Shanna