Healthy Green Smoothie Recipe
For a long time now, I've only had one smoothie recipe on my blog, and that is this Peanut Butter Banana Smoothie. I think banana + PB will forever be my fav smoothie combo (and Ethan agrees), but I've been determined to make a green smoothie that actually tastes good. I'm happy to say that I think I've accomplished it with this Healthy Green Smoothie Recipe!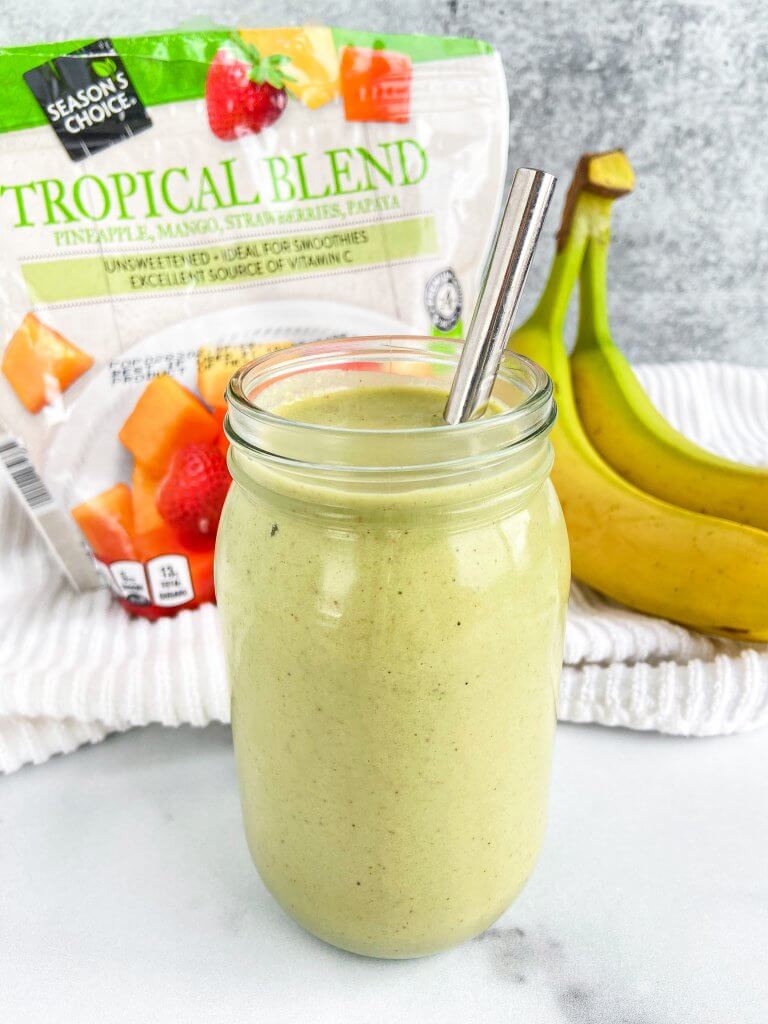 I hope you all agree. : )
ingredients needed for this healthy green smoothie recipe
substitutions or mix-ins for this healthy green smoothie
I used tropical fruit in this recipe but you could use any type of fruit you like; i.e. frozen strawberries, blueberries, etc.!
I used spinach but you could use kale if you prefer or have it on hand (I like the taste of spinach better and think that fruit masks the flavor of it better than kale)
Instead of walnuts, you could add pecans, almonds, OR ground flaxseed, chia seeds or a nut butter like peanut or almond butter for a healthy fat source
You can use unsweetened almond milk, regular milk or a combination of milk + kefir if you'd like. I like to add some strawberry kefir to mine for some good flavor + a little hit of probiotics
Greek yogurt is another great, high-protein addition that adds a nice creamy texture
Avocado is a great healthy fat ingredient that makes smoothies nice and creamy, too, and you can't taste it when mixed in with fruit
how to build a balanced smoothie
Smoothies often get a bad rap because people are worried about them being too high in sugar from fruit. Yes, fruit contains natural sugar; however, it also contains tons of vitamins, minerals and beneficial fiber, so it is not to be feared! I promise.
With that being said, it is ideal to balance out your smoothies with protein and fat (and some veggies if possible!) to help balance blood sugar and provide more satiety than fruit alone would. Be sure to throw in some protein and fat-containing ingredients in your smoothies to help with this.
Ingredients to add some protein and/or healthy fat:
Greek yogurt
Nuts — walnuts, pecans, almonds, whatever you like
Nut butter: peanut butter or almond butter (I love OffBeat Butters and my affiliate code is wellnessforthewin to save)
Ground flaxseed
Chia seeds, pumpkin seeds
Avocado
Protein powder and/or collagen powder
Milk
Veggies you can add to your smoothie:
There are lots of different veggies you could add to smoothies, but the most common ones that I use (or see) and that will blend in nicely:
Spinach
Kale
Riced cauliflower
Shredded carrots
can I use protein powder during pregnancy?
This is a common question I have received throughout my pregnancy, so I wanted to go ahead and address it. The answer is yes, you can use protein powder, BUT I do encourage you to aim for meeting your protein needs from whole foods as much as possible (i.e. meat, eggs, dairy, nuts/seeds, legumes, etc.)
I always recommend using supplements that are third-party tested to ensure that what they say is in the product is factual, whether you are pregnant or not.
My friend and fellow dietitian Angie of @eleatnutrition has multiple blog posts on whey and plant-based protein powders she recommends. Check out her posts here!
I love Needed. collagen powder — their products are third-party tested and they make a variety of supplements specifically for women before, during and after pregnancy. My affiliate code is wellnessforthewin to save. Click here to shop.
why collagen may be beneficial during pregnancy
Another collagen powder I love is from Further Food. They have an unflavored version that blends nicely into a variety of foods/smoothies, etc., but they also have vanilla and chocolate flavors that I love. My affiliate code is wellnessforthewin if you are interested in trying them out.
Collagen has large amounts of the amino acid glycine, which is conditionally essential during pregnancy, meaning our bodies need WAY more of it during this time. It helps to support the growth and development of the fetus, as well as the growing uterus, and more. Note that you can also get glycine in your diet from foods like slow-cooked meats and bone broth, but collagen powder is also an easy source. It will be difficult for those following a plant-based diet to get adequate amounts of glycine during pregnancy.
You can get collagen from food sources as well, not just powder. Some nutrients that aid in the body's natural production of collagen include vitamin C, zinc and copper, so including a variety of foods with these nutrients is going to be helpful. If you include a wide variety of foods and protein sources in your diet, you are likely able to get adequate collagen without a supplement.
If you enjoy supplementing with collagen and have noticed benefits from taking it, do your thing! There are lots of safe options out there and to my knowledge there are not any harmful effects of taking it. Again, look for one that is third-party tested, and always talk to your doctor about any specific questions or concerns you have about supplements. This is not medical advice. : )
what type of blender do you use?
I have to share the blender we use most often for smoothies because it is SO affordable and works so well. We've had it for several years and *knock on wood*, it still works like a charm. If you're in the market for a compact blender specifically for things like smoothies, I highly recommend this one. Is it also super easy to clean because all of the parts are dishwasher-safe, and you can easily take the cup with you if you're on-the-go!
Click below for the blender I love! (affiliate link)
Healthy Green Smoothie
This Healthy Green Smoothie is well-balanced, full of good-for-you ingredients and tastes delicious. It is perfect for breakfast or a healthy snack and great way for picky eaters to sneak in fruits and vegetables.
Ingredients
1/2

banana

frozen

1

cup

tropical fruit

frozen

1

cup

fresh spinach

stems removed

1/4

cup

walnuts

OR 1-2 Tbsp nut butter

1

scoop

protein powder

vanilla or unflavored

1/4

cup

plain Greek yogurt

1

cup

unsweetened almond milk

or milk of choice
Instructions
Combine all ingredients in a blender. Blend for 1-2 minutes until you reach desired texture. Scrape down sides halfway through if protein powder and/or nut butter sticks to side of blender cup. Add additional liquid and/or ice as needed.

Serve immediately. Add nuts or granola on top if desired.
Nutrition
Calories:
571
kcal
Carbohydrates:
59
g
Protein:
38
g
Fat:
25
g
Saturated Fat:
2
g
Polyunsaturated Fat:
15
g
Monounsaturated Fat:
4
g
Cholesterol:
53
mg
Sodium:
425
mg
Potassium:
879
mg
Fiber:
9
g
Sugar:
39
g
Vitamin A:
3654
IU
Vitamin C:
19
mg
Calcium:
527
mg
Iron:
5
mg
I hope you all love this super easy and Healthy Green Smoothie recipe! Be sure to tag me on IG at @wellnessforthewin if you give it a try! Share the love by pinning this recipe on Pinterest.
Thank you!
Shanna