Healthy Greek Yogurt Chicken Salad
This Healthy Greek Yogurt Chicken Salad is super easy to make, doesn't require any cooking (just some quick assembling of ingredients) and it's perfect for healthy work lunches.
A few years ago, I was not-so-low-key OBSESSED with this recipe. I would make a double batch of it every single week and it would disappear very quickly. That was with the help of my parents, when I still lived at home. I think I kinda burned myself out on it, but I'm finally ready to bring it back into my life!
WHY I LOVE THIS HEALTHY GREEK YOGURT CHICKEN SALAD
Super quick and easy to make
Full of good-for-you ingredients
Freaking delicious!
Perfect for meal prep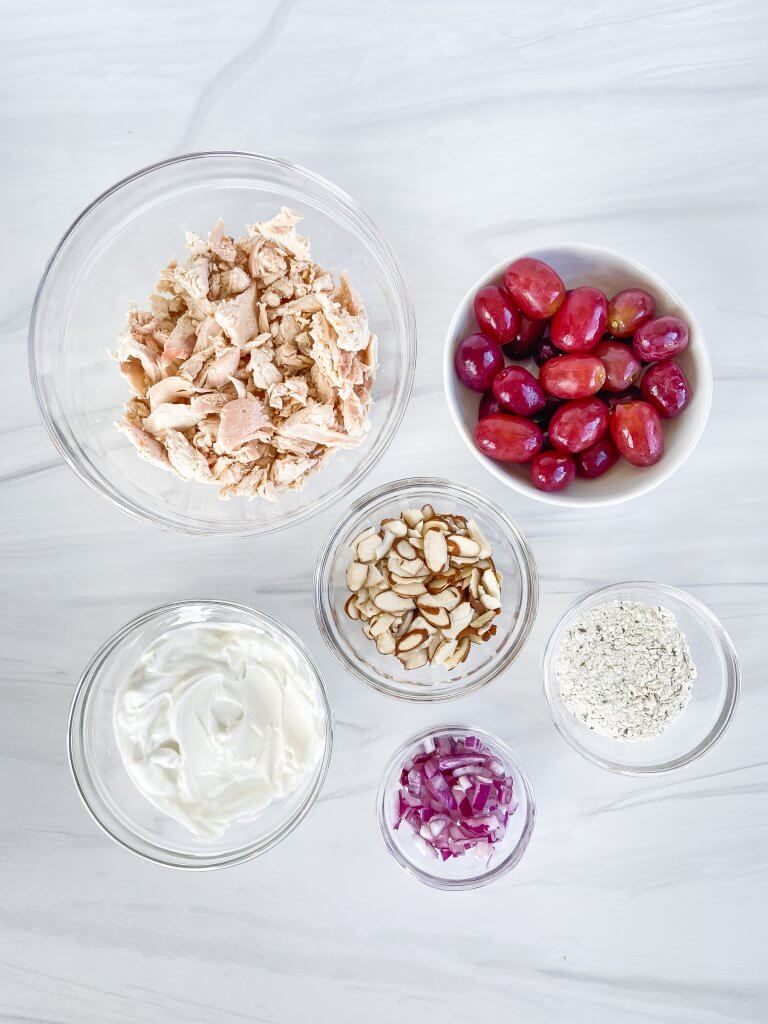 SUBSTITUTION OPTIONS FOR HEALTHY GREEK YOGURT CHICKEN SALAD
The original recipe calls for a dry ranch packet. I know not everyone loves using pre-made packets for things, but let's be honest — they are convenient AF. For all you peeps out there with kids, or puppies, or multiple jobs, etc., I know you can appreciate the convenience factor. If you want to make your own dry ranch seasoning with spices you have in your pantry, do your thing! Here is a recipe for some homemade ranch seasoning.
Same goes for the canned chicken. You can absolutely bake or grill your chicken and shred it yourself. But again, canned chicken is easy to keep in your pantry at all times, and requires a lot less work. Rotisserie chicken is a nice option too!
You can make any modifications you want to make this "healthier", but just know that I'm not here to judge you for taking any shortcuts. I'm all about the shortcuts these days.
healthy greek yogurt chicken salad mix-ins
A couple things I don't skimp on in this recipe are the other add-ins. I like to use grapes in place of dried cranberries because for some reason unsweetened dried cranberries DO NOT EXIST. You can find the 50% reduced sugar ones, but unsweetened isn't a thing… someone please explain this to me!?
Anyway, I like to use grapes. I kinda suck at getting fruit in my diet so this helps me out a bit. (Again, if you want to use dried cranberries, totally fine. There is nothing wrong with them, but I do prefer to get whole, fresh fruit when I can since that is a struggle for me. I'm more of a veggie gal.)
I also love adding sliced almonds for a little bit of crunch, and healthy fats, of course! Some people like to use celery in their chicken salad, and that provides some crunch too. I personally despise celery, but if that's your jam, go for it! I think little bits of apple would be delicious and crunchy as well. After a few years I finally decided to throw red onions in, but you can omit if you're not a fan!
This recipe is pretty versatile in that you can serve it up several different ways. Throw it on whole grain bread as a sandwich, lettuce wraps, along with Triscuits or on a bed of mixed greens! I've eaten it all of the above ways and it is delicious no matter what.
Healthy Greek Yogurt Chicken Salad
This Healthy Greek Yogurt Chicken Salad is quick and easy to prepare. Perfect to meal prep for healthy work lunches!
Ingredients
12

oz

canned white meat chicken

or 2 cups, shredded

1/2

cup

plain Greek yogurt

2

Tbsp

dry ranch mix

or homemade, if preferred

1/2

cup

grapes

cut in fourths, red or green

1/3

cup

sliced almonds

3

tbsp

red onions

diced

whole grain bread or crackers

to serve
Instructions
Place chicken in a large bowl. (Drain first if using canned). Shred chicken using a fork.

Add in Greek yogurt, dry ranch mix, grapes, red onion and almonds, and stir until everything is combined well.

Serve chilled on lettuce wraps, whole grain bread, or along with whole grain crackers.

Store in the refrigerator in an airtight container for 3-5 days.
Notes
Each serving is roughly 1/3 cup – 1/2 cup. This recipe makes 4-6 servings. 
Nutrition
Calories:
131
kcal
Carbohydrates:
6
g
Protein:
15
g
Fat:
4
g
Cholesterol:
37
mg
Sodium:
447
mg
Potassium:
299
mg
Sugar:
2
g
Vitamin A:
15
IU
Vitamin C:
1.1
mg
Calcium:
37
mg
Iron:
0.5
mg
I hope you love this simple Healthy Greek Yogurt Chicken Salad as much as my family does! Let me know if you try it and be sure to tag me in your beautiful food photos on Instagram at @wellnessforthewin. Pin this recipe on Pinterest so you can easily refer back to it. : )
Talk to you soon!
Shanna