Healthy Living with ALDI USA
Hello and happy January! 2021 is officially here. I know most of us didn't think it would ever arrive, but here we are. I hope you are feeling refreshed and recharged as we enter this new, hopefully less chaotic, year. January is always a good time to refocus and think about our goals for the year ahead. Today I am going to talk about how you can prioritize Healthy Living with ALDI USA throughout this year, just like I plan to!
Disclosure: this post is sponsored by ALDI USA and I am being compensated monetarily; however, all opinions expressed are my own.
Every year around this time, it is common to see an overwhelming amount of ads for various diets and weight loss programs. Many of them may seem appealing to you; however, they are probably quite expensive, restrictive and may not be sustainable long-term. With that being said, I want to encourage you to shift your focus, and finances, elsewhere this year.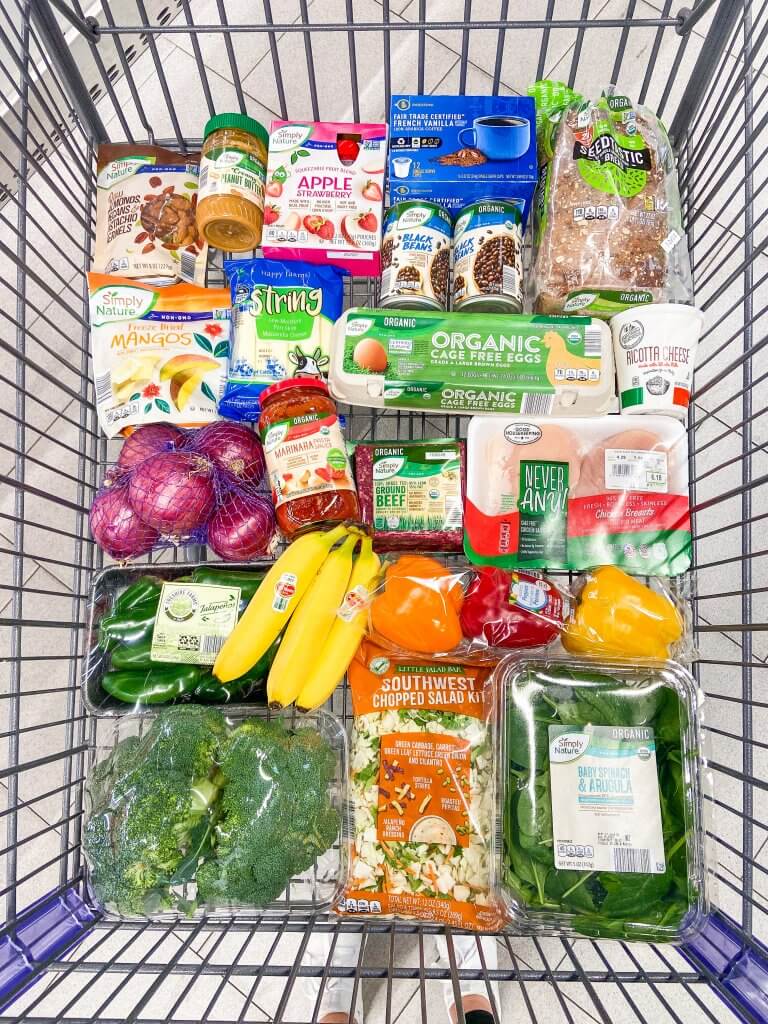 Instead, ask yourself the following: How can you take care of YOU this year, in mind, body and soul? Can you better nourish your body with nutritious foods that you actually enjoy? Can you care for your mental health by taking advantage of convenient meal options to feed your family, or utilize services like curbside grocery pickup to save time & energy? Could you improve your financial wellness by shopping at affordable places like ALDI?
There are so many ways you can prioritize your health and overall well-being this year, and I hope to offer some insight on how I plan to do just that in today's post. I am sharing some of my favorite, healthy finds from ALDI and how I will incorporate them into our diets and lives in the coming months. Once our little guy arrives (very soon!), affordable, quick options and self-care will be more important than ever!
pantry staples from ALDI USA
Below I am sharing some of my favorite pantry staples from ALDI!
Specially Selected Raw Mixed Nuts — great as a snack on their own or paired with fruit
Simply Nature Organic Pumpkin Flax Granola — Ethan and I love to top smoothies or overnight oats with this granola!
Simply Nature Organic Chia Seeds — to be used in no-bake energy bites, overnight oats, smoothies, homemade chia jam and more
Carlini Ghee Clarified Butter — I typically use this wherever you'd use regular butter! I love the flavor and versatility of it and it works well in lots of different recipes, like my savory mashed sweet potatoes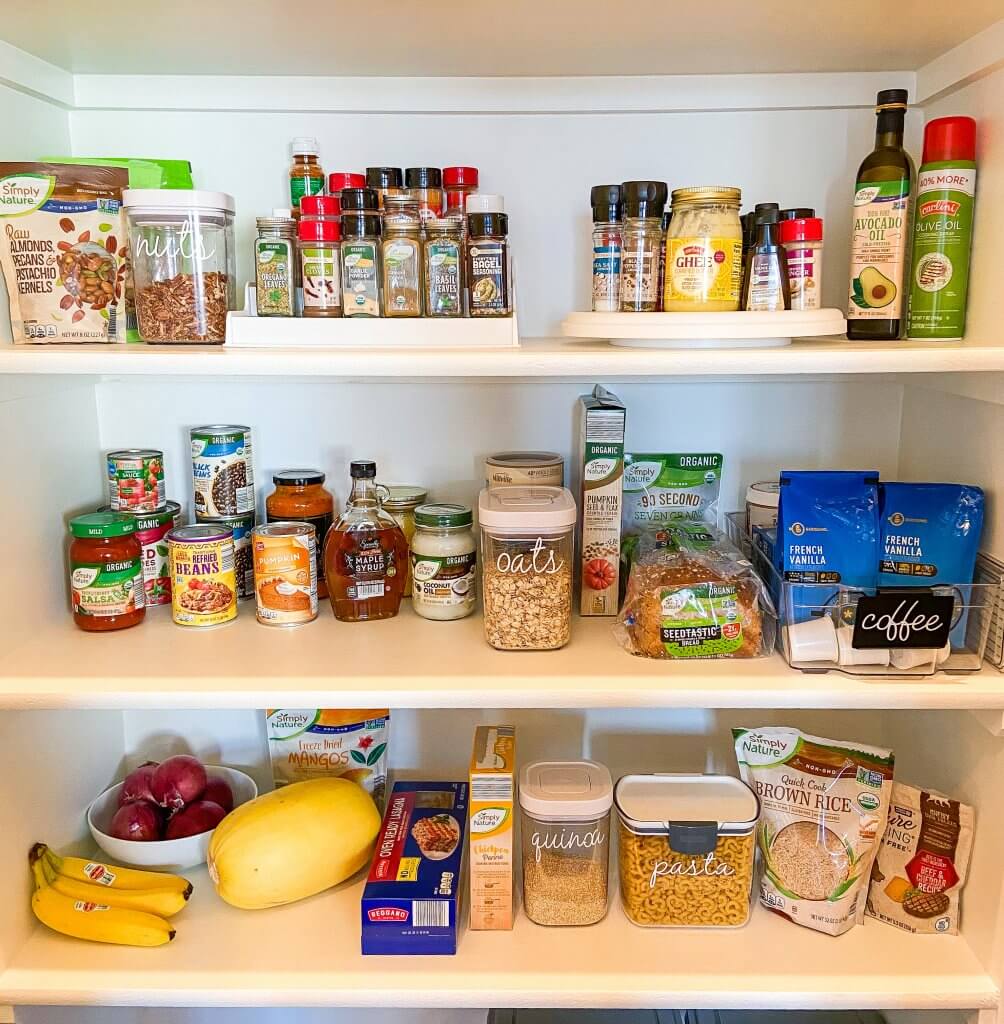 Specially Selected 100% Pure Maple Syrup — to be used in a variety of recipes. Delicious on French toast made with Seedtastic bread from ALDI!
Simply Nature Freeze-Dried Mango — Ethan and I both love this as an easy, sweet snack. No added sugars!
Simply Nature Organic Black Beans
Stonemill Minced Garlic — I ALWAYS keep this on hand to throw into all kinds of recipes! Everything is better with garlic, and this is way easier than peeling and chopping it yourself. ; )
Simply Nature Organic Quinoa and Brown Rice
Simply Nature 100% Pure Avocado Oil
Simply Nature Organic Seeded Bread — I actually throw this in the freezer and then just toast it by the slice as needed! This is our favorite bread. It's great for grilled cheese with tomato soup or with homemade chia jam on it!
Stonemill Everything Bagel Seasoning — we love to sprinkle this on toast or English muffins with cream cheese, or in our tomato soup!
Simply Nature Organic Coconut Oil for baking
Barissimo French Vanilla Ground Coffee
Simply Nature Chickpea Pasta
Simply Nature Organic Marinara Pasta Sauce — no added sugars!
Of course, all kinds of fruits and vegetables! We often stock up on bananas, red and/or yellow onions, sweet potatoes, avocados, and other fun items like spaghetti squash, etc. from the large produce section at ALDI
fridge staples from ALDI USA
Some of my favorite refrigerated items from ALDI:
Simply Nature Organic Eggs — I get at least one dozen eggs on every ALDI run!
Simply Nature Organic Grass Fed Ground Beef — of course ground beef is so versatile and can be used in tons of different recipes! Some of my favorites would be in Crockpot Lasagna, Stuffed Crescent Rolls, or Easy Beef Chili!
Never Any! Fresh Antibiotic Free Chicken Breasts — chicken of course can be used in tons of different ways, too! Such as crockpot chicken tacos, easy chicken enchiladas with black beans, or Honey Garlic Chicken, a blog favorite!
Simply Nature Organic Baby Spinach — I get a container of this every week and mix it into my scrambled eggs every morning for breakfast to start the day off with some veggies! It can also be mixed into a variety of recipes like crockpot lasagna or smoothies!
Little Salad Bar Salad Kits — these salad kits are SO convenient for an easy lunch, or dinner option paired with some protein, like grilled chicken breasts. We love the Asian Chopped Salad Kit and Southwest Chopped Salad Kit the best. The Sunflower Kale Salad Kit is another favorite!
Happy Farms Whipped Cream Cheese Spread
Moser Roth chocolate — all varieties! Especially the Dark Sea Salt Caramel and 85% Cocoa
Simply Nature and/or Little Journey fruit and veggie pouches
Friendly Farms Plain Whole Milk Greek Yogurt — for tons of recipes and smoothies
Friendly Farms sliced & shredded cheeses and string cheese — for various recipes & snacks!
Park Street Deli Spinach Artichoke Tzatziki with Greek Yogurt — make my Spinach Artichoke Stuffed Chicken Breasts with this!
Simply Nature Unsweetened Applesauce — for baking or snacks
More fruits and vegetables, of course! Aside from the baby spinach and salad kits I mentioned above, we often get their fresh bell peppers, jalapenos, large carrots, Brussels sprouts, broccoli, cauliflower and more. I try to mix it up, but those are definitely staples in our household!
freezer staples from ALDI USA
Frozen favorites from ALDI:
Earth Grown Quinoa Crunch Veggie Burgers
Simply Nature Organic Frozen Blueberries (and strawberries) — mostly for overnight oats or blueberry pecan oatmeal bake!
Season's Choice Berry Medley
Fusia Chicken Fried Rice — an effortless weeknight dinner option!
Season's Choice Steamed Kale & Quinoa — super easy side dish!
Simply Nature Margherita Thin Crust Pizza — sometimes you just want a frozen pizza for dinner. : ) I will typically add some organic baby spinach and chopped red onions on top for extra veggies!
Turkey Burgers — minimal ingredients!
ALDI FINDS
Of course, if you are familiar with ALDI at all, you know that they are constantly bringing in exciting, new products throughout the store. Especially around the holidays, it can be so fun to search for all the seasonal goodies!
The ALDI Finds aisle is always full of hidden gems, and you can even find tons of home goods and self-care items throughout the store. I always look forward to browsing these aisles, even if I don't necessarily "need" anything! ; ) You never know what you might stumble upon! A few months back I found an adorable fox hamper to put in our soon-to-be baby boy's nursery, so always check just in case!
Meal Prep Tips:
Chop yellow or red onions and store in a freezer-safe bag in the freezer. Pull out to use as needed in various recipes, like chili or a stir-fry dish.
Chop bell peppers and store in a freezer-safe bag in the freezer. Pull out to use as needed in various recipes, like sweet potato nachos, or slow cooker chicken tacos.
Thoroughly wash and chop produce when you get home from the store so you are less likely to waste it during the week! I like to chop up my cauliflower and broccoli into florets, store in the fridge in a large silicone bag, and roast within 2-3 days. I typically do the same with sweet potatoes!
Make a batch of hard-boiled eggs for the week for an easy breakfast or high-protein snack.
Whip up some healthy, make-ahead breakfast options to eat throughout the week, like overnight oats, baked oatmeal, banana bread or muffins. You can make 2-3 days of overnight oats at a time, and the others are freezer-friendly, so you can eat them whenever!
Consider making a large meal on Sunday nights and then again mid-week, so you can utilize leftovers for easy, healthy work lunches. Some ideas would be crockpot soups and chilis, lasagna or enchiladas.
I hope this post provided you with some inspiration on ways you can prioritize Healthy Living with ALDI in the new year! If you try any of the products or recipes I mentioned in this post, be sure to tag us on Instagram at @wellnessforthewin and @aldiusa! You can also share the #ALDILove by pinning this post on Pinterest!
Click here to find an ALDI store near you!
Thank you for reading,
Shanna