5 Delicious Ways To Cook Venison
Raise your hand if your husband is a hunter and your diet consists of 90% venison during deer season. Yep, same. We've recently been cooking up some fun and different meals to use up some of the meat in our deep freeze (because there is a LOT), and I've gotten several requests for delicious ways to cook venison! Keep reading for a variety of venison recipes and tips.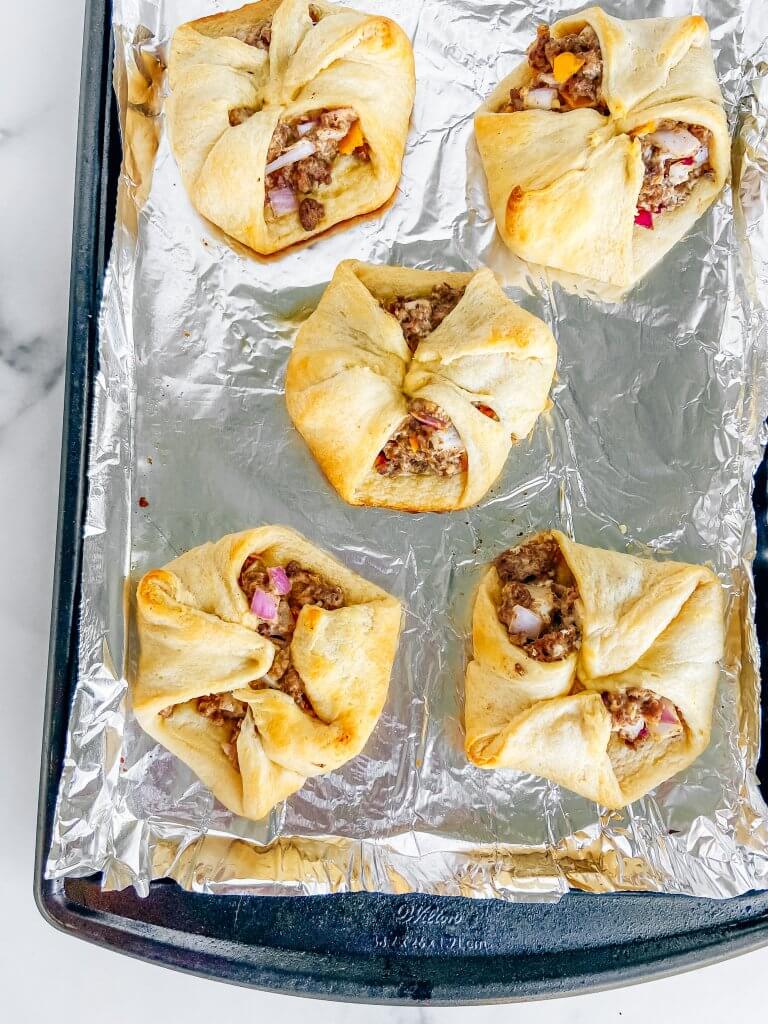 In today's post I'll be sharing some of the other recipes we have used for our venison thus far, including an original recipe from my husband, Ethan.
the life of a deer hunter's wife
Ethan and I have been married since September 2017. We were engaged for 18 months, and we dated for two years before that. I knew that he had hunted before, and he'd occasionally go on duck hunts with buddies, but it wasn't something he did SUPER often until recently.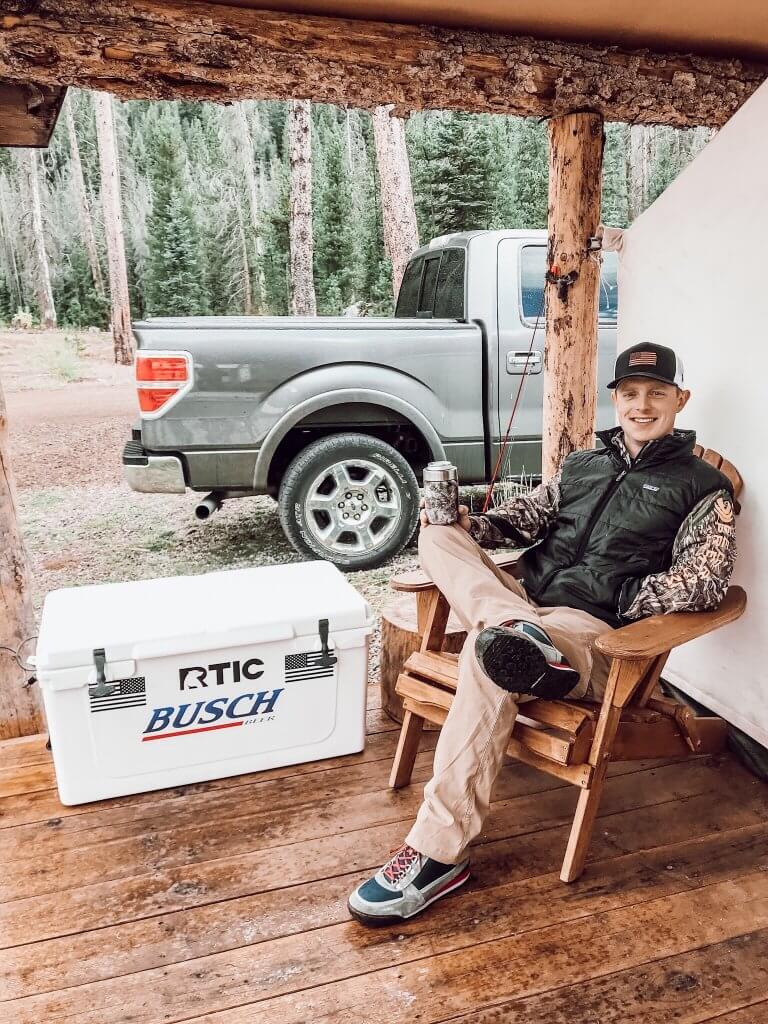 In the past year or so, he has become very passionate about hunting, especially deer hunting. He listens to hunting podcasts, watches hunting shows on Netflix, goes hunting A LOT and spends a ridiculous amount of time at Scheel's. LOL. (Tbh, I love that place, too.)
I'm sure part of this increase is due to the fact that we've been living with my parents while we build our house and he is looking for ways to get some peace & quiet for a few hours at a time. ; ) (Just kidding, parents…)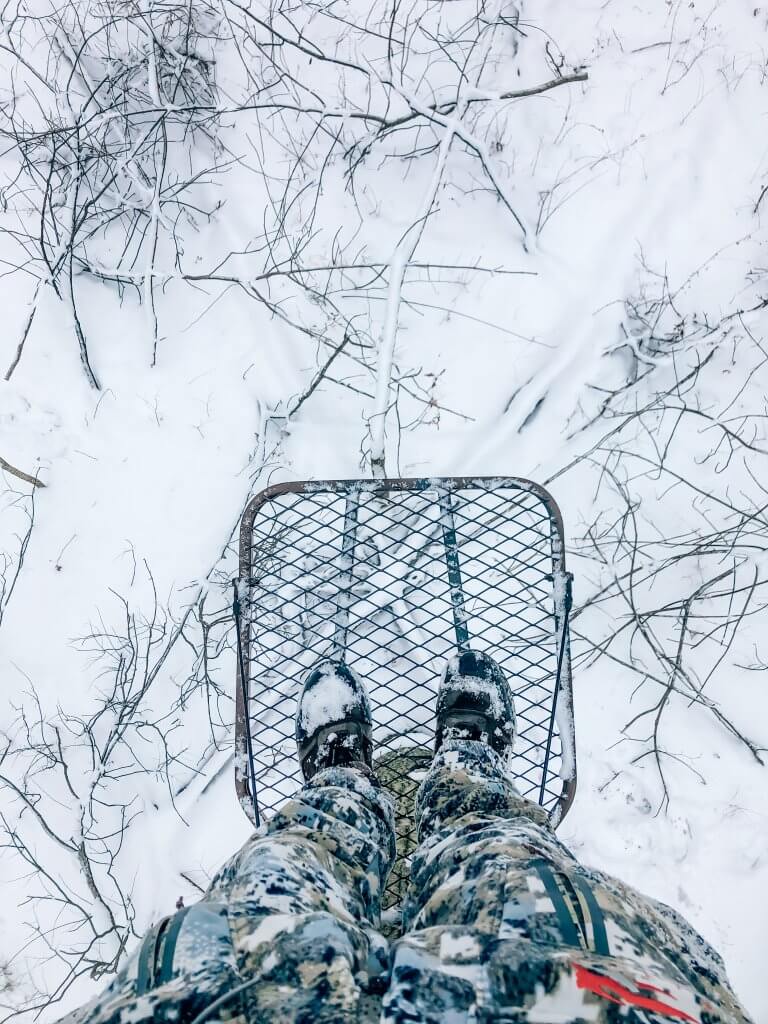 I will admit; it was hard for me to get on board with the hunting thing at first. I'm not a vegetarian, but I do love animals and the thought of HIM being the one to kill them made me sad. Especially deer! Any other hunting wives out there have probably heard the speech about how it's "conservation" and all that, and I get it… but still.
At the end of the day, it's something he loves to do and it makes him happy. That is all that matters. In a way, it's a blessing, because we both have hobbies that keep us busy!
For me, that is my blog and podcast! I don't have to feel guilty about spending all day working on my business if he's sitting in a tree out in the woods. Everyone wins, right? 😉 The delicious meat that we get from it is definitely a bonus.
how do you make ground deer not taste gamey?
With all of that said, this year was the first time I ever tried venison! To be honest, I was nervous to try it. I just didn't really know what to expect, and everyone talks about how hunting meat is "gamey". (AKA, wild game)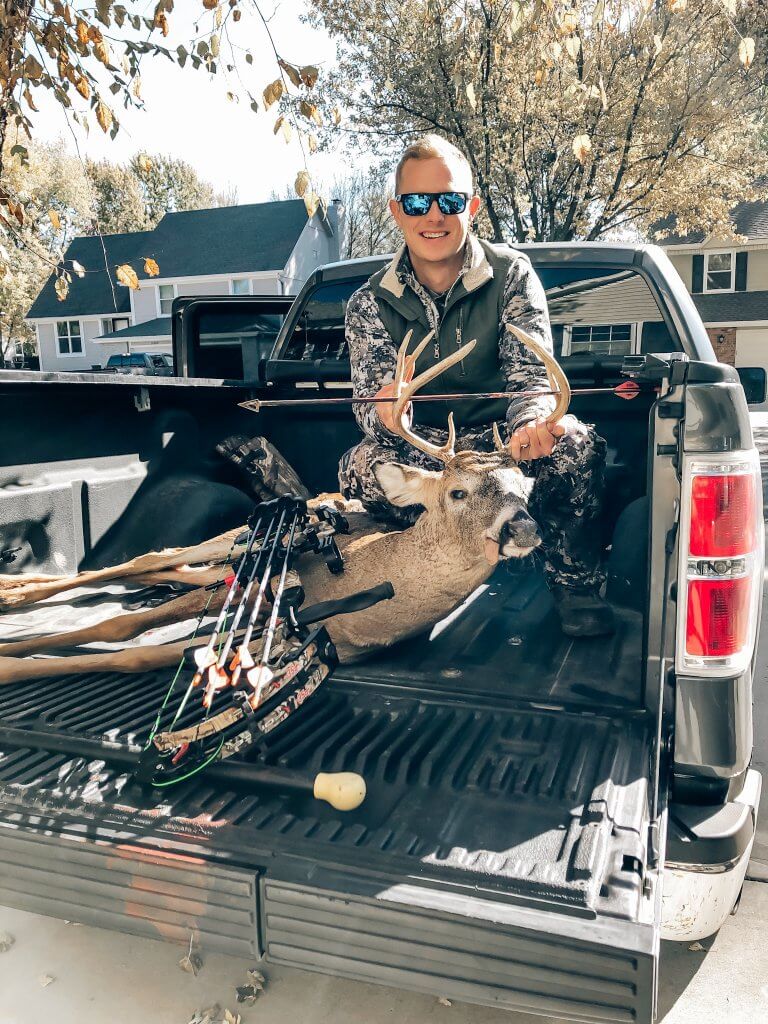 I'm gonna go ahead and say that we have eaten venison several times now and in several different forms (steaks, ground venison, etc.) and I really haven't found it to be gamey at all. Maybe we have just done a good job preparing it?
We have not really served it by itself at all, but mostly mixed it into a variety of dishes and seasoned it up really well. You can basically use venison in any recipes that you would traditionally use beef in.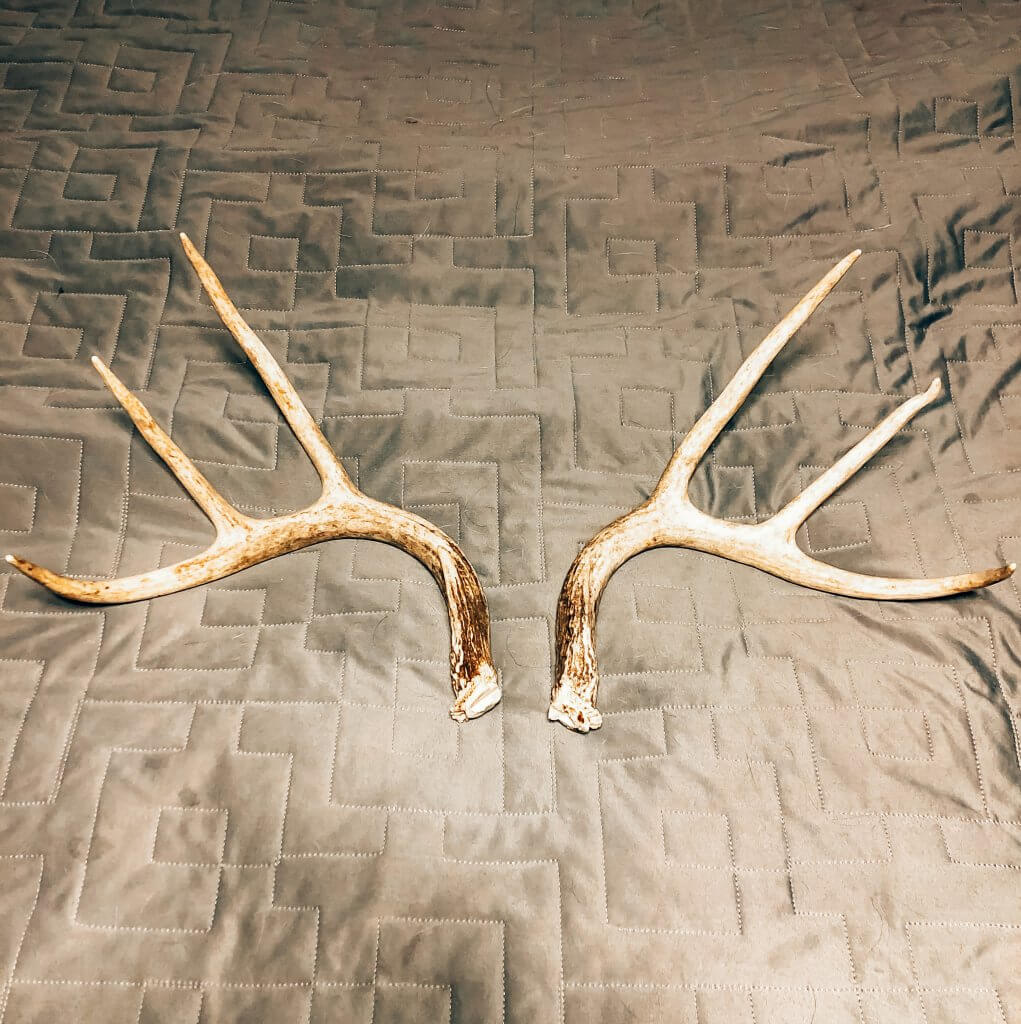 Some of the things we've made so far include fajitas, chili, steaks and the unique recipe I'm going to share with you today!
what do you serve with venison?
Again, I have kinda just been treating the venison like beef, and we've mostly been using it in mixed dishes that don't necessarily require a "side dish". However, if you're making steaks or using the backstraps, roasted sweet potatoes or roasted veggies are always an easy go-to. Otherwise you could do a yummy side salad and/or cauliflower mashed potatoes!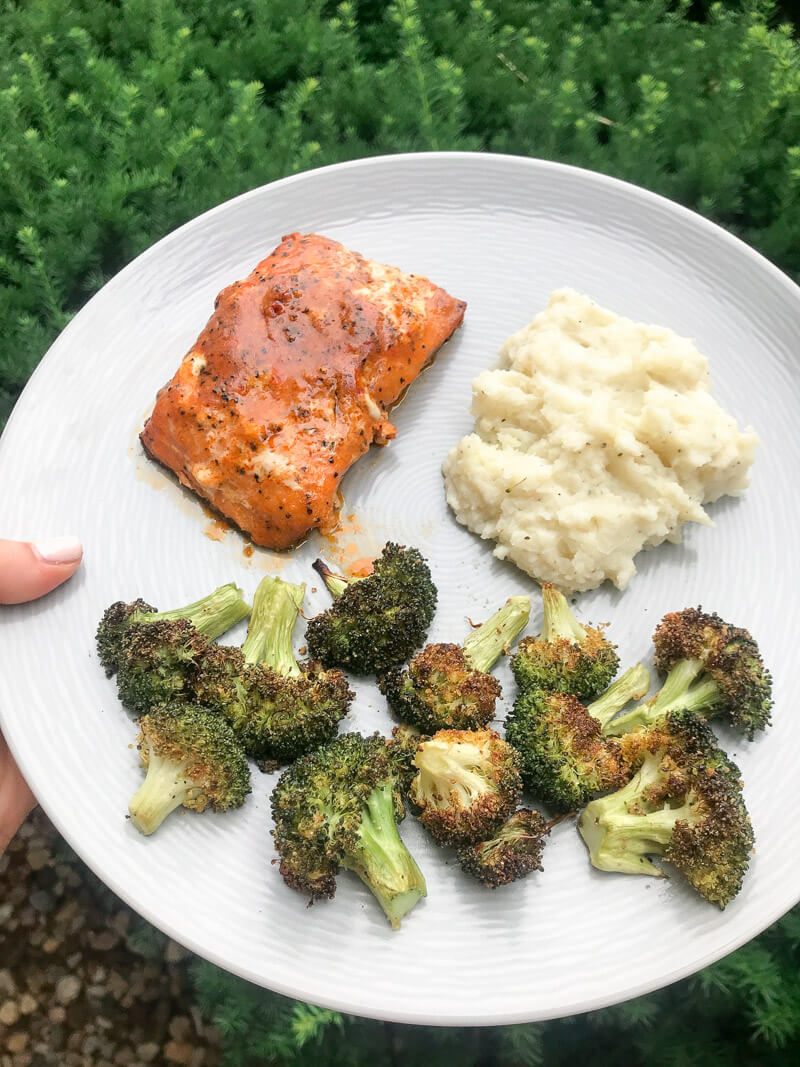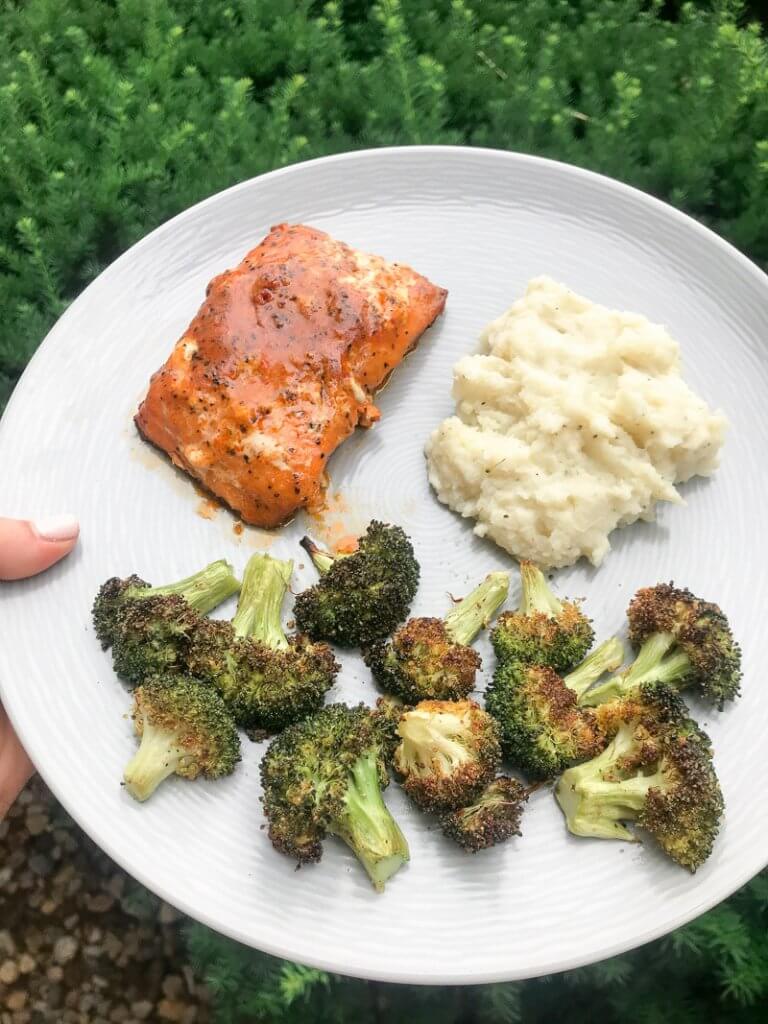 delicious ground venison recipes
Okay, time to share some of the recipes we have made and loved using venison, plus the one that Ethan kinda created all by himself! 🙂
30-Minute Chili With Venison
I made Joyful Healthy Eat's 30-minute beef chili recipe a few times and fell in love, so I knew I had to have something like it on my blog! Check out her original, delicious recipe here.
My version of the recipe, with a few additions like sweet potatoes, can be found here! You can obviously use ground beef OR ground venison for this one!
Crockpot Lasagna
Last but definitely not least, we used ground venison in my Crockpot Lasagna recipe and it was amazing!!! Just an equal sub for ground chicken or ground turkey (about 1 pound).
This lasagna recipe has quickly become one of the most popular on my blog, and for good reason! It's so easy, so tasty and the leftovers are almost even better than the first go-round. The best!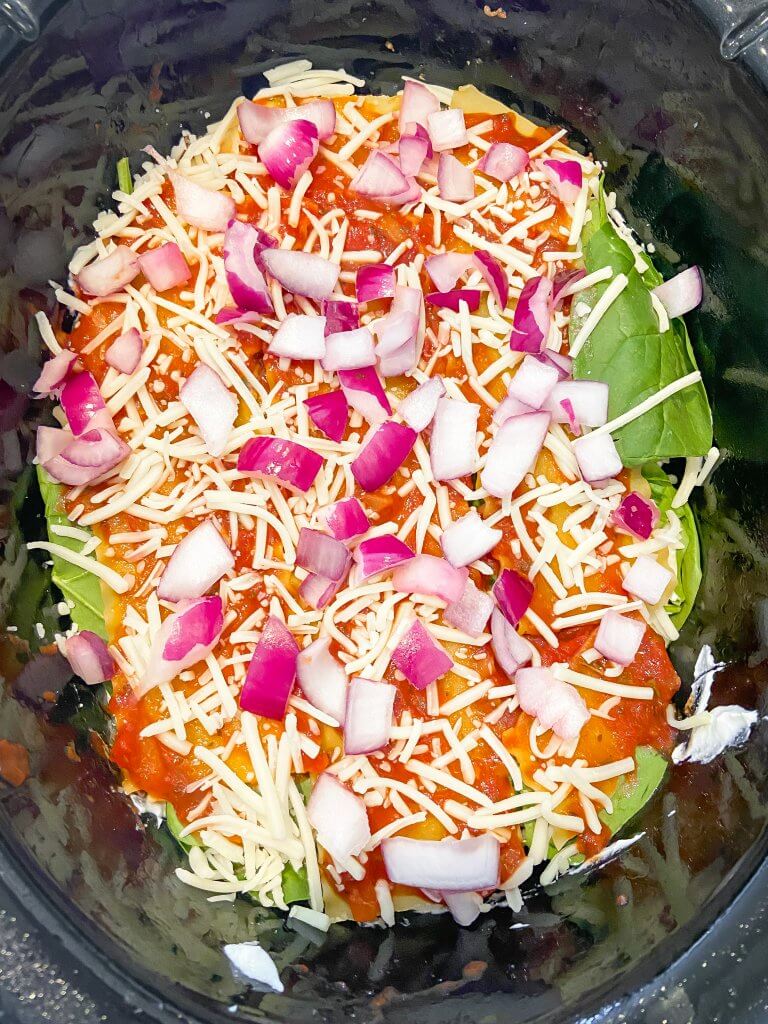 venison backstrap and venison steak recipes
One-Pan Venison Fajitas
For our venison fajitas, we used this video from Sam The Cooking Guy as our inspiration! We just used venison steaks cut into strips!
To see the video and get the recipe for his One-Pan Steak Fajitas, click here!
Seared Venison Backstrap with Blackberry Sauce
Ethan used this recipe from Jess Pryle's blog to make Seared Venison Backstrap with Blackberry Sauce. Not going to lie – it was DELICIOUS! I was a little skeptical, but I took a bite of his and totally regretted not having a serving for myself!
WARNING: the blackberry sauce is VERY sticky and will stick to your pan and Tupperware if you have leftovers. Just wanted to give a heads up on that, haha! We had to soak ours overnight.
I think this would be especially delicious with Cauliflower Mashed Potatoes and maybe some roasted Brussels sprouts. Now I'm drooling.
venison cream cheese stuffed crescent rolls
Now time for the delicious recipe that Ethan developed all by himself! Proud wife moment. ; )
Ethan likes to call these "deer stars", but Venison Cream Cheese Stuffed Crescent Rolls seemed a little more descriptive to me… IDK. Either way, they are seriously the bomb.
Cook the ground venison, then mix in the chopped veggies and cream cheese. Then spread out the crescent rolls and evenly distribute the meat/veggie filling.
All you need is some ground venison, veggies like bell peppers, onions, jalapeno and a big ol' slab of cream cheese, and some crescent rolls! Nothing fancy or complicated and you can easily customize them based on what your family prefers.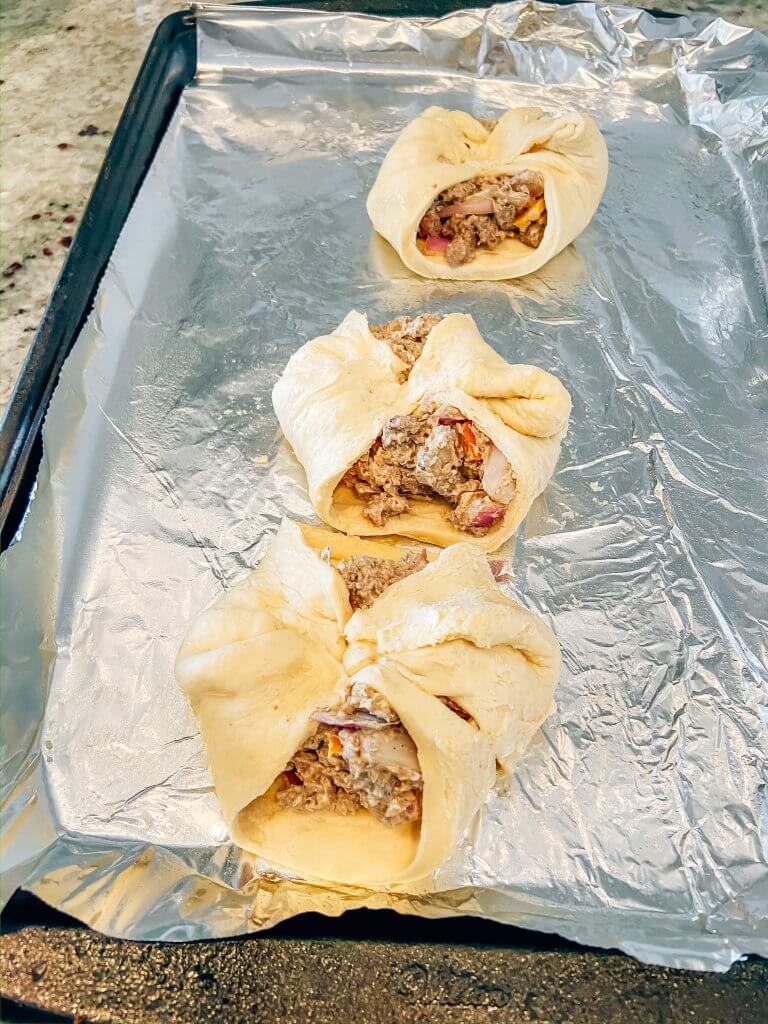 We think that they would be delicious with the Blackberry Sauce from the recipe above drizzled on top… definitely going to have to try this next time! You might even be able to use my Homemade Cranberry Chia Jam (using blueberries or blackberries)! Or honestly… maybe even BBQ sauce. Feel free to experiment and let us know what you think!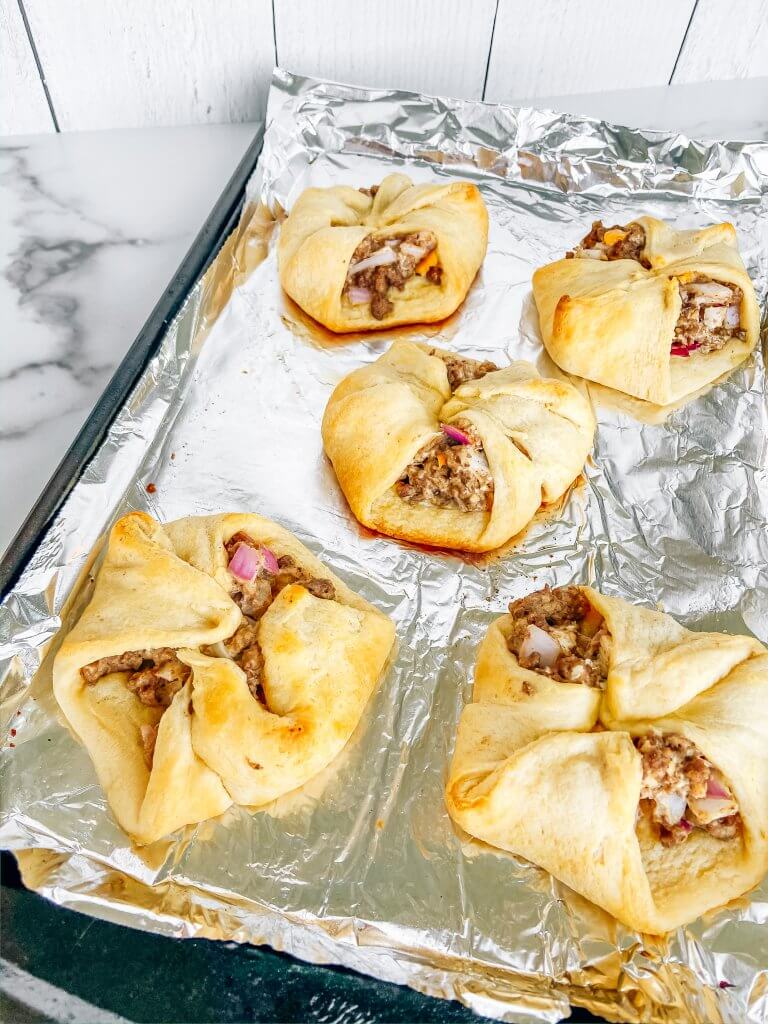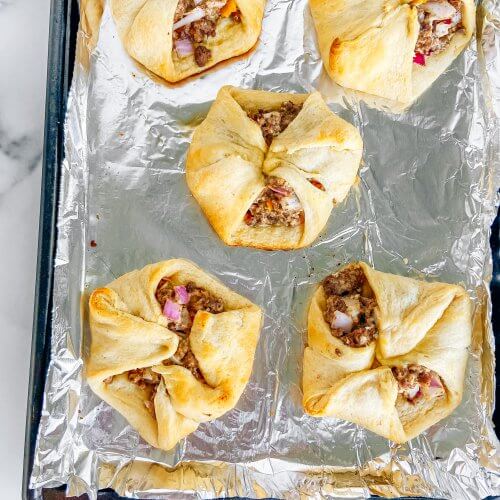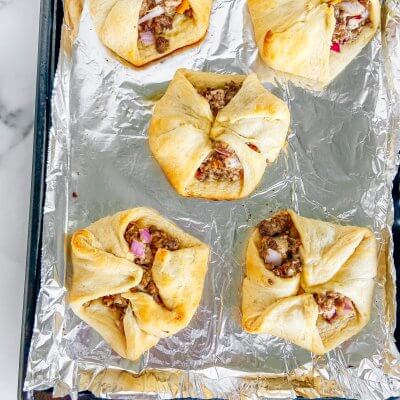 Venison Cream Cheese Stuffed Crescent Rolls
These Venison Cream Cheese Stuffed Crescent Rolls are a simple and delicious way to use up your deer meat! And they are family friendly! You can also substitute any other ground meat, including ground beef, turkey or chicken.
Ingredients
1

lb

ground venison

8

oz

cream cheese

plain, softened at room temperature

1/2

bunch

green onions

chopped

1/2

red onion

chopped

1-2

jalapenos

diced

2

package

crescent rolls

1/4

tsp

chili powder

1/4

tsp

onion powder

1/8

tsp

cayenne pepper

more if you like spicy

Salt and pepper

to taste
Instructions
Preheat oven to 350 degrees Fahrenheit. Prepare two medium baking sheets with parchment paper and spray with non-stick cooking spray. Set aside.

Season venison with chili powder, onion powder and cayenne pepper. Cook in medium skillet over medium high heat until cooked through.

Drain any grease if needed.

Transfer cooked venison to a large bowl with softened cream cheese and add chopped green onion, red onion, yellow onion, jalapeno and season with salt and pepper, to taste.

Using a spoon, stir well until ingredients are evenly distributed and cream cheese is mixed in.

Take crescent rolls out of packaging and lay each one flat on your baking sheets. Spoon about 1/3 cup of filling onto each roll, until all 8 are filled evenly.

Fold each corner of the roll to the center and press down so it is securely closed. It is okay if there is some visible filling between corners.

Place baking sheets in the oven for 8-12 minutes (or per package instructions) and remove from oven when the crescent rolls are golden brown.

Serve hot. Serve alongside roasted vegetables, cauliflower mashed potatoes and/or a side salad.

Store any leftovers in airtight container in the refrigerator for up to 3 days. Microwave to reheat.
Nutrition
Calories:
372
kcal
Carbohydrates:
26
g
Protein:
17
g
Fat:
23
g
Saturated Fat:
11
g
Cholesterol:
79
mg
Sodium:
566
mg
Potassium:
255
mg
Fiber:
1
g
Sugar:
8
g
Vitamin A:
465
IU
Vitamin C:
6
mg
Calcium:
34
mg
Iron:
3
mg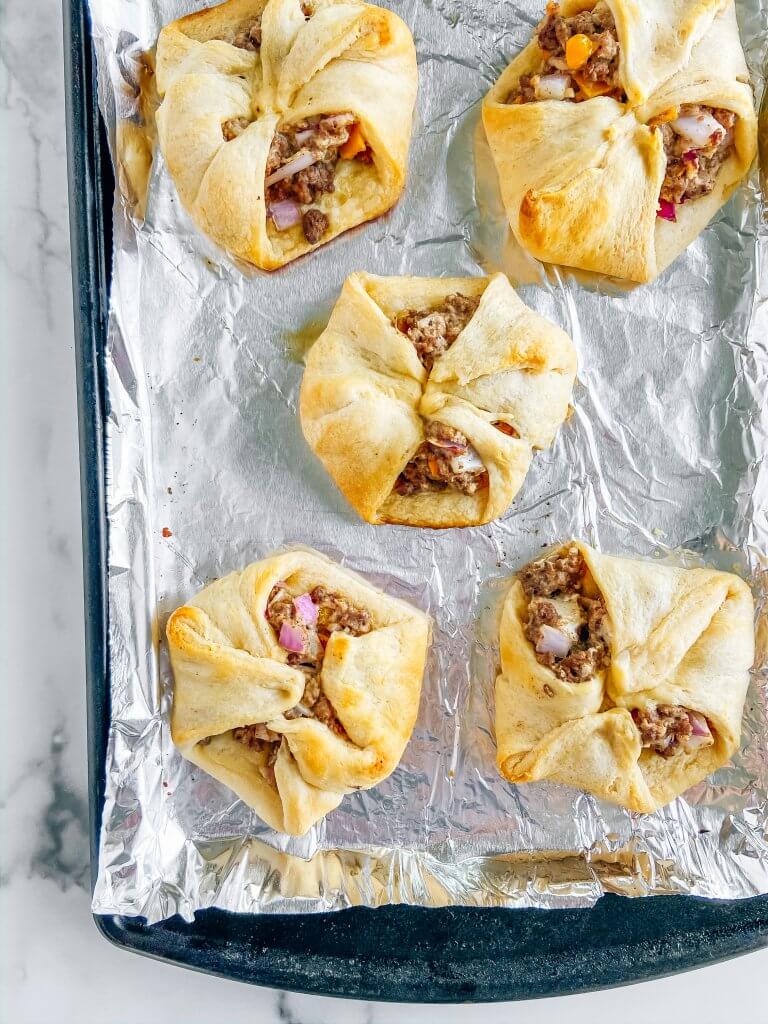 I hope you enjoy all of these delicious ways to cook venison! I know that we have! Since we still have a deep freeze full of venison, I'll do my best to try some more creative meal ideas and will be sure to share any successes! : ) Stay tuned!
Hunting families: do you have any favorite ways to prepare your venison?! If so, please leave a comment below!
Thanks in advance!
Shanna