Bachelorette Party in Scottsdale, Arizona
I have had a crazy, fun-filled summer with lots of trips, more specifically Bachelorette parties! I recently did a recap post on my BFF's Bachelorette party in Austin, TX, and I promised that I would do the same for the trip to Scottsdale. This blog post includes where to stay, bars & restaurants we loved and other things you need to know if you go to a Bachelorette Party in Scottsdale, Arizona, or just a fun girl's trip!
Where to Stay in Scottsdale, Arizona
I got a ton of questions on IG about where we stayed because the pictures were so beautiful. Therefore, I knew I had to cover this first. ; )
We stayed in this mansion (link) and it was legit. The decor is pretty gaudy, but it was really fun for a vacation house. There were about 15 of us on this trip, and there was plenty of space for everyone. Most importantly, it was super clean. The house had comfortable beds, nice bathrooms, and an awesome pool (and hot tub) with an INCREDIBLE view.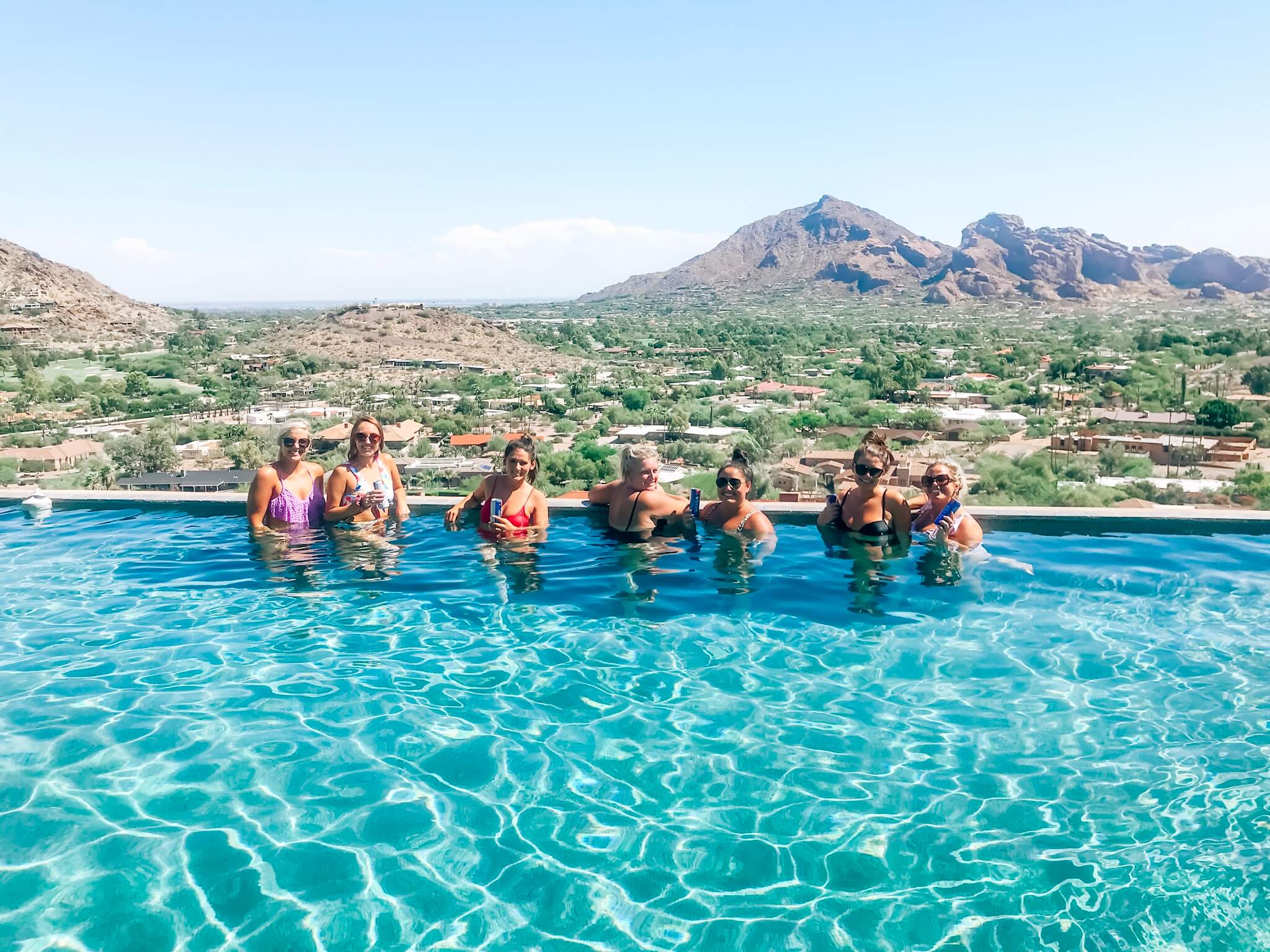 There was also a separate villa with a king bed and its own bathroom where the bride's mom and best friend stayed. I think it is nice to have that option if someone in the group wants a little more privacy! Overall, we absolutely loved this house and would definitely recommend it. Head to the link for more info on the price & amenities.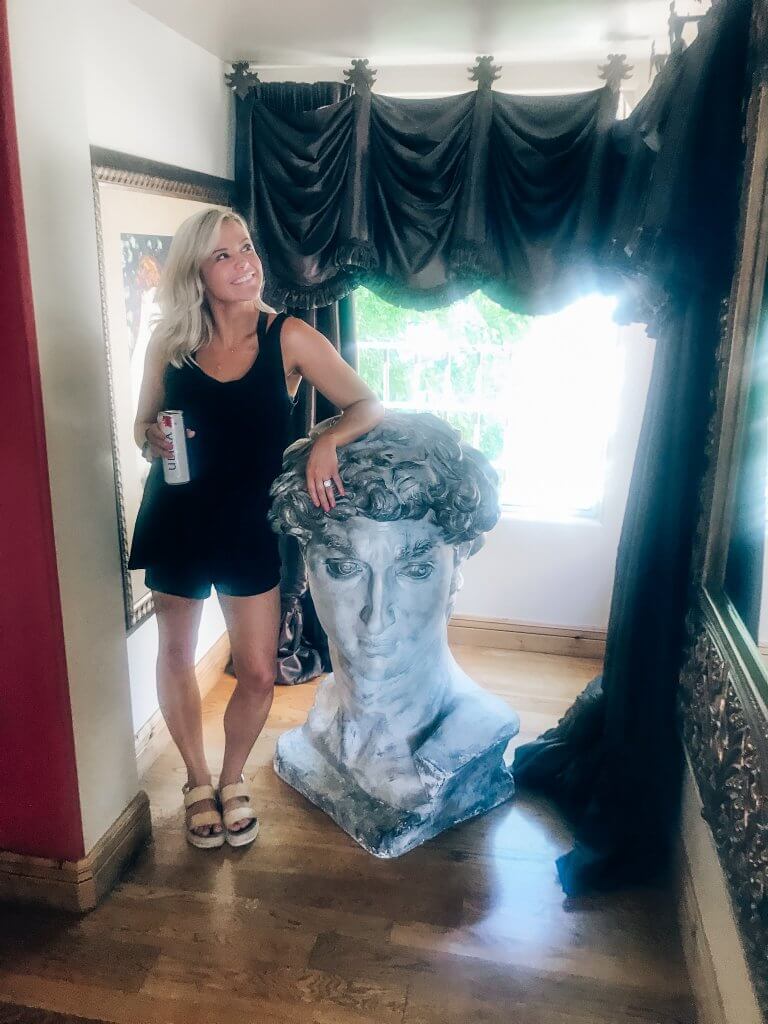 Bars & Clubs in Scottsdale, Arizona
We went to several different bars during our trip to Scottsdale, but I think they are actually referred to as "clubs", which makes sense. If you've ever been to Vegas, it's fairly similar to the clubs there. The music is BUMPING, people are dancing on tables and almost everyone has bottle service.
Most of the girls behind the bar are wearing lingerie slash minimal clothing, which is fine, but just something to be aware of, haha. It's definitely not Kansas City, that's for sure! ; ) But it was really fun & a nice change of scenery. Plus, very solid people watching. Just sayin'.
The clubs we went to were:
The Bottled Blonde
Dierks Bentley Whiskey Row
El Hefe
Maya Day & Nightclub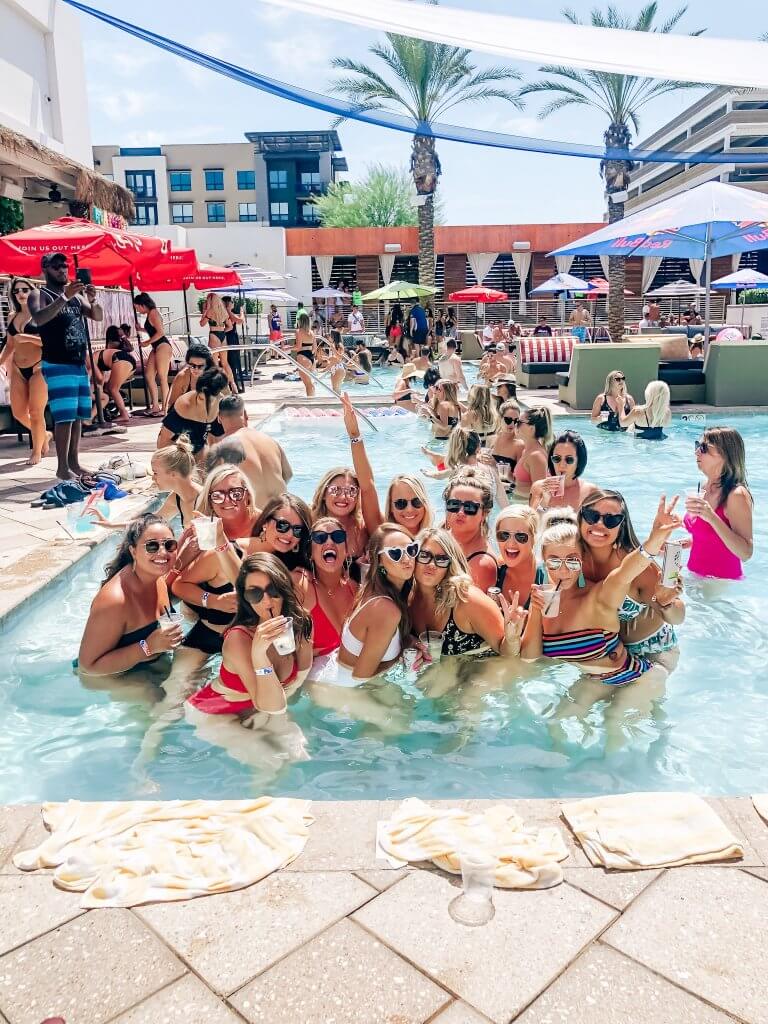 I think The Bottled Blonde was probably my favorite of the first three, but they are all fairly similar! The good news is most of them are within walking distance of each other so you can easily relocate to a different one if you want!
Maya was pretty much everyone's favorite thing of the whole trip. It's a pool day club and it is INSANE. Pretty much a rager. We went when they first opened and stayed until 5 or 6 PM? Who knows. We got bottle service which was a little pricy, but split between 15 or so people wasn't awful. I would say it was worth it. We'd recommend going there!!! I can't speak to what it's like at night, but I would assume it's fun then, too.
Restaurant Recommendations in Scottsdale, AZ
RnR for brunch – we were NOT very impressed. The service was sub-par and the food was just decent.
Hash Kitchen – I've had a ton of people recommend this place to me. Unfortunately we didn't have a chance to go on this trip, but if you are heading to Scottsdale, you should check it out!
Cien Agaves Tacos & Tequila – this place was delish!! We rode in a golf cart to get from there to our next destination, which is apparently normal in Scottsdale… fun, but slightly scary haha!
Olive & Ivy – we had this for dinner on our last night and it was SO GOOD! It is a little on the pricier side, so be prepared for that, but it was definitely worth it!
As you can see, we didn't eat at a ton of restaurants, but you can find more recommendations from my followers in the comments here!
Other Meal Ideas:
We got Chick Fil A catered for lunch the day we were arriving from the airport, which was super clutch, and then Chipotle catered for dinner when we came back from the pool day club and were all dead tired.
Catering food to the house is always such a great option for at least a few meals on Bachelorette parties because it just takes way less time! We also bought a good amount of food, too, and ate lots of meals and snacks at the house. I have some tips on food to bring/buy in this post here. Biscuits & gravy and French toast with strawberries was the best breakfast of the trip, thanks to the Mother of the Bride!
What We Wore
I am going to link some of the outfits I wore, as well as a few of the outfits the bride wore, per your requests!
Leopard One Piece Swimsuit – $20, true to size, Erika Floral Two Piece – $14
Tie Dye Coverup – $20, true to size; teal leather earrings are from Boss Queen and you can use WELLNESS25 for 25% off your order! She has so many adorable styles.
Palm Kimono – $19, White Two Piece – $23, Black Striped Two Piece, Top $15 / Bottom $18
Yellow Floral Romper – $21
Red Dress was from Array on the KC Plaza (@arrayacollectionofshops); Tan Wedges – $59.99 (often go on sale!!) – pictured below
Travel Tips & Things To Pack
In my Austin post I included some info about things I've been using lately for trips, including my new Chester carry-on suitcase, packing squares and more. Head to that post for more on that!
I hope this was helpful! Please leave a comment below or shoot me a message on IG if you have any questions that I didn't answer! If this was helpful, be sure to Pin It so you can easily refer back later & help others find these tips!
Talk to you soon!
Shanna