Bachelorette Party at the Lake of the Ozarks
Going to a Bachelorette Party at the Lake of the Ozarks? Great – this post is for you!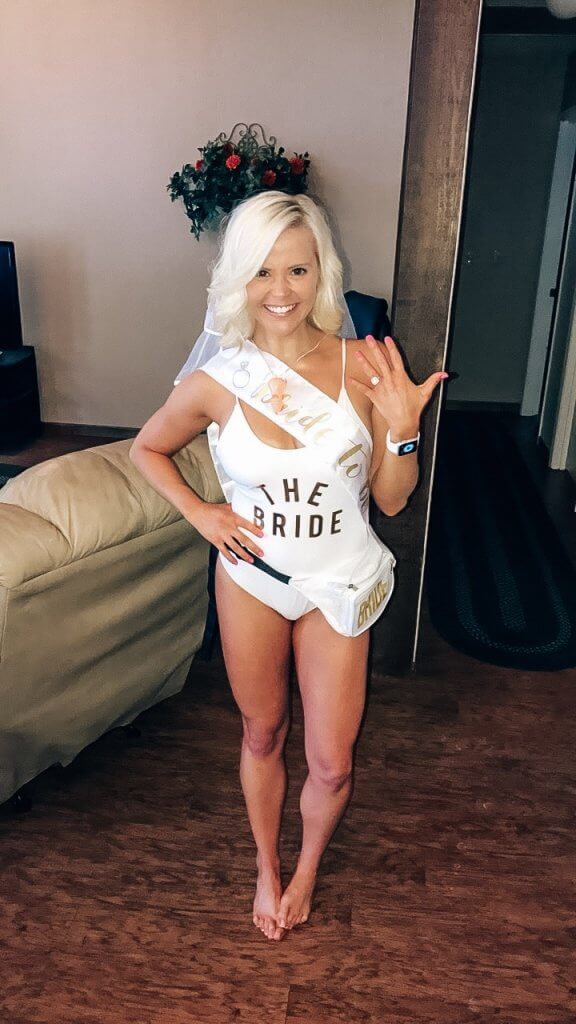 I grew up going to the Lake of the Ozarks at least two or three times every summer with my family. The lake is my happy place. I have so many amazing memories there with both family and friends and it has a special place in my heart!
I have been there for multiple Bachelorette parties, including my own, and get questions about them often, so I wanted to finally publish a blog post with details!
This particular post will include my recommendations on where to go to eat and drink, what to do on Bachelorette parties, where to stay, pros of choosing the lake for your Bach party destination, and more! I hope this will be a helpful resource! I am creating a separate post for those interested in things to do with family at the Lake! Stay tuned.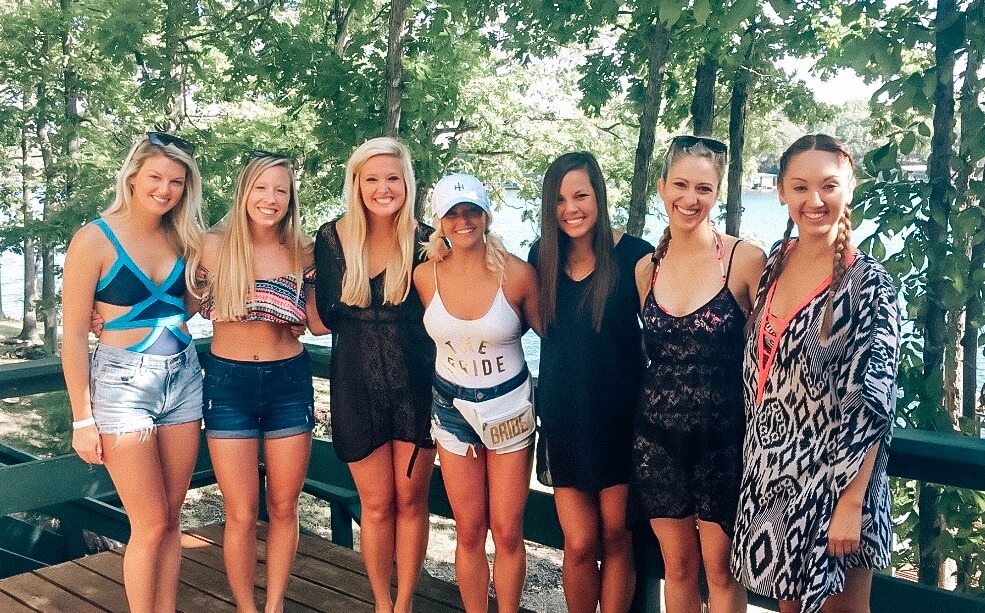 Also, yes, I realize this would've been nice to have two months ago, and for that, I am sorry. Summer is a crazy time — better late than never I suppose!
Why the lake of the ozarks is a perfect Bachelorette Party spot
If you live in the Midwest, it is close enough that you can drive, rather than fly, which already makes it cheaper than most other destinations.
It is affordable to eat and drink there, unlike some cities.
It's freaking FUN and there is a lot to do! More on that soon.
The lake is SO. Chill. You don't have to dress up all fancy… or even shower. (Just kidding, kinda.) We usually spend 90% of the trip in our swimsuits and cover ups. And dry shampoo is your best friend – per usual.
Bad stuff can happen everywhere and there is no guarantee that it won't, BUT I have always felt very safe at the lake. Big groups of girls should always use the buddy system no matter what!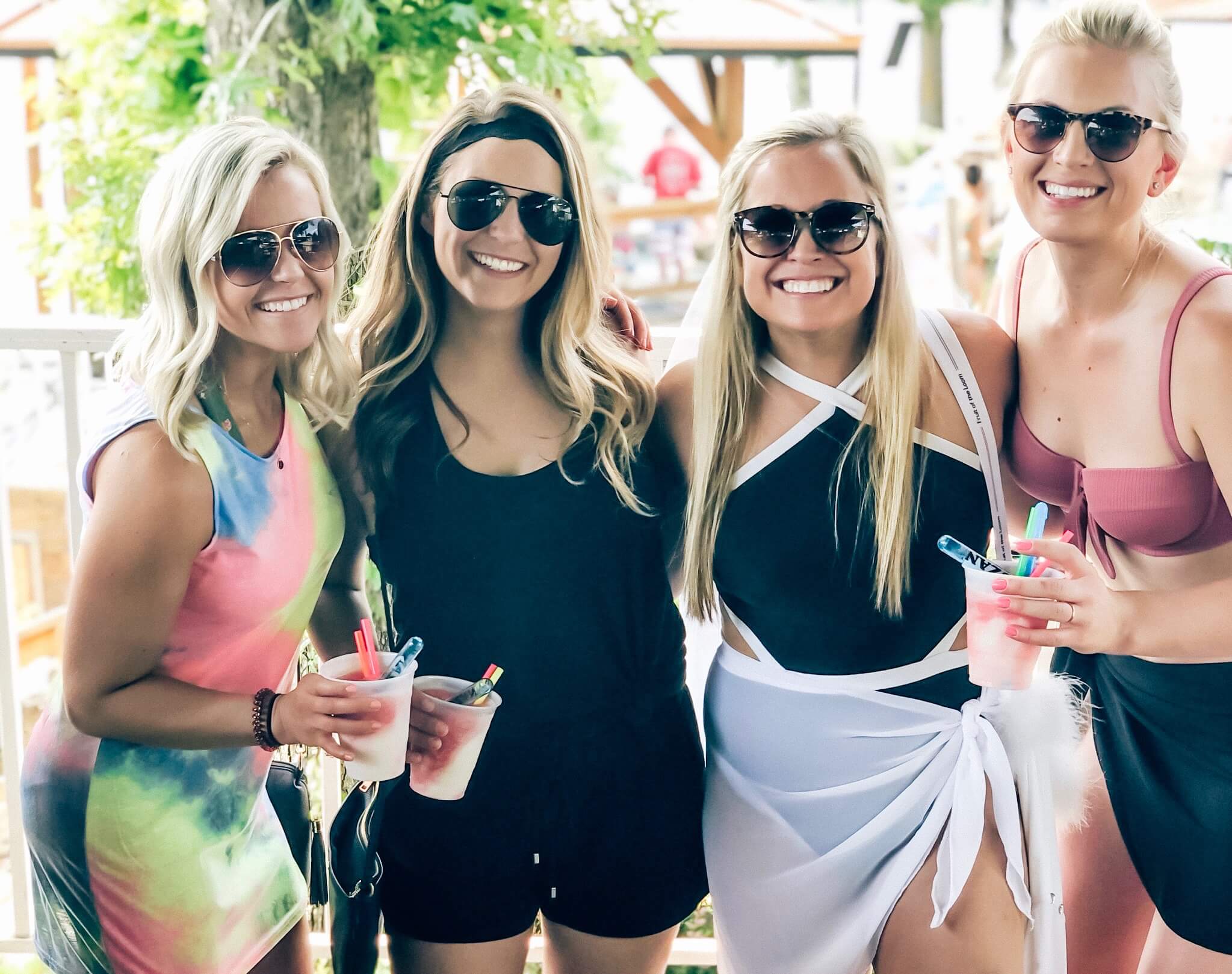 things to do at the lake of the ozarks
Whether you are going for a low-key trip with family, or looking to party with your girlfriends, there is plenty of stuff to do at the lake.
For all the Bachelorette parties I have been to at the lake, including my own, we have driven up on Thursday night or early Friday morning so we have a full day Friday and Saturday. Yes, weekends will be busier, but that also makes it more fun when you go to the bars (IMO). Also, we don't all have unlimited PTO, ya know?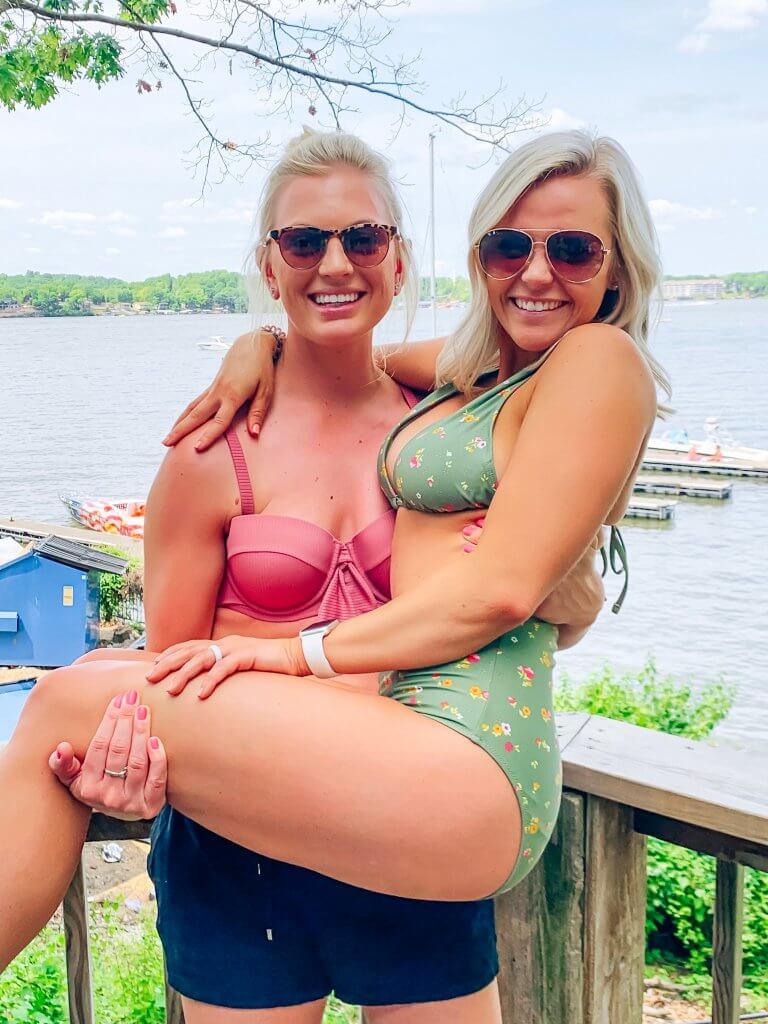 We typically stay at a Shady Gator's house (which I'll discuss more later) and they have a pool/bar area called Lazy Gator's right next door. We'll spend most of the afternoon slash evening there on Friday after decorating the house with Bachelorette party appropriate *or inappropriate* things. We've also found it super easy to just eat dinner at Shady Gator's on Friday, and then Saturday night we will order pizza or something.
Food To Pack for your bachelorette party at the lake
I think it goes without saying that you should pack LOTS of snacks/food for the weekend. We typically have everyone in the group pay one person upfront (like the Maid of Honor) so they can make a Costco run beforehand. This eliminates having to divide stuff up later. All of the money goes toward food, alcohol, boat, house, etc.
We will wait to purchase certain items (like eggs, etc.) and make a grocery trip right when we get into town, too.
We always eat breakfast at the house and pack sandwiches/snacks for the boat.
Here are some ideas of things to bring for your Bachelorette party:
Eggs (a few dozen)
Whole grain bread + deli turkey + sliced cheese for sandwiches (and any condiments)
OR pre-made turkey wraps from Costco (we grabbed a tray of these last time and it was nice not having to worry about making them)
Peanut butter and jelly
Fruit: bananas, apples, grapes — easy things that don't require a lot of work/prep
Peanut butter filled pretzel nuggets
String cheese
Whole grain crackers
Chips and salsa / guacamole
Baby carrots + hummus
Spinach artichoke dip from Costco (BOMB)
Miscellaneous snacks: chips, crackers, popcorn, etc.
Granola/protein bars
Milk & cereal if people in your group will eat it
Water bottles — I'm not a supporter of plastic water bottles, but for something like this, it's nice to have cold water in the AM (if you know what I mean)
Any sodas/mixers/chasers you might want (ICE, Bai, Sobe Water, Sprite, etc.)
Alcohol, if that's your thing
I think that covers most of the things that we typically bring, but this list is not exhaustive! If girls want any specific snacks they can always bring their own, but buying certain things in bulk is more cost effective.
Renting A Boat at the lake of the ozarks
We always rent a boat for eight hours on Saturday, starting around 10 AM. This might sound like a long day if you're not a lake goer, but it's the perfect amount of time to hit a few different bars, stop and float or just cruise around. Especially if you have a large group of girls! Also, when you are splitting between a lot of people, the cost is pretty reasonable.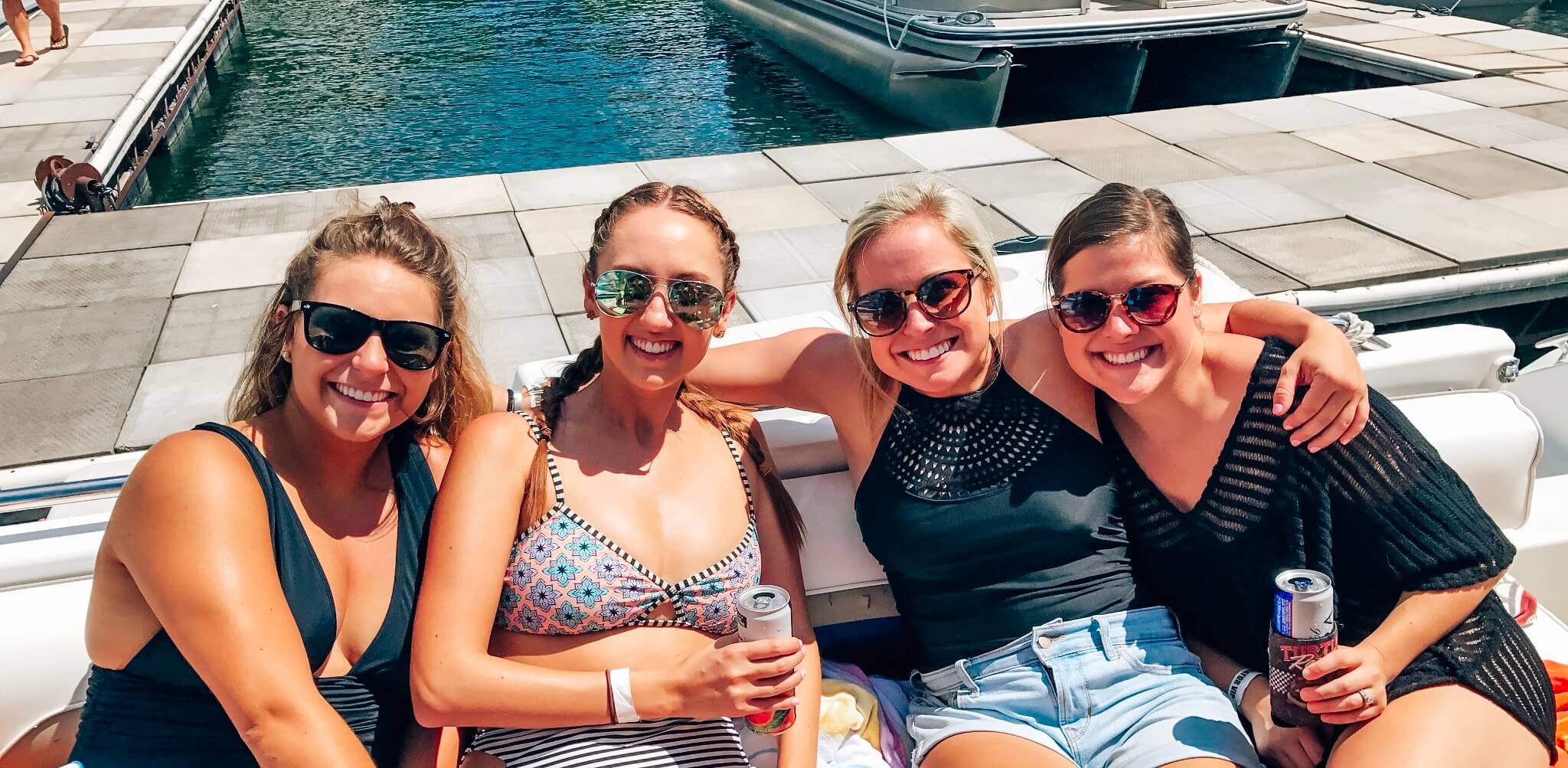 After 8 hours on the boat, everyone is usually pooped and it's perfect for just chilling at the house that night, watching the bride open gifts, playing games or whatever you wanna do. Friday has traditionally been our big "going out" night.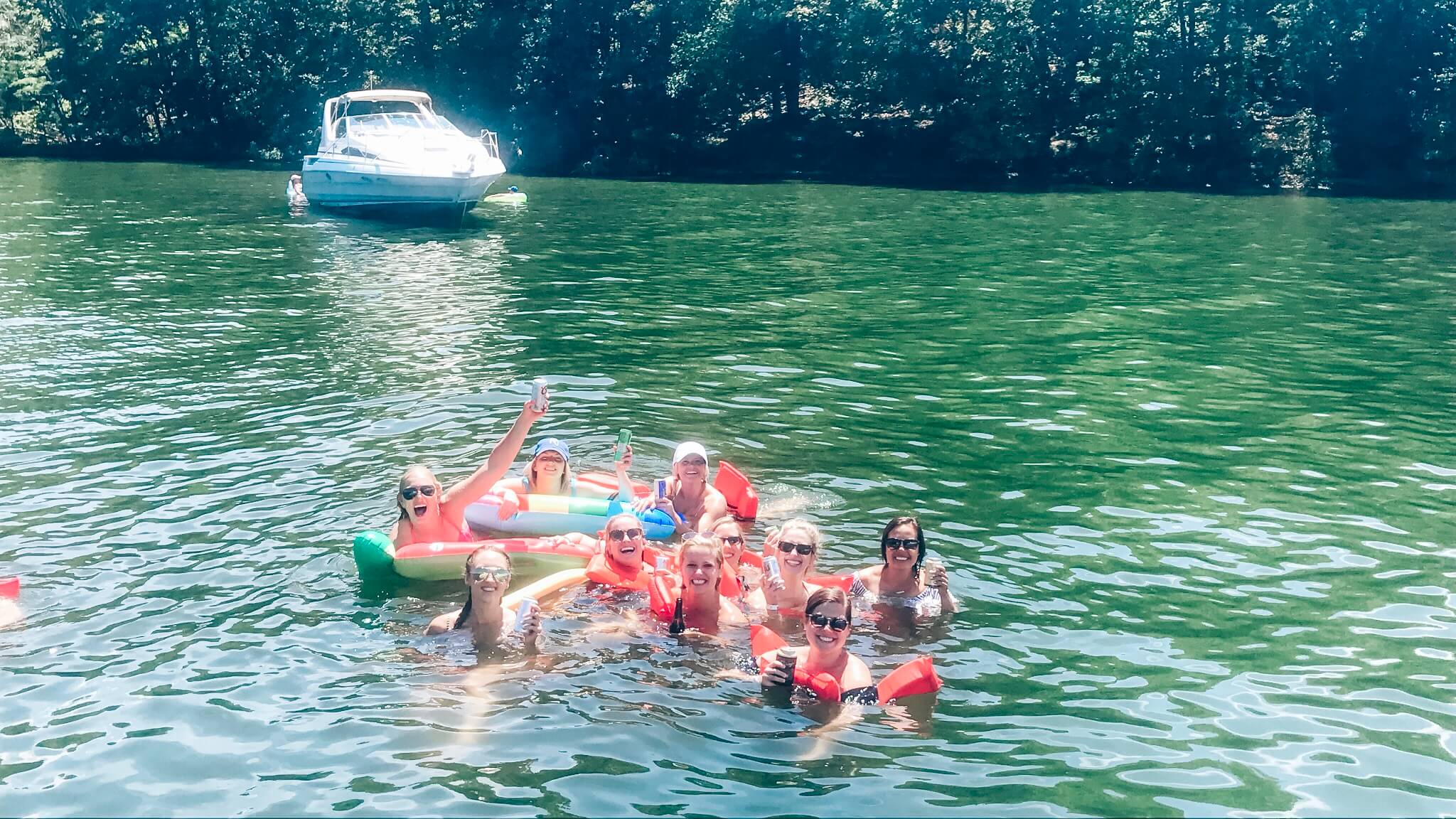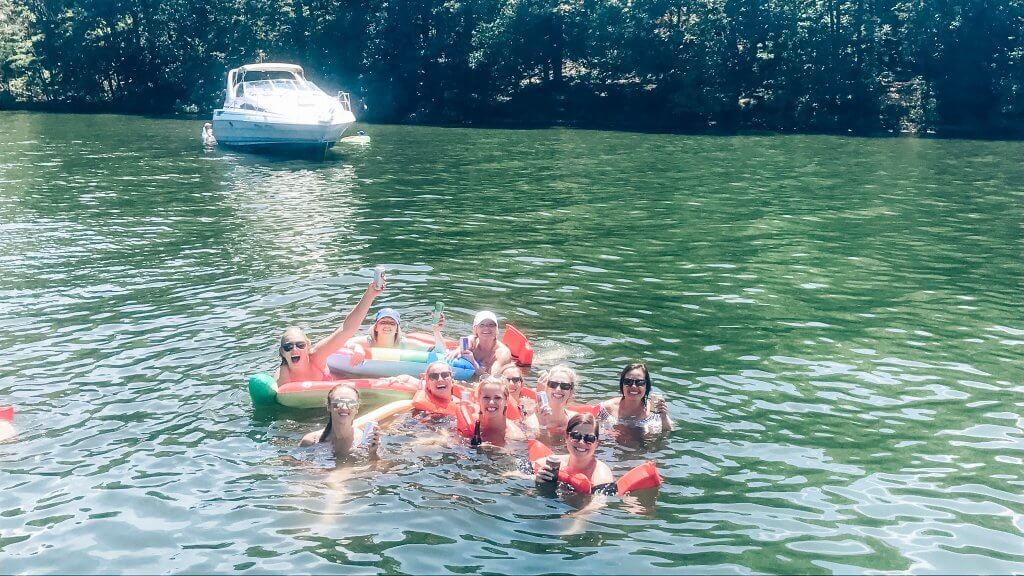 We have gone directly through Shady Gator's to rent a boat before, but we have also gone through individual boat drivers as well. The most important thing is having a driver that is safe and trustworthy, and making sure you have a boat with a large enough capacity to hold everyone in your party (so you don't get ticketed by water patrol). I personally prefer having something like a pontoon because it's easier for everyone to socialize and not be separated.
When I go to the lake with my family, we always rent through WFO Watercraft Rentals and we cannot recommend them enough! They are super nice, affordably priced and have a good selection to choose from. Pontoons, speed boats, jet skis, etc. We have known and used them for years. Tell them you know Dave Stewart's daughter! ; )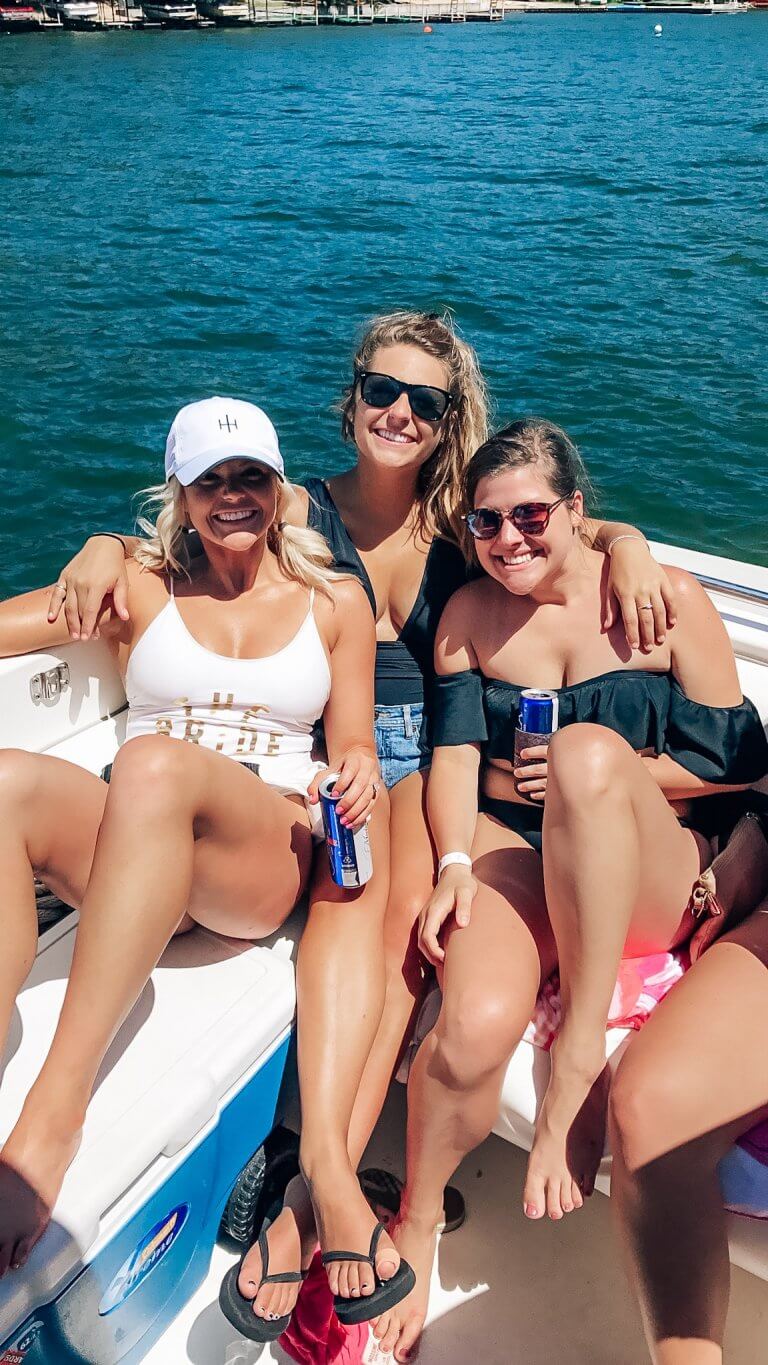 If you are on a totally opposite side of the lake, just Google "boats with drivers at the Lake of the Ozarks" and there are tons of results. Unfortunately I don't have any other specific names for you at this time.
where to stay at the lake for Bachelorette parties
As I mentioned, every time we have gone to the lake for a Bach party, we have stayed at one of the houses on the Shady Gator's property. The houses are owned by Shady Gator's and we communicate directly through one of their employees. (He goes by JG.)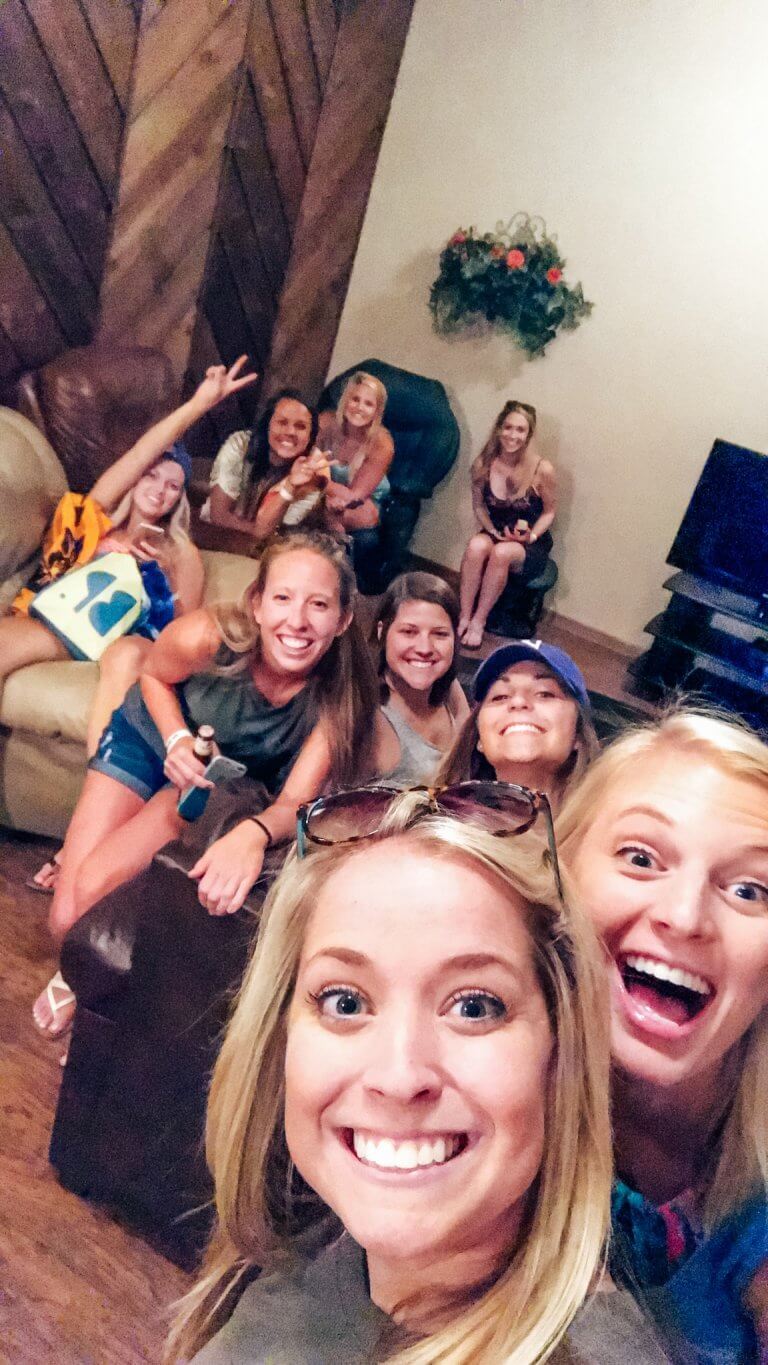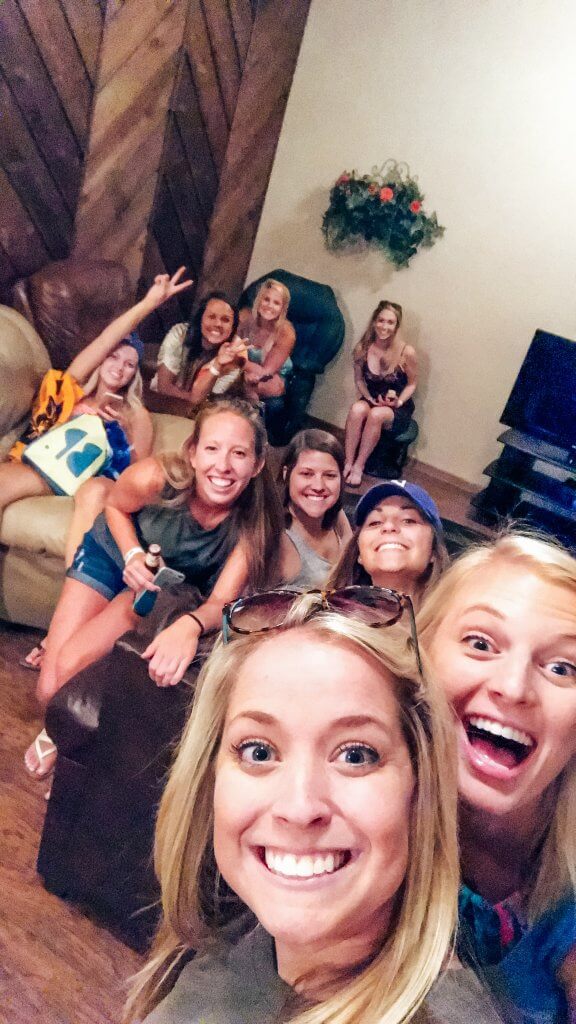 We have enjoyed staying there because:
The houses are super affordable, especially when you're splitting among 15+ girls
The close proximity to the bar and pool at Shady Gator's (walking distance, no need to pay for Uber, etc.)
Close to the bar/restaurant, which is convenient for meals
They have live music at Shady's most weekend nights and it's a SUPER fun party
The downside of staying at Shady Gators:
The houses are not super nice. Some of them have been kept up better than others, but don't expect it to be a Hilton by any means. But hey – you're at the lake! If you are pretty chill and low maintenance, you'll be fine, and the Shady Gator's contact is very nice and responsive. JG will do everything he can to make sure your group is taken care of.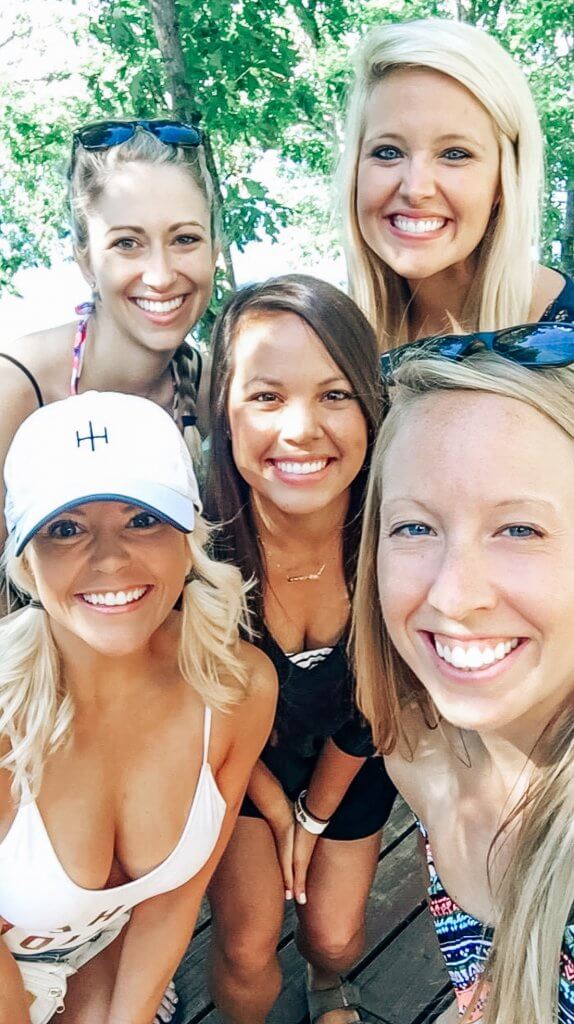 With that being said, I'm sure there are many nicer places to stay that are equally affordable, but we have always just loved the location/convenience of Shady's. Feel free to research other air bnb options and just know that you may have to Uber to the closest bar. 🙂
Another option that I want to mention is Margaritaville – formerly Tan-Tar-A resort. My family has stayed there several times and always had a great experience. It was recently renovated and turned into Margaritaville and I've heard great things about it. They have a pool with a bar and it is also a resort. I don't know a ton about it now, as it has been several years since we have been there, but it's worth looking into!
Places to eat/drink at the lake of the ozarks
For this post I will share some of the more party-friendly spots at the lake. In my "family" post, I'll share some of the more family-friendly places. Honestly, several of them overlap, and my family enjoys going to a lot of the party spots, too. Most of them have pretty good food actually, and have gotten awesome new pools within the past few years.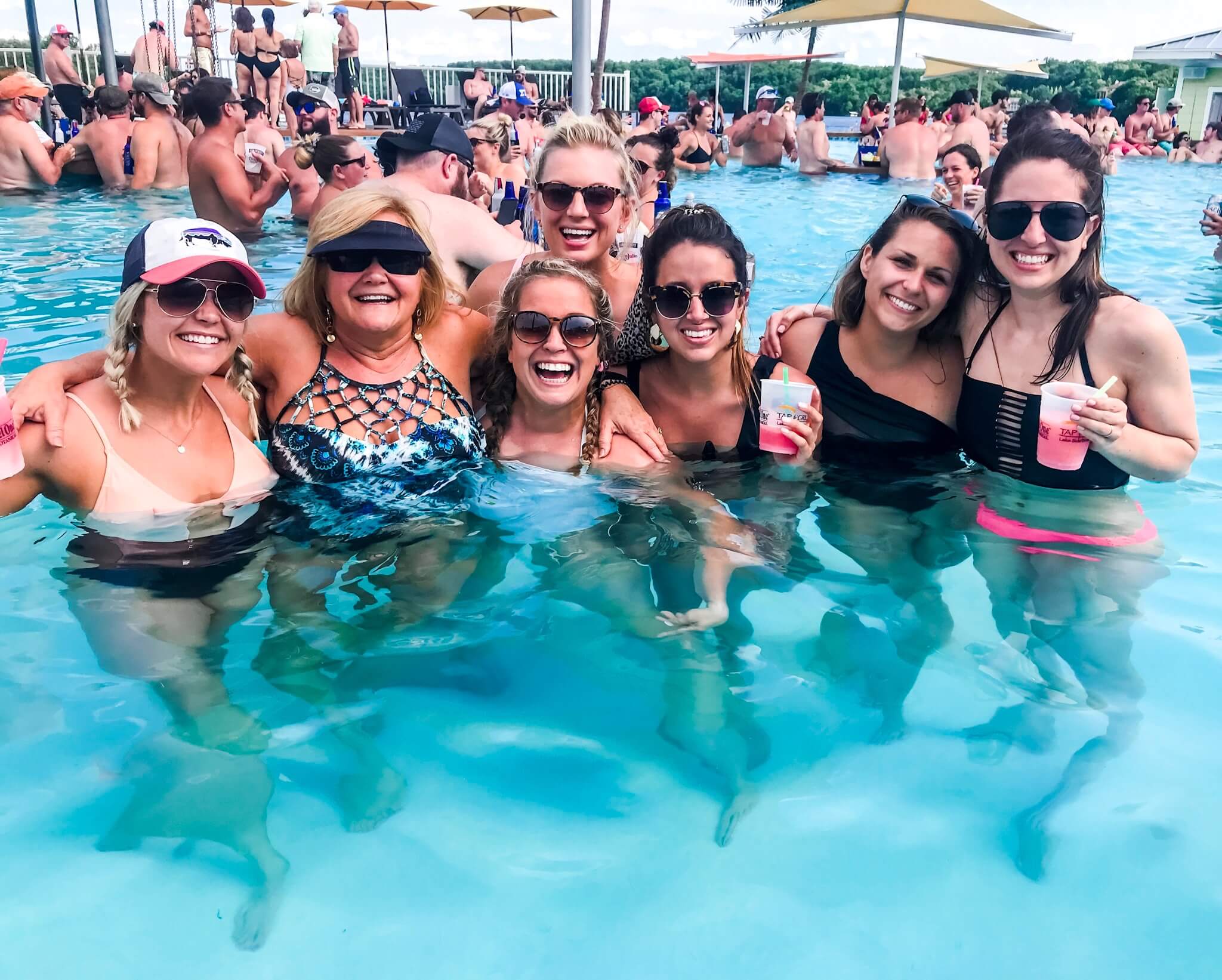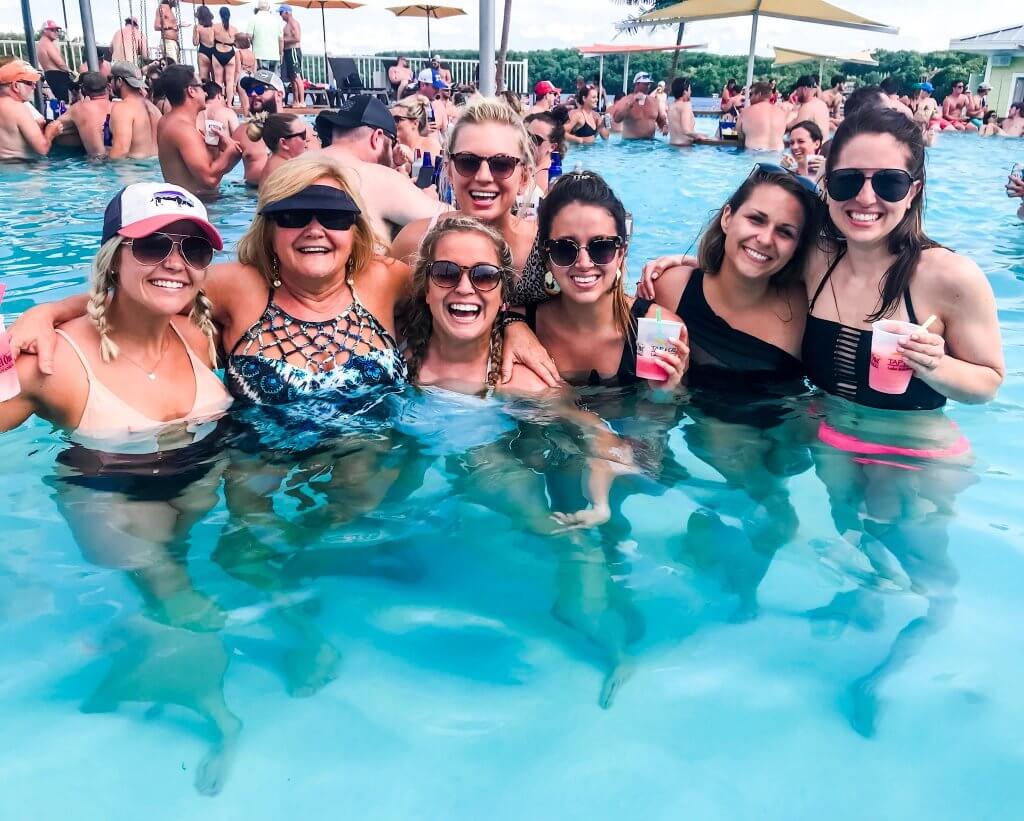 PARTY BARS:
Coconuts: super fun bar with a huge pool, swim up bars, sand volleyball, etc. **A MUST if you are on a Bach party – make sure it's obvious who the bride is. ; )
Dog Days: delicious food, great view of the lake, big pool and bars
Backwater Jack's: awesome food and view of the lake, big pool
Shady Gators: bar food, good view of the lake; has a pool/bar area called "Lazy Gators" right next door that's really fun
Boathouse Lakeside Bar & Grill
Paradise Tropical Bar & Grill
The Office Neighborhood Pub
Shorty Pants Lounge
Redhead Lakeside Grill & Yacht Club
Margaritaville – previously Tan-Tar-A (it is a resort but also has a nice pool with a bar; I haven't been but my friend @kalekouture says it is similar to Coconuts! And you can go there even if you're not staying at the resort.)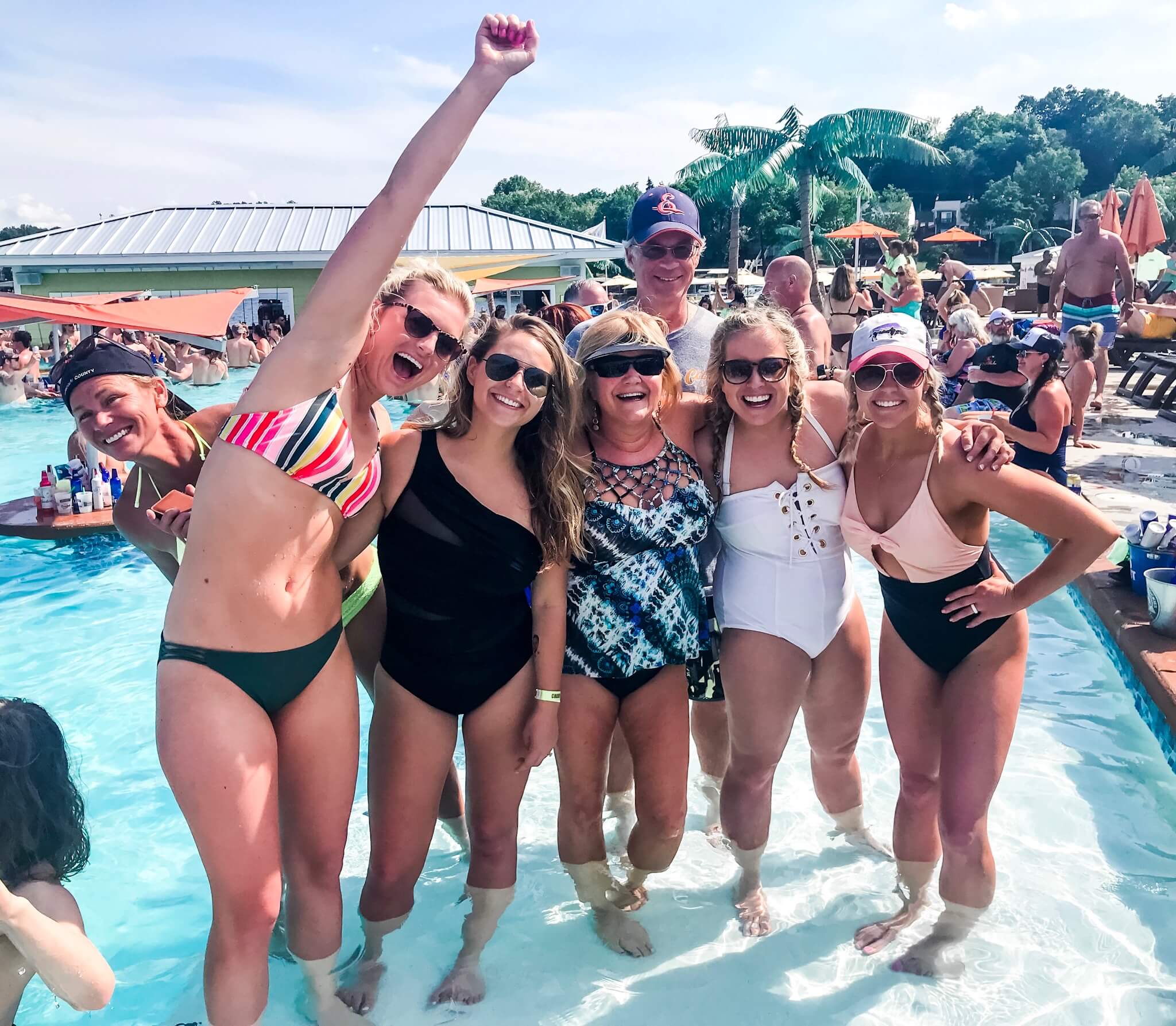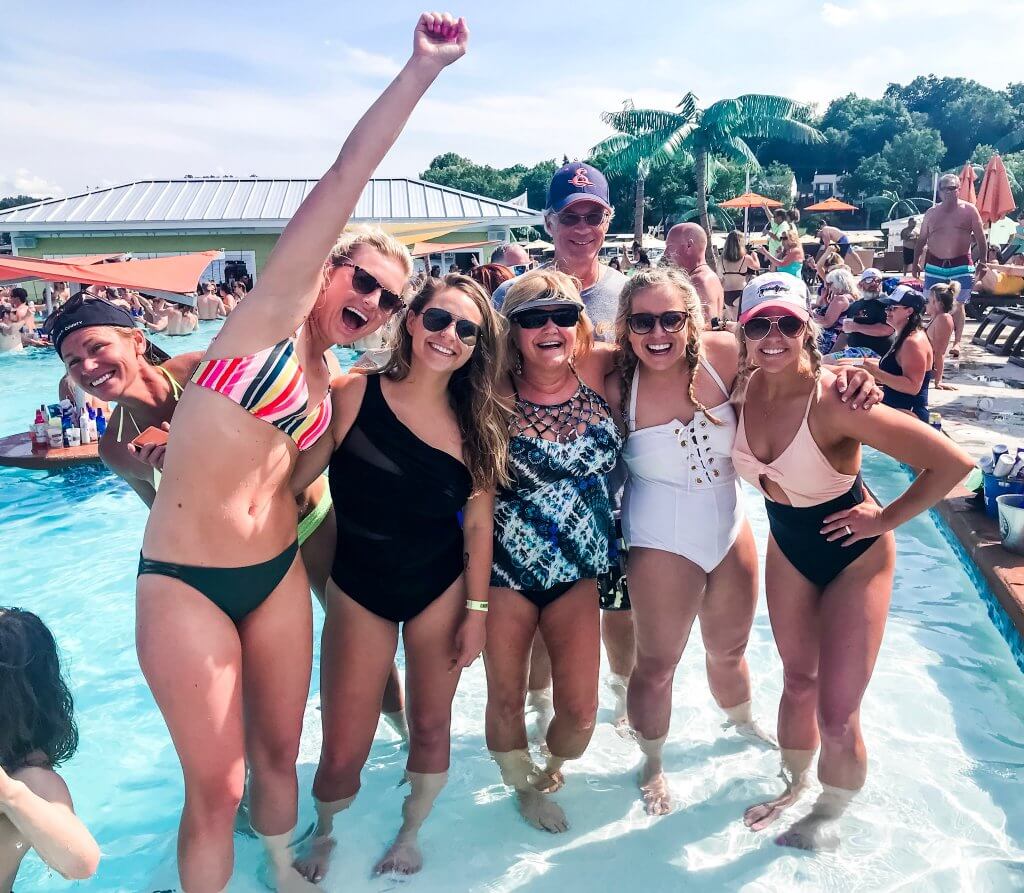 Bachelorette Party Shirt idea
We got these shirts for my BFFs recent Bach party at the lake and we were all OBSESSED. They are so fun and can definitely be worn again as a silly coverup or honestly just around the house. They are super affordable and you don't have to worry about getting customized shirts made!
Sexy Bikini Beach Cover-Up – $21.85
I hope this post helped give you some ideas of things to do, places to go/stay while you are at the Lake for a Bachelorette party (or just a fun weekend) with friends! Please let me know if there are any questions I didn't answer that you'd like me to address.
Thank you for reading!
Shanna