What To Expect During A Miscarriage: My Story
In today's post I'm discussing what to expect during a miscarriage and sharing my personal experience. This is vulnerable as hell, and hard to talk about, but I think it's too important not to.
I have found it very helpful to hear other women's stories, so I'm hoping that this will do the same for someone else.
According to March of Dimes, about 10-15 in 100 pregnancies end in a miscarriage. This is an extremely high percentage. I personally know several women, including close friends, who have had miscarriages, but I never thought that I would have one myself.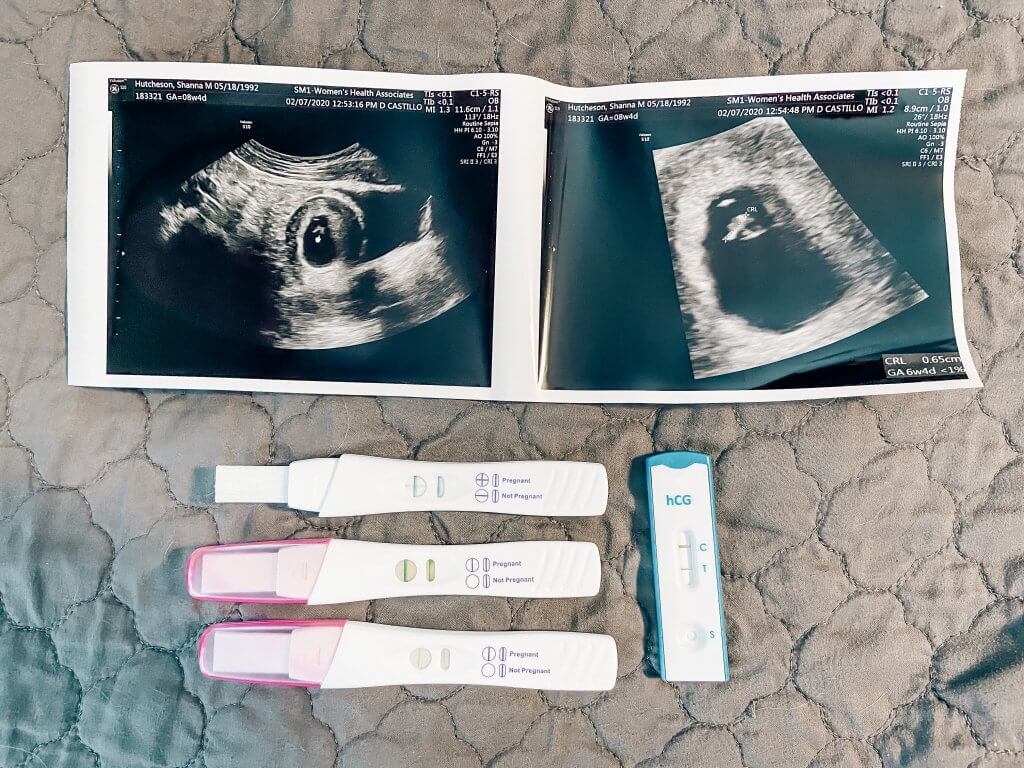 Unfortunately, at the end of February 2020, I did. I am trying to make the best of a devastating situation by talking openly about it, raising awareness, breaking the stigma, and helping other women who are going through it. If you are, you are NOT alone. Same goes for anyone struggling with infertility, which is extremely common too, sadly.
Nothing in this post (or any of my posts) should be taken as medical advice. This is just my journey. Always talk to your doctor or OBGYN about what is right for you.
my early pregnancy symptoms
When I found out I was pregnant (story linked here), I was 5 weeks + 1 day. My 8 week appointment could not have felt further away. I found out on January 14th and my first appointment was Friday, February 7th. I was anticipating that appointment for 3.5 weeks, which felt like an eternity.
From the very beginning of my pregnancy, I had a fear of miscarriage. Deep down, I didn't think that would be my story, but it was still something I worried about often.
About four days after I found out I was pregnant, I woke up in the middle of the night with severe cramps. I was doubled over in pain, unsure what was happening. Of course, I turned to Google and my pregnancy apps I had downloaded.
I read everywhere that cramping in early pregnancy is totally normal, and is likely just "implantation". As long as there is no bleeding, there's no need to worry, they said. That gave me most of the reassurance I needed. I didn't have any blood, so I assumed all was okay.
Even still, I was so nervous. I took a pregnancy test every week, just to make sure. Some days I had symptoms, like sore breasts, nausea, etc. and other days I felt completely normal — as in, not pregnant. Seeing a "positive" pregnancy test each week kept me feeling somewhat sane leading up to my 8-week appointment.
A week or two after my first cramping episode, it happened again. But once again, no blood. "Everything is fine", I told myself. I did call my OB's office one day to ask them about the cramping and they agreed that as long as there was no blood, it was probably nothing to be concerned about.
my 8 week appointment
Finally, February 7th rolled around. HALLELUJAH. I was so anxious, nervous, but mostly excited!!! I couldn't WAIT to finally hear a heart beat.
I was actually 8.5 weeks at that point, and when I hit the 8 week mark I felt so much relief. I had read that the chance of miscarriage goes down a lot at 8 weeks, so I felt good about that.
Again, since I hadn't had any bleeding, I assumed everything was fine and dandy going into my appointment.
Here is my journal entry from February 7th:
We had my 8-week appointment this morning. First, we met with a nurse and nurse practitioner and went over basics, supplements, do's and don'ts, first trimester, next steps, etc.
They determined my due date was September 15th, 2020 based on the date of my last period, which would mean I was 8.5 weeks along like I thought. 
During my appointment I told the nurse I had been having intermittent painful cramping throughout my pregnancy. Apparently I was not supposed to have a sonogram or hear the heartbeat that day; I guess I just assumed that was part of it.
Thankfully, she squeezed me in to get a sonogram an hour later so we could check things out and make sure everything looked okay, because of my cramping.
Ethan and I came back to the doctor's office and headed to the sonogram room with the very sweet sonographer. She applied the warm gel and pressed the probe to my belly, and started looking around at my ovaries.
The TV monitor was just above the table I was laying on, everything in black and white. Just like you see in the movies.
None of it looked like anything to me so I was just anxiously waiting for her to point something out. It seemed like it was taking a long time. I was holding my breath.
my first sonogram
She quietly asked, "When did you last take a positive pregnancy test?"
"Last weekend", I quickly replied. I was suddenly thankful I took that test last Saturday, but now I'm obviously worried that she asked. Is she not seeing anything?
Finally, she zoomed in on a spot and said it was the baby, but it didn't look quite as big as she would expect if I was truly 8.5 weeks along. She said I was measuring at only 6.5 weeks. And then she found the baby's heart beat; however, it was slow, about 86 bpm, when normal is about 120-180 or so. 
She assured me not to panic, because it's early, especially if I'm really only 6.5 weeks, but she wants to repeat the sonogram in a week to make sure baby is growing and the heart rate is increasing and everything is progressing as it should. 
I instantly broke down into tears. Of course I did. Once again I'm terrified, insecure, and waiting. This also means we are two weeks even further away from being able to tell anyone, assuming, praying, that things continue to progress. Two extra weeks of feeling horrible in the hell that is the first trimester. 
It's not that I care about a big announcement – NOT AT ALL – but going through the motions every day with no one knowing is really hard. And isolating. Especially while we are living with my parents and they still don't know. 
It's hard to feel like shit all the time and have to pretend you don't.
It's hard to feel scared all the time and not be able to talk to anyone about it.
It's hard to play this waiting game when all you want is to fast forward and know that everything is going to be okay.
Based on our sonogram today, the due date is now 9/28. I will continue to say all the prayers and hope for good news next week.
I felt SO much relief before this appointment once I thought I hit 8 weeks, and now my guard is way back up and I'm so f*cking nervous and anxious. At this point there is literally nothing I can do but keep taking good care of myself, and pray.
They've told me that some level of cramping is completely normal, especially in the first trimester. As long as it doesn't get worse than it has been, and there is still no blood, everything should be fine.
My journal entry The next day: february 8th
I cried myself to sleep last night. I can't help but be terrified about the outcome of yesterday's appointment. I also feel like my pregnancy symptoms are totally gone. Is it my imagination?
My boobs aren't sore whatsoever. In general, I'm feeling "normal", which seems like a bad sign. I still haven't had any blood, but I'm not sure if that matters.
Another day later: February 9th
More crying. I can't stop. I'm overwhelmed with emotion and feel like I'm already bracing myself for the worst. If by some miracle everything looks okay on Thursday's sonogram then I will be SO happy, but if not, I will be prepared. As prepared as you can be, I guess…
Not only am I terrified about all of this, but now I'm also sick. Between all of the crying and my congestion, I feel like my head could explode at any minute.
Ethan has been super amazing and supportive and positive, as always. Like he said, if for some reason things don't work out, we can try again, and it's all going to be okay. And I know he's right. But right now nothing feels okay.
Journal entry February 12th, 2020
Finally our next sonogram is tomorrow. This has felt like the longest wait of them all.
I still haven't had any blood, but I still feel like I'm having an overall lack of pregnancy symptoms. However, I did have a little bit of cramping on Sunday, and some earlier today (Wednesday). Maybe that's a good thing? I don't know.
On social media everyone makes pregnancy seem like it's all rainbows and butterflies, besides maybe the occasional morning sickness.
No one talks about the excruciating cramps that keep you awake at night. Or the fear that is associated with them. No one talks about feeling relief every time they go to the bathroom and DON'T see blood.
No one talks about all of the anxiety, doubt and insecurities that are going on.
Weight gain or my body changing in any way couldn't be further from my mind right now. I would be so honored and blessed to watch my body grow for a healthy baby.
I just hope I get that chance soon.
I have told a few close friends about our current circumstances, and I know we are in all of their prayers. And I have continued to pray nonstop. I just hope it can all be enough.
I am still just trying to trust God and His plan. But I'd be lying if I didn't say I was struggling with that. I'm just counting the hours until tomorrow morning.
I am praying everything goes well and I can get through the rest of my workday okay. 
If for some reason it's not okay, I'm finally going to tell my mom. I don't know if I can go much longer without her knowing if something is wrong.
Dear God, please watch over us and protect me and this baby if now is our time. If it's not, please give us a sign.
journal entry February 13th, 2020: my second sonogram
We had our follow-up sonogram appointment this morning. There was no growth, and the heart rate was even slower this time — 81 bpm.
The sonographer told us it's basically a matter of time before the heart beat stops and I miscarry, because clearly my body isn't taking it. So now I wait, again, but this time I wait for bleeding. I would rather wait for that than answers, I guess. 
I am numb.
At least now we know. And we can start to grieve and move on. Obviously, I'm crushed, but deep down, over the past week, I knew this was going to be the outcome.
As horrible as it sounds, I want to get it over with so my body can recover and we can try again sooner rather than later.
I know that this process moving forward is going to be extremely hard. I have already decided that I'm not going to keep quiet about it, because I don't have to suffer alone, and I shouldn't.
It will be comforting to have the people I love, and even strangers who can relate, rallying behind us. 
telling my family and friends about my miscarriage
I told my mom that Saturday — two days later, when I felt like I could finally say the words out loud.
I know it might seem weird that I didn't tell her right away, especially because we were living with them at the time, but because it was my first pregnancy, I really wanted to wait until we were "in the clear" and tell our families in a fun, exciting way.
Since I would've been 11 weeks when we moved into our new house, we thought it would be fun to announce there. That was the plan.
journal entry on February 18th
It was such a relief to finally let my mom in on everything that had happened over the last month and just be able to lean on her for extra support. She was/is absolutely heart broken for us.
Later that night, I told my brother and sister-in-law. I had my mom tell my dad. When I came home from my brother's house, I fell into my dad's arms and we just cried and hugged for a long time.
I know my whole family's hearts are hurting for us, and they are doing everything they can to support us, but I wish it was enough to make things better. Unfortunately, it's not. 
I go through hours of feeling fine, then all of a sudden I'm hit with a wave of sadness and emptiness and I can't dig myself out of it.
I'm crying A LOT. Every time I get on social media there is another pregnancy announcement, and it makes me feel sick to my stomach. I'm truly happy for those people. But it makes me even more sad for us. 
I have another sonogram tomorrow to hopefully confirm that the heart beat has stopped so the doctor can give me the medication and I can get started with the process, and then give my body time to recover.
According to my OB, I need to have at least one natural period before we can try to get pregnant again, so I am praying that my cycle returns quickly. I know everyone is different, but I just have to keep taking care of myself the way I am now.
Taking my supplements, eating well, sleeping, exercising but also resting, and attempting to manage my stress & grieve this loss. 
Our house will be done in 9 days – that is giving me something to look forward to and will be a good distraction for a bit. 
february 19th, 2020: The day the heart beat stopped
That morning I had a sonogram that confirmed the heart beat had officially stopped. It was bittersweet. I had answers. No more waiting. I could start to move on.
But also, that dream and that baby were really gone. 
Since I had zero bleeding on my own, I had to have my doctor give me medications (vaginally) that would make the miscarriage happen. Some women have bleeding and pass it all naturally; others have to get it surgically removed through a procedure called a D&C. I wanted to try the least invasive option first and avoid surgery if possible.
Later that afternoon, I got to the doctor's office for my OB to administer the medications that would begin the process of my miscarriage. She told me I could expect to bleed for at least the next two weeks, but it could even last 4-6 weeks. Everyone is different.
Filling out the paperwork beforehand I had to mark "total # of pregnancies: 1, total # of pregnancies to term: 0, total # of miscarriages: 1".
I felt kind of numb all day until then. That stung. Looking around the waiting room itself was tough. I was surrounded by very pregnant women with big, healthy pregnant bellies.
Portraits of sweet, healthy babies covered the walls. It was all just a reminder of what could have been. But isn't. I had moments of feeling really positive and hopeful for the future, followed by moments of extreme sadness, emptiness, bitterness, and anger. "Why me?"
While I waited to be called back, the employees behind the desk were talking and laughing and having a grand old time. The tough thing is, the world keeps turning and normal life continues for everyone else even when you're grieving, and broken, and your world is standing still.
I kept reminding myself: it's okay to not be okay. It's okay to grieve and be really fucking sad. But it's not okay to stay that way forever.
the night my miscarriage started
The doctor gave me the medications around 5 PM on 2/19. Around 8:30 or so, it started. The blood and the cramping. I spent almost an hour on the toilet, with continual bleeding and serious pain.
It was surreal seeing not just blood, but chunks, in the toilet. It was impossible to think of that as a baby. I didn't even cry; none of it felt like real life.
The process was just as painful as I imagined. Eventually, I took about a 20+ minute shower and the warm water felt amazing. I kept waiting for bleeding to stop so I could get out, but it didn't. I was thankful for the handle on the shower wall that I could hold on to. I just stood there and let the water hit me in the face for a while as I bled. 
Eventually I stepped out and back on to the toilet for who knows how long. Probably 30-40 minutes. Then I braved my way to bed. Wearing a massive maxi-pad. Woof.
I tried a heating pad on my tummy for a few minutes. Too hot.
I couldn't sleep. Too much pain, physically and emotionally.
I felt bad for Ethan because I knew he probably wasn't sleeping either through all the commotion. He wants to be there for me, but I know he feels helpless right now. Unfortunately he kind of is.
This all feels like a bad dream. I can't believe it's not. I need to fast forward to next week when we move into our house. I need a fresh start, a distraction.
I want to be pain free, again, physically and emotionally. And the pain has only just begun. But tonight will be the worst of it. 
February 22nd, 2020: a few days later
I've been doing surprisingly well the past few days. The worst pain is definitely over, but the bleeding continues. Thankfully it's just like a period at this point, but I still have to wear pads, which isn't pleasant. 
As far as my spirits, they are somewhat up, thanks to our house being four days away. I'm grateful to have something positive to look forward to.
The amount of support I've gotten from our family and friends has been incredible and is helping a lot. Talking through it with people who love me is therapeutic for me. Especially those who have also experienced a loss. Ethan is more private — I'm afraid he's internalizing it.
Part of me feels like it hasn't really hit me yet that this happened… to me, to us. I've said it before, but it truly all feels like a bad dream. Almost like it didn't happen. It was traumatic. Maybe I'm already trying to block it out. I'm not sure if that's good or bad. Maybe it's allowing me to start moving on. 
When we get into our new house and the dust settles, I'm afraid the sadness will return. I will have to actively work on it and let myself process it.
I continue to pray that my body can bounce back quickly and my cycle returns sooner rather than later so we can try again. Not obsessively try, but not NOT try, just like last time…
what happens after a miscarriage
When you first start bleeding and having a miscarriage, the process is far from over.
I had to go to my OBGYN's office every week afterward so they could follow my hCG (pregnancy hormone) levels all the way down to zero. They have to make sure that it continues to go down and there is no leftover tissue in the uterus, because that could cause an infection.
The day of my miscarriage, my hCG level was 66,000. One week later: 1749. A big drop! The following week: 429. I was so hopeful I'd be done the next week. But nope. Week 3: down to 79. So close. The next week, week 4: 23. UGH. Still not there.
Then the "stay at home" order was put in place and they told me not to come back in, since it wouldn't really change anything. I could take a home pregnancy test soon and if it was negative then that would indicate I was finally down to zero.
It took a total of 5 weeks for my hCG levels to go down post-miscarriage.
Like I've said, miscarriages feel like you're constantly waiting, and waiting, and then waiting some more.
First, we waited anxiously, excitedly for my 8-week appointment. Then we waited to go back and hoped for good news on our next sonogram. Then we waited for the heart beat to stop. Then we waited for my hCG to go down. Now I'm waiting for my body to figure everything out and for my menstrual cycle to return.
It has all been so surreal.
7 weeks post-miscarriage
Here I am, almost 7 weeks later, and I'm still struggling HARD. Definitely more than I was immediately after it happened. Now that the reality of it has sunk in.
I still cry several times a week, either completely out of no where, or I cry myself to sleep. A lot of feelings arise when I finally lay down for bed and allow myself to just think.
But talking about it openly is helping me, and others, heal. I continue to connect with so many incredible women who have also experienced a loss, and it has been such a blessing.
People message me almost daily to let me know they are thinking of me, or praying for us to get our rainbow baby, and that means the world.
I do believe that the worst is over, but it will continue to be hard. And I will NEVER forget this pregnancy, or this angel baby.
7.5 weeks post-miscarriage
Now I am in an interesting place. My cycle has returned, which I was THRILLED about. Just knowing my body is working like it should has been really encouraging, and a huge relief.
But with that comes some conflicting feelings. I'm afraid of trying too soon, and my body not being ready for another pregnancy. What if I miscarry again?
I'm afraid of not being able to get pregnant again at all. What if it's a lot harder next time?
I'm afraid of the virus that is keeping us in our houses and husband's excluded from doctor's appointments. If I do get pregnant again, I'll be SO anxious and need the comfort of Ethan being there with me. Who knows how long this will all last?
It's a really weird place to be. But despite all of that, I'm feeling positive, and hopeful, and taking things one day at a time.
Miscarriages SUCK. Going through a loss like this is so challenging, and I am forever changed. I know that good things will come, I just don't know when, and I'm continually working on letting go of any timelines or expectations.
As much as I know I will need the support of loved ones as we move through this next phase, I also want privacy.
I don't want anyone asking me if/when we are trying again. Because I don't even know that myself yet.
Hopefully, sometime later this year, I will be the one finally getting to make that pregnancy announcement. Until then, all the thoughts and prayers and well wishes are appreciated more than you know.
Also, if you are going through this right now too, my prayers are with you, and I am so sorry you're experiencing this pain. "This too shall pass".
Now you know what to expect during a miscarriage, or what women (and couples) go through during this process. Unfortunately, if you've never been through it yourself, it's hard to truly wrap your head around it all, or understand what it feels like. I hope this was helpful for someone out there. Please reach out if you need to talk.
XO,
Shanna