Savory Mashed Sweet Potatoes
If you know me at all, you know that I freaking LOVE sweet potatoes. In every form and fashion possible. Mashed, roasted, sweet potato casserole, nachos; sweet, savory, plain, whatever. You name it – I LOVE IT. I've been wanting to create this recipe for a while, and after surveying my audience, decided to make them Savory Mashed Sweet Potatoes, and I'm pretty darn happy with the result. Husband-approved, too!
do you peel sweet potatoes before boiling them?
This is personal preference, and most recipes you see for mashed sweet potatoes will tell you to peel them first. I, however, leave the skin on, and here's why.
WAY less time and effort if you leave the skin on — zero shame.
More nutrients! The skin contains fiber and other nutrients that I don't want to just throw down the drain.
It also adds some extra texture to the sweet potatoes that we happen to love.
That's a win-win if you ask me.
With all of that said, if you know you don't like skin in your mashed potatoes, go ahead and peel them!
how long does it take to boil sweet potatoes?
It depends on the quantity, but it only takes about 15 minutes or so to boil them! Not too long at all.
This recipe is super quick and easy to make from start to finish.
should you boil or steam sweet potatoes to retain more nutrients?
According to NutritionFacts.org, "boiling may actually retain most of the antioxidant power of sweet potatoes, compared to roasting and steaming. If we compare baking to boiling microscopically, boiling helps thin out the cell walls and gelatinize the starch, which may enhance the bioavailability of nutrients."
So there ya go! Bonus: boiling is super easy. Anyone can do it. 😉
what equipment do i need for these savory mashed sweet potatoes?
All you need for this recipe is:
If you need a tutorial on chopping and preparing sweet potatoes, check out my YouTube video here!
other delicious ways to eat sweet potatoes
If you want to try incorporating more sweet potatoes in your diet and you're not sure how, try out some of these other delicious recipes!
Now on to the recipe for my Savory Mashed Sweet Potatoes!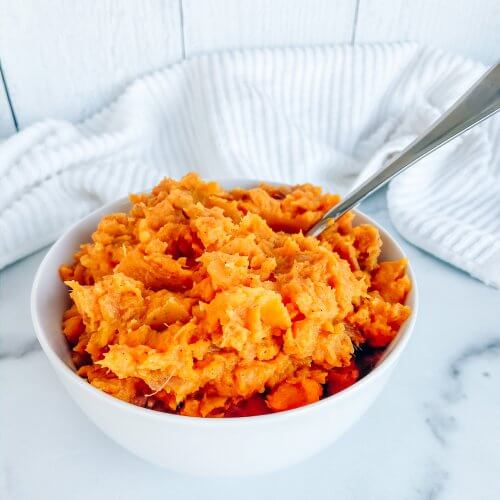 Savory Mashed Sweet Potatoes
Mix things up with these Savory Mashed Sweet Potatoes that are good for you, quick and super simple to make! They are a colorful side dish your whole family will love.
Ingredients
3

large sweet potatoes

or 4 medium, chopped

2

Tbsp

ghee

or butter, melted

1/4

cup

milk

or cream

1/4

tsp

black pepper

1/4

tsp

salt

1/4

tsp

garlic powder

1/4

tsp

onion powder

1/4

tsp

chili powder

1/4

tsp

paprika
Instructions
Wash sweet potatoes with water and scrub with a veggie brush. Chop into medium-sized chunks. (I like to leave the skin on — if you'd prefer to remove the skin, peel potatoes before chopping.)

Transfer sweet potatoes to a medium-large pot and add enough water to cover them completely. Cook over high heat and bring to a boil, then lower to a simmer for 15 minutes, or until potatoes are fork-tender.

Drain potatoes using a large colander. Transfer boiled potatoes to a large mixing bowl.

Add ghee and milk and mix in with your hand mixer until smooth, about 2 minutes.

Next, add all of your spices. Mix again until they are incorporated, about 1 minute.

Assess the texture and if it's too thick, very slowly add small amounts of liquid until you reach desired texture. Taste and add more salt and/or pepper as needed.

Serve hot. Each serving is ~1/2 cup; recipe yields roughly 6 servings.

Store in an airtight container in the refrigerator for up to 3 days.
Nutrition
Calories:
149
kcal
Carbohydrates:
24
g
Protein:
2
g
Fat:
5
g
Saturated Fat:
3
g
Cholesterol:
14
mg
Sodium:
165
mg
Potassium:
394
mg
Fiber:
3
g
Sugar:
5
g
Vitamin A:
16114
IU
Vitamin C:
3
mg
Calcium:
45
mg
Iron:
1
mg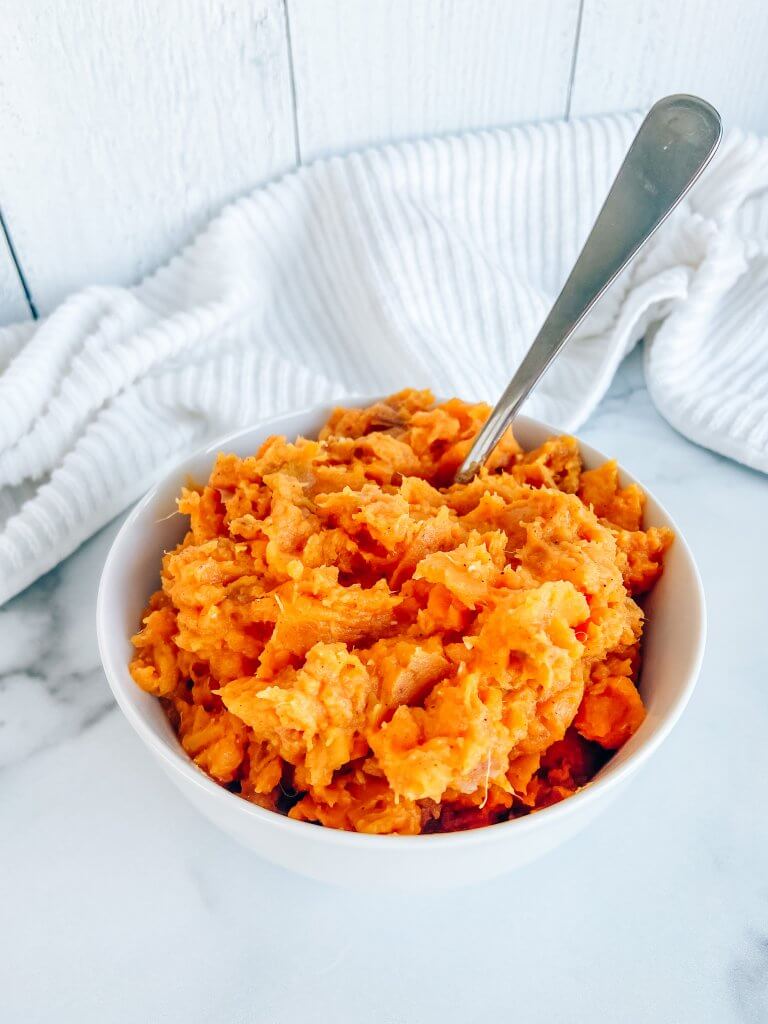 Voila! Super simple and so delicious. As always, feel free to mix up the amounts or spices if you prefer sweet! I would suggest using cinnamon and a small amount of brown sugar if you want to go the sweet route. : )
Tag me in your savory mashed sweet potatoes on Instagram and pin this recipe on Pinterest for later! ENJOY!
Shanna