Healthy Crockpot Chicken Tacos Two Ways
Taco Tuesday is the best, isn't it? Especially crockpot chicken Taco Tuesday. There is honestly nothing better than walking in the door after a long day of work and getting hit in the face with the delicious smell of tacos. Not to mention your dinner is already made for you. Double win.
This recipe was previously titled "4-Ingredient Crockpot Chicken Tacos" on my Lunch & Dinner Entrees recipe page and consisted of:
Chicken breasts
Low-sodium chicken broth
1 packet of dry ranch seasoning
1 packet of taco seasoning
While this is still great and super easy to make, I prefer to make my own seasonings whenever possible. First of all, it's much cheaper than buying the pre-made, packaged kinds, and you can usually save a ton of sodium as well!
I headed to good ol' reliable Pinterest to find some recipes for homemade ranch and taco seasoning, and landed on these versions from Real Simple Good. This link includes a total of 10 recipes for easy homemade spice blends. I used the ranch and taco seasoning recipes and followed them pretty closely. I omitted a few spices simply because I didn't have them in the fancy spice rack that we got off of our wedding registry, and it turned out just great anyway! Head to the link to see the original recipes, and if you have all the spices that it calls for, feel free to use them all!
If you're feeling lazy and just want to use pre-made ranch & taco seasoning packets, then skip on down to the full recipe, but if you're like me and want to go the cheaper & healthier route, here are the seasoning recipes! They took me about three minutes total to throw together, so I would recommend doing this! 🙂
Homemade Taco Seasoning:
FYI: I kept this one exactly the same as Real Simple Good!
1 tsp chili powder
1 tsp garlic powder
1/2 tsp paprika
1/2 tsp cumin
1/2 tsp onion powder
1/4 ground pepper
1/4 tsp cayenne
1/4 tsp oregano
Homemade Ranch Seasoning:
I cut this recipe in half (as it is meant to season 2-3 lbs of meat), omitted the spices I didn't have, and added nutritional yeast. Here is my version below. Head to the link above for the original. 
1/2 Tbsp parsley
1/2 Tbsp dill weed
1 tsp garlic powder
1 tsp onion powder
1/4 tsp black pepper
1/2 Tbsp nutritional yeast
Keep reading for the full recipe of my latest version of Crockpot Chicken Tacos!
Healthy Crockpot Chicken Tacos Two Ways
Taco Tuesday just got a whole lot easier, healthier, and tastier. Whip up this Crockpot Mexican Chicken to serve as tacos or tostadas!
Ingredients
1-1.5

lbs

boneless

skinless chicken breasts, thawed or frozen

1

serving of homemade ranch seasoning

recipe above

1

serving of homemade taco seasoning

recipe above

1

cup

of unsalted or low sodium chicken broth

1- 14.5

oz

can no-salt-added diced tomatoes

drained

1/2

cup

diced onions

fresh or frozen
Additional toppings (optional):
1

can no-salt-added black beans

1

cup

chopped bell peppers

fresh or frozen

1/2

cup

frozen corn

Avocado slices

plain Greek yogurt, salsa, fresh greens, Mexican shredded cheese
Instructions
Add spice mixes to the crockpot, then add diced tomatoes, onions and chicken broth, and stir until combined.

Add chicken breasts to crockpot, stir and spoon some of the spice/veggie mixture on top of the chicken.

Cover and cook on low for 4-6 hours, or until chicken is cooked through.

Shred chicken with these shredding claws (Amazon affiliate link), stir again, and let sit for another 15-20 minutes.

Cook additional veggies (beans, peppers and corn) in a medium-sized skillet and season with cumin, chili powder, garlic powder and pepper for a few minutes.

Serve chicken and veggies hot, with toppings as desired.
Notes
I like to top whole grain corn tortillas with fresh greens, the Mexican veggie mixture, crockpot chicken, a little bit of shredded cheese, spicy salsa and avocado. Voila!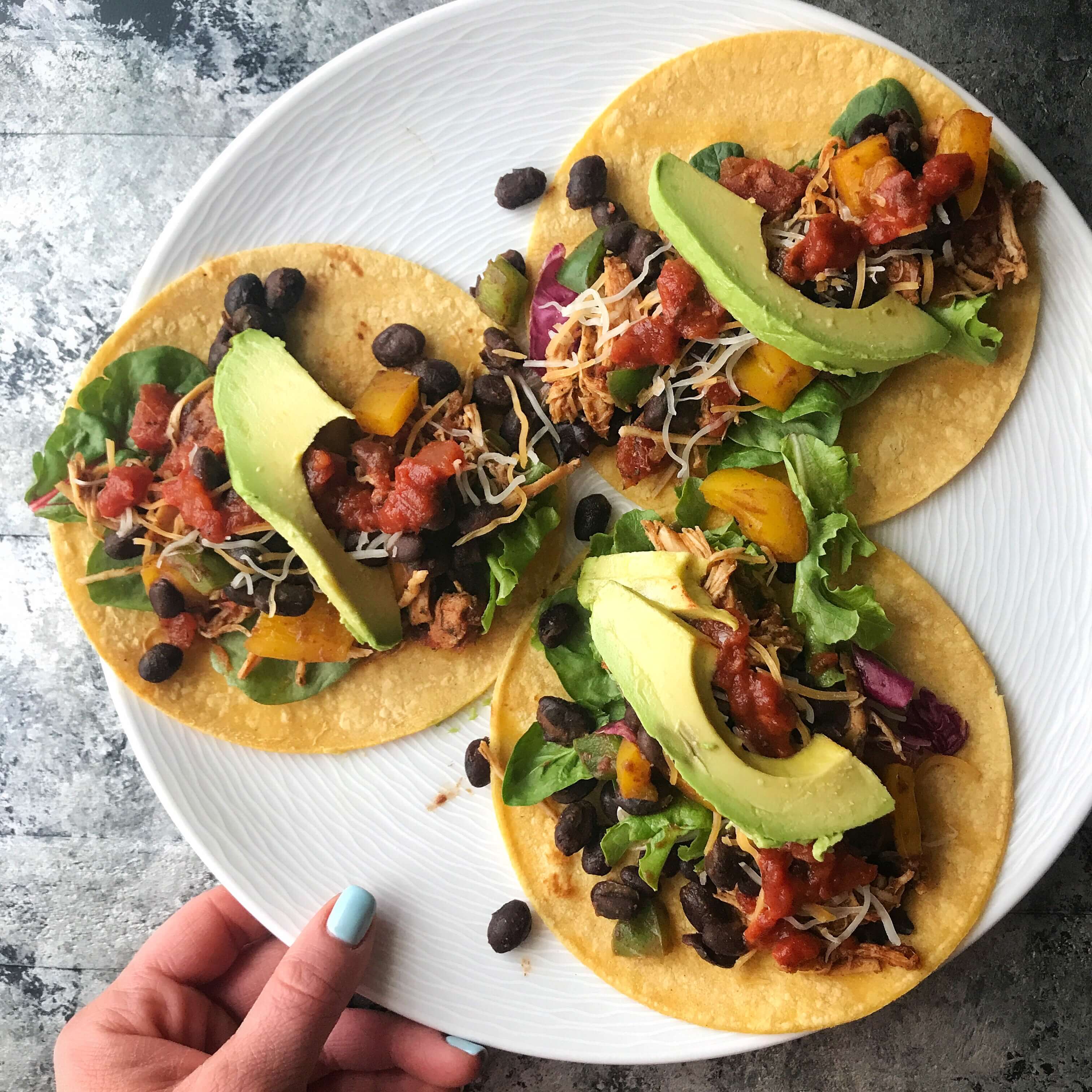 Option #2: Totally Stuffed Chicken Tostadas
Another option is to turn these into my Totally Stuffed Chicken Tostadas! You will follow the same process, but instead, serve on top of a warm, crispy tostada shell. I LOVE doing this, and it is worth the extra few minutes. Tostadas are my go-to meal when my family goes out to eat at our favorite Mexican restaurant, Jalapenos (which happens literally anytime someone in the family has a birthday, anniversary, or other random occasion to celebrate). Last time I made these at home, Ethan said it was one of my "top 10 best recipes". He makes statements like this a lot… but, I'll take it. That's your cue that you need to make this too, ASAP!
All you have to do is:
Cook tostada shells in the oven (or toaster oven) for 1-2 minutes at 350 degrees. Watch closely so you don't burn them — it can happen quickly! You just want to get them nice and warm, and a little crispy.
Top with crockpot chicken, Mexican veggies and additional toppings as desired. Devour immediately! : )
How to Utilize The Leftover Chicken
One of my favorite things about crockpot meals is that it always makes enough food that Ethan and I will both have work lunches covered for the next few days. Check out the photo below to see how I re-purposed this meal for lunch.
I cooked a sweet potato in the microwave for 3-4 minutes in the evening, packed it alongside the leftover chicken and veggies, and then it was all ready to reheat for lunch the next day! Another alternative would be to serve the chicken and vegetables with cooked quinoa, or fresh greens and a few chips to make a "taco salad". Work lunches don't have to be boring, people! This is a healthier option than going out to lunch, and probably much cheaper too.
What are your go-to crockpot meals turned work lunches? Another one of my favorites is my Healthy Crockpot Lasagna with Chicken and Veggies! It's delicious fresh out of the crockpot, as well as the next day, and the next day!
Let me know if you try this one out! I promise you won't be disappointed. As always, tag me on Instagram @wellnessforthewin and hashtag #wellnessforthewin so I can see your beautiful and delicious creations!! : )
Have a great rest of the week!
Shanna