Healthy Foods Dietitians Keep In Their Fridges
Do you ever wonder which healthy foods dietitians keep in their fridges all the time? If so, you're in the right place! In today's post, I am sharing ALL of my refrigerator staples, why I love keeping them on hand and how I incorporate them into my meals & snacks!
Use this post to create a grocery list for the next time you go to the store if you need some guidance for stocking up on nutritious and delicious foods!
what's in my fridge: video
I have been a Superfood Shot (formerly known as Life Equals) ambassador for a few years now. Back in Spring of 2018, the team asked me to share some of my absolute, must-have 24/7 staple items that I always keep stocked in my fridge.
If you want to check out my one-minute video on this, click here! I could only cover a few select items in that short amount of time, which is why I decided to write this post, too!
If you're interested in checking out Superfood Shot's products, use my discount code wellnessforthewin for 50% off and free shipping! Please let me know if you have any questions about any of their products. I currently use their Balance shots and omega-3s.
Disclosure: I am a Superfood Shot ambassador and earn a small commission each time someone uses my discount code to purchase their supplements. Thank you for supporting my small business! I only support brands that I truly believe in and that align with my vision for Wellness For The Win.
dietitians are real people, too
Believe it or not, not every single item in my fridge/pantry/freezer is highly nutritious. I'm human too! But this is real life, and you know I like to show you all the good, the bad and the ugly.
I'm mostly highlighting my favorite healthy items that I can't live without in this post, but I'll also be sure to point out a few less healthy items that are always chillin' in our fridge, too (literally). ; ) When you have freedom with food, you can keep these foods on hand anytime without stressing about it.
See the graphic below for some examples of foods I love to buy in different categories.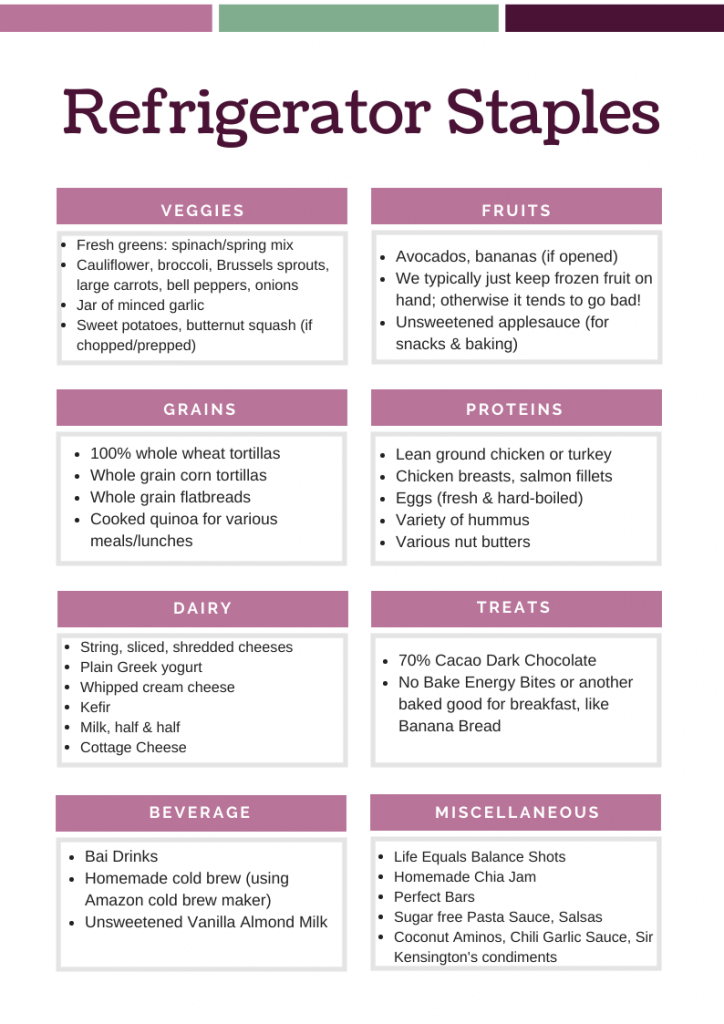 From here I'm going to break things down into categories and talk about how I use some of the items listed above.
Let's get started.
REFRIGERATOR STAPLES: VEGETABLES
Spinach/spring mix: I love to use fresh greens to make salads for work lunches, or to add to wraps/sandwiches, and of course, for veggie flatbreads!
Variety of colorful vegetables: I listed some of my favorites that I almost always have, but it definitely varies depending on our meal plan for that week, and the season! When it comes to purchasing veggies, I recommend getting a variety of colors so you benefit from all the different nutrients they have to offer! I typically roast my vegetables. Click here for my roasted vegetables recipe!
Minced Garlic: keeping a jar of this saves SO much time and energy. I throw garlic in tons of recipes because the pre-minced garlic makes it super easy. And did you know garlic is loaded with nutrition?!
REFRIGERATOR STAPLES: FRUIT
As I mentioned in the graphic, we mostly keep frozen or dried fruit on hand, because we just don't go through a ton of fresh fruit in our house. I love using frozen fruit (mango chunks, strawberries, blueberries, etc.) for smoothies, but they are also easy to throw in things like banana muffins, or on top of French toast after thawing.
The main fresh fruit we buy regularly includes avocados & bananas. I love snacking on bananas with nut butter. Click here for tips on picking the perfect, ripe avocado!
REFRIGERATOR STAPLES: GRAINS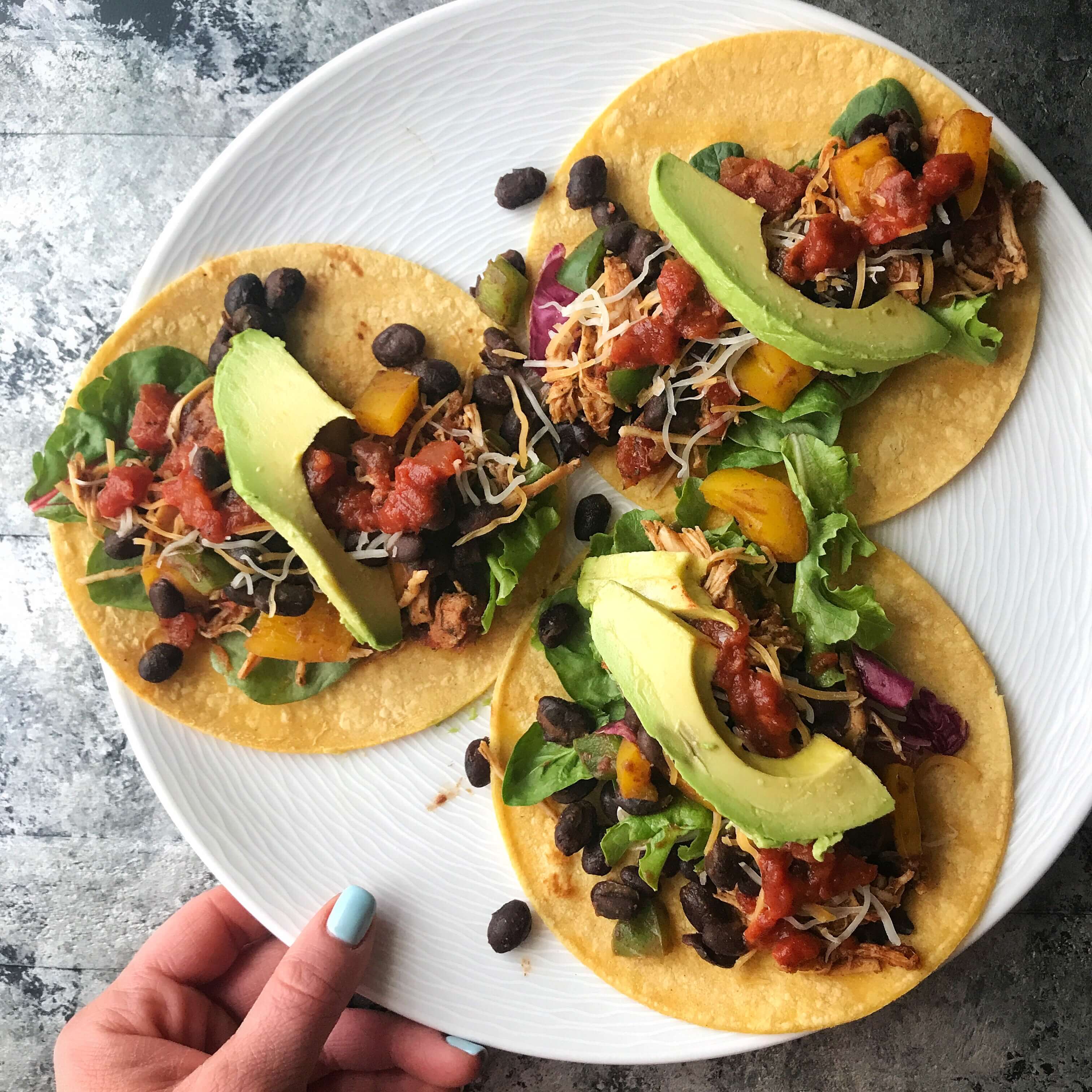 REFRIGERATOR STAPLES: PROTEINS
Hard-boiled eggs are one of my go-to's for work breakfast. They are an easy grab-and-go option I can pack the night before and eat all week long. I also love to cook up scrambled or fried eggs for breakfasts at home.
The meats we usually keep on hand are boneless, skinless chicken breasts, ground chicken or turkey. My husband is a hunter, so lately we've been incorporating more venison! But also some grass-fed meats from Seven Sons!
We also have a variety of fish (mostly salmon, shrimp or tilapia) but we typically buy those frozen.
Hummus + baby carrots make a great work snack. I also love dipping my roasted veggies, like Brussels sprouts or cauliflower, in hummus!
Almond butter is life & I eat it multiple times a day. So. Yummy.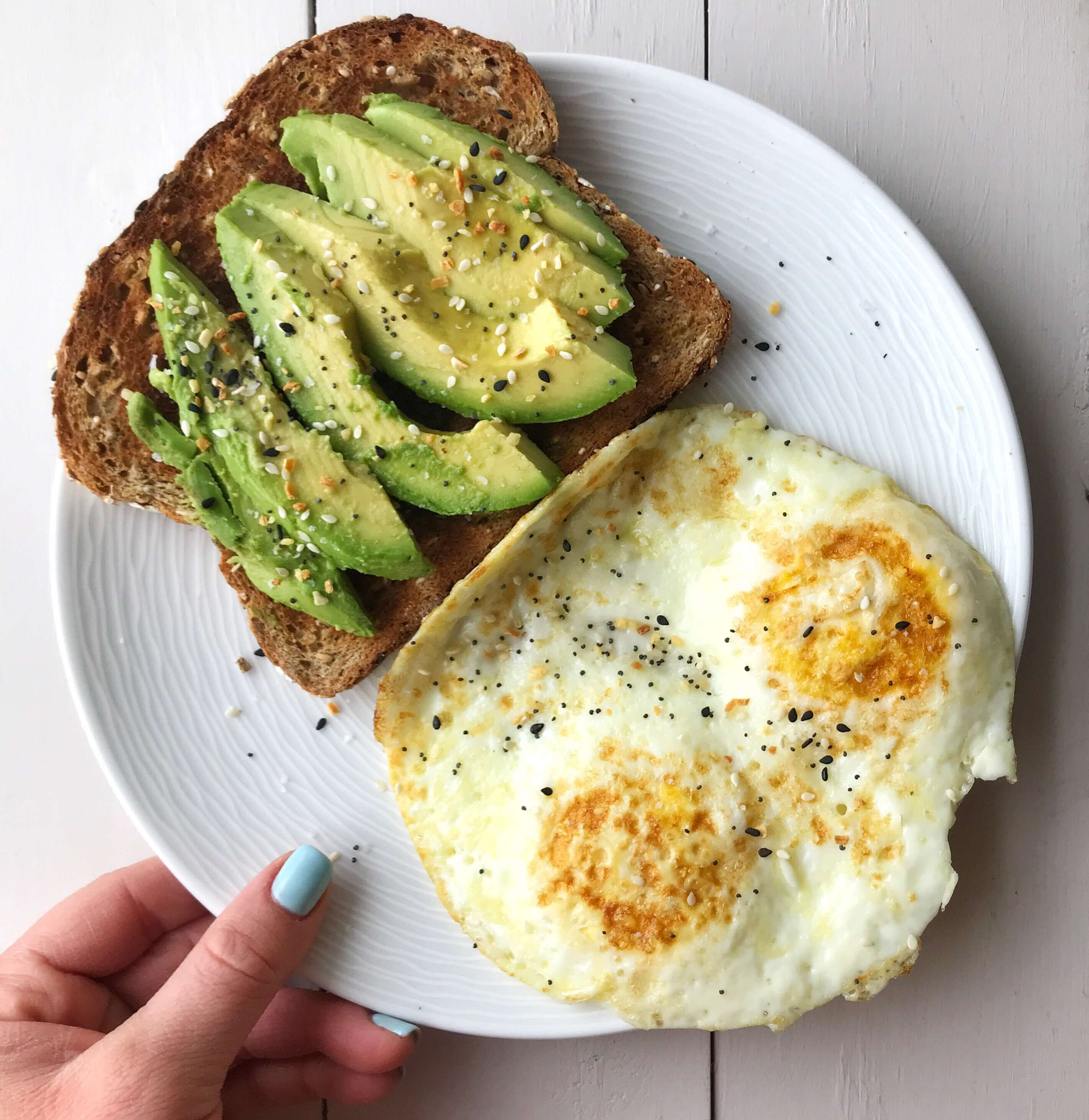 REFRIGERATOR STAPLES: DAIRY
Plain Greek yogurt is definitely a staple in our house. I throw it in smoothies, lasagna, enchiladas, and more! It's a great source of protein, and healthier alternative to sour cream & mayo in many recipes.
Cheese is a daily snack for both Ethan and I, whether it's string cheese or sliced cheese. Cabot Seriously Sharp Cheddar Cheese is my fav of all time!!! I love pairing it with mixed nuts or whole grain crackers.
I keep a variety of other shredded cheeses on hand, such as Mexican cheese, mozzarella, and feta cheese crumbles for salads.
We have been on a big whipped cream cheese kick for a while, and I don't see it changing anytime soon. It's amazing on whole grain toast along with my easy, homemade chia jam!! Highly recommend.
We always have half & half in the fridge for our coffee. I just add a few Tbsp of that + liquid stevia from Trader Joe's and I'm good to go! Click here to find the homemade cold brew maker we use. We just buy vanilla medium roast coffee from ALDI and put 1 cup of coffee in each batch. It is SO good and saves us so much money compared to going to Starbucks!!!!
refrigerator staples: treats
I love keeping a couple bars of 70% dark chocolate in the fridge to eat for an evening snack. Dipped in almond butter is THE BEST. I love the Moser Roth brand from ALDI. I also keep some other sweets in the freezer, like Daily Harvest Bites, ice cream, or Jonny Pops!
Sometimes we have No Bake Energy Bites, or another baked good, like Banana Bread or Flourless Banana Nut Blender Muffins, depending on what I've made for our breakfast that week! Since these don't have a bunch of sugar/oil in them, they don't last super long, so I try to freeze within the first few days! The reheat well in the microwave.
refrigerator staples: beverages
Bai Drinks are my faves — I love to drink them when I need more flavor than plain water. Ethan and I usually split one bottle since they are so big! Strawberry lemonade is definitely my favorite flavor.
I also have sparkling water like La Croix or ALDI brand on hand most of the time!
refrigerator staples: Miscellaneous/Condiments
I always use Coconut Aminos instead of soy sauce because they are significantly lower in sodium and taste almost identical! They are great in my Shrimp Cauliflower Fried Rice, as well as my Honey Garlic Baked Chicken
Rao's Homemade Roasted Garlic marinara sauce is the best pasta sauce I've tried. I highly recommend giving it a try — start with my Crockpot Lasagna with Chicken & Veggies! Otherwise, just try to look for pasta sauces without added sugars!
ALDI has an amazing selection of organic salsas; I really love their fire-roasted flavor!
We love Sir Kensington's sauces & salad dressings.
Other salad dressings I like: Wishbone Balsamic Vinaigrette, or Bolthouse Farms Greek yogurt-based dressings.
Ketchup. I. Love. Ketchup.
Chili garlic sauce for various recipes
Life Equals Balance Shots! These little shots provide 1/2 your day's servings of fruits & vegetables, which is perfect for days when life gets in the way and your diet may not be 100% on point. It happens to all of us! Most of all, they taste delicious! I especially love them cold. The foundation & immunity blends are my favorite. Use my code "wellnessforthewin" to save 50% on supplement subscriptions (which you can cancel at any time), plus free shipping.
Now you know which healthy foods dietitian keep in their fridges, including me! : ) I hope this will a helpful guide and will give you some good ideas of new and different items to grab on your next trip to the store.
I'd love to know — what are some of your refrigerator staples? Would it be helpful to do another post on some things I always keep in my freezer and/or pantry? Let me know by commenting below or messaging me on Instagram @wellnessforthewin!
As always, feel free to share the love by pinning this post on Pinterest! XO
Shanna