My Favorite Daily Harvest Products
If you follow me on Instagram, you know that I eat Daily Harvest meals & snacks all the time. I get a lot of questions about what Daily Harvest is and which items I would recommend, so I wanted to share more information about the company and which things I like best so you can easily refer back here! In this post I am sharing what I love about Daily Harvest, as well as my favorite Daily Harvest products!
Disclosure: I am a Daily Harvest affiliate and I do receive a small commission each time my coupon code is used to purchase their products. I am not being paid to write this post.
As always, I only share products that I actually use and love. Thank you for supporting my small biz! My discount code is WELLNESSFORTHEWIN and gets you up to $40 off your order!
What is Daily Harvest?
In case you haven't heard me talk about Daily Harvest, or haven't heard of them at all, I wanted to provide a brief description of what they are all about.
Daily Harvest is passionate about making it easier for people to eat more whole fruits and vegetables. (As a dietitian, I am too!) They do this by delivering their frozen, vegan, whole-food based products straight to your door! The slogan on their site says, "We take care of food so food can take care of you."
Some of the products Daily Harvest offers include:
Smoothies
Oat Bowls
Chia Bowls
Harvest Bowls
Soups
Lattes
Scoops (ice cream)
Bites (tastes like raw cookie dough!)
And they are always coming out with fun new products!
Click here to check out their site and the wide variety of products they offer.
What I Love about daily harvest
Daily Harvest has a ton of delicious options to choose from, but honestly, the convenience factor is HUGE for me. You can have a tasty, healthy meal ready to go in five minutes flat.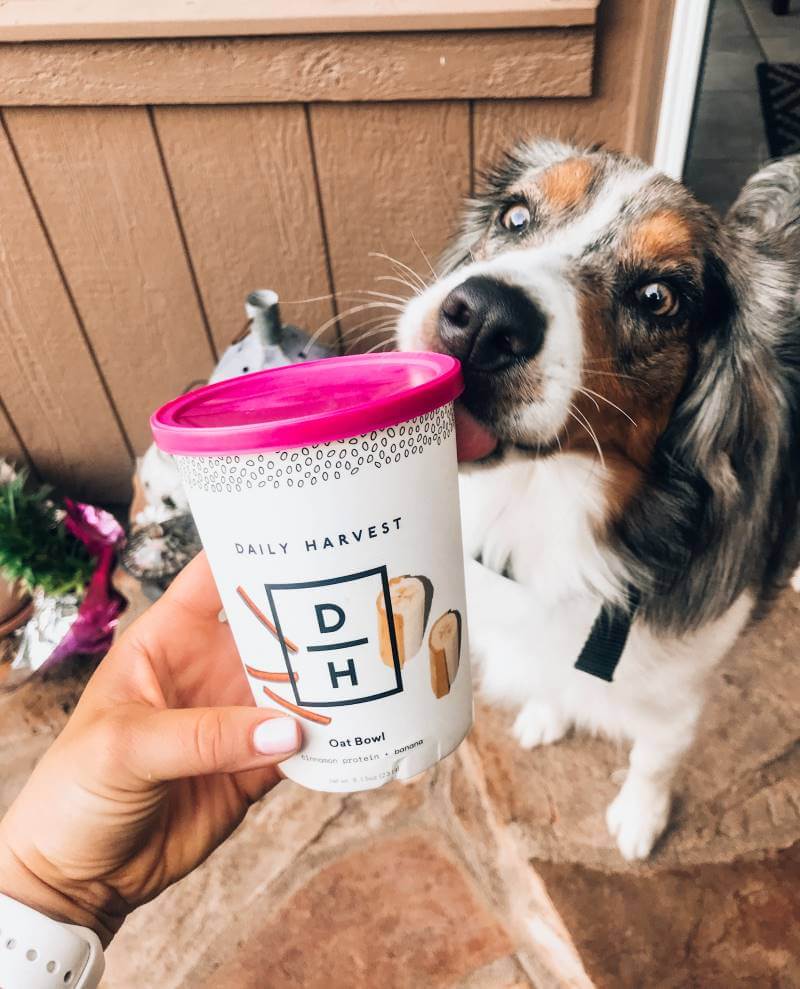 Let's face it. Some seasons of life are busy AF. In general, I do my best to meal plan, prep and cook fresh meals at home MOST of the time, but there are times when our schedules are crazy, or I'm tired or uninspired, and I just need a quick meal fast. This is especially true for lunches when we don't have leftovers!
Back when I was physically going into the office (as I know some of you still are!), I loved having some options I could quickly throw in my lunch box and heat up at work, like their Harvest Bowls. I still appreciate that, even working from home! Or, a smoothie that I can toss in the blender without having to gather and put away 20 different ingredients (this was especially nice when I had a newborn and was short on time!)
Their smoothies, harvest bowls and overnight oats (to name a few) make healthy eating easy – even when I'm super busy – and have truly become a staple for me.
Another thing that I love about Daily Harvest is the ingredients. They are committed to providing whole food ingredients, no unnecessary additives or preservatives like many frozen meals contain. You take off the lid and you can SEE all the things on the ingredients list – real, whole foods!
A lot of their products also contain unique ingredients that I would personally never think to buy myself, so it gets me outside of my little comfort zone and helps me get more variety in my diet!
are frozen fruits and vegetables good for you?
It's a common misconception that fresh fruits and vegetables are superior to frozen produce. As a dietitian, I hear this all the time.
But guess what? Frozen fruits & vegetables are loaded with nutrients! They are typically picked at peak ripeness, when they are most nutritious. This allows them to lock in all of the nutrients when they are frozen. Once harvested, vegetables (that are meant to be frozen) are usually washed, blanched, cut, frozen and packaged all within a few hours.
Fruit is typically not blanched, as this can affect the texture. They can be treated with ascorbic acid or added sugar to prevent spoiling. Typically, no chemicals are added to produce prior to freezing. Source: Healthline.
If you look at the ingredients list of fruits and vegetables in the frozen aisle, most of them only contain the one ingredient in the package, i.e. carrots, edamame, broccoli, cauliflower, etc. This is what you want to look for, and try to reduce frozen fruits & veggies with unnecessary added sugars and/or sodium.
Unfortunately, fresh produce slowly loses nutrients during transit time to the store and while it's sitting on the shelves. This is why purchasing local and in-season produce is a great choice when possible! There is less time for this nutrient loss to occur.
However, there are pros and cons to BOTH methods, and evidence suggests that the nutritional content of fresh and frozen produce is similar. For more info on this, click here.
BOTTOM LINE: ALL types of produce contribute important, beneficial nutrients to our diets (vitamins, minerals, antioxidants, FIBER, etc.), and we should simply try to eat MORE fruits and veggies, period. When it comes to fresh vs. frozen vs. canned, you should make your decision based on what is available to you, what fits into your budget, your personal needs/preferences, etc.
MY FAVORITE DAILY HARVEST CUPS
I will admit; I'm totally a creature of habit and go back to the same cups all the time. If it ain't broke, don't fix it – right? ; )
Below I am sharing my favorite Daily Harvest products ever!
My Favorite Smoothies:
I do add my own protein powder to most smoothies, and you can add the liquid of your choice. I typically use unsweetened almond milk.
Chocolate + Blueberry Smoothie
Mint + Cacao Smoothie
Cacao + Avocado Smoothie
Chocolate + Hazelnut Smoothie
Cold Brew + Almond
My Favorite Harvest Bowls & Oat Bowls:
Harvest Bowls you microwave for 3-5 minutes. Oat Bowls you add your liquid of choice – you can serve hot or cold. I make them like overnight oats and eat cold in the morning. (I typically add some nut butter and/or protein powder as well.)
Cauliflower Rice + Pesto Harvest Bowl
Sweet Potato + Wild Rice Hash Harvest Bowl
Broccoli + Cheeze Harvest Bowl
Quinoa + Chipotle Harvest Bowl
Cinnamon + Banana Oat Bowl
Apple + Cinnamon Oat Bowl
My Favorite Bites & Scoops:
The Bites taste like raw cookie dough. Such a delicious sweet snack! The Scoops are really exotic and fun ice cream flavors!
Banana + Cacao Bites
Cacao Nib + Vanilla Bites
Hazelnut + Chocolate Bites
Vanilla + Sticky, Sweet Salted Caramel Scoops
Rippled Berry Compote Scoops
Keep in mind there are still a TON of meals I haven't even tried, so don't be afraid to branch out from this list! I know which ingredients I do/do not like and tend to make my selections based on that. And again… I have a hard time not going back to my faves. : )
Full disclosure: there have been a few bowls/smoothies that I didn't love, but that's just personal preference. For example, I don't really like turmeric or mushrooms, so I typically avoid bowls that contain those things. I also don't love the texture of chia pudding, etc. But if you love those things, give them a try!!!
Lastly, some of these do not contain a ton of protein. In those cases I will serve it alongside a protein source and/or add protein, i.e. chicken breast, fried egg or veggie burger with Harvest Bowls, or protein powder to smoothies, etc.
Where Can I Buy daily harvest Products?
I know it's a bit of a bummer and a commitment, but Daily Harvest products are only available online by subscription. You can use my discount code WELLNESSFORTHEWIN to get up to $40 off your order. You can pause or adjust your subscription at any time.
HOW MUCH DOES DAILY HARVEST COST?
The cost varies depending on your selections. The more items you receive per month, the better the value is. It may seem expensive, but sometimes the convenience factor is worth it, especially if it helps you eat healthier, even when you're super busy! You can always skip a delivery, change your box size, and/or change your selections at any time, so it's very flexible.
Click here and enter your zip code to see the different plan options.
USE discount CODE "WELLNESSFORTHEWIN" TO GET MORE BANG FOR YOUR BUCK
Again, you can use my discount code "wellnessforthewin" to save on your first order so you can try several different options and find which ones you love!
Now you know why I love DH and my favorite Daily Harvest products! I hope this post was helpful. Please let me know if you have any other questions by commenting below or messaging me on Instagram @wellnessforthewin.
Also, PIN this post so you can refer back to it later, and help others out who are curious!
Thanks so much for reading!
Shanna