Who doesn't want discounts on their favorite wellness products?! As a social media influencer & blogger, I have the opportunity to work with a variety of brands that I love. Several of these brands have provided me with unique discount codes to share with my followers as a thank you for supporting me, as well as using their products!
I have listed each brand along with my code and the discount that it will provide you. Please know that I only work with companies that I love and respect, and that align with my mission for Wellness For The Win. Enjoy! : )
Disclosure: I do receive a small amount of commission from several of these brands when you use my code. Thank you again for supporting Wellness For The Win & helping me continue to do what I love!
You can shop my Amazon favorites, my Instagram feed & my LIKEtoKNOW.it page here.
LIFE EQUALS / BALANCE THE SUPERFOOD SHOT
I love working with Balance The Superfood Shot because a) they are headquartered in Kansas City, and b) they are so incredibly passionate about what they do. They genuinely want to help others improve their health through their products, and I love and use several of them on a daily basis! I take their probiotics, B complex supplements and we love all of the Balance The Superfood Shots, especially the Foundation and Immunity blends. Ethan also loves the Turmeric Blend!
Code: wellnessforthewin
Deal: 50% off all subscriptions + free shipping
Farm & Oven Snacks
I tried Farm & Oven's bakery bites for the first time this past year and immediately fell in love. They are SO delicious and provide 40% of your daily veggies! They make a perfect sweet treat while also providing good nutrition. I love eating them before a workout or as an afternoon snack to satisfy my sweet tooth! My favorites are the Zucchini Lemon Poppy Seed & Carrot Cinnamon!
Code: wellness15
Deal: 15% off your entire order
Health House Kansas City
Health House is the studio where I workout in KC & I absolutely LOVE it! I can't imagine doing anything else for my workouts. If you are looking to mix up your fitness routine and try something new, you definitely need to give it a shot!
DISCOUNT: Head to the Health House website, create an account, choose the "3 Class Pass" and enter code SHANNA at checkout to get 3 classes for $25 ($75 value; 2 FREE classes). Please shoot me a DM or email me at wellnessforthewin@gmail.com if you have any questions or issues!
Click here to read more about Health House & why Ethan and I love it so much.
MASSAGE HEIGHTS – LEAWOOD, KS
I don't know about you, but getting a deep tissue massage is one of my FAVORITE forms of self-care, and something that I don't do often enough! I recently got a massage at Massage Heights in Leawood, KS and had an amazing experience from start to finish. I definitely recommend checking them out! My massage therapist was Julie. If you (or someone you love) is in need of a massage too, be sure to visit Massage Heights in Leawood, KS and use my discount code for a free "add-on" to your service.
Code: ShannaH12
Deal: free add-on — options include: hot stone, reviving foot scrub, revitalizing face massage, aromatherapy
Note: ONLY applies at the Leawood, KS location

Gravity blankets
I recently got the Gravity weighted cooling blanket (15 lbs) and LOVE it! Ethan and I have been sharing it while we sleep at night and it is amazing. Weighted blankets have been shown to help with sleep, stress and anxiety. Check out their website to see all that they have to offer! PS: they recommend getting close to 10% of your body weight – the options are 15 lbs, 20 lbs and 25 lbs!
Code: SHANNA15
Deal: 15% off
CHESTER travels luggage
Chester recently sent me a few of their carry-on suitcases to try, and so far, I'm impressed! The quality is awesome and these are made to last – they even offer a 10-year warranty! Good luggage is something worth investing in if you travel frequently. I love all of the different pockets and compartments in these, plus the fact that they have fun colors! They also have multi-directional wheels & a combination lock to keep your belongings safe, and more awesome features. They are available on the Chester website, as well as Amazon (linked on my Amazon page under "travel").
Code: WELLNESS10
Deal: 10% off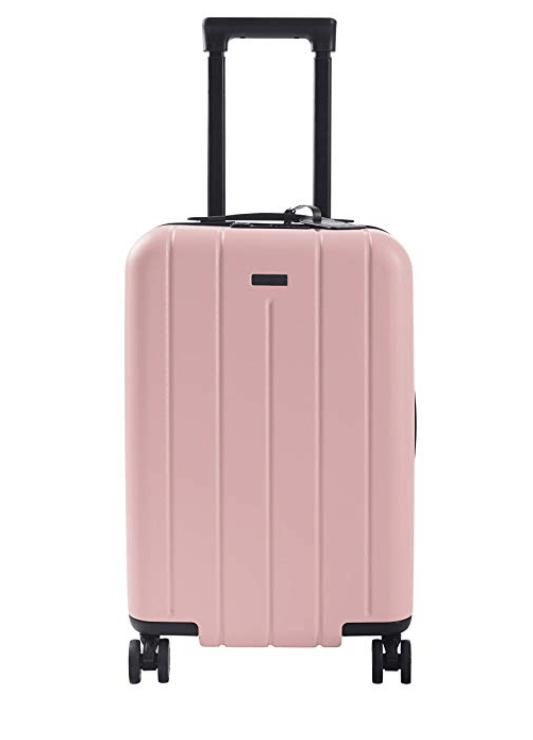 Smile Brilliant
I used Smile Brilliant whitening trays and had awesome results, and I continue to use their electronic toothbrush on a daily basis! I love that they provide a "sensitive" option for the whitening kits, because I have very sensitive teeth. Their toothbrush has a ton of settings and holds a charge for SO long. It is only $60 with my discount code, which is a STEAL for an electronic toothbrush. Click here to read more about my experience with Smile Brilliant.
Whitening Kit Code: FORTHEWIN15
Deal: 15% OFF
Electronic Toothbrush Code: FORTHEWIN50
Deal: 50% off making it $60
Daily Harvest
Daily Harvest offers a variety of healthy, frozen products ranging from overnight oats, to smoothies, to harvest bowls, to lattes and more! I love their products and they are so convenient to have on hand when you want something healthy and quick!
Code: wellnessforthewin
Deal: 3 free cups with your first order

Further Food Collagen
Collagen is a type of protein that is naturally found in our skin and other connective tissues, and we start to lose it as we age. Some people like to supplement with it to strengthen their hair, skin and nails. What I love about collagen peptides is that they are flavorless, odorless and dissolve easily, so they can be added to anything. I like to add them to oats, smoothies or baked goods — things that wouldn't normally have much protein. A lot of people love adding them to their morning coffee! They do not have any added sugars or fillers; it is just straight protein! Further Food has a grass-fed, pasture-raised bovine option, as well as a marine collagen option.
Code: Wellnessforthewin
Deal: 10% off

Sudio Headphones
It can be super expensive to get good quality headphones, but these Sudio headphones are very reasonably priced! I have my eye on their new Niva ear buds – I have heard great things! I have their Vasa Bla White Rose Gold headphones with the wire behind your head, and really like those. They come with a charger too. The new ear buds are less than $100 with my code.
Code: FORTHEWIN
Deal: 15% off
Balance by Bistro MD
Balance by Bistro MD has lots of healthy, prepared meals created by a team of chefs & Registered Dietitians, but what I love most are their PROTEIN BARS. They are made with grass-fed whey and they are some of the best tasting protein bars I've had. I love all of the flavors! Highly recommend trying them out. They also have some jerky sticks for snacks that my family loves.
Code: wellnessforthewin
50% off of orders $99 and up
Knead Love Bakeshop
Knead Love Bakeshop makes homemade dog treats that you can bake yourself at home for your pups! I made them for my dogs and they were OBSESSED! They are made with natural ingredients and 100% puppy-approved. Plus, it's a fun little activity you can do with your kids or solo if you enjoy baking!
Code: WELLNESS15
Deal: 15% off your purchase
Green Chef
Green Chef is a meal delivery service that has an ever-changing menu, tons of delicious recipes, and several different meal plans to choose from. Each recipe comes with step-by-step instructions and pre-portioned ingredients, making the cooking process so easy and convenient. I highly recommend this to anyone with a busy schedule or just looking for some new ideas and inspiration!
Code: 50OFFWELLNESS
Deal: $50 off your first box!
I will continue to update this page as I partner with new brands and have new discount codes to share with you! Stay tuned. : )
Shanna