Outdoor Patio Inspiration
As most of you know, Ethan and I built our house and moved in at the end of February 2020. (Right before COVID hit, praise the Lord, haha!) Since then, we have done a variety of projects to make the house feel like our home. And when I say we, I mean Ethan. 😉 We recently added on to our patio and got new furniture, decor and more, and it is our absolute FAVORITE new space. We are so excited to spend many summer nights enjoying our new, outdoor oasis! If you are looking for some outdoor patio inspiration, look no further!
All of the details on our patio can be found within this post with direct links. I do earn a small commission if you purchase items using my links. Thank you for supporting my small biz in this way!
kansas city company we used for patio and landscaping
Before we started this project, we got quotes from a few different companies so we could go with the one we felt most comfortable with as far as cost and quality of work. We landed on the following companies.
Country Club Lawn is the company who did the concrete for our patio as well as the stone wall around the patio. They work with Statement Lawncare, who did all of the landscaping around the new patio addition as well as under our deck.
You can find them both on Instagram at @country_club_lawn and @statementlawncare. This is not sponsored by them whatsoever.
We are very happy with how everything turned out!
OUTDOOR patio inspiration: design
We started out with just one plain concrete square that is around 10×12. We decided to get another slab identical to that, but also add in a half circle to round out the addition and we are SO glad we added that piece. It feels much more spacious that way and gives it a little bit of fun dimension.
We found some pictures on the Country Club Lawn Instagram account for inspiration for the wall we wanted, and it turned out awesome. They used dark gray bricks on the bottom, and off-white stones on top and we LOVE the look of it. It also doubles as an extra place for people to sit, which is perfect!
In addition, we had them add some lights to the wall that are underneath the top stones, and it looks so pretty at night. This obviously was an extra cost, but we are really happy we added this on! Just gives it a little something extra! We have them on a timer to turn on at 7 PM.
We did think about doing some pretty flagstone for a patio, but since our original concrete square was still so new and in great condition, we decided to stick with that since it was much more affordable, and we could still make it pretty with our furniture and decor. We are happy with this decision!
outdoor patio inspiration: furniture and decor
Patio Furniture Set:
Our patio furniture set with couch and 2 chairs and table: LINKED HERE
We obviously aren't using the table that comes with the set because we have our fire pit there, but the table is super nice! Click the link to check it out.
Fire Pit:
Patio Storage Bin:
This is great to have for storing extra pillows and/or patio furniture covers when it's nice outside and they are not on the furniture.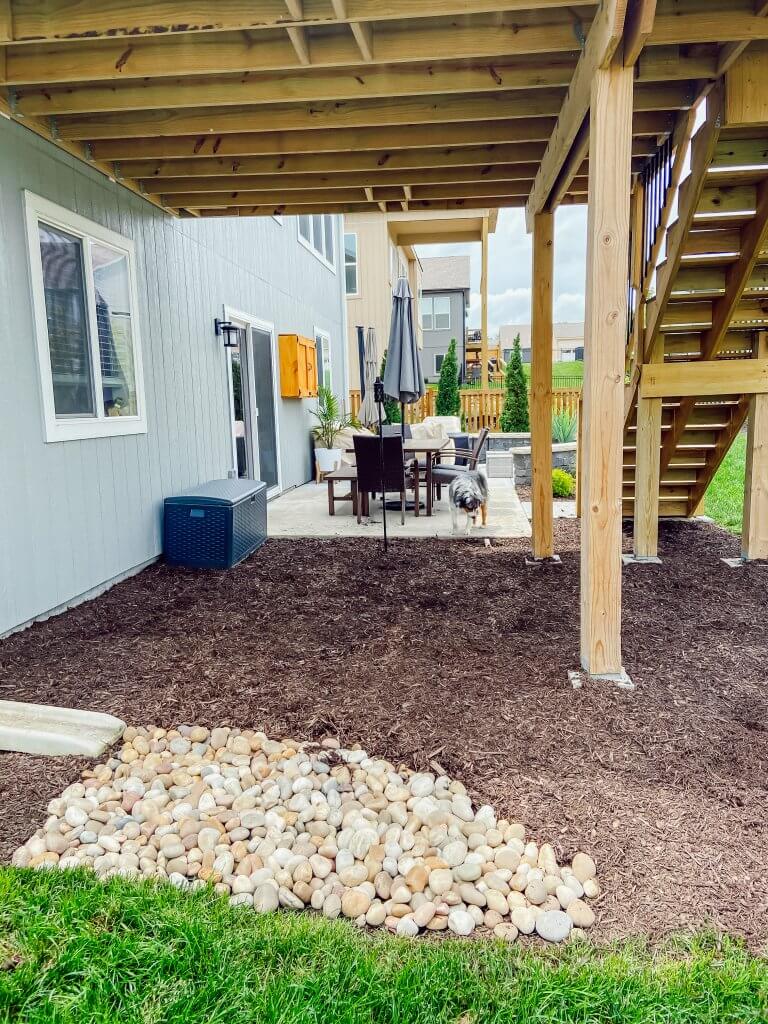 Outdoor Area Rug:
AREA RUG LINKED HERE – size 5×8
Outdoor Dining Set:
We purchased this dining set last year. We were not in love with it on our deck because it took up too much room up there and we wished we got a round one instead. However, it works great now that we moved it down to the patio.
Our dining set is no longer available but I'm linking something similar below.
*SIMILAR* DINING SET LINKED HERE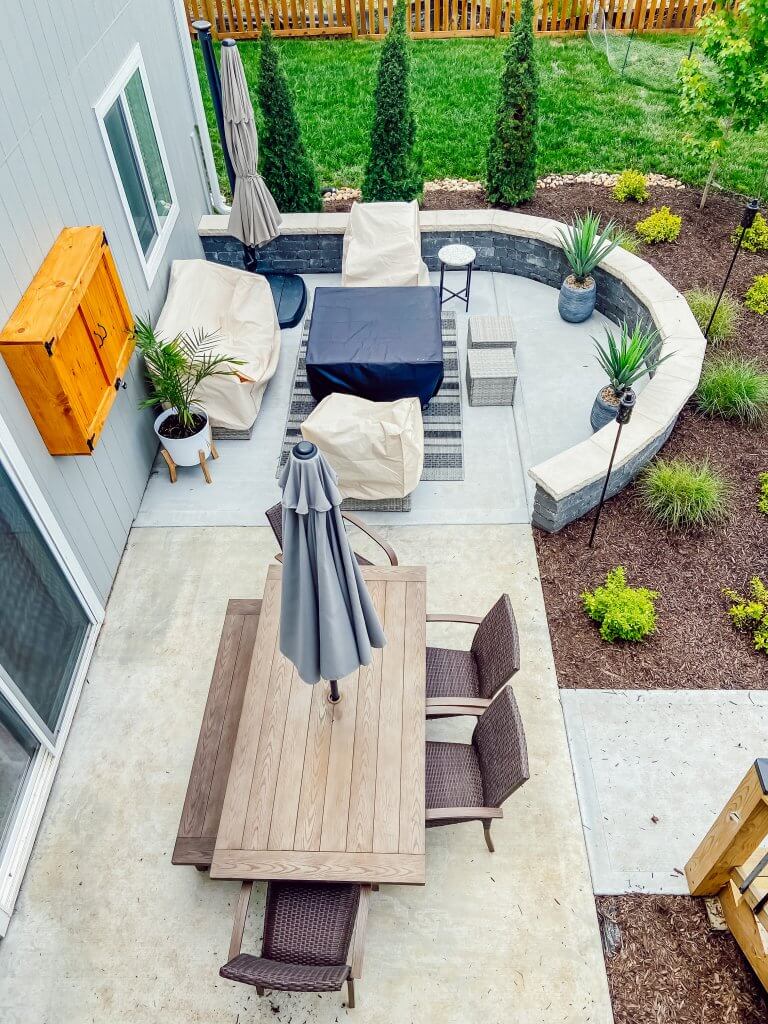 Umbrella for Outdoor Dining Set:
Patio Umbrella With Lights:
Our umbrella came from Lowe's and is linked here: CLICK HERE — it has fun lights that turn on inside and it also tilts both ways to block the sun as needed
Here is another basically identical umbrella from Home Depot: CLICK HERE
Tiki Torches:
Citronella Candles:
FUN SET OF CITRONELLA CANDLES LINKED HERE

Patio Furniture Covers:
We LOVE these. They are way easier to put on than other options because they don't have elastic at the bottom. They are loose so you can easily throw them over the furniture, and then you can cinch them tight with a string on the bottom. Definitely recommend!
Patio Party Lights:
Deck Conversation Set with Table and 4 Chairs:
CONVERSATION SET LINKED HERE — not as bright of blue as they appear in this pic!
TV Cabinet and TV Cover/Mount:
Ethan actually built this TV cabinet and stained it himself. You can find similar ones online, but they are pretty dang pricy! He was able to build it himself for around $100. If you are handy or have a handyman in your life, definitely recommend going this route! I think he just found a few different tutorials on YouTube.
Our TV is not waterproof, so we got this cover to go over it for when it rains.
The mount for the TV is linked below:
Outdoor Rocking Chair Set:
We actually have these on our front porch, but thought I'd include them as well!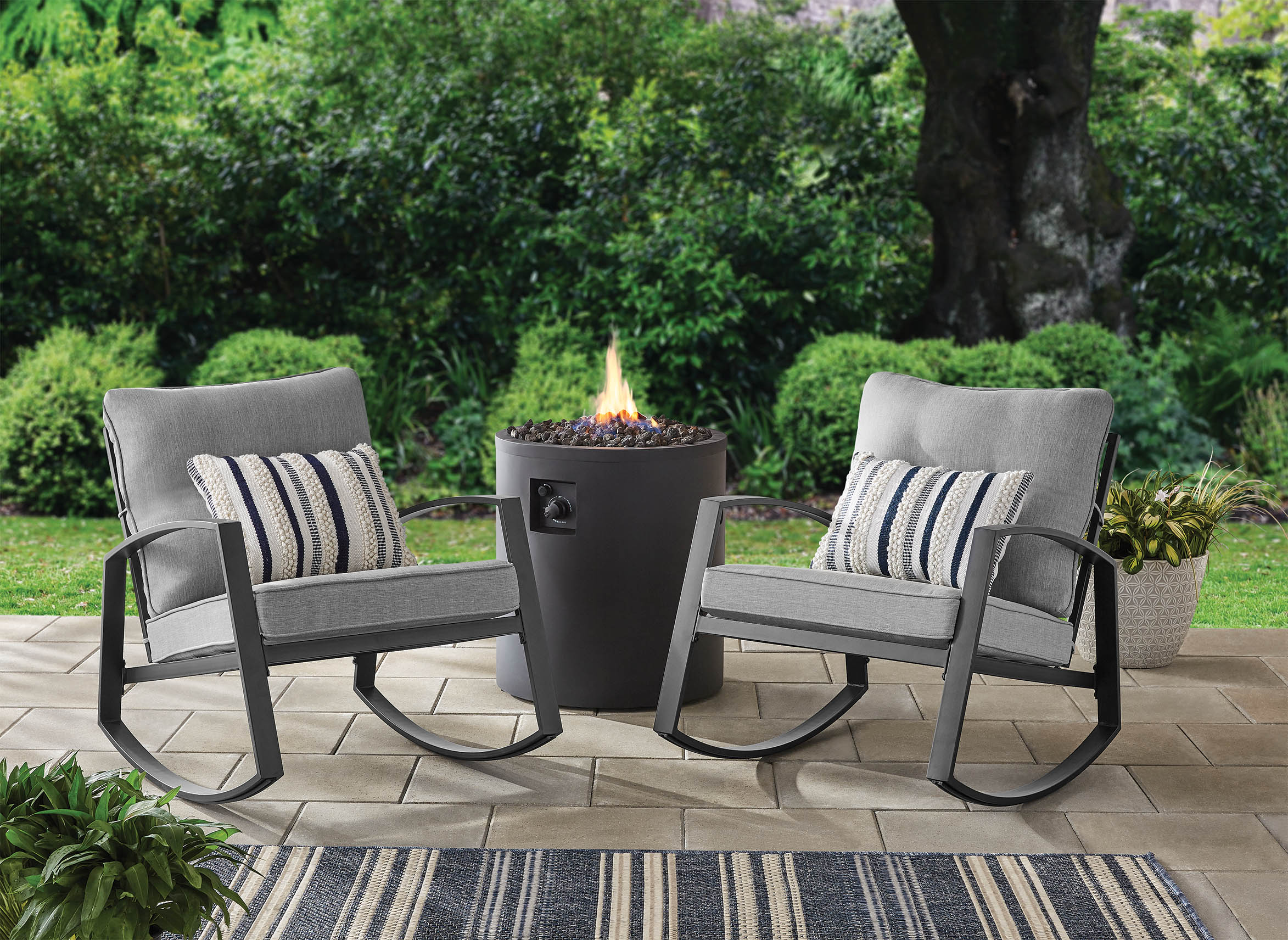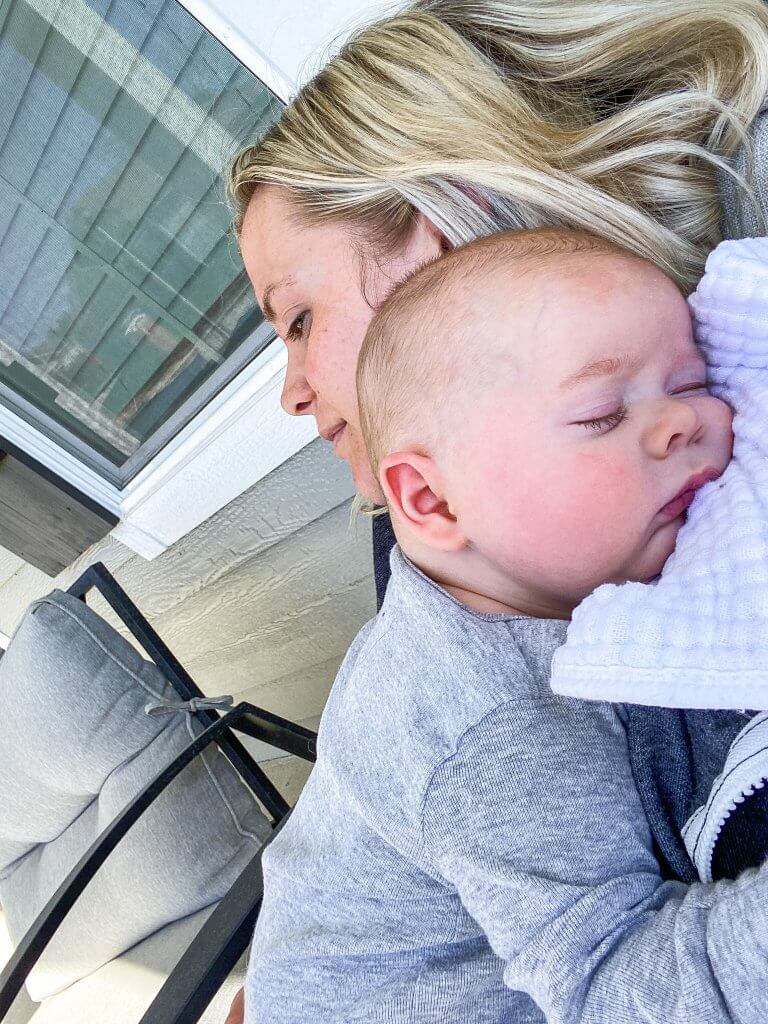 Other Patio Decor:
We got the two fake snake plants from At Home, as well as some of the pillows on the couches. They have a ton of great outdoor decor! Highly recommend.
outdoor patio inspiration: landscaping
For landscaping, Ethan gave them some creative freedom, but we did know that we wanted some tall trees on one side of the patio wall for some privacy. Otherwise we mostly did some small plants and grasses that are decorative and look nice!
The tall trees are Junipers.
We also decided to do mulch all around the landscaping and in hindsight, we regret it. We have two larger dogs and they trail a ton of the mulch back into the house. However, this was a much more affordable option than doing rocks in that huge area. We will probably replace the mulch with rock next year. That is just one thing to consider if you also have dogs, but of course, just a cost thing to think about as well!
Ethan also put a soaker hose on top of the tarp and underneath the mulch for easier watering of all the plants at once.
how to build a privacy wall
The latest and final touch to the patio is this wooden privacy wall that Ethan built himself. I've already gotten a lot of questions on it, and in true Ethan fashion, he says he "just did it" and didn't really follow anything super specific, lol. Of course.
With that said, there are tons of simple tutorial videos for DIY privacy walls on YouTube. I'm linking a similar one here, and while you're there, you can check out similar videos! We LOVE how it turned out and it's definitely nice to have a little more privacy. We will probably hang some fun lights on it, too.
He still needs to chop off the top of the tall posts and he is going to top them with some nice black aluminum caps. I'll add those pics once it's complete! He got all of the wood for this privacy wall from Sutherland's in KC, and he said he needs to wait a month or two to stain it. Once he does, it will match the TV cabinet and fence.
I hope this post was helpful and gave you some outdoor patio inspiration so you can create your own wonderful outdoor oasis as well! Please let me know if you have any questions or if I missed anything!
Thanks for reading,
Shanna