AdventHealth Shawnee Mission Birth Center
I recently got a tour of the AdventHealth Shawnee Mission Birth Center, where I will be delivering our baby boy in January, and I'm sharing all of the details here! Prior to the tour, I posted a question box on my Instagram stories to collect some questions from all of you, so I made sure to get those addressed and more!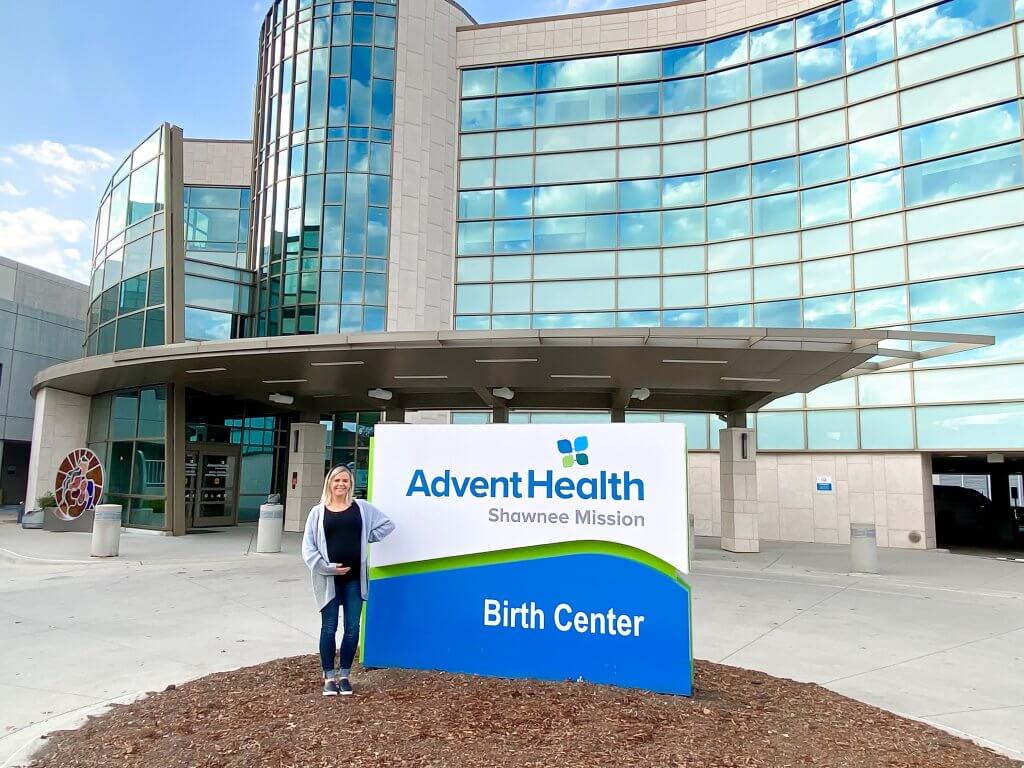 I was so impressed by everything I saw on this tour, which just further validated my decision to receive my prenatal care and deliver at AdventHealth Shawnee Mission.
In case you missed my previous blog with Tips For Choosing An OB/GYN, click here.
Disclosure: this post is sponsored by AdventHealth Shawnee Mission and I am being compensated monetarily; however, all opinions expressed are my own. I have had an incredible experience with AdventHealth throughout my pregnancy journey and I'm so happy to be partnering with them during this special time.
Q. what makes it a "birth center"?
The AdventHealth Shawnee Mission Birth Center has services specific to everything a mother and baby might need. If you are delivering at AdventHealth and you are in labor, you go straight to the Birth Center and they will take care of you.
However, please note that if you are less than 20 weeks pregnant, you will go to the Main ER for any emergencies. Anyone who is 20+ weeks into their pregnancy will go to the Birth Center.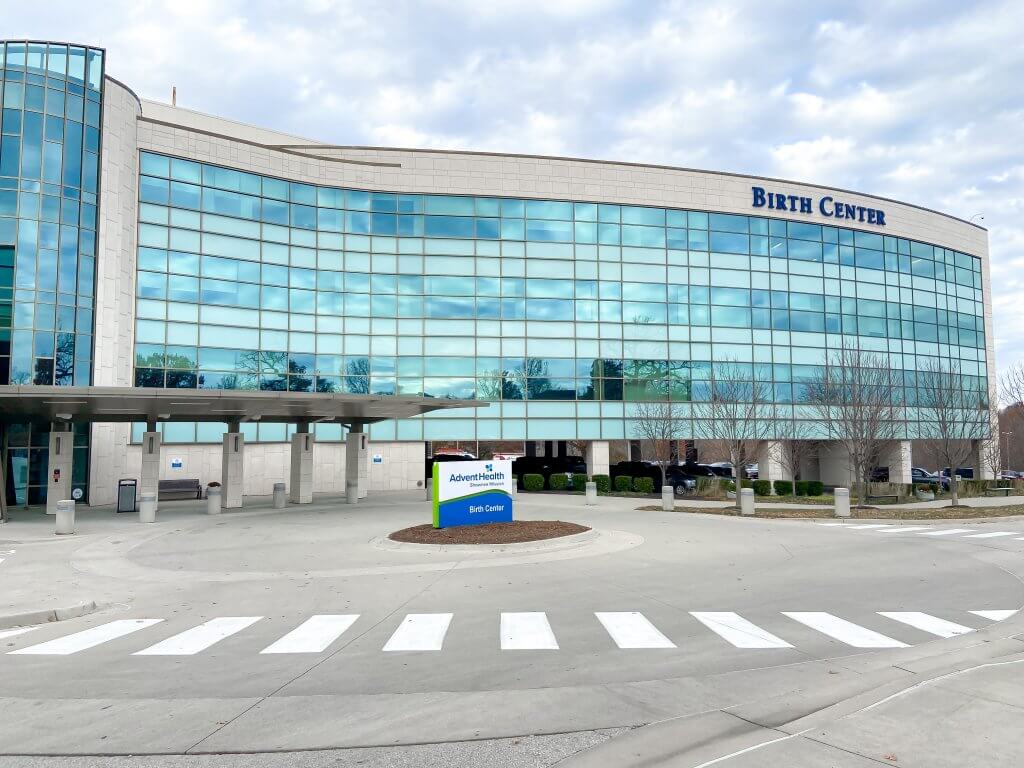 Services offered at the Birth Center include:
Labor and delivery
Lactation consultants during your stay and for outpatient appointments
Social workers
Chaplain
Maternal fetal specialists
24/7 anesthesia
Level III NICU
Postpartum support even after leaving the hospital
Mommy & Me boutique where you can purchase gifts and/or get fitted for nursing bras, etc.
Pumping equipment rental
In-house weighing station for baby
Different Areas of the adventhealth shawnee mission birth center
When you first arrive at the Birth Center, you will get checked in and sign a consent form. Then you will be sent to a Triage Room where they can assess you, see how far along you are, and whether or not you are ready to be admitted for labor/delivery.
They have 8 triage rooms where a mother can stay overnight if monitoring is necessary (for example, if mother is vomiting and needs to receive IV fluids to stay hydrated; or mom fell and baby needs to be monitored, etc.)
If and when you get admitted, you will be sent to one of their 26 labor and delivery rooms.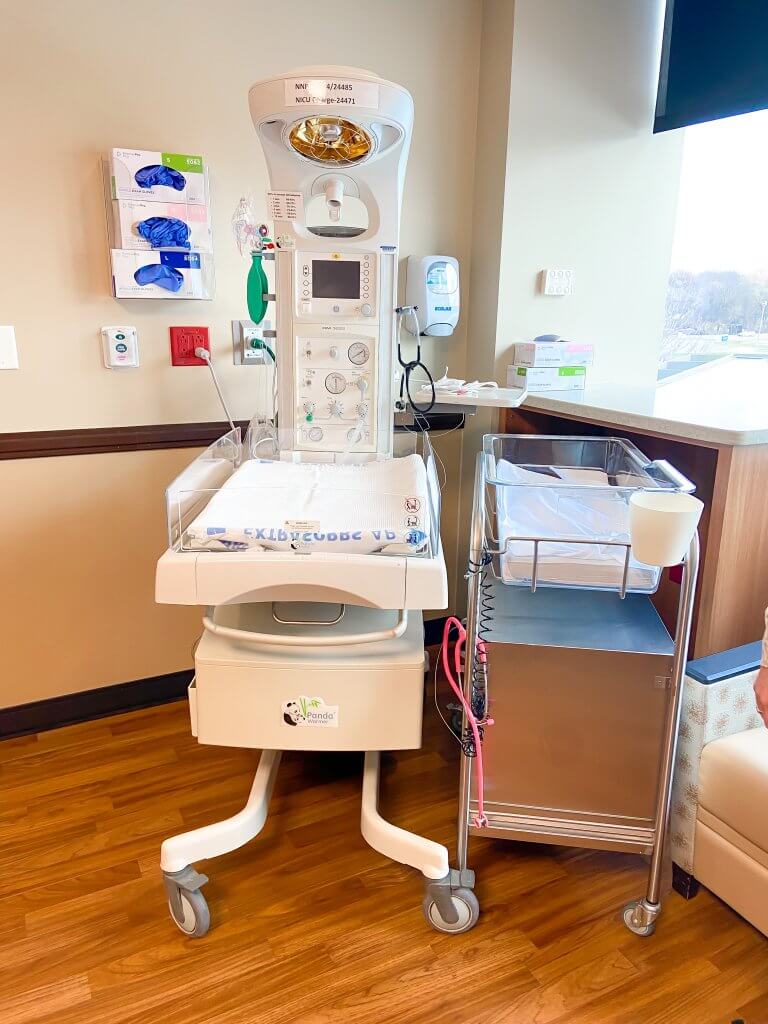 If you have a planned C-section or end up needing a C-section, there are three Operating Rooms (OR) close by as well.
After you have delivered your baby, everyone is stable, and you have had at least an hour of skin-to-skin time, you will be transferred to a mother/baby room for the remainder of your stay. There are two mother/baby units in the Birth Center.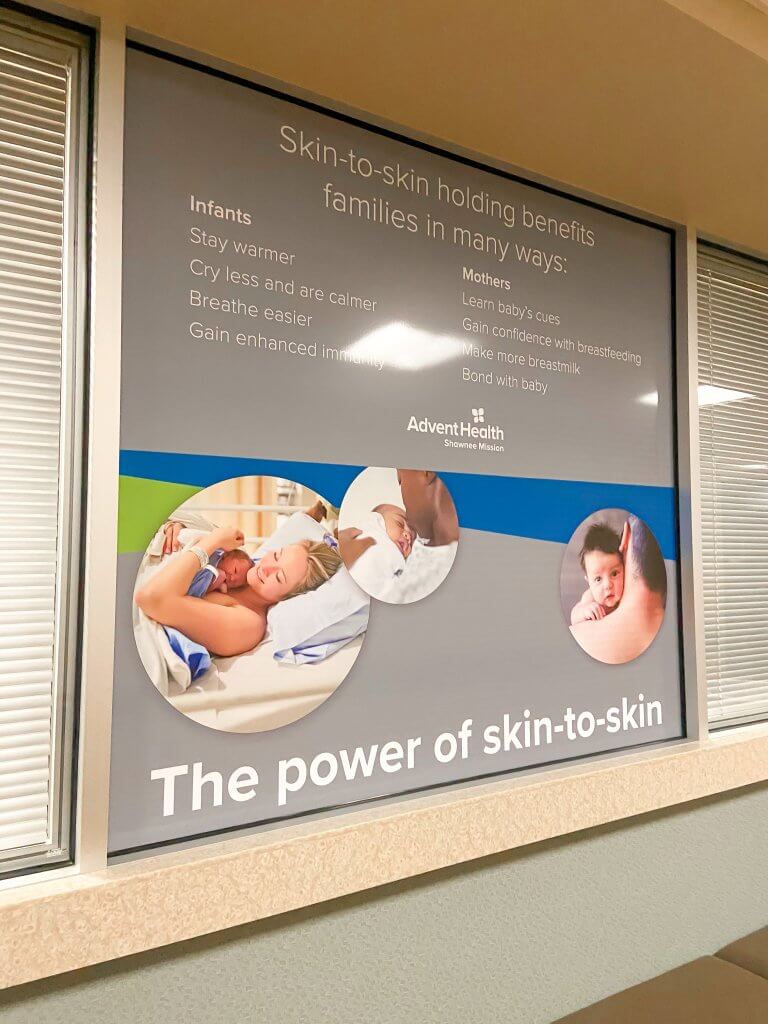 The AdventHealth Shawnee Mission Birth Center also has a NICU if your baby needs a higher level of care after birth. More information on the NICU is included later in this post.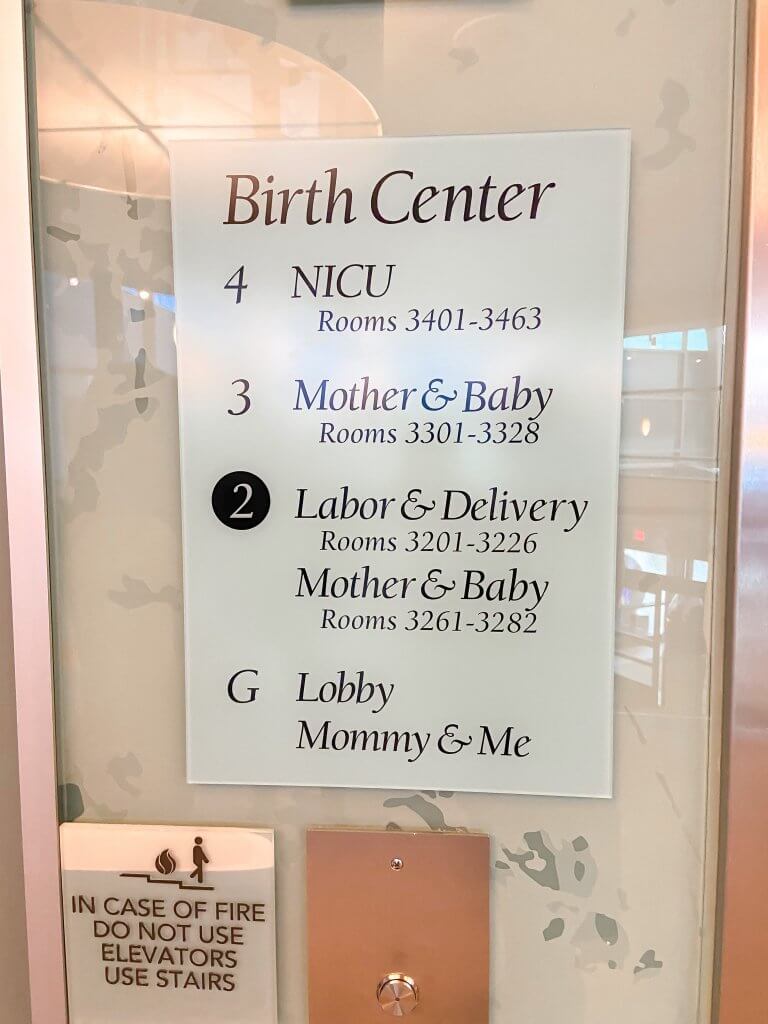 Again, when you are delivering here, you do not have to enter through an ER or hospital main entrance; you can go straight to the Birth Center.
how long do you typically stay at the Birth center?
If you had a vaginal delivery, you will stay for two midnights from the time of delivery. If you had a C-section, you will stay for three midnights from the time of delivery.
does the birth center have rooms with tubs for labor?
The Birth Center has six labor and delivery rooms with bathtubs. If you know you will want one for labor, be sure to let your maternity navigator as well as your OB/GYN know ahead of time. These are based on availability when you come in for labor.
can you send baby to a nursery?
Baby can either stay in the room with the mother or go to the nursery during your stay. They do encourage "rooming in", or keeping baby in the room with you, at AdventHealth Shawnee Mission. You are welcome to do whatever you feel comfortable with.
They encourage rooming in at AdventHealth because it helps you learn your baby's sounds and hunger cues early on.
does adventhealth have lactation consultants?
Yes, they have International Board Certified Lactation Consultants available seven days a week to answer any questions related to breastfeeding.
When you are in the Birth Center for your delivery, a lactation consultant will come visit after you have been transferred to the mother/baby unit to assist with breastfeeding, typically the day after delivery. Babies are typically more wakeful and excited to breastfeed the next day, which makes it more likely that the lactation consultant will be able to see baby awake and nursing, which is always more helpful.
All of the Birth Center nurses are also trained in breastfeeding, so they can help you get started when you are still in the labor and delivery room!
You also have the opportunity to utilize outpatient lactation consultant visits within the first year after delivery if you have any questions or concerns throughout your breastfeeding journey. These appointments take place on the first floor of the Birth Center, right next to the Mommy & Me Boutique.
If you have breastfeeding questions or concerns, you can call the Breastfeeding Warmline at 913-632-4330. Lactation consultants return calls seven days a week.
In addition, I will be doing an Instagram Live with one of AdventHealth Shawnee Mission's lactation consultants in early December, so stay tuned (IG: @wellnessforthewin) for more information on that! If you are currently expecting or a new mom, this will be a great opportunity to learn more about how to be most successful with breastfeeding.
I did an IG Live with one of AdventHealth's OB/GYNs a few months ago answering questions about pregnancy and trying to conceive. It was full of great Q&A, so be sure to check that out on my IGTV at @wellnessforthewin if you missed it!
what level NICU does the AdventHealth Shawnee Mission birth center have?
AdventHealth Shawnee Mission Birth Center has a Level III NICU. They will care for babies who are 27 weeks gestational age and older.
AdventHealth has a contract with Children's Mercy Hospital and their Neonatologists and Nurse Practitioners are from Children's Mercy. The Nurse Practitioners are onsite at the Birth Center 24/7.
what is the c-section rate?
The C-section rate at AdventHealth Shawnee Mission is 14-22%.
If you have questions about how to prepare for a C-section, you can get a pamphlet about this from your maternity navigator, and/or talk to your OB/GYN.
do they have a public cord bank to donate baby's cord to after birth?
AdventHealth Shawnee Mission does not currently donate to a public cord bank after birth; however, if you have chosen to do private cord blood banking, they can draw the blood for you. Let your maternity navigator know ahead of time if that is something you are interested in doing.
are you able to use a doula or midwife during labor & delivery?
Yes, you are welcome to have a doula or midwife as a support person throughout labor. This will count as one of your two support people. Your OB/GYN will be the one to deliver your baby.
AdventHealth Shawnee Mission does have midwives; they work under an OB/GYN.
If a support person, or doula, is unable to be present for delivery, they can be on speakerphone. To protect the privacy of everyone in the delivery room, they don't allow video chat/FaceTime during delivery.
does adventhealth have fresh food for your stay?
AdventHealth provides fresh and healthy meals through their Harvest Kitchen. Mom can order her food through the menu provided. Families can order food from outside if they would like, and there are mini fridges in all of the rooms.
They have snacks available as well, but you are welcome (and encouraged) to bring some of your favorite snacks for your stay, too. Two meal vouchers can be used for dads and/or your support person throughout the stay.
adventhealth + covid precautions
Please note that the following precautions are subject to change, as the status of COVID-19 is constantly evolving. What I am sharing here is the most up-to-date information and actions they are taking at the Birth Center to keep everyone safe.
Visitor policy: currently, the mother gets one support person in addition to their spouse/partner.
Testing: moms going into labor will get a COVID test upon check-in, but not the husband/support person. They will be screened for symptoms. Moms with a planned C-section will be tested ahead of time to ensure the test results are known at the time of the procedure.
Birth Center protocols: everyone who enters the Birth Center will be screened (temperature checked, mask required, sanitized, symptom screen).
Support people are currently allowed to leave and come back to the Birth Center if needed.
Mothers are asked to wear masks to a point that is tolerable during labor/delivery.
does adventhealth shawnee mission offer any classes?
Yes! They have a ton of different classes that they offer. Ethan and I have been doing the 5-week Childbirth class and have really enjoyed it. We have learned A LOT and already feel a lot more prepared after taking it. It's nice to know what to expect and how to best prepare for labor and delivery. Ethan especially enjoyed it, since this is all really new to him and he has not been able to attend my appointments and ask questions due to COVID.
Some of the classes they offer include:
Babies Don't Bark (getting dogs prepared for baby to come home)
Breastfeeding Classes
Childbirth (weekend, 5-week or online)
Childbirth Refresher and VBAC
Grandparents Class
Kids and K9s
Newborn Care
Siblings: Ages 3-6
CPR
Prenatal Fitness
Massage Therapy
Support groups: breastfeeding, perinatal bereavement, pregnancy after a loss, postpartum emotional support
For more information or to register for classes, visit AdventHealthKC.com/events or call AdventHealth NurseLine at 913-676-7777.
what does Adventhealth provide vs. what should we bring from home?
You will be provided with a booklet with specific information on what you need to pack for your hospital stay at your maternity navigator appointment.
AdventHealth Shawnee Mission provides quite a few supplies for you, such as disposable underwear, sanitary pads, peri bottle, as well as newborn care supplies, including a bulb syringe, thermometer, wipes, diapers, soap and circumcision supplies for boys, etc.
You will want to make sure to have a change of clothes for mom, partner and baby, blankets, pillows (if you would prefer your own), snacks, $4 cash for birth certificate, and a car seat to bring baby home in, just to name a few items. I will try to share a thorough blog post on what I am packing for the hospital and/or things I packed/used after baby arrives.
maternity navigator appointments and birth center tours
If you are early in your pregnancy and undecided on where to deliver, they do "hospital shopping tours" at AdventHealth Shawnee Mission.
If you have made the decision to deliver at AdventHealth Birth Center, at around 32 weeks, you can contact the maternity navigator's office to schedule a one-hour visit that will prepare you for your admission and hospital stay. The maternity navigators are RNs with extensive experience in maternal and newborn care.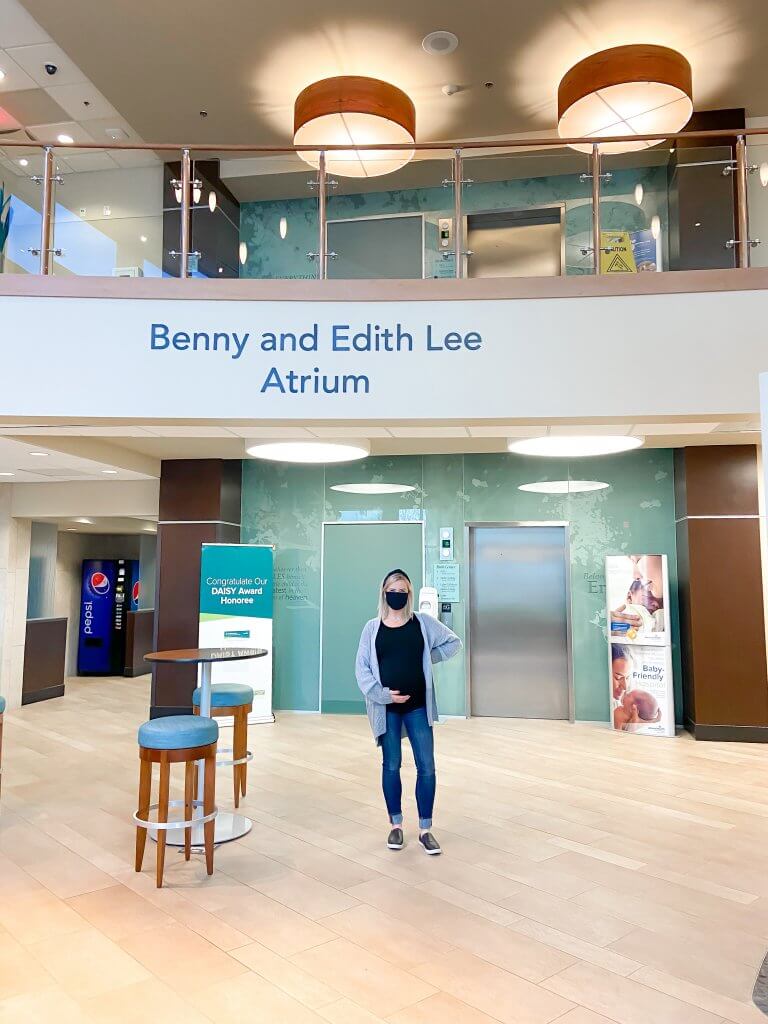 During your maternity navigator visit, you will review insurance information, health history, as well as your plans, wishes and concerns for your delivery. You will also bring a signed copy of your birth plan if you choose to complete one. You can also get a tour at this time if you are interested.
To take a virtual tour, register for delivery, download a birth plan or register for classes (childbirth, newborn and/or breastfeeding, etc.), visit AdventHealthKC.com/BirthCenter and check out the "Next Steps in Planning Your Delivery" information. You can also call 913-632-4233 to schedule your maternity navigator visit.
What sets Adventhealth apart from other places in Kansas City?
The number one thing that sets AdventHealth Shawnee Mission apart from other places is the exceptional patient care. Throughout my pregnancy journey and everything I have shared related to AdventHealth, I have heard nothing but incredibly positive feedback regarding the Birth Center, labor/delivery experience, all of the nurses on staff, and I have personally had a wonderful experience at my OB/GYN practice as well.
Again, they always have lactation consultants, laborists, anesthesia available and they have a ton of experience delivering babies! They also have their own OR for C-sections at the Birth Center. They keep the whole family in mind using advanced technologies and personalized labor and delivery options. AdventHealth is passionate about honoring your unique wishes as much as possible during your labor and delivery experience.
They also have received Magnet Recognition, which you can read more about here. Essentially this distinguishes organizations that meet rigorous standards for nursing excellence.
I am SO looking forward to delivering at AdventHealth based on all of the wonderful things I have heard from my sister-in-law, cousin, some of my best friends and many of you!
I hope you enjoyed this post all about my tour of the AdventHealth Shawnee Mission Birth Center, along with all of your great questions! If I missed anything, please let me know and I will get it answered for you as soon as I can.
Thank you so much for reading!
Shanna