Today on the blog I am sharing alllll the Baby Boy Nursery Decor details for Rhett's little man cave! We are so happy with how this space turned out and I wanted to share all the information in one place for you to easily access. I hope you will find this helpful!
FYI: it is not 100% finished yet, but I wanted to go ahead and share the details that I have for everything up until now.
If you want to see the progress of the nursery from the very beginning, check out the "nursery" highlight on my IG profile! 🙂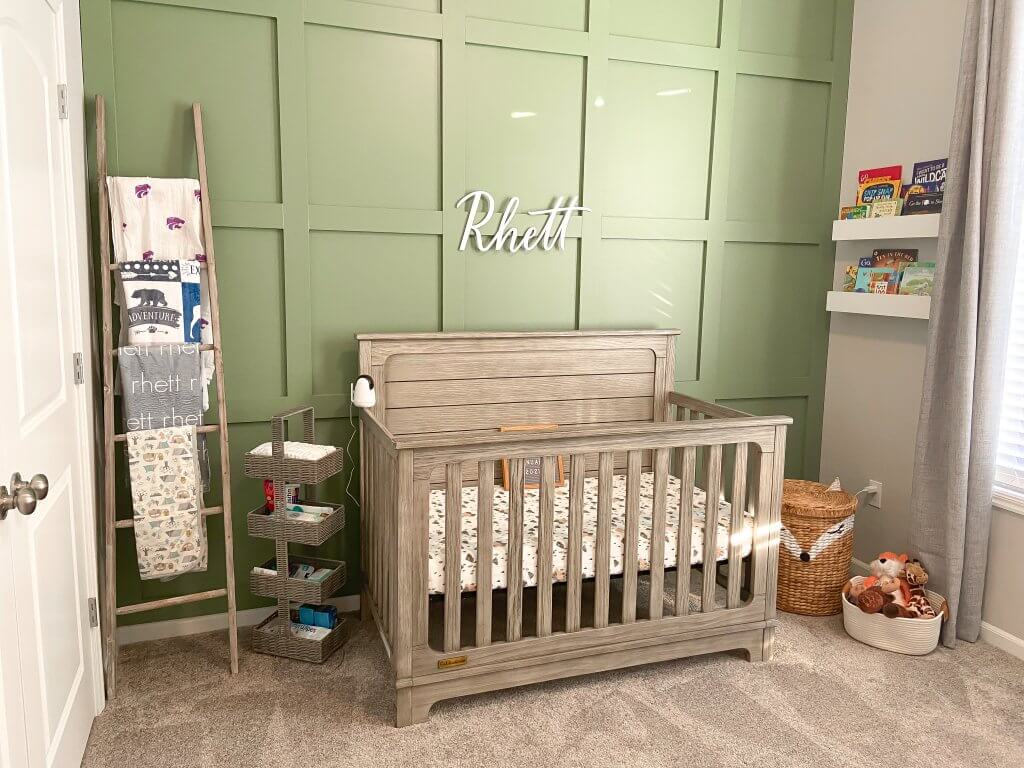 Our nursery is a pretty small room, so we tried to be as efficient with the space as possible and realistic about items we truly needed. We decided to go with a smaller dresser since we have a large closet we can utilize as well as a bathroom right next door where we can store bathroom essentials!
You might also find this post helpful if you're expecting: Baby Registry Must-Haves
Let's get started. 🙂
Disclosure: this post does include commissionable links. As always, thank you for supporting me and my small biz!
baby boy nursery decor/furniture: crib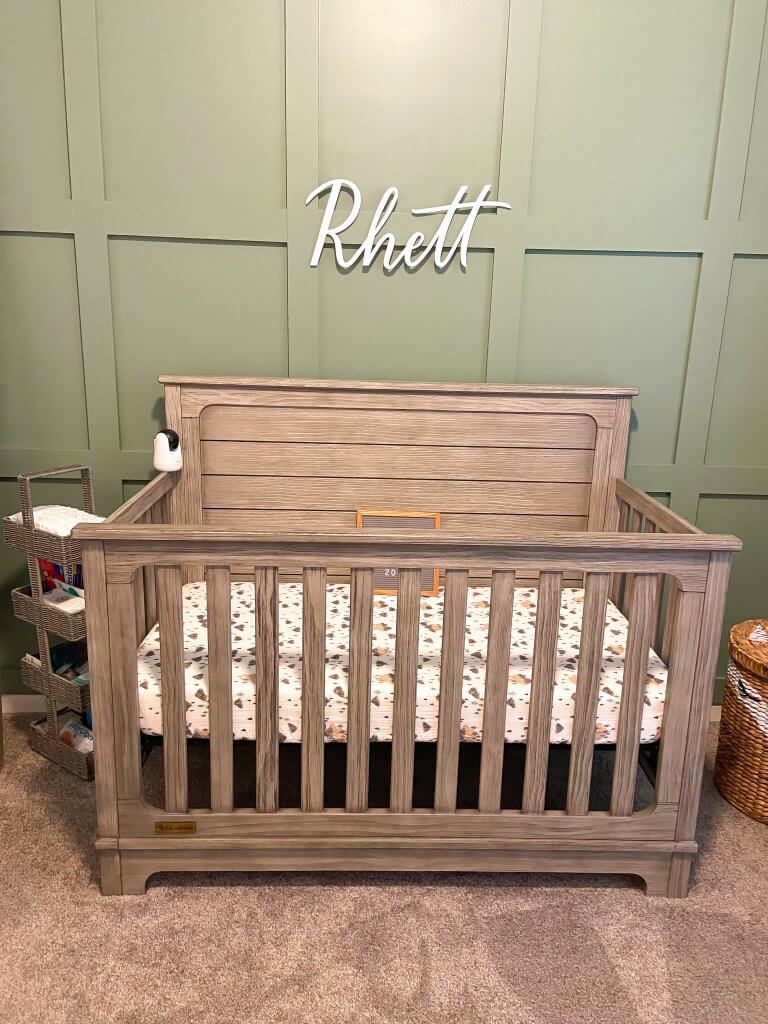 dresser
Dresser linked here (with the change top – what we have)
Larger matching dresser linked here
Curtains
I went through about 4 pairs of curtains before we finally landed on these and really liked them! They look great in our nursery.
recliner/glider
Choosing a chair for your nursery can feel like SUCH a daunting task. I seriously agonized over this decision for way too long, haha. We tried a bunch of different chairs at Buy Buy Baby and really loved this one the most. ALSO, this chair is eligible for a 20% off coupon, so you can sign up for emails and get a decent discount!
Now at 10 months postpartum, I can confirm that we absolutely love this chair! It's super comfortable, especially for those middle of the night cuddle sessions. : )
Our fabric is called "cloud gray".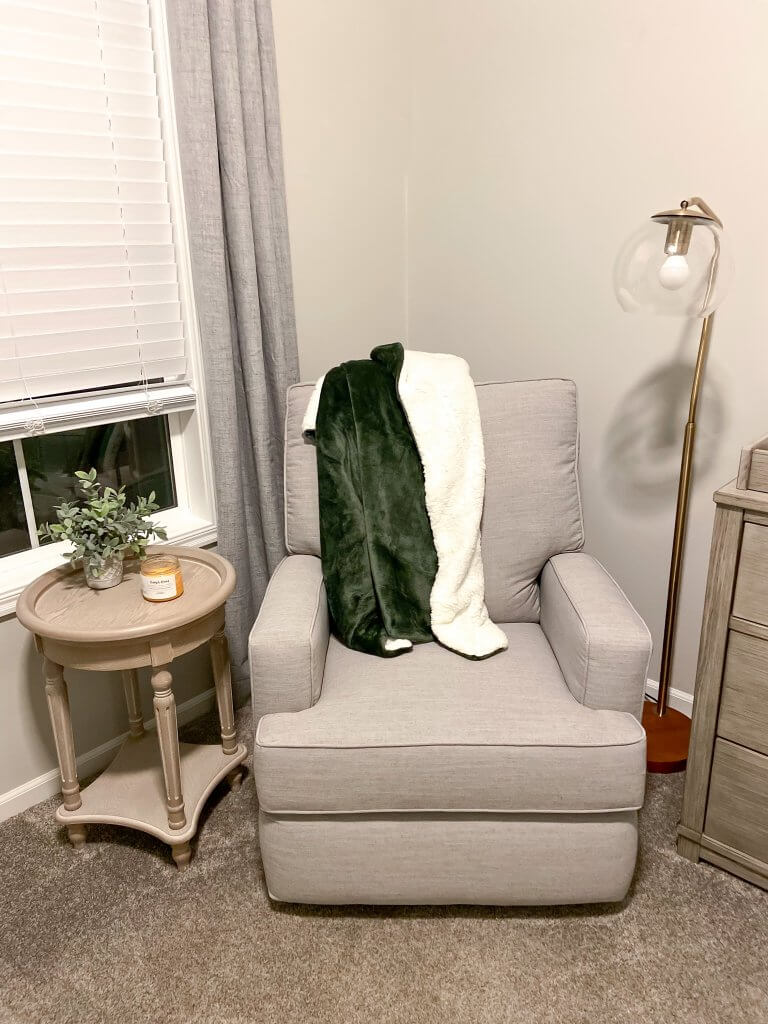 Floor Lamp
Book Shelves
Our simple book shelves were made by a local gal named Krysta! You can find her on IG at @khdesignsco! She made these really quickly and did a great job, and they were super affordable, too.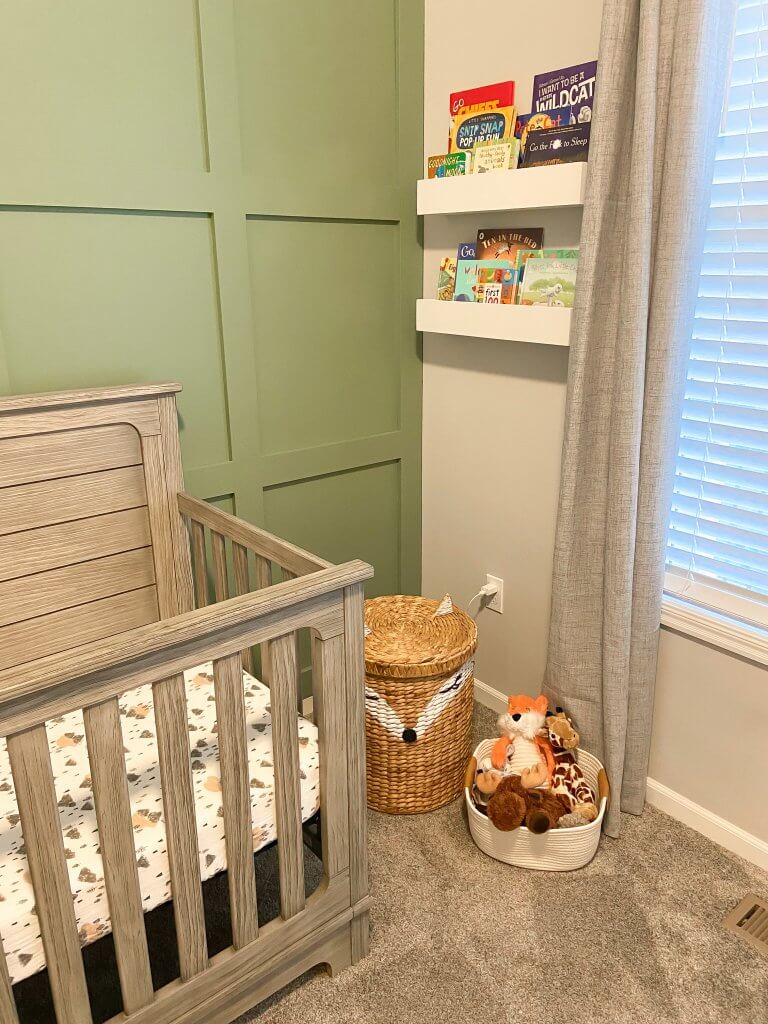 crib mattress
The crib mattress was a difficult decision too. There's a lot of information out there and you obviously want to make sure it is safe for your little one. I personally did not want to spring for some that are $300+ and didn't think that was really necessary. The one we went with has a ton of great reviews, was a reasonable price and I had a few friends recommend it as well. It is also GREENGUARD Gold Certified, Non-Toxic, Breathable, has a removable, washable water-resistant outer cover.
crib sheets
wicker fox hamper
I actually snagged our fox hamper at ALDI of all places! It was only $29.99 which is amazing, but sadly it's one of those things that disappears and then it's gone!
There are similar ones at Pottery Barn, linked here!
White Basket for stuffed animals
The white basket I got for the floor to put stuffed animals in is linked below! I have the 13″ one — they have several sizes and shapes available.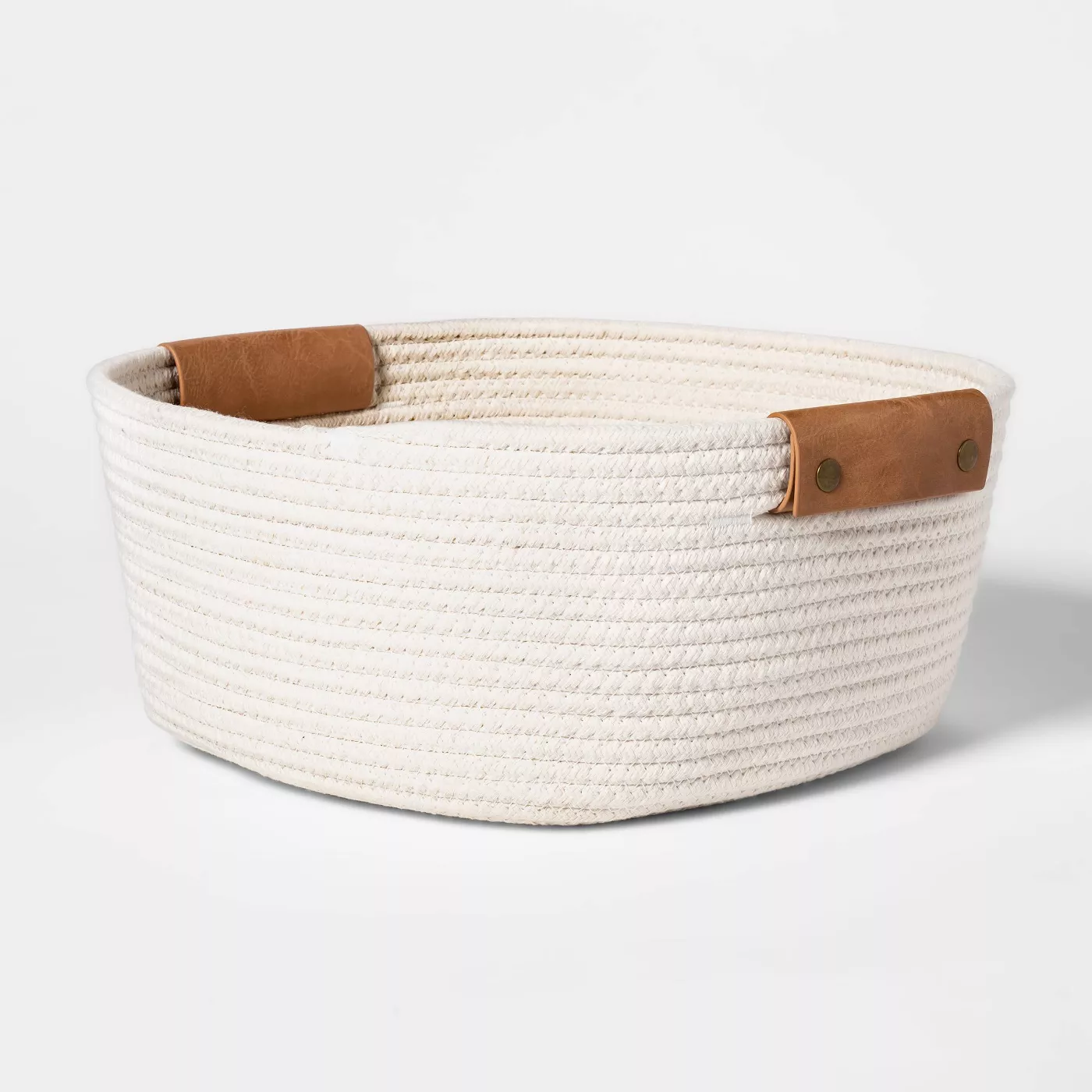 blanket ladder
We actually ended up finding our wooden blanket ladder at Hobby Lobby way on sale! Sadly I can't link Hobby Lobby stuff, but here is a similar one I found online.
closet organization
I ended up getting some fabric baskets for SUPER cheap at Five Below — literally $5 each, and I figured they'd do the trick and be easy to move around.
If you are looking for more wicker baskets, I love these and got one of them also and it's full of postpartum essentials for me.
ceiling fan
Our nursery didn't have a fan in it previously, but we figured that was important to have, so Ethan installed this one himself. This one is nice and matches our furniture, if you end up going with a similar set!
Side Table
The side table that we got next to the recliner is actually from Home Goods!
A sweet follower actually found it for me on the TJ Maxx website! Click here.
diaper caddy
Baby boy nursery wall decor
Little Dude Sign — we found ours at Hobby Lobby, but a similar one is linked here
Wooden Deer Head — we actually found this at a cute little shop in Steamboat Springs! Sadly, I can't link it!
National Parks Map – linked here (Rhett loves looking at this during diaper changes and it's so fun to talk through all the animals and states!!!)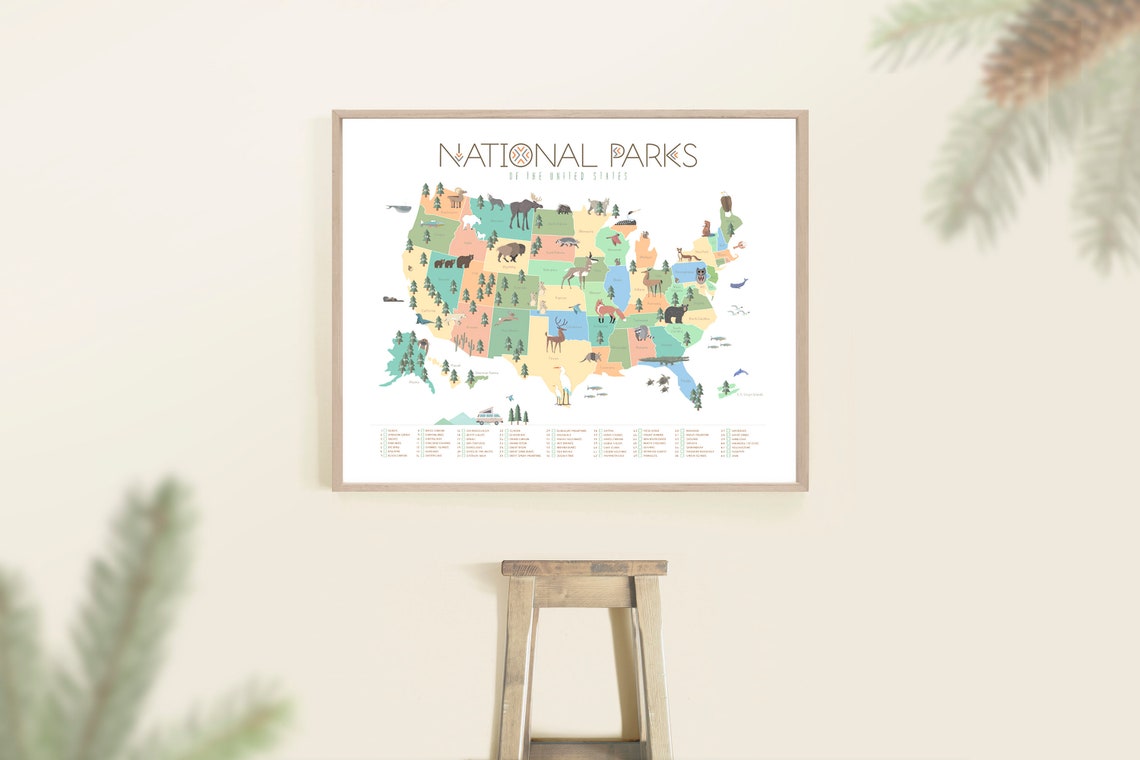 Macrame Wall Hanging — linked here
Personalized Name Sign
Our personalized name sign was made by a local gal, Lauren Heim, and she is amazing!!! You can follow here on IG at @laurenheimstudio and if you're interested in a personalized baby name sign, too, click below:
details on board and batten statement wall
Ethan did the board and batten statement wall all by himself! I love it so much. All of the details and how he did it can be found in this blog post linked below.
I hope this post with allll the Baby Boy Nursery Decor details was helpful! I will be sure to update it with any changes or additions in the future! Let me know if I missed anything that you have questions about. 🙂
Again, if you are wondering about other baby essentials, check out by Baby Registry Must-Haves post here.
Thanks for reading!
Shanna