My Favorite Things During Pregnancy
In today's post I am sharing some of my favorite things during pregnancy, including health and beauty products, books/resources, certain meals/snacks/drinks and more! I hope it is helpful for any other expecting moms out there who are looking for some ideas!
In case you missed them the first time around, here are some other pregnancy-related posts you might enjoy or find helpful:
Disclosure: this post does contain affiliate/commissionable links. Thanks for supporting my small business and using my links!
books / resources on pregnancy
Real Food For Pregnancy
This book is written by a Registered Dietitian and it is FULL of incredible information about nutritional needs during pregnancy (and more)! It is very evidence-based and really gets into the nitty-gritty details. I'm not sure if I just love it because I'm also an RD and find it all so fascinating, lol. But it is a very popular, reputable resource and I recommend it to everyone!
CLICK HERE TO SHOP REAL FOOD FOR PREGNANCY
Real Food For Gestational Diabetes
Lily Nichols, the author of Real Food for Pregnancy above, also has a book specifically for anyone with Gestational Diabetes. I have gotten several questions from other pregnant mamas on IG about recommendations for GD and I also suggest this book. If that is you, check it out! I would also suggest meeting with a dietitian one-on-one if you can so you can get some individualized guidance and have more support during your pregnancy.
Drinking For Two: Nutritious Mocktails For The Mom-To-Be
This book is super cute and would make a great gift for any expecting mom in your life! Or if you are pregnant and craving some fun drinks, check it out!
WORKOUT OPTIONS
My number one, go-to form of movement throughout this pregnancy has been walking. I think that is partially because we have been in the pandemic and our gym closed and walking / getting outside became very therapeutic during quarantine. But it also continued to be a form of movement that just made me feel GOOD both physically and mentally throughout pregnancy.
Getting some fresh air, listening to good music or a podcast, and walking for around 30 minutes per day has been my absolute favorite. I'm thankful I have been able to continue doing it for so long! I'm 34 weeks as I write this and we are in the beginning of December, and the weather has still been decent enough most days for me to make it happen! The dogs are happy about it, too. : )
Expecting and Empowered Workout Guides
If you follow me on IG, you have likely seen me share about @expectingandempowered several times. Two sisters created these workout guides specifically for pregnancy and postpartum.
Amy has a Bachelor's in Exercise Science and a Bachelor's in Nursing, and Krystle has a Bachelor's In Exercise Science, then went on to become a Physical Therapist. These ladies know their stuff about what is safe during pregnancy and optimal exercises to help with labor/delivery AND recovery after baby arrives.
I've gotten so many questions about how to modify workouts during pregnancy and I always refer people to their page & their guides, because they are the experts on this!
They incorporate flexibility, pelvic floor exercises and lots of strength (upper body, lower body and full body). There are three workouts per week and they encourage you to do cardio of some sort on the other days, like walking, or whatever you enjoy. The workouts take anywhere from 30-45 minutes, but of course you can always modify for your needs.
MYX Fitness Bike
We were recently gifted this incredible stationary bike from @myx.fitness and I am so thankful! It is extremely comparable to the Peloton, which most people are familiar with, but it is much more affordable, and Ethan and I both love it.
There are TONS of class options available on the bike, including workouts both on AND off the bike. You can also get a package that comes with a huge workout mat, set of dumbbells and a kettlebell to do the strength workouts, which I would definitely recommend.
To be honest, I haven't done the bike workouts a ton during my pregnancy because 1) if it's nice enough to go outside, I prefer to walk and get some fresh air, and 2) sitting on a bike isn't that comfortable when you have a big ol' belly, haha. I've also kinda lacked motivation to do much other than walking during pregnancy, even though I always feel so good when I do muster up the motivation to do a strength workout.
Honestly, I am most excited to have this option AFTER baby is here since I won't really have the time to go anywhere to exercise AND COVID of course is still a factor. It will be amazing to have this in our basement so I can get a quick workout in anytime when baby is sleeping, or taking turns with Ethan, or whatever! They have workouts that are anywhere from 10 minutes up to an hour, which is really nice.
Check out my MYX highlight on my IG profile @wellnessforthewin for lots more videos and details about the bike.
You can also head to their website here — this is my affiliate link, and I do earn a commission if you purchase using my link!
Favorite Meals, Snacks and Beverages
Favorite Breakfast:
Two scrambled eggs with spinach mixed in + some cheese on top has been my GO-TO. Like, almost every day of pregnancy. It helps me start the day off with a good dose of protein, and provides lots of choline + folate (both important nutrients in pregnancy!), and best of all, it tastes freakin' delicious. : ) I usually pair with a piece of whole grain toast with nut butter and my homemade chia jam OR a homemade baked good, like my healthy banana bread or carrot pumpkin muffins.
Favorite Beverage
BODYARMOR LYTE drinks have become my new favorite. They taste SO good and during pregnancy your drink options are obviously limited, lol. Sometimes you just want some FLAVOR. I love the Peach Mango and Blueberry Pomegranate the most, but they have tons of delicious options.
I get the "Lyte" ones because they don't have any added sugars, like the regular ones, which are similar to Gatorade. The Lyte ones do have sugar alcohols, not artificial sweeteners, which are preferred during pregnancy. Of course, do what you feel comfortable with! Note that some people do have digestive discomfort with sugar alcohols, so if you are sensitive to them, that's something to be aware of. Thankfully I don't have any issues with these.
People also say that the BODYARMOR drinks help with milk supply while breastfeeding, which is probably just due to better hydration status, as milk supply is really all about supply & demand, but if you feel like it helps, obviously go for it!!
You can find these drinks at most grocery stores, but you can also get them a little cheaper in a pack on Amazon.
Favorite Snacks
Peanut butter. By the spoonful, no joke. Lol. Especially before bed I find myself feeling really hungry and not wanting to go to bed on an empty stomach, so a spoonful of PB usually hits the spot! I've been loving the Kirkland's brand PB from Costco, or Trader Joe's salted crunchy PB, or ALDI organic peanut butter with just peanuts and salt. All delicious options!!!
Also loving Cabot Cheese for an easy, yummy snack!
For a healthier snack option, I love the Daily Harvest bites. My affiliate code for their products is WELLNESSFORTHEWIN for $25 off. Check out this post to see my faves.
For more snack ideas, check out this blog post!
supplements
Prenatal Vitamins
Another major FAQ — "what prenatal are you taking?"
I have been taking Full Circle Prenatal since before I got pregnant and I highly, highly recommend it. It is a little bit pricier than other options out there, but it was developed by a Registered Dietitian and mother based on the best evidence available.
HOWEVER, please don't be discouraged if this price point is not accessible to you. There are plenty of amazing prenatals out there that will provide great nutrients for you and your baby. ALSO, we should not fully rely on supplements to give us the nutrients we need during pregnancy either; you can get SO many benefits from a healthy, balanced diet as well. Give yourself all the grace, mamas.
You can find the creator @aylabarmmer_rd on IG as well as the @fullcircleprenatal account. She shares tons of helpful info there on nutrition in pregnancy! Full Circle delivers optimal forms and evidence-based doses of nutrients in an easy-to-tolerate formula. I never feel nauseous from taking these. One time I ran out and had to take something else for a few weeks and I felt like crap in comparison, haha.
The nutrients in Full Circle Prenatal are delivered in forms that provide the best absorption and support the female body before, during and after pregnancy. Even if you're not trying to get pregnant, you can benefits from the nutrients in these supplements. In addition, they go through extensive testing to ensure they are free from harmful contaminants including heavy metals and chemicals.
You do have to take 8 pills a day, in divided doses — this is how they were designed for optimal absorption. She recommends taking 2 doses of 4 pills with food. I usually take 4 with breakfast & 4 with lunch, depending on the day. Whatever is easiest for you to remember!
I recommend reading through the FAQs on the website to answer any other questions you have about the prenatals. Note: they do not contain DHA or iron, so I take a DHA supplement separately.
Iron supplements are not always well-tolerated, so I have made a conscious effort to include more iron-rich foods in my diet and so far my iron levels have been okay. Of course, have your levels checked and talk to you doctor about your needs.
You can click here for info about other supplements that I personally have taken throughout my pregnancy. This does not mean that YOU need them; just sharing what I do. Always talk to your healthcare provider before starting any new supplements.
The fish oil I take is linked in the post above, but I have heard good things about Nordic Naturals & it is also third-party tested. Linking here if anyone is interested. (Not affiliated with this brand at all.)
beauty products
As far as hair & skincare during pregnancy, I haven't made an enormous amount of changes. For my skincare, I see my esthetician @rnmskincare every few months and I use products that she recommends specifically for my skin. They are all pregnancy safe. I did stop using retinol during pregnancy.
Deodorant
I did switch to natural deodorant a while back and it has actually worked well for me. First I tried Primally Pure deodorant and really liked it, but after a few months, for some reason I started having sensitivity to it. I switched to the brand Native and haven't had any issues!
Primally Pure Products
A couple of Primally Pure products that I have used and loved throughout my pregnancy include their dry shampoo and the body butter. The dry shampoo is a powder vs. a spray and they have one for blonde hair and one for dark hair. Obviously, I use the blonde one, and really like it! It works well on grease, adds a little volume and all of their products are non-toxic.
I've been using the Almond + Vanilla body butter on my belly and first of all, it smells like vanilla cookie frosting. YUM. But it also feels so nice on your skin! I'm not stressing myself out over preventing stretch marks, because to an extent they are unavoidable, largely genetic, and will fade with time if I do get them. It does feel good to keep your belly moisturized when your skin is stretching so much and can help reduce any itch, too. I really love this stuff and just ordered more.
My affiliate code for Primally Pure is wellnessforthewin – I think it gets you 10% off (not counting subscriptions).
Shave Cream
I absolutely love the Billie Shave Cream and it is also non-toxic. If you don't already use their razors, you need. With pregnancy and/or mom brain, no one can remember to buy razors, lol. These show up at your doorstep as often as you want them to and they are WAY more affordable than any of the options in store. More info on Billie products here.
wellness/Sleep
As you all probably know, sleep during pregnancy can be a reeeeeal struggle. Which is why it is EXTRA ANNOYING when people say "sleep while you can before baby comes!" LOL, yeah, right. We would if we could, people.
Anyway, a few things that I found helpful for sleep.
Headspace App
I absolutely love the Headspace app for guided meditations, especially before bed. If you have trouble falling asleep, or with any anxiety, highly recommend! Honestly, it can be so beneficial even if you don't have those things! Meditation and mindfulness is good for the soul! They even have some pregnancy specific meditations.
Pregnancy Pillow
If you follow my stories on IG, you know that I have had a love/hate relationship with this thing during my pregnancy, haha. I tried using it pretty early on, mostly to get myself to transition to sleeping on my side vs. my stomach. It kinda did help with that, but I did not find it comfortable at all.
I tried using it again around 32-33 weeks and actually like it now! I guess now that I'm bigger, the support feels nice, even though my belly doesn't rest on the actual pillow or anything. It has tons of amazing reviews, so I know a ton of people love it throughout their whole pregnancy, but everyone is different! I had a lot of people recommend using a wedge pillow under the belly, or basically building yourself a pillow fort every night lolol.
For most of my pregnancy I just used my normal pillows under my head and nothing else, but I'm thinking the pregnancy pillow may stick with me to the end now!
IG accounts to follow
Here are some Instagram accounts that either post helpful info about pregnancy, breastfeeding or a variety of other baby-related things!
@prenatalnutritionist — pregnancy nutrition
@fullcircleprenatal — pregnancy nutrition
@safeintheseat — all things car seat safety
@feedinglittles — all things feeding for babies/toddlers and baby-led weaning
@kids.eat.in.color — same as above
@takingcarababies — baby sleep (tons of people have highly recommended her sleep courses)
@wellrestedweeones — baby sleep and more
@biglittlefeelings
@expectingandempowered
@themovementmama – physical therapist, pediatric PT
@wildhopekc — local to KC, therapy for women
@empower.your.pelvis — pelvic floor info
@lucieslist — I signed up for her email list and it has been nice for some helpful reminders throughout pregnancy
@drsterlingobgyn — pregnancy, postpartum and parenthood
@kidfriendly.meals — BLW and toddler meals
@psychedmommy — mental health for moms
@karrie_locher — postpartum, infant care, motherhood, breastfeeding tips
That's all I can think of for now, but I'll add to this if needed!
maternity clothes
Honestly, since I'm working from home, and barely leaving the house thanks to COVID, I have not gotten many maternity clothes. Most of what I have gotten is athleisure/lounge wear, which is what I live in basically 24/7, haha. Below I am linking some of the items I have gotten and LOVE — you can find even more linked under my pregnancy list on Amazon here.
Favorite Full-Length Maternity Leggings — true to size, get the black 2-pack and thank me later:
Maternity joggers — also super comfy, true to size. Wear these all the time in black:
Ruched T-Shirt Tops 3-pack — these are super comfortable and I love them. I liked having at least one black top and the others in this pack are cute too. Several color variations:
Sports bras — these are not specifically maternity but they are super comfortable and supportive and I have worn them a ton during pregnancy because my old sports bras don't currently fit, lol. I just sized up one in these.
Nursing bras — I also transitioned to these as my "regular" bras once my pre-pregnancy ones stopped fitting me. Since they are nursing bras, I can obviously continue to wear them after while breastfeeding! They are super comfortable; I would recommend! Beware: they are NOT sexy, lol! I sized up in these also, anticipating the boobs getting REAL large once milk comes in. I normally wear a D/DD and I got an XL in these.
Maternity biker shorts — I really liked these for walks and workouts when it was warmer out! They also have pockets, which is always a win. I have them in black.
Black long-sleeved maternity dress — if you do need something a little dressier, this dress is a nice basic! You can accessorize with fun jewelry or a scarf, booties, etc. I'm only 5'2″ so it's definitely a "midi" length on me.
Baby Shower Dress linked here.
Best workout tank — seen in the pictures on the MYX Fitness Bike! It's from Athleta and it stretches like CRAZY. I always size down in Athleta — I have an XS in this and it still fits me at 34 weeks pregnant. So comfy; highly recommend.
Click here to shop the tank pictured in bike pics above!
Click here for one pictured below — also Athleta, very similar fit.
Mama Sweatshirt — I got this as a gift at one of my showers from a friend and absolutely love it. It's so cozy and I wear it constantly. I am 5'2″ and have a large, which fits oversized and I like the fit!
Click here for mama sweatshirt
Maternity Jeans — I only have 1 pair of maternity jeans and they were passed down to me from my cousin and I love them! They are from H&M. I've heard good and bad things about maternity jeans from pretty much everywhere, so I feel like it's totally personal preference, but I have been super happy with these. Especially since I only wear jeans a few times a month at the moment, haha. Mine are a few years old but I'm linking what I think is pretty much idential.
Click here to shop maternity jeans — these run small so I would size up!
services
Journey Chiropractic
I have been seeing @drjessbohlke at @journeychirokc since pretty early in my pregnancy and I cannot say enough good things about her. She is certified in prenatal care and I always feel better after I go! It's hard to compare since this is my first full pregnancy, but I think part of the reason I have felt so good is because of seeing her!
If you're in the KC area, highly recommend, even if you're not pregnant! But she is amazing for mamas and also sees babies/kids. If you're not local, make sure you see someone who is certified in prenatal chiropractic care.
3D/4D Ultrasound
We got a 3D ultrasound at a place called Kansas 4D Bears & Babies in Olathe and had a great experience. The people there are so sweet and you go home with tons of pictures AND a file of the whole video. It was really cool to see his face and more of his features as opposed to a normal ultrasound. It was also great because Ethan was able to come, since he has only been able to come to one appointment (my anatomy scan) this entire pregnancy due to COVID. If you're thinking about getting a 3D ultrasound, I definitely recommend!
I did mine at 27 weeks, which is around the time they recommended due to my height and the fact that baby starts to get crammed later than that.
AdventHealth Shawnee Mission Classes
Ethan and I did the 5-week childbirth class at AdventHealth Shawnee Mission and found it to be SO incredibly helpful and informative. If you are local, I definitely recommend looking into their classes. We just did the 5-week one, but they also have a breastfeeding class, class about introducing your new baby to your dogs, and lots more.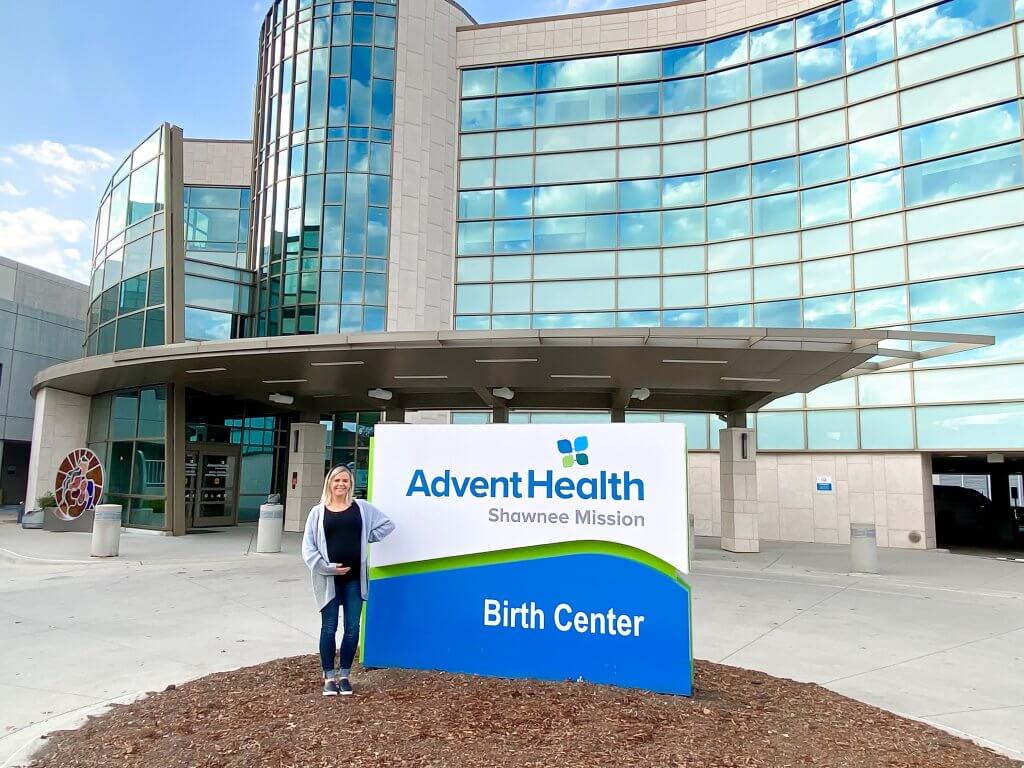 Check out my blog post on the AdventHealth Shawnee Mission Birth Center for more info if you missed it.
Also, if you missed my post with tips on choosing an OB/GYN, click here.
I think that is all I have to share for right now! Those are alllll of my favorite things during pregnancy — I hope you found this helpful! I'll be sure to update if I think of anything else!
I hope you have a happy and healthy pregnancy!
XO,
Shanna