In case you missed my First Trimester Recap, you can find that here! I am doing the same thing in this post, just a Second Trimester Recap! All the deets on symptoms, body changes, any cravings, changes in diet/exercise, doctor's appointments, nursery/baby prep and more in the second trimester!
I will say that the second trimester was not nearly as eventful, which isn't necessarily a bad thing, haha! Overall I felt pretty great during most of this trimester (especially the second half) and honestly forgot to document here for several of these weeks because nothing very exciting was happening. I am extremely grateful for that, as I know that is not the case for everyone! Can't wait to see what third trimester has in store for me. ; )
Helpful links:
If there is anything else you have a question about or want a link for, let me know!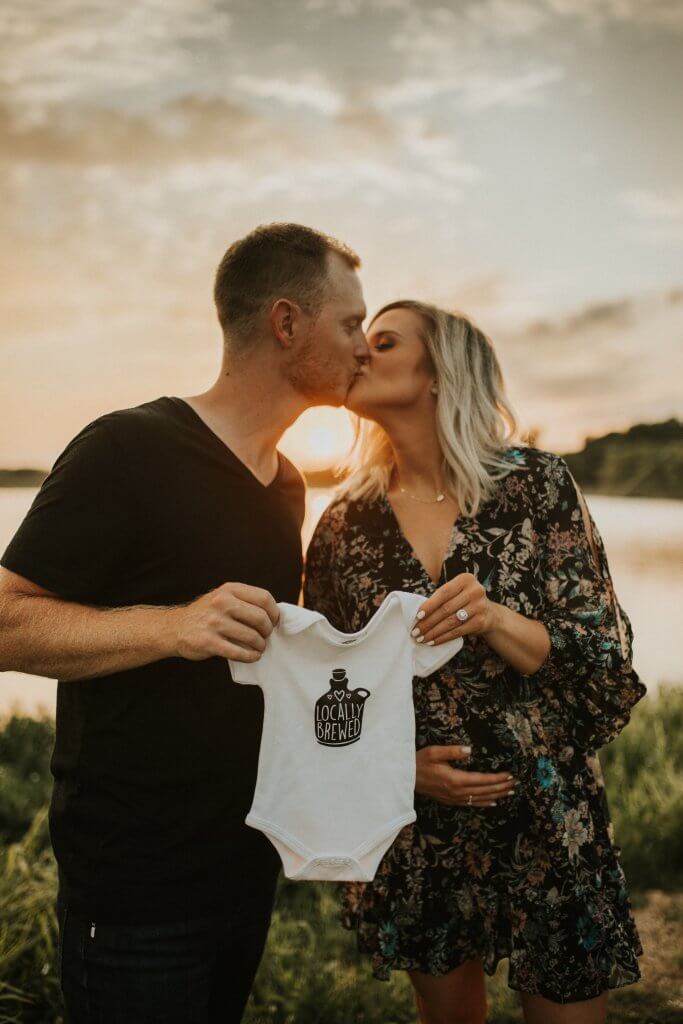 week 13: 7/12-7/18
HOW I'M FEELING:
We went on a mini vacation to the Lake of the Ozarks with family during this week, which was VERY needed and so, so nice just to get away, even for just a couple days.
BODY CHANGES/SYMPTOMS:
Still battling headaches, and acid reflux! Nothing else major.
In the morning my belly honestly looks about the same as normal, haha. Maybe just a tiny bit bloated. BUT it grows throughout the day! By the evening I definitely look like I have a tiny pregnant belly, lol.
DIET/EXERCISE/CRAVINGS/CAFFEINE:
I heard Kaitlyn Bristowe mention Fazoli's on her podcast and I immediately wanted Fazoli's breadsticks. LOL.
Otherwise, no big changes in diet! Still not drinking coffee. Still just walking for exercise.
DOCTOR'S APPOINTMENTS:
Sadly, none!
week 14: 7/19-7/25
HOW I'M FEELING:
A little anxious. We had contact with someone who tested positive for COVID-19 in the past week or two, so I was very nervous to see if I would develop any symptoms. Thank God, I didn't and no one else did either. Having one close call (especially while pregnant) definitely just makes you want to hide out in your house forever….
COVID, you can go away anytime now!!!
BUT, I am excited because Ethan started doing a board & batten wall in the nursery and I'm obsessed with it! So excited to keep decorating and completing the room! (Check out my nursery highlight on my IG @wellnessforthewin for all of the updates.)
Update: click here for all the details on the board & batten!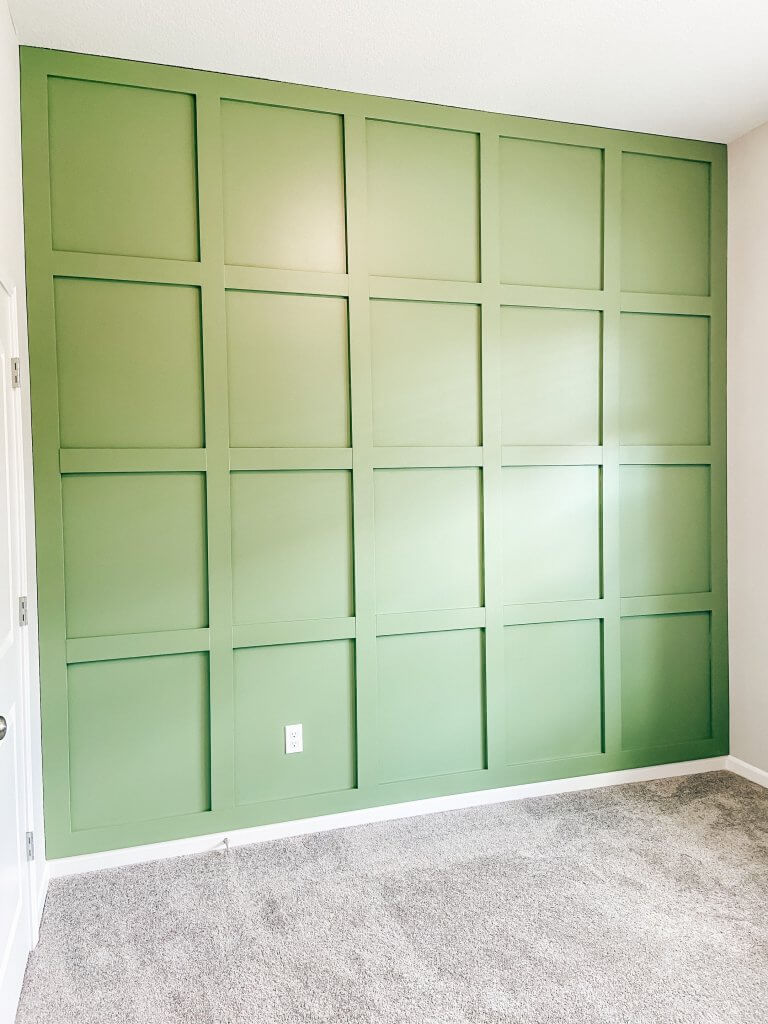 BODY CHANGES/SYMPTOMS:
STILL having pretty bad headaches. WOOOF.
Some headache remedies that people shared with me (of course always check with your own OB/GYN before trying anything):
Peppermint oil on the temples/back of neck (some also recommended lavender oil)
Drinking LOTS and lots of water (100 oz per day is recommended in pregnancy)
Coconut water (mix with OJ or something; doesn't taste great alone in my opinion)
Sip on Gatorade/Powerade or Vitamin Water
Drinking coffee/caffeine or regular Coke (I'm personally trying to avoid soda for the most part; not a big fan anyway & doesn't mesh well with my acid reflux, plus don't really want the added sugars!)
Magnesium supplements (check with your doctor for dosage & see much much your prenatal already contains)
Prenatal chiropractor (important to go to someone who is prenatal certified, and get approval from your OB; I'm seeing @drjessbohlke at @journeychirokc and cannot say enough good things about her!)
Taking a nap in a cold, dark room if you're able!
Tylenol is pregnancy-safe if nothing else works; I just personally don't want to rely on taking that every single day!
What I think has actually helped me:
Drinking tons of water
Drinking 1 cup of coffee a day (my doc actually said the caffeine may be helpful — once this started sounding good again I think it did help. Of course consult with your OB.)
Magnesium supplements daily
Chiropractor regularly (and not sleeping on my stomach, per her recommendations)
I do feel like my belly is starting to grow, too, which is kinda crazy. Everything still feels very surreal – like a dream – but seeing that helps a little. I've also been pretty dang tired again this week.
DIET/EXERCISE/CRAVINGS/CAFFEINE:
Still craving Fazoli's….. why I haven't gone yet? I do not know, lol. Also heard someone talk about Texas Roadhouse rolls and cinnamon butter and now I have THOSE on my mind, ugh. Haha. I am usually a big sweets girl, and I'm still loving sweet foods, but I've found myself wanting savory things more than usual.
This week I did try a new workout! @simibotic has an online barre workout called UNMEASURED with tons of recordings — some are 20-25 minutes and others are longer around 40-45 minutes. Minimal equipment is required and she does provide a ton of options and modifications for everyone, including pregnant/postpartum women. She is extremely body positive and very encouraging. Highly recommend if you're looking for something new and low impact!
Otherwise, sticking with about 30 minute walks on most days, if I can get out before the heat!
DOCTOR'S APPOINTMENTS:
None — very ready for my appointment next week!
WEEK 15: 7/26-8/1
HOW I'M FEELING:
Overall, starting to feel better! Relieved after my OB appt, and also excited because I shared baby boy's name this week! Coming soon: Rhett Wade Hutcheson. : )
Rhett is just a name Ethan and I both really liked and agreed on a while ago. Wade is Ethan's dad's name as well as Ethan's middle name! : )
BODY CHANGES/SYMPTOMS:
My boobs feel huge and my belly is absolutely starting to pop, haha. I feel like it happened overnight the past few days!
I had to get these bras from Amazon because my old bras were getting way too tight, and they are amazing! They are actually nursing bras so will be great for postpartum also.
I also grabbed these sports bras – they are not maternity but they are SO comfy and provide great support. I sized up to allow room for more growth lol.
DIET/EXERCISE/CRAVINGS/CAFFEINE:
Started drinking coffee again this week! It finally started to sound kinda good again, and my OB did say that it could be a good way to help with my headaches. I usually drink less than a cup. I have never drank coffee for the energy really; mostly just for the taste. 🙂 (Details on my homemade cold brew here!)
Overall, I feel really good about my diet. It is not perfect, but I'm doing a pretty good job of continuing to eat healthy and balanced meals, still getting my veggies in, plenty of protein, healthy fats, etc.! Thankful that I'm really not having any nausea, and my aversions have improved. I know this isn't the case for many!
Mostly sticking with walks so far this week! If I do nothing but walk this whole pregnancy, that will be okay! I do occasionally throw in some squats or push-ups against the counter top, but nothing super strenuous or high intensity.
DOCTOR'S APPOINTMENTS:
Had an OB appt at 15 weeks and 1 day and got to visit with my doctor and hear the heartbeat for the first time in 3 weeks (which felt like a lifetime). The heart rate was around 145 bpm, which seemed so low compared to the 170s like it was in the first trimester! Crazy how much it starts to slow down, but my doctor says that is totally normal and to be expected. : )
WEEK 16: 8/2-8/8
HOW I'M FEELING:
Overall, feeling better! I actually borrowed a Doppler from a friend so I can listen to the heartbeat at home, and that has honestly been super nice! Trying not to listen to it obsessively, but every other day or so helps with peace of mind! It's hard not to feel anxious about it sometimes, especially after a loss, and before you can feel any movement.
BODY CHANGES/SYMPTOMS:
Still having some headaches. I got a pregnancy pillow during this week and my first few nights with it were pretty rough. My chiro told me that it takes time to get used to, so I stuck it out! I used my normal pillow for my head the second night and that helped a lot, but still adjusting. It definitely does help me sleep on my side though, which I struggle to do otherwise. I've always been a stomach sleeper!
My pregnancy pillow is linked here — to be honest, I still don't like it, but I know a lot of people do, because it has incredible reviews! To each their own, haha!
DIET/EXERCISE/CRAVINGS/CAFFEINE:
I FINALLY got my Fazoli's breadsticks I've been craving, hahaha. EVEN BETTER THAN I IMAGINED. Highly recommend. ; )
Back to a cup of coffee a day and really enjoying it again! Happy to have it back in my life, haha.
Started doing some Expecting+Empowered workouts! Check them out on IG here – super knowledgeable ladies with lots of wonderful resources for pregnancy. Love that I can do their workouts without worrying about whether or not the moves are safe for pregnancy! You can also use my code WELLNESSFORTHEWIN for a discount on their programs! #affiliate
DOCTOR'S APPOINTMENTS:
None, sadly! But I continued to visit the chiropractor – Dr. Jess Bohlke at Journey Chiropractic in Overland Park is incredible! Highly recommend if you are local.
week 17: 8/9-8/15
HOW I'M FEELING:
Doing lots and lots of research on nursery items as well as other necessities we need like stroller/car seat, baby monitor, bassinets, ALL the things. Adding lots of things to our registries and basically just waiting for everything to go on sale, LOL.
You can check out my "baby items" list on Amazon which includes a lot of our registry items.
We got a crib this week which feels so exciting!!! : ) Crib linked here.
BODY CHANGES/SYMPTOMS:
I think I officially need to order some new bras this week. Things are getting a little uncomfortable. Linking the ones I grabbed off of Amazon here — #commissionsearned.
DIET/EXERCISE/CRAVINGS/CAFFEINE:
Nothing exciting!
DOCTOR'S APPOINTMENTS:
Unfortunately no doctor's appointments until the 20-week anatomy scan. Cannot WAIT for this!
week 18: 8/16-8/22
HOW I'M FEELING:
EXCITED ABOUT MOVEMENT! Keep reading!
baby prep:
This week we ordered a crib mattress and cute crib sheet to go on it, mostly because it drives me crazy to look at the empty crib, lol. Also, the breast pump I wanted went way on sale, so I snagged that too!
Lots of these items linked on my shop page here. You can also find them on my LIKEtoKNOW.it page if you have the app!
BODY CHANGES/SYMPTOMS:
FELT BABY BOY MOVE THIS WEEK! Around 18.5 weeks! Someone described it as the feeling when your eye twitches, except in your belly, haha. That is a perfect description for me! A lot of people describe it as "butterfly flutters", but that is not what it feels like for me. At least not yet anyway! It seems like everyone experiences different sensations when they feel baby. I just can't wait for the movement to get more consistent and for it to be more definite, like YEP, that was him! Right now I'm still questioning it since I've never felt it before! Haha, very surreal!
DIET/EXERCISE/CRAVINGS/CAFFEINE:
No big changes!
DOCTOR'S APPOINTMENTS:
None!
week 19: 8/23-8/29
HOW I'M FEELING:
Great! Ethan and I went on a mini "babymoon" to Steamboat Springs, CO during this week and it was SO nice to get away. I was a little nervous about whether or not the altitude would negatively affect me or if I'd be able to keep up on hikes, but thankfully, I didn't have any issues!
More details on our trip to Steamboat here if you're interested!
BODY CHANGES/SYMPTOMS:
No major symptoms, thankfully, since we were on vacation! Bump date below!
Baby prep / updateS:
No prep this week due to vacay!
DIET/EXERCISE/CRAVINGS/CAFFEINE:
I ate GOOOOOD during this trip, haha! Check out my Steamboat blog post for a recap of all the delicious food that we ate! I also did tons of activity with Ethan including a 2.5 hour hike and did great! Although I was much more exhausted than I normally am on our CO trips! Pregnancy definitely takes it out of you. : )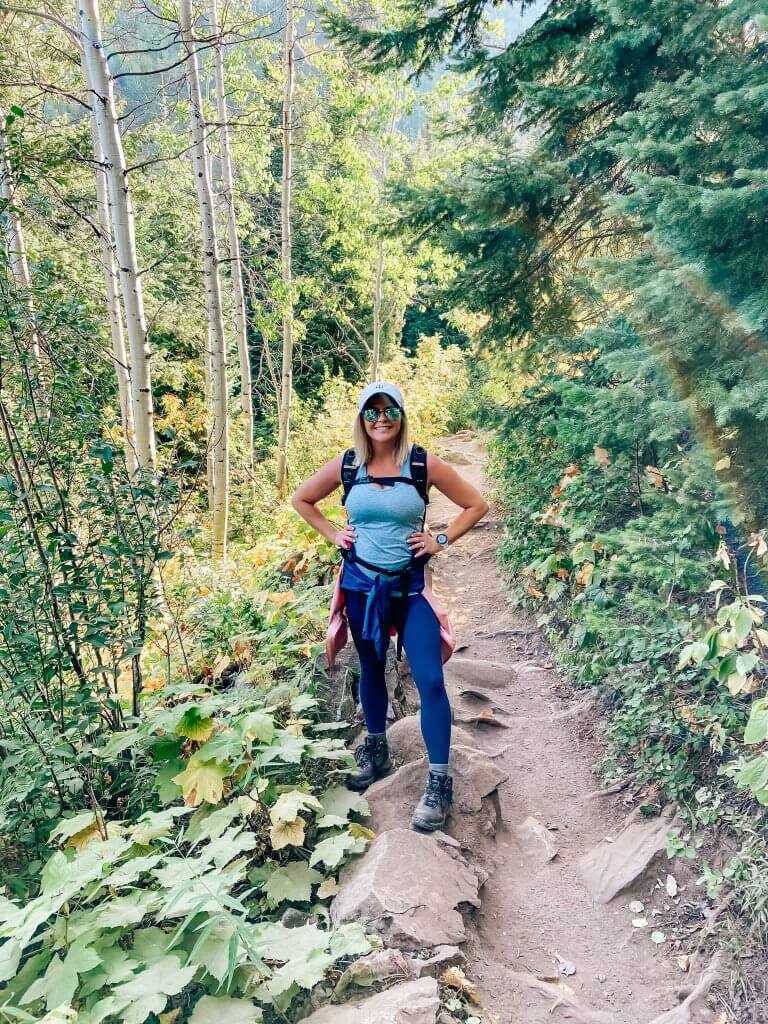 DOCTOR'S APPOINTMENTS:
Anatomy scan next week! Yay!
week 20: 8/30-9/5
HOW I'M FEELING:
So excited for anatomy scan and the fact that Ethan can come with me!
One of my BFFs had her baby while we were in CO and we got to meet her during this week, and seeing Shelb with her rainbow babe made it all feel so real and so exciting.
BODY CHANGES/SYMPTOMS:
Belly keeps growing!!!
baby prep/updates:
We are doing some dog training with @barkbusterskc to work on the dogs' behaviors prior to baby's arrival, which has been helpful! We are especially working on their walking on a leash (especially Koda) and just general obedience, not jumping on us, barking, etc.!
DIET/EXERCISE/CRAVINGS/CAFFEINE:
Did some more Expecting and Empowered workouts during this week! WELLNESSFORTHEWIN for $10 off! #affiliate
DOCTOR'S APPOINTMENTS:
We had the anatomy scan this week and it was amazing! So surreal to see how much he had grown since our last ultrasound at 12 weeks. Ethan was actually able to come to this (and with COVID he hadn't been to anything prior to that), so that was really special and exciting. So thankful that baby boy is growing and looking healthy.
week 21: 9/6-9/12
BODY CHANGES/SYMPTOMS:
Looking back at pictures from this week it is funny to think I felt like my belly was so big at that time. Not compared to end of the second tri, that's for sure! Haha, but so fun to watch the growth over time. : )
baby prep/updates:
We got our pack & play as a gift from my brother and sister-in-law and love it! Linked here.
We also got some fun items from Lovevery, including their famous play gym, block set, and a fun little tunnel! My niece is obsessed with the block set so that was definitely a hit! I have a few friends with the play gym who speak very highly of it and say their little ones love it! All items linked here — affiliate links.
DIET/EXERCISE/CRAVINGS/CAFFEINE:
Nothing exciting! We did get some Q39 during the weekend for Ethan's birthday and it was AMAZING! I was kinda craving brisket/BBQ in general before that, so it definitely hit the spot. : ) We also got donuts for Ethan's birthday, so we ate well during this week, haha.
nursery progress/other updates:
We got our dresser for the nursery! It has a changing table on top as well, and we love it. It matches our crib that I linked previously. I've heard from a lot of people who have the same set as us and say they absolutely love it, so yay!
week 22: 9/13-9/19
HOW I'M FEELING:
Overall, feeling good!
BODY CHANGES/SYMPTOMS:
Just growing! Nothing major!
DIET/EXERCISE/CRAVINGS/CAFFEINE:
We were gifted a @myx.fitness bike and LOVE it! It's so nice to have a legit piece of exercise equipment in our basement that we can use anytime, especially since we aren't going to any gyms due to COVID. Ethan and I are both loving this so far. It is similar to a Peloton but way more affordable. The only thing it doesn't have is the live classes, but it honestly has everything I could want and need. You can also get a set of dumbbells, kettle bell and exercise mat with it. There are tons of classes, including cycling, HIIT, strength classes, yoga/stretching and more. It is amazing – highly recommend!!!
Affiliate link coming soon for this!
nursery progress/other updates:
week 23: 9/20-9/26
HOW I'M FEELING:
Overall, feeling great!
BODY CHANGES/SYMPTOMS:
Some days I feel really good and normal. Yesterday I felt like my belly was STRETCHING like crazy. It was a wild sensation. It wasn't like I was bloated, but my stomach just felt stretched AF. Lol, so hard to explain! But other pregnant mamas probably know what I mean!
Otherwise no major changes or symptoms. Overall feeling really good, headaches have improved, sleep is so much better. Baby is moving a good amount! So it's really nice and reassuring to feel those movements regularly. Definitely feeling ready for another appt. soon though! Mostly just chugging along at this stage.
DIET/EXERCISE/CRAVINGS/CAFFEINE:
No diet changes.
Exercise — we got a MYX Fitness bike a few weeks ago, so I've been experimenting with some short rides on that, and it's actually really enjoyable! It also came with some weights and I'm actually feeling more motivated to do some strength training, which is kind of exciting. This is something I used to love so much.
Looking forward to incorporating this into my routine more, and also having this piece of equipment once it's too cold and miserable outside to walk!
I am still really enjoying daily walks, too. I usually take the dogs for about 10-15 minutes and then go by myself for anther 15-20 depending on the day and how much time I have! I just love getting the fresh air and time outside more than anything, and it's a great time to catch up on podcasts or listen to some good tunes.
nursery progress/other updates:
We FINALLY found the recliner we want for the nursery and we are ordering it this week! I am soooo freaking excited! They said it could take 6-8 weeks to come in since it's a custom order with the color/fabric we wanted, so I wanted to do it sooner rather than later.
Recliner we went with linked here! It is eligible for a 20% off coupon if you sign up for emails! We went with "cloud" for the fabric.
week 24: 9/27-10/3
HOW I'M FEELING:
Overall, no complaints.
I feel like Koda is getting even more clingy than usual, like maybe he knows something is up. ; ) He's always been clingy to me though, so it's hard to tell!
BODY CHANGES/SYMPTOMS:
Bump is starting to look and feel much larger! Still struggling with sleep big time – mostly just getting comfortable! The pregnancy pillow doesn't seem to help unfortunately, but I've been alternating back and forth desperately trying to find a comfy position, haha.
DIET/EXERCISE/CRAVINGS/CAFFEINE:
I expected to feel hungrier around this time or for my intake to go up, but I don't really feel like my appetite has been much different so far. Second trimester has been fairly consistent in this department, and really no specific cravings. Allowing myself to have a good variety of foods, mostly healthy, as well as some treats, so I feel like I'm satisfied overall!
nursery progress/other updates:
Anxious for our baby shower next week to get more items and feel more prepared! We did get curtains for the nursery, so that was a small accomplishment, haha!
Also, booked an appointment for a 3D ultrasound during week 27, so I'm super excited for that!
week 25: 10/4-10/10
HOW I'M FEELING:
Overall, feeling great! No complaints!
BODY CHANGES/SYMPTOMS:
Continuing to growwww! Belly is feeling big, and baby movement is feeling different than before. Rather than feeling like the "eye twitching in the belly", it's more of a pushing feeling, or pressure from inside, like he's rolling, flipping or pushing me, which is wild. This must mean he is getting big!!! Can't wait to see him on an ultrasound soon! : )
I also feel like my belly button kinda started to poke out around this time, lol. Not anything extreme, but it just looks kinda funny! As far as the "linea nigra" or line down the middle of the belly, I feel like mine is VERY faint. Not sure if it'll get darker or not during the final weeks! Apparently exposure to the sun makes it darker, and we all know I'm not getting any of that this time of year, haha.
DIET/EXERCISE/CRAVINGS/CAFFEINE:
No big changes here! Got a few short strength training sessions in, which always feels like a big win, even if it's quick! Haha.
nursery progress/other updates:
None at this time! Kinda holding off until we get the recliner in so we can visualize the space a little better.
Doctor's appointments:
Had a doctor's appointment on 25 weeks + 1 day — just a normal check-up, but all looked good! Thankful for good blood pressure, healthy baby heartbeat, and growth right on track at this point per my doctor! Also brought home the drink for the glucose test at my next appt. at 28 weeks! Can't WAIT for that…. ; ) Some people say it's horrible, others say it's not that bad. So I'm very curious to see what I think!
week 26: 10/11-10/17
HOW I'M FEELING:
Excited, and a little more prepared!
GRATEFUL — my sweet nephew was born!!! 🙂 His name is Sawyer Jack and he is absolutely perfect. He was born on 10/12/20! He'll help Ethan and I prepare over the next few months. ; )
BODY CHANGES/SYMPTOMS:
Same as last week, but I have to say that I am actually really loving and embracing my pregnant body. I feel beautiful and sexy and strong, and I can see myself actually missing this bump. I might feel differently when I'm at 36 weeks and very uncomfortable. ; ) But for now, I love it, and Ethan does too!
DIET/EXERCISE/CRAVINGS/CAFFEINE:
Nothing exciting here!
nursery progress/other updates:
My friends threw me a baby shower and it was so perfect and so much fun! We also got a ton of great stuff, which is helping me feel way more prepared! Things like the diaper pail we wanted, a fun piano gym, noise machine, humidifier, boppy lounger, more swaddles, bath time supplies, our bassinet, and some diaper/changing supplies!
I linked a ton of these items here!
week 27: 10/18-24
HOW I'M FEELING:
Very excited for our 3D ultrasound this week, as well as starting our childbirth classes!
BODY CHANGES/SYMPTOMS:
Just struggling to sleep……. what's new. ; )
I also feel like my belly is SUPER tight and stretched. Sometimes I randomly feel short of breath (although that isn't necessarily new just during this week). I also get side cramps easily when I go on walks, which is annoying, haha but trying my best to stay active!
DIET/EXERCISE/CRAVINGS/CAFFEINE:
Still doing my best to eat a well-balanced diet and get all of my nutrients in! Still allowing myself to have some sweets even though my glucose test is around the corner. : ) All about the balance!
Did another Expecting and Empowered workout this week and I'm sore from it!! Otherwise still walking outside, even though it is starting to get freakin' COLD here in KC! Ugh, I'm going to miss my nice, long outdoor walks here soon!
nursery progress/other updates:
I got a super cute little organizer for the nursery to go by his dresser and hold things like diapers, wipes, diaper rash cream and other essentials, but it is so lightweight it'll be easy to move around the house if we need to! It is also CUTE and functional so I'm pretty pleased with it, hah! Snagged at Home Goods, so sadly I can't link it!
Check out my Nursery highlight on IG at @wellnessforthewin for alllll of the updates.
doctor's appointments/baby prep:
Started our five-week childbirth classes this week at AdventHealth Shawnee Mission! We really enjoyed the first class and learned a ton of great information. We are looking forward to the remaining classes and I've already heard from others who have attended Advent's classes and said they felt way more prepared after taking them. So yay!
Also had our 3D/4D Ultrasound at Kansas 4D Ultrasound Bears & Babies in Olathe and it went great! The couple there is so sweet and the whole experience was wonderful. We got a stuffed animal with our baby's heartbeat inside which is so sweet to have! It was incredible to see him in more detail and get a little glimpse of his face. Highly recommend! They suggested that I get this done a little earlier since I am shorter and they start to run out of room sooner and it's harder to see stuff on the 3D! LOL short people problems.
At the end of this week I am also doing a solo maternity shoot, so looking forward to that!
And now we enter the third trimester… AHHHH! How!? Time is seriously flying by. Part of me wants it to slow down because I don't feel prepared, but the other part of me is SO ready to meet our sweet baby boy. : )
Thank you all for reading and being so encouraging and supportive throughout this journey. It means a lot!
Talk to you soon!
Shanna