Things To Do In Steamboat Springs, Colorado
In case you missed it, Ethan and I recently went on a little "babymoon" to Colorado, because we were in desperate need of a getaway, and wanted to squeeze in one last trip before baby arrives! I'm so thankful we were able to make it happen. We had such an amazing time and I got a lot of questions, so I wanted to recap our trip and share some things to do in Steamboat Springs, Colorado, as well as where we stayed, places to eat, and more!
We also made a few pit stops in the Denver area on the way to and from Steamboat (to make the drive a little shorter), so I've included a few little details about where we stayed and ate there, too!
traveling during covid while pregnant
I got a few questions from other pregnant women about the process of traveling, driving in a car for a long distance, altitude, COVID — all the things. So just wanted to give a quick run down on those topics.
Obviously, do what YOU feel comfortable with and always check with your OB/GYN if you have specific concerns about your pregnancy.
Long car ride: my doctor recommended stopping every couple hours to get out, stretch my legs and walk around for 5-10 minutes to prevent blood clots. I have to pee every few hours anyway, so this was not an issue LOL.
COVID: I felt just as safe on our trip as I have in Kansas City. People were wearing masks, distancing and of course, I always try to avoid touching my face and using sanitizer and/or washing my hands whenever it's available. Colorado restaurants did a great job of having sanitizer available at the entrance and also took down everyone's names/numbers for contact tracing.
Hotels: the places we stayed assured us they were doing extra cleaning for COVID, too.
Altitude: I didn't have any issues, and I'm SO thankful. I was nervous that it would negatively affect me, but it really didn't. I was very conscious about drinking tons of water before and during the trip. When we hiked, I had to take more frequent breaks due to being out of breath from pregnancy + altitude, but it was very tolerable. Hallelujah!
Fires: we were not affected by any of the fires in Colorado while we were on our trip. It was a little hazy in the Denver area, but Steamboat was totally fine.
where to stay in steamboat springs, colorado
I will preface this by saying that there are probably much nicer places to stay; however, we stayed at an extremely affordable Airbnb/condo that was in a super convenient location in Steamboat. It was very close to all the restaurants and shops downtown, which was great, and we were basically just in the room for sleeping and showering anyway.
We stayed at the Storm Meadows Condos at Steamboat, linked here. I think we had good timing because we didn't have trouble booking one pretty close to our trip and the price was awesome. I'm sure this will vary depending on their peak seasons, etc.
PSA: our condo did NOT have air conditioning and apparently that is pretty common in the mountains. Not ideal when it's still pretty hot out in the summertime, so I'd suggest bringing a big box fan with you for bedtime. We did this and it helped a bit, but it was still a little rough and hot. Pregnancy didn't help that, but just a heads up!
Overall, we were super content with this place. It also had a full kitchen (which we sadly did not utilize at all, other than the fridge) and a cute little balcony, which was nice!
where to stay and eat in denver, colorado
When we stayed in Denver the first night, we stayed at the JW Marriott hotel in Cherry Creek, which was super nice and an awesome location.
On our last night, also in Denver, we just stayed in another Fairfield Inn Marriott hotel because Ethan has lots of points there. Again, very nice!
Places we ate:
Snooze AM Eatery – got breakfast here on the way, delicious food!
North Italia – also ate this is Denver in Cherry Creek, INCREDIBLE meal.
Happy Camper – great pizza place in Denver and super fun atmosphere!
best places to eat in steamboat springs, colorado
I am so thankful I asked for restaurant recommendations prior to our trip, because you all did not let me down! We chose restaurants almost exclusively off of the list my followers gave me, and let's just say we ate GOOOOD on this trip.
I will provide a list of places we actually visited and loved, as well as those that were recommended but we didn't have time to make it to.
Places We Ate:
E3 Steakhouse – pricy, but SO worth it. Gorgeous view from patio, right on the Yampa River, delicious food and desserts (get the cookie skillet if you can!)
Beau Jo's – AMAZING pizza, honey on the crust….. drool. Get the thick crust for sure.
Salt & Lime – Mexican food, got tons of recommendations for this, slightly underwhelmed if we're being honest.
Winona's – INCREDIBLE breakfast food. Split a cinnamon roll; best thing I've ever eaten. I got the Cali Huevos Rancheros and it was unreal. GO HERE FOR SURE. Maybe twice.
Creekside Cafe – we got breakfast here one morning too and it was really good! Big, cute patio also.
Johnny B Good's Diner – breakfast our last morning. Not a huge menu but our meals were both yummy!
Backdoor Grill – AMAZING burgers and I was obsessed with their sweet potato fries.
Other restaurants/eats that were recommended:
Taco Cabo – another Mexican place, right on the river. We wish we would've tried this over Salt & Lime. #regrets
Lyon's Drug – ice cream/soda fountain bar
Sunset Happy Hour – at peak of mountain
Ore House
Tahk Omakese Sushi
Cafe Diva – fine dining
Powder Day Donuts
Sunpie's Bistro
Mahogany Ridge Brewery and Grill
How You Doin' Pizza
Otto Pint
Laundry
Mountain Tap Brewery
Smell That Bread Bakery
Fuzziwig's Candy Shop / Ice Cream
Things To Do in steamboat springs, colorado
Again, I'm sharing some of the things we did, as well as other recommendations I got!
Hiking:
The main hike we did was Fish Creek Falls, which came highly recommended, and it was a great one! From start to finish it took us about 2.5 hours. You can definitely make it shorter by just turning around earlier if you don't want to go that far. I would say it was medium difficulty level. If I could do it at 19 weeks pregnant, you can, too! 😉 I did have to take breaks occasionally to breathe and drink lots of water! Also, bring snacks if you think you might need them.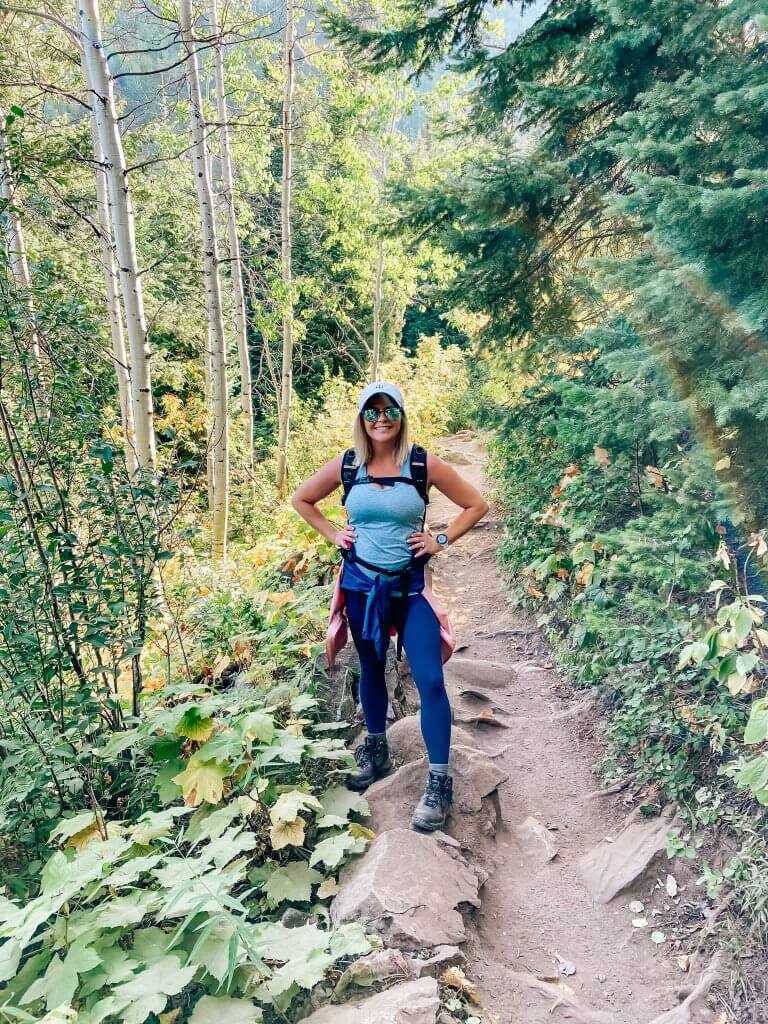 We went on a very short "hike" the first day at Rotary River Park, which was a trail right off the highway. The hike itself was pretty uneventful, very flat and basically just a walking trail, but there were some cool walkways through a pretty, grassy area and we ended up seeing a moose and calf in a little river! This is a great option if you're looking for something that is very low difficulty.
A lot of people suggested downloading the "All Trails" app for alllll the hiking recs, and we did use that!
Other Activities:
All of the cute shops in downtown!
Pearl Lake: this was about an hour from where we stayed, but the drive there was really pretty and we love looking at all the gorgeous mountain houses and scenery. The lake itself was beautiful and you can rent kayaks and paddle boards here, double kayak was $33 for 1 hour. We really enjoyed this! They also had campgrounds there.
Strawberry Park Hot Springs: we were shocked by how HOT the hot springs really were, haha. To be honest, when it was in the 80s during the day, it was not enjoyable or refreshing at all, haha. We tried two different pools and they were both hot AF, so we didn't last long. I've heard they are all different temperatures so I'm not sure if we just didn't try the one that was actually tolerable or what. It would have felt nice at night when it cooled down, but I've heard that swimsuits are optional at night and it gets weird so……. we decided to avoid that, lol.
Gondola Ride at the base of the mountain. This was within walking distance of our condo and really cool to go up to the top (almost, anyway) and see that view of the whole town. A little pricy, but you can buy packages to also do some of the other activities they also have down there, like mini golf, a little roller coaster, etc. There is also a little river around here and we saw tons of kids playing in that, so very family friendly. *ALL OF THESE ACTIVITIES ARE ONLY OPEN FRIDAY-SUNDAY CURRENTLY. Mountain biking was closed.
Eat/walk along the Yampa River. So pretty!
Cherry Creek is an area in Denver that has tons of restaurants and shops. If you are from KC, it's very similar to Town Center/Park Place. Very cute!
Other Recommendations We Got:
Horseback riding – would 100% do if I wasn't pregnant. We saw a million horses so I'm sure there are several options as far as places to do this.
Rent bikes and ride trail along Yampa River or float the river
Rabbit Ears Pass
Han's Peak in Clark
If you are going to the Breckenridge or Summit County area, check out the "Colorado" highlight on my IG profile @wellnessforthewin for tons of recs for these places!
Items to pack for hiking
If you have never really been hiking before and need some suggestions, here you go!
I think that's it! Let me know if I missed anything important.
That is all I have! I hope this post was helpful and gives you lots of ideas of things to do in Steamboat Springs, Colorado if you are heading out there anytime soon! We loved it so much and would highly recommend if you're looking for a fun destination! 🙂
Thanks for reading!
Shanna