For today's post I am collaborating with a couple of amazing therapists from The Counseling Collaborative, a women's mental health practice located in Olathe, Kansas. If you are currently struggling with your mental health in any way and/or have been contemplating going to therapy, you are in the right place. We are teaming up to provide some resources and tips on how to find a therapist that is right for you.
Disclosure: I am being compensated monetarily by The Counseling Collaborative; however, all opinions expressed are my own. I only partner with brands whose mission and values align with mine, and I am so excited to share this local, female-owned mental health practice today in hopes that it will help someone out there.
my personal experience with therapy
Throughout my postpartum journey, I have openly shared some of the mental health struggles I have had, including postpartum anxiety (PPA), and even a few instances of postpartum rage and intrusive thoughts. Unfortunately, many of these things are common for new moms, and it can feel incredibly isolating and shameful when you are going through it. I want to note, however, that these issues are not exclusive to new moms. Especially with the pandemic, many people are struggling with their mental health right now.
I will be sharing another blog post soon that will go more in depth about my experience with PPA and what I've done to work on it, but first, we wanted to arm you with some resources that might be beneficial if you too are looking for extra mental health support.
Premarital Counseling
The first time I ever did any type of therapy was when my husband Ethan and I went through premarital counseling. At the time, I was a little surprised to find that I really enjoyed it. I wasn't sure what to expect, but I quickly learned how therapeutic it was to talk about certain issues out loud, especially with an outside, unbiased person who was solely there to help.
We went into counseling feeling like we knew every single thing about each other, but it ended up sparking conversations we had never had before. Our counselor also presented us with questions that made us think differently and challenged us.
We found that counseling helped us strengthen our relationship even more as we prepared to enter into marriage, but I learned a lot about myself during the process as well.
Grief Counseling After A Miscarriage
My next experience with therapy was after I had a miscarriage in February 2020. During that extremely emotional and difficult time, I met with a grief counselor a few times and found it to be SO incredibly helpful in my healing journey.
Ethan and I grieved our loss really differently (as most men and women typically do), so meeting with a grief counselor really helped me navigate it and work through it more effectively. (Here is another post I shared with tips on how to support a friend going through a miscarriage.)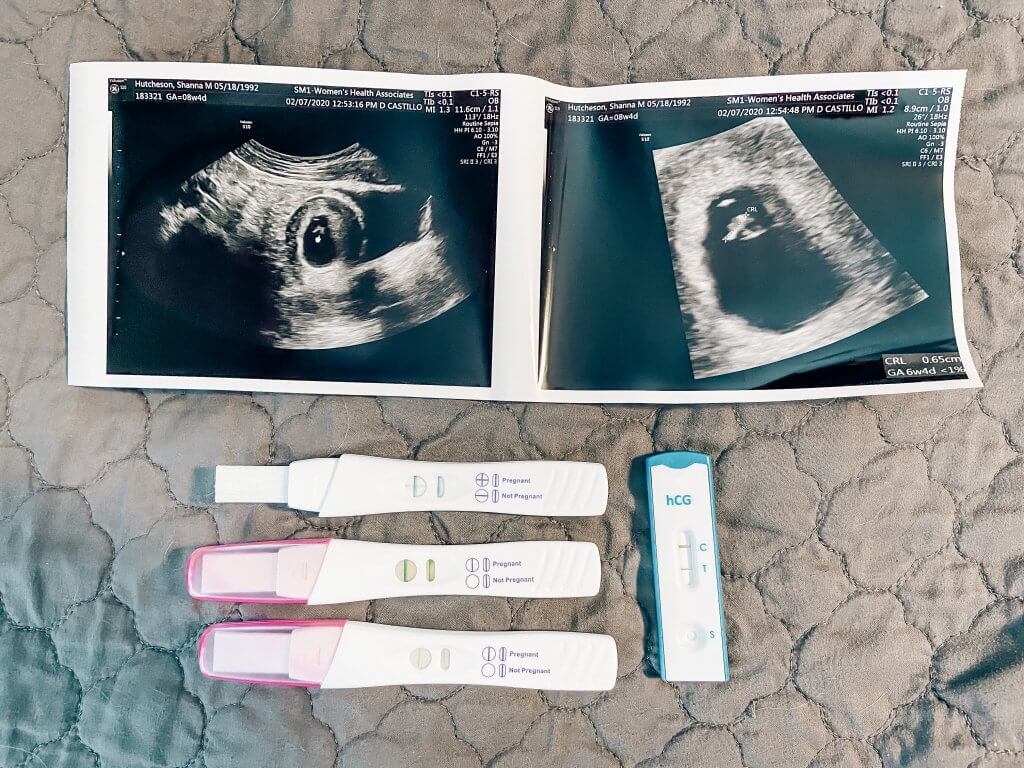 Therapy For Postpartum Anxiety
Lastly and most recently, I started seeing a therapist around 7 months postpartum. In hindsight, I should have started earlier. Once again, I found therapy to be incredibly validating and healing for me. Sometimes simply talking about your struggles out loud to someone who is just there to help, not to judge, can increase your awareness of issues that you may not have noticed before, or help you see things in a different way.
There have been multiple occasions when I went into therapy sessions feeling like I was doing "fine", then ended up crying and realized I was struggling more than I cared to admit. It's easy to brush things under the rug sometimes, but therapy can help bring issues to the surface so you can begin to work through them.
With that said, I think almost everyone could benefit from going to therapy. We all have things to work through, whether we realize it or not, and there is zero shame in that! I'm so glad the stigma around going to therapy is slowly fading away. Let's normalize seeking the support we need so we can start living our happiest lives.
Also, please remember that mental health disorders are often difficult, or even impossible, to see from the outside. Social media is a highlight reel, and even interacting with someone in person may not reveal what they are really going through. Be kind.
HOW TO FIND A THERAPIST
Here's where my friends, Kelsey and Donna, from @thecounselingco come in! If you are interested in going to therapy but have no idea where to start, they are providing tons of tips and things to consider in the sections below. I really hope you find this helpful in your journey to improving your mental health, whether you are postpartum or not!
how to find a therapist that is right for you
We know that finding a therapist can feel overwhelming, so we wanted to share all the tips we would share with our best friends to support you in finding the best therapist for you! Finding someone who is a good fit for you is not only important, it is a vital part of the therapy process.
If you don't feel comfortable sitting across from your therapist sharing your truth, it will be difficult to make the progress or the change you desire. A good therapist will listen without judgment, clearly define and support you in your goals for counseling, provide helpful feedback and reflections, and create a space where you can be open and unapologetically yourself.
What are the steps to getting a therapist?
Prior to scheduling an appointment, we encourage you to ask for a free phone consultation. A phone call can help you get a feel for the therapist and their approach to therapy. Ask questions related to the therapy process, policies, fees, and if they match who/what you are looking for. If they are not who you are looking for, do not feel pressure to schedule. It's also very appropriate to ask for referrals for other providers who might be a better fit.
Insider tip: finding a therapist can be a lot like shopping. Just like not every shirt is going to be the right fit for you, not every therapist is going to be the right fit, either. It is so important for you to be comfortable. As therapists, we do not take this personally. We truly want what is best for you and want to get you connected to the right therapist.
Things to consider when looking for a therapist
Here are just a few things you will want to consider during your search.
Speciality:
Find a therapist who specializes in what you are looking to address in therapy. Looking for a therapist who specializes in perinatal mood and anxiety disorders? Or someone who specializes in couples? Grief and loss? OCD? Trauma?
Location (in person vs. virtual sessions):
Are you looking for someone in close proximity to where you live or work? Some may prefer to drive to a therapist just outside of their area. In-person? Telehealth (virtual) session?
Your personal preferences:
Do you prefer working with a male or female? Age? Older or younger? Etc.
Is therapy covered by insurance?
The terms Private Pay, Out of Network and Self-Pay all mean the same thing. If you find a provider who is "out of network," but a great fit, ask them for a document called a "super bill." You can submit this document to your insurance company to seek reimbursement for your sessions.
You also can use your Health Saving Account (HSA) towards therapy sessions! Many providers are moving to this model (including us!), because there are so many benefits to the consumer related to treatment. Insurance companies actually put a lot of restrictions on treatment including how many sessions they will cover.
Insurance: Call your insurance provider to obtain a list of behavioral health providers who are in-network and in your area.
Employee Assistance Program (EAP): Check with your employer about EAP benefits. Several employers offer free therapy sessions through this program.
And remember, therapy is an investment in YOU.  After you've considered who and what you are looking for in a therapist, it is time to start the search.  
How to find a therapist: starting your search
Here are just a few places you can go to start looking for the right therapist for your needs.
Google: search "Female therapist in Olathe who specializes in anxiety and depression"
Psychology Today: you can filter your search by zip code, preferred payment method, specialty, and more! 
Postpartum Support International: find therapists who are experienced in treating perinatal mood and anxiety disorders 
Insurance Company: call and ask for a list of "in-network" providers
Ask your friends! 
women's health therapists in kansas city
We are accepting new clients at The Counseling Collaborative, located in Olathe, KS, and would love to connect with you. If you are ready to take the next step, we are ready, too.
Be sure to check out The Counseling Co.'s website and/or follow along with their helpful content on Instagram.
GET STARTED BY PARTICIPATING IN THE COUNSELING CO'S NEW THERAPIST-LED VIRTUAL PROGRAM
Big news!!! The Counseling Co. is launching their new program, "Wake Up" or "Wind Down" with The Counseling Co. on Monday, March 7th, 2022. This is a therapist-led virtual program that will include components of mindfulness, journaling, and positive affirmations. This is a way for individuals to invest in themselves and start their week off with intentionality, accountability, and community. 
They are offering my community a $5 discount with code WELLNESSFORTHEWIN.
Additional Details:
+ All are welcome to join! Each week will be led by licensed therapists from The Counseling Co team.
+ We will meet virtually every Monday in March (the 7th, 14th, 21st, and 28th). Two times will be available – 5:30am (yep, you read that right) or 8:30pm. You choose which 30-minute session you attend! We hope that one of these times will fit in before or after the rush of your day.
+ The cost is $40 for the month, but you can get $5 off with code WELLNESSFORTHEWIN.
If you have any questions, please don't hesitate to reach out to either of us via email or direct message on IG. We are here to help!
Thank you so much for reading, and we will have more mental health-related content to share with you soon!
Shanna, Kelsey and Donna