Living Room Decor On A Budget
This post will focus specifically on Living Room Decor On A Budget and all the deets you want to know about ours — even paint colors, flooring details, etc.
In case you're new around here, my husband Ethan and I just finished the process of building a home and moved in at the end of February 2020. We could not be happier with how everything turned out.
I am going to share a series of posts with details on every area of the house, including everything from paint colors to furniture, kitchen and closet organization tips and more.
If you want to refer back to my original post on the building process, click here. Ethan and I picked all of our finishes together and could only choose from the options that the builder had available (which was honestly helpful to narrow things down).
We chose the finishes we liked the best, and that fit our budget, and got inspiration from some of the spec homes that our builder, Inspired Homes, had already built in other communities.
tips for furnishing your home on a budget
Several people who are in the process of buying a house asked me how we furnished ours so quickly because they are feeling overwhelmed.
We had a lot of furniture from our previous house that was tucked away in our storage unit while we lived with my parents for the past 10 months or so. The only new pieces of furniture we HAD to get were our living room sectional, coffee table, area rug and bar stools for the island.
After a few weeks in the house we also decided to purchase an accent chair for the living room. We were debating between that and a kitchen table, but ultimately decided that a chair was something we would use more frequently right now with just the two of us. It was also much cheaper than buying a table + 4-6 dining chairs. : )
This recliner was from Home Goods. I found a super similar one online here: click here to shop it. Similar pillow: click here.
Our current dining table and chairs will suffice for now, and we got them off of Facebook Swap & Shop a few years ago for $80 or something crazy.
I would recommend only buying necessities first, spending some time feeling out your space to determine what else you want and actually need, and go from there.
Remember that there is no set timeline and furnishing/decorating a house is a process. It doesn't have to be "complete" right away! Most of the time it is just your family there, so don't stress yourself out just to impress others on social media. ; )
sell or repurpose old pieces of furniture
Wait for holiday sales to purchase big items (we did this for our refrigerator). Places like Nebraska Furniture Mart always have great deals.
Sell any old pieces of furniture and/or decor that you don't want or have space for anymore and start a "fund" for something else you want.
Ethan and I sold our old buffet, a large mirror, lamp and other miscellaneous items and used the cash from those sales to purchase our new recliner, so we didn't feel bad about spending that money! We even kept the cash tucked away in a mason jar so we wouldn't touch it until we needed it. 🙂
You can also re-purpose some things you already own or visit an antique shop/Goodwill and refinish wood tables to make them look like new! (I'll be including more details on some DIY projects on my to-do list in upcoming posts.)
Choosing neutral furniture is key to making your space cohesive, and you can easily incorporate accessories like blankets, throw pillows or decor to add pops of color. That way you aren't committing to a big piece of furniture that might go out of style or that you won't like after some time.
tips for choosing a sectional sofa
Choosing a sectional was definitely the hardest decision we had to make as far as furniture goes. It's a big commitment and basically the focal point of the living room, so we wanted to make sure we loved the look of it.
We also wanted to ensure that the size was just right, the fabric was functional for dogs and future kids and most importantly, that it was comfortable!
I was so relieved when we got our couch in. I absolutely love it!
The brand is Craftmaster and we found it first at Scheel's in the home section, but we ultimately ended up buying ours from Nebraska Furniture Mart because it was several hundred dollars cheaper there.
It is a custom couch so you pick the dimensions you want, shape (left-facing, right-facing, chaise/no chaise), fabric, etc. They say to allow 6-8 weeks for the custom couches and NFM actually held ours for a few months until we were ready to pick it up. (Delivery was not free like it was for our fridge from NFM, so we used Ethan's truck to pick it up.)
We went with a dark gray "revolution performance fabric" so it is supposed to be pretty durable, scratch-resistant, water-resistant, etc. We figured this color would hide dirt and stains fairly well. It also came with these big, nice pillows! We chose the pattern.
Another HUGE thing for us for making sure that the back cushions were attached because #dogs. You can choose whether you want them attached or not.
Details on our Craftmaster sofa:
F9 Sectional
F9-432-52 Laf Sofa (referring to size and shape)
F9-432-55 Raf Sofa with Return (referring to size and shape)
Fabric: Romero 45
Pillow Fabric: Plateau 41, grade 21
what shape coffee table is best for a sectional?
I think you can go with either a square or rectangle shape with a sectional, but we decided to go with a rectangular coffee table. We searched high and low for a table that we both loved the look of but was also affordable. Furniture can be so expensive!
We found this upholstered coffee table on Wayfair and fell in love! I wanted one with a soft top to have as a safe option for kiddos someday, and I think it looks so cozy in our space. It has drawers on both ends that can pull out all the way to act as trays on top, which is perfect for drinks! So functional and cute. You could also store books, games, toys, etc. on the bottom shelf.
Here is a link to all of Wayfair's coffee tables.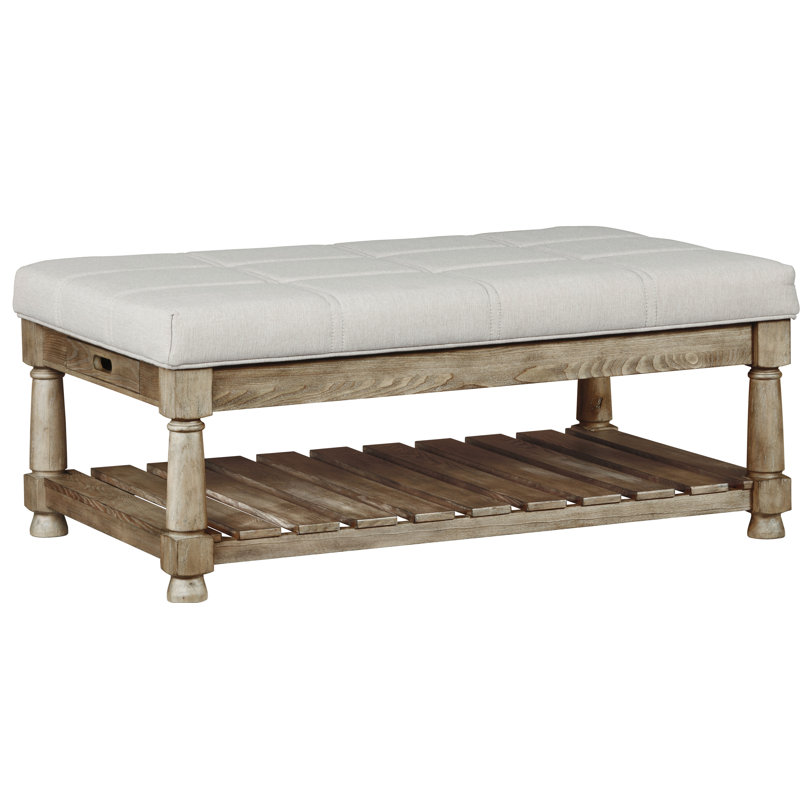 It is so affordable, coming in at less than $200! CLICK HERE to shop it.
Disclosure: Wayfair provided me with a $250 gift card to purchase any item off of their website for our new home, so this was #gifted. I am not being paid to write this post.
what is the best paint color for a living room?
Gray is a very popular wall color these days, but there are THOUSANDS of grays to choose from and it can be overwhelming. In addition, a lot of grays have a blue-ish tint to them, so it can be tough to find the perfect one if you want to avoid that.
Lucky for you, I've got you covered. ; ) I might be biased, but I think we have the perfect color of gray on our walls throughout the whole house.
We have Sherwin Williams Repose Gray everywhere and I love it. It's a pretty, light gray and has no blue tones to it. I honestly don't think we will ever repaint any walls because it's a great, neutral color that goes well with everything.
We used Sherwin Williams Pure White for the trim all over the house.
Affordable Flooring Options
We decided to go with luxury vinyl planks for our floors rather than real or engineered hardwood for a few different reasons.
It was much cheaper. LVP was a "standard" option with our builder, meaning it was included and didn't cost us extra like other options would have.
LVP is also supposed to be scratch-proof and water-proof, which is ideal for our two crazy dogs, and for kids someday. So far, they haven't scratched it!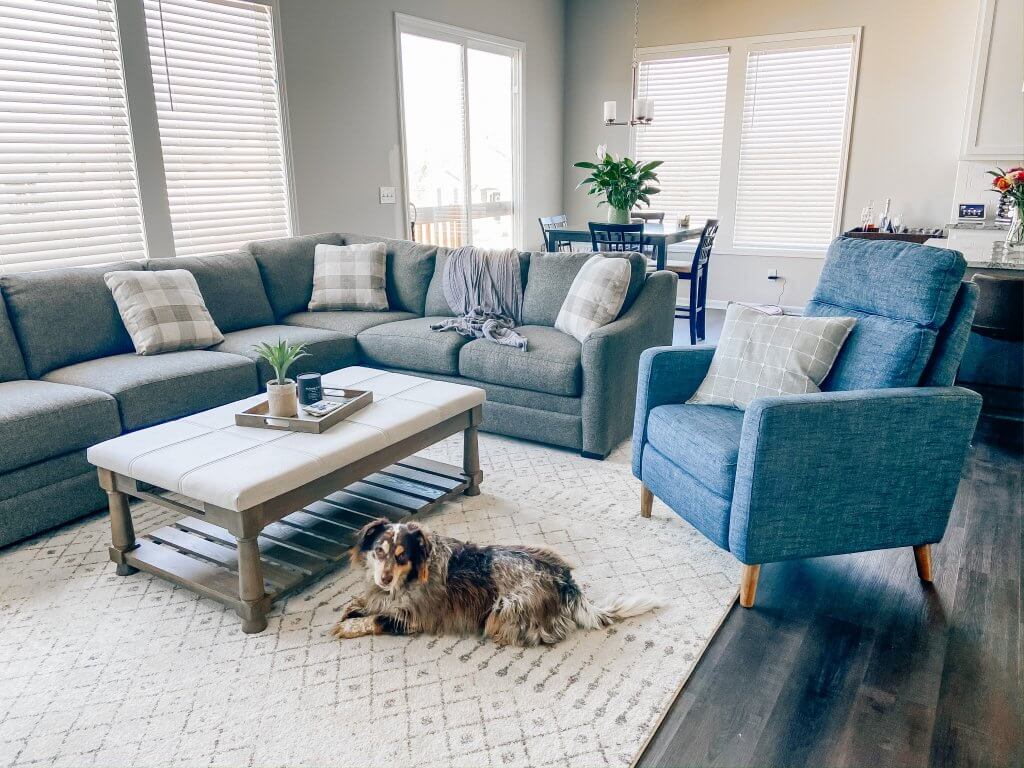 I'm not sure where our flooring came from (it was just provided through our builder), but the color is called Bristol Oak. I think this looks right!
We love the color and look of it, but dog hair and footprints definitely do show easily. We have to sweep and Swiffer a lot, but honestly, that is inevitable with two shedding dogs anyway and not the end of the world to us. : ) However, this cordless Dyson is an absolute necessity and has been a life saver.
We just have carpet in all of our bedrooms and in the basement.
living room area rug details
Here is a link to the area rug we have in our living room. It is an 8×10 and I think it's the perfect size for our space. I was a little worried about it being mostly white, but so far we haven't had any issues! It is more of an off-white and the pattern helps to hide any dirt.
Click here for the rug — only $164 for an 8×10 so it's super affordable. Also comes in other colors. I have several other options linked under "home" on my Amazon affiliate page here and in this other home decor blog post.
Other living room decor details
Gold tripod floor lamp: click here.
Similar wicker baskets for blankets: click here.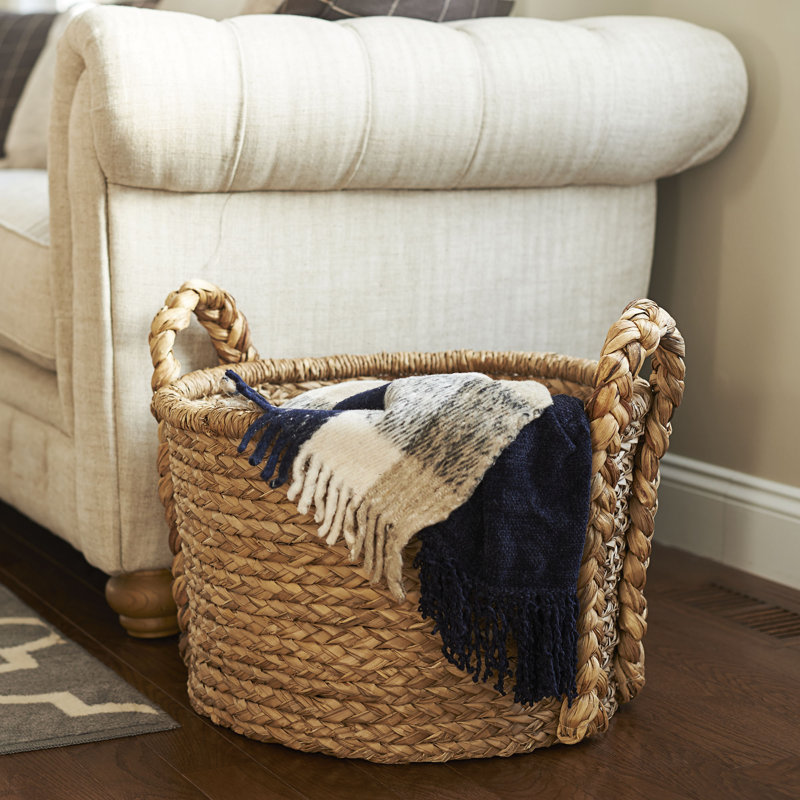 Large floor vase: click here. For sticks to go inside. click here or visit Hobby Lobby, Michael's or At Home.
WHAT ARE THE BEST FAUX WOOD BLINDS TO BUY?
Our house has tons of large windows, so we knew we would want to install blinds pretty much immediately for privacy.
We purchased all of our blinds from Home Depot and went with the 2″ Faux Wood Blinds, which were very affordable, super easy to install (Ethan did them all very quickly by himself) and I think they look awesome.
They don't even have strings anymore for safety reasons — you can just lift them up and down with your hands like an accordion.
CLICK HERE for the 2″ faux wood blinds we got. You can see if they have the size you need and if not, they can cut them for you in store to fit your windows.
I think that covers everything for this area of the house!
I hope this post on Living Room Decor On A Budget was helpful for you! Please share on Facebook, Instagram or Pinterest if you think it would be a helpful resource for others. : )
Leave any questions or comments below! More house details to come.
XO,
Shanna