How To Reupholster Dining Chairs
Ethan and I moved into the house we built at the end of February, and let's just say we have been BUSY ever since! Especially now that we can't really leave the house, we are doing DIY projects left and right. Well, mostly him. BUT my one contribution so far has been this project, so today I am sharing How To Reupholster Dining Chairs!
PS: if you follow me on Instagram @wellnessforthewin, I also have more pictures & videos of this process saved to a story highlight called "DIY Projects"!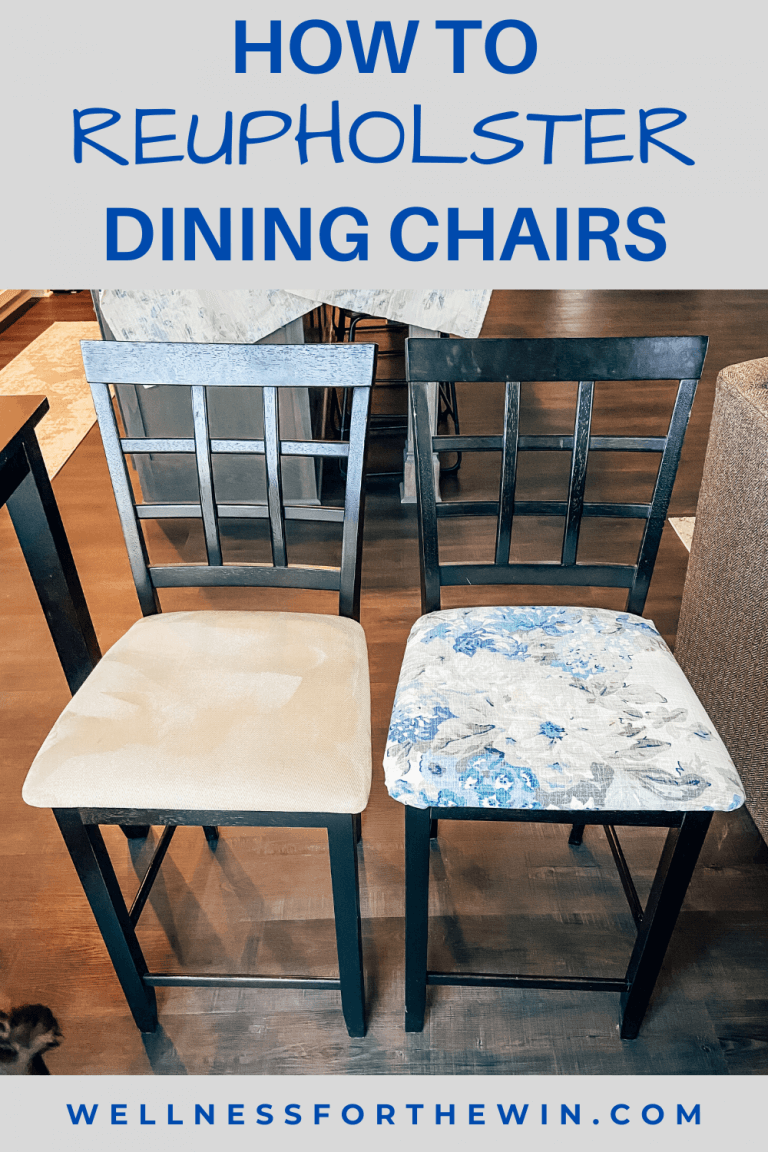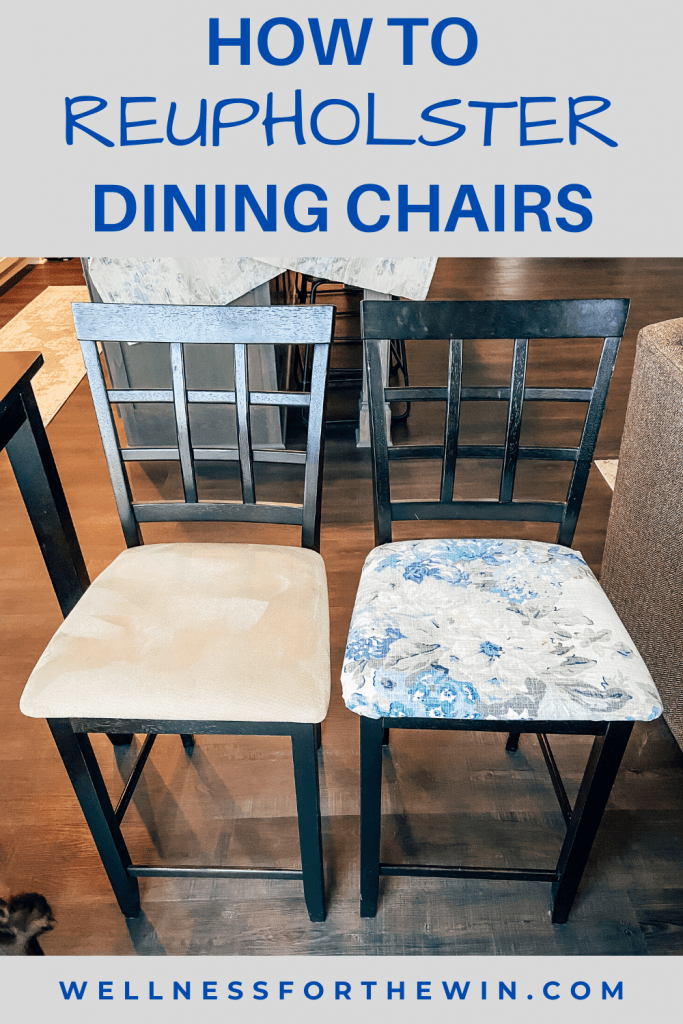 This post includes the resources we followed to reupholster our chairs, the fabric we used, the equipment you need, and more! To be totally honest, I am NOT really a DIY or craft person, but even I found this to be very easy, and actually fun to do! If I can do it, you can definitely do it!
If you have some dining chairs that just need a little update, I highly recommend trying this simple and inexpensive project before spending hundreds of dollars on new chairs!
how to reupholster dining chairs: video tutorial
When I was looking into doing this project, I did a quick YouTube search for tutorials.
I landed on this video by the OnlineFabricStore that is only six and a half minutes long and very to the point. It's easy to follow and outlines all the steps and the equipment you need very nicely.
You may or may not need to do all of the steps they go over in the video. For example, our chairs are still in really good shape, so we didn't have to replace the padding at all. We also just put the new fabric right over the top of the old fabric because it was secured really tightly and didn't add any bulk. Truly, we were just too lazy to remove all the staples. ; )
Click here to watch the tutorial, then come right back!
what kind of fabric to use for reupholstering chairs
When I even mentioned on Instagram that I was considering reupholstering our chairs, I had several people tell me to make sure that I got fabric specifically made for reupholstering. This fabric is more durable and better suited for things that get a lot of use, such as dining chairs.
I wanted to be sure to include that tip, because there are A TON of fabric options out there, and not all of them are ideal for upholstery.
places to get fabric:
There are a ton of places that you can purchase fabric from, but some of the places that are affordable and often have sales going are include:
Hobby Lobby
Michael's
JoAnn
BestFabricStore.com
OnlineFabricStore.com
Etsy
exact fabric i used to reupholster our dining chairs
I ended up getting our fabric from BestFabricStore.com. It was only $49 for two yards, including shipping! (By the way, two yards was a good amount for all four of our chairs and we have extra leftover in case.)
Our pattern is called Waverly Juliet Bluebell Fabric.
EQUIPMENT YOU NEED to reupholster your chairs:
Drill or screwdriver (to remove cushion from chair)
Scissors
Staple Remover or X-Acto Knife and pliers
Additional items if you are replacing the padding (refer to video)
Hammer (if your staple gun isn't the best and you need some reinforcement, haha)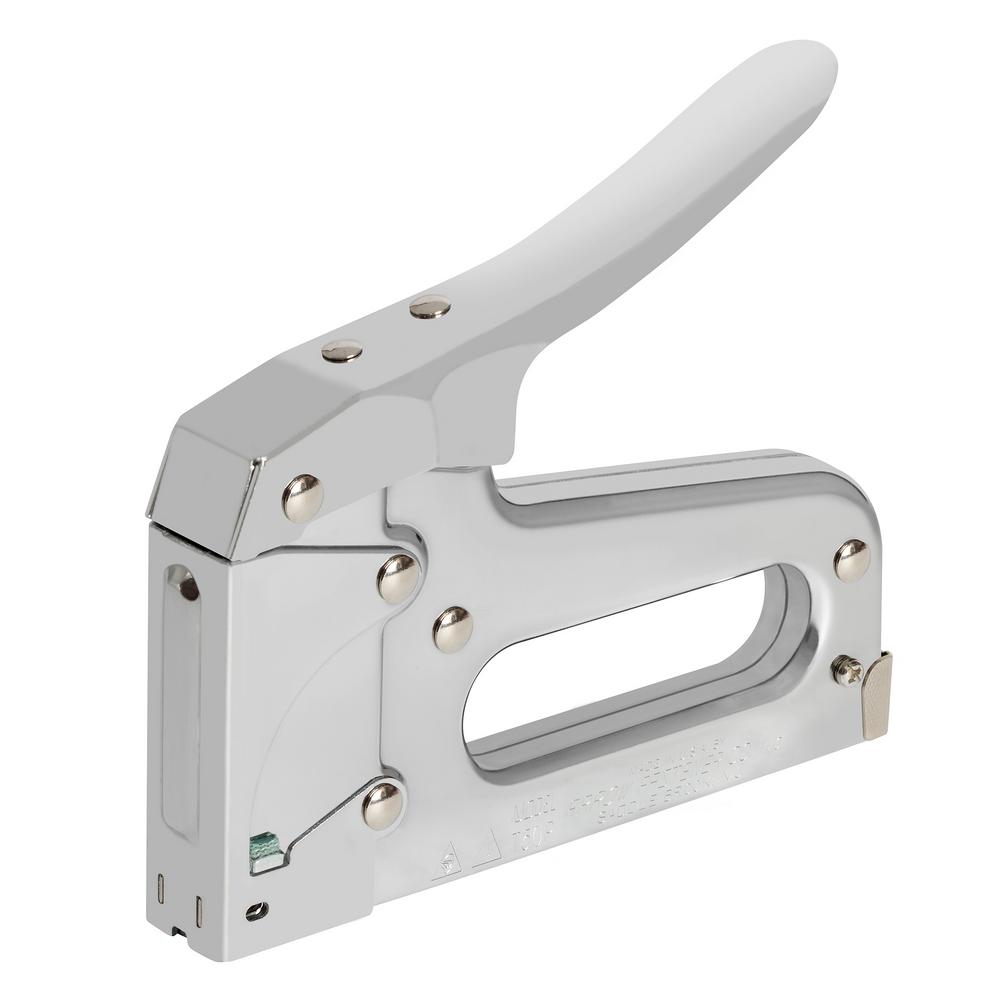 step-by-step pictures of the process
Remove the cushion from the chair using a drill or screwdriver.
Remove the liner under the cushion by carefully taking out the staples. (Didn't get a photo of this part.)
Remove the current fabric on your chair and/or replace padding as needed. (Again, refer to the video for this part if you have to replace the padding.) As you can see, we just put the new fabric over the old fabric because it was on there very tight and didn't add any extra bulk.
Place your seat cushion on top of the new fabric upside-down and cut a piece leaving an extra 3-4″ on each side.
5. Tightly pull the fabric up from each side and use your staple gun to staple in the middle of all four sides, then add additional staples to secure each side.
6. Fold the corners over last and pull very tightly to make sure they are secure. Use your scissors to remove any excess fabric.
7. Put your newly covered seat cushion back on the chair using your drill or screwdriver.
8. Repeat until all chairs are done.
Someone also suggested putting Scotchgard on them to protect the fabric from stains and spills, etc.!
Voila! That's it!
If you have some outdated fabric on your dining chairs and have been thinking about biting the bullet on purchasing new ones, I hope this inspires you to try this much more affordable and easy DIY project!
Please be sure to send me pictures if you do this at home! 🙂 Tag me on Instagram at @wellnessforthewin and share this on Pinterest so others can try, too!
Happy crafting!
Shanna