WFTW Travels: Chicago Recap
Most of you already know that Ethan and I went to Chicago last weekend to celebrate my birthday and enjoy our first little getaway since our honeymoon! We had an absolute blast and I thought it would be fun to share some details about everything we did on our trip. I'm partly doing this for selfish reasons so I can refer back to it in several years and be all nostalgic about our first year of marriage and pre-baby travels and all that sappy stuff. Either way, we are both getting something out of the deal. ; )
I'm going to break this down into categories to make it easy to navigate if you're only interested in certain aspects, such as our favorite spots to eat, things to do, etc. If nothing else, hopefully you enjoy looking through some of our pictures!! 🙂
Let's get started!
Places to Eat
Public House
We got their famous Cake Shake while we were there, which was probably the best food-related decision of the entire trip. It was SO freaking good, and worth every penny. I wouldn't be opposed to having one every single day next time I go to Chicago. (You might think I'm kidding…) Not to mention, both of our meals were amazing. Ethan got a BBQ pulled pork flatbread and I got some incredible fish tacos, and they had tons of other delicious items on the menu. Most importantly, the service was great too. Highly recommend this place!
Big Star
This is a super cute Mexican restaurant that we heard had amazing tacos & margs, and it definitely lived up to the hype! If you live in KC, it has a total Taco Republic vibe to it. Huge patio with cool lights and just a really fun atmosphere. Also, their guac is life and I basically filled up on that, which is why I didn't eat like 10 tacos there. I actually got their tofu tacos, which were pretty good, BUT Ethan's pescado taco looked like the greatest thing ever (and according to him, it was). Also, highly recommend getting a pitcher of margs. It's worth it.
Happy Camper
Y'all know I love my pizza. They didn't have deep dish here, but it was still AMAZING. They had tons of options too. I of course got a veggie pizza with whole wheat crust and it was extremely delicious. Ethan created his own and got pepperoni and Italian sausage. He was basically boycotting veggies on this trip since he eats so many at home with me. 😉 But seriously, another super cute and fun atmosphere. We loved it!
Kanela Cafe
This brunch spot came highly recommended by a couple friends of mine, and I can definitely see why! Ethan and I started off with a huge cinnamon roll, which was un-freaking-real, and then I got their avocado toast with seven pounds of breakfast potatoes, as you can see. Ethan got their baked French toast, and it was absolutely to die for. It was a super cute spot too, and the one we went to was really close to Navy Pier, so we walked over there to explore right after! It was so nice to get some long walks in after all of these huge meals! Haha. I want to go back to this place and try so many other things on the menu!
Wildberry Pancakes and Cafe
I asked for brunch recommendations on my IG stories, and several people suggested this spot! We tried to go to Summer House Santa Monica first, but it was totally booked up, so we ended up here and we were not mad about it! It's not the cutest inside; kinda just looks like an IHOP or something (lol) but the food was SO GOOD that it made up for it. I was drooling over all the amazing pancakes at the tables around us, which is what they are known for! They had alllll different flavors and they aren't kidding around with those stacks. I swear they were 10 pancakes high. Ethan got strawberries & cream crepes which were so delish, but very rich. I went a little healthier and got a veggie omelet, whole grain toast with wildberry jam, and hash browns to split with E. The portions were HUGE and I couldn't even finish half of it! But it was very affordable, and super close to Millenium Park, so we walked through there and saw the Bean afterwards!!
Helpful tip: my friend gave me a heads up that Wildberry Cafe is on the No Wait app, so you can put your name in ahead of time and avoid a long wait! This was clutch and we got right in.
Things To Do (Free or Cheap)
Ride Bikes Along Navy Pier
We spontaneously decided to rent some bikes when we were making our way from the Bean over to Navy Pier and realized we still had a long way to go on our feet. The bikes were a cheap and really fun option! It was only $3 each to rent them for 30 minutes, and we were able to ride them along some beautiful trails right by the water, over a bridge and up to Navy Pier. If we go back to Chicago I would definitely like to rent bikes again, and do it for even longer and explore more places this way! It's a much quicker way to get from point A to point B, and gives you that city life feeling. They have bike racks placed all over the city, so it's really easy to do wherever you want!
The Bean / Millenium Park 
If you don't get a picture in front of the Bean, did you even go to Chicago? ; ) But really, it was fun finally seeing it in the flesh since I've seen hundreds of pictures of it before! The whole park is really pretty, and bonus — it's free! So I definitely recommend walking around this area and taking in the sights.
Walk Along the River Walk  
Again, free! The river is so gorgeous, and there is a lot to see! Amazing buildings, cool restaurants, and of course, lots of great people watching. I just love being by the water!
Walk Along Navy Pier
We walked all the way up and down Navy Pier, which was so beautiful. The vastness of the lake blew me away — it seriously looks like the ocean! And when you turn around, you have an amazing view of the city skyline. I also wanted to ride the Ferris wheel but we didn't get to it (slash didn't want to pay for it; I'm not even sure how much it costs but I'm assuming too much). But this area was really cool and beautiful.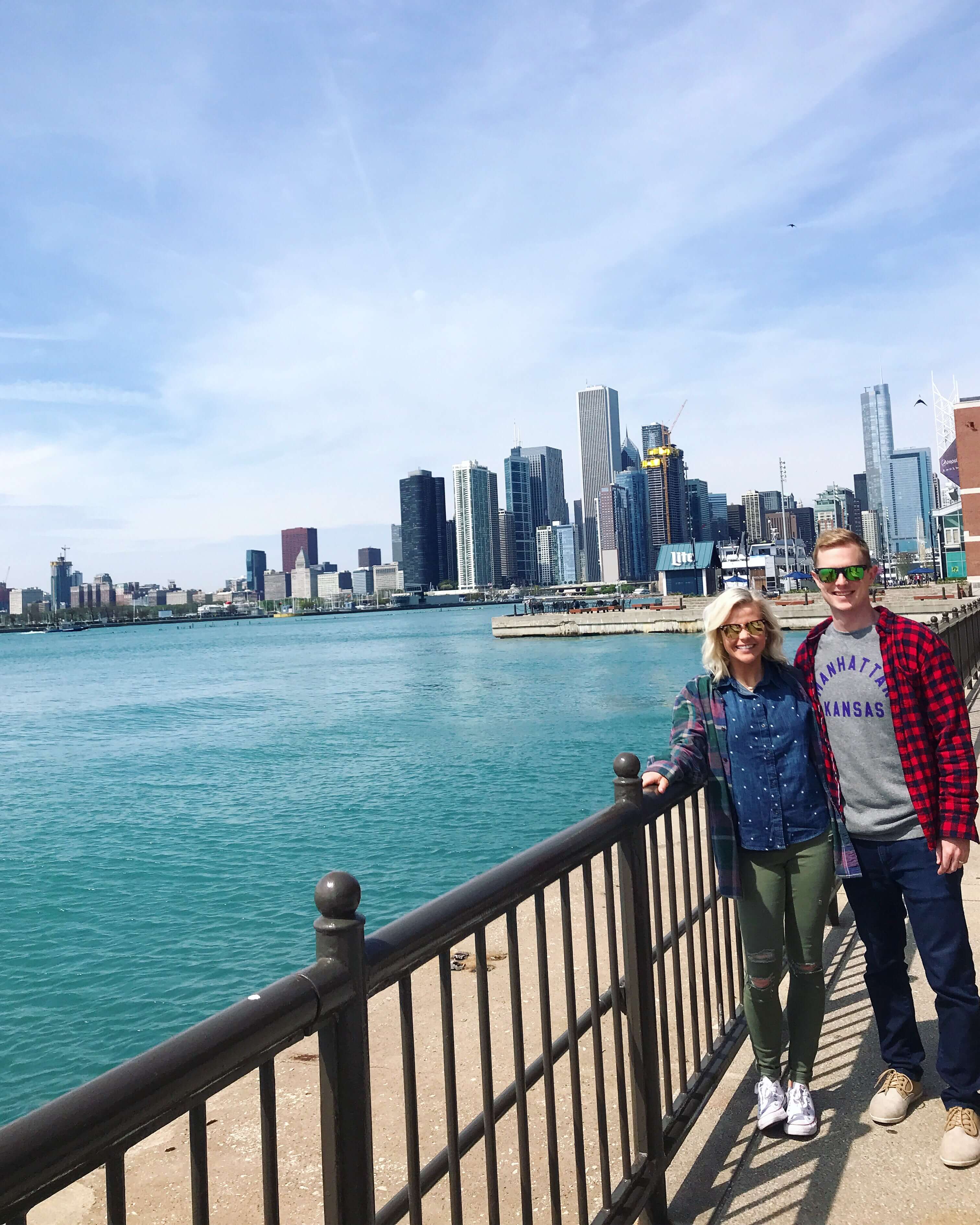 Things to Do – More Expensive, but Worth It
Shedd Aquarium
This was a great indoor option to do when it was kinda cold and rainy outside. There was SO much to see, including small & huge fish, beluga whales, sharks, string rays, sea turtles, penguins, sea lions and so much more!!! The only downside was that it was super crowded with approximately 500 screaming kids. I think we happened to be there on the same day as a field trip or something, but it is probably always packed and that's just unavoidable. We had a good time regardless, but just had to work around the crowds!
Architecture Boat Tour
I had a ton of people recommend this to me, and we were actually planning to do it all along, as Ethan had done it before and enjoyed it. It was a really cool way to see more of the city, and also learn about a lot of the history behind it! I found it very interesting and entertaining, and it gave me a whole new appreciation for some of the amazing architecture there (and honestly just architecture in general). It was 75 minutes long, and cost around $90 for the two of us, and I would say it was definitely worth it! There is also a bar on the boat if that helps…
The Second City
This was a 2-hour long comedy show that we went to see on the night of my birthday and it was probably my favorite thing we did on the entire trip. It was absolutely hilarious and Ethan was literally crying laughing for the whole two hours. It consisted of a group of six people doing a variety of skits; some of it was scripted and some was improv, but it was seriously hilarious. I would highly, highly recommend it!!! I've heard there are other comedy shows to see in Chicago that might be cheaper and equally funny, but I'm only familiar with Second City at this point, and have nothing but great things to say about it. It was worth the money for sure.
Willis Tower (formerly known as Sears Tower)
Most people know that this is the tallest building in Chicago and have seen countless pictures of people standing on the clear glass sky deck that is a casual 1500 feet or so over the ground. You have an amazing view of the entire city and the lake from up there, but… be prepared to wait to see it. In case you didn't know, it does cost money to go up there ($24 per adult) and then we had to wait in line for about 30 minutes to even get to the sky deck. Once you reach the sky deck, they give you approximately 60 seconds to take it all in and take any pictures you might want. The waiting sucked, but the view was pretty breathtaking and we will have the awesome pictures from the sky deck forever, so I would personally say it was worth it. But some of you might feel differently and want to skip the chaos. To each their own. 🙂
Favorite Drink Spots
Cindy's Rooftop 
This was actually our very first stop when we got to the city. Several people recommended it and we had seen some awesome pics of it on IG, so it seemed like an obvious choice. It does have an absolutely amazing view of Millennium Park and the lake, but it was extremely overpriced (in my super cheap opinion). I don't like to spend more like $6 on a drink if I can help it, and my drink was $16 freaking bucks! Granted there were probably a few slightly cheaper options, but they were all expensive. Also, we got a "cheese platter" as an appetizer and we were both starving. We received a plate with literally two pieces of cheese. TWO!!! And some crackers and jam that were really delicious, but it was also $16. Definitely not enough food to be worth that price. It's a cool spot to go to for the view and the vibes, but I'd say just plan to go for a beer (not food) and leave after one if you're a penny pincher like me. : )
O'Brien's by the River Walk 
We stumbled upon this place while we were walking around one day, and rode past it on our boat tour, so we finally decided to give it a shot on our last day! They had super yummy appetizers and drinks (which were affordable), and they happened to have live music when we were there! It's right by the river walk so it's a beautiful view, right across from Trump Tower! These pretzel bites were life, and the avocado hummus was bomb too! (Not pictured: delicious, warm pita.)
The Vig
I don't have any pictures from this place, but it was a cool bar we went to after Second City to grab a few drinks! It was dark and packed (but in a fun way), and they had live music too! It's also a good location because there are lots of other fun spots around if you're in the mood to bar hop.
Benchmark
We actually stopped in Benchmark twice while we were there; it's close to the Vig, among other cool spots! We just went for drinks both times, but their food looked great too! They also have a huge roof that opens in the summer and is probably super fun. Unfortunately it was too chilly when we were there, hence the sweater and flannel!
Pippin's Tavern
One afternoon I was totally starving (aka hangry) because we hadn't eaten since brunch, but we didn't want to eat too much too close to dinner. So we were on the hunt for a place to grab a few apps to hold me over so I didn't turn into a mean person (no one wants to be around me when I'm hungry and without food). We stumbled upon this bar and loved it! It's a total hole in the wall, which was a nice change of pace. It was super small, and they had cheap beers and food. Right up our alley! We grabbed a few beers, some mozzarella sticks and chips & salsa here.
Bangers & Lace
We walked here after eating at Big Star (it was probably a 10-15 minute walk) and I have to be honest; I was disappointed. It's a cute bar, but our service was terrible, and I hated my drink, which I guess is my own fault for trying to be adventurous haha. We had fun anyway, but I probably wouldn't go back!
Anthem
When we peaced out of Bangers & Lace (above), we walked over to Anthem, which was way more our style. It was a fun sports bar and they had a great looking menu! Of course I was hungry… again, so I got a little veggie burger slider and it was delish! Great service here, too. I'd like to go back there and eat a meal!
Where We Stayed
Ethan is the absolute king of planning trips and comparing ALL options as far as where to stay, cost of flights/transportation, you name it. He's on it. Thank goodness, because I am not a trip planner whatsoever.
Anyway, hotels in Chicago ain't cheap, people. We decided to do an Airbnb that was just a little outside the "action" and it was extremely affordable. We could easily walk to the train, take an Uber or walk anywhere pretty quickly from our apartment. It was a super small studio apartment, but it was perfect for our purposes because we were barely in the room other than when we were sleeping! We saved a ton of money this way, so I'd definitely recommend looking into Airbnb if you're planning a trip to Chicago (or really anywhere).  The only sad picture I got of the room is below. Sorry that I didn't make the bed.
Best Methods of Transportation
$3 for 30 min bikes
I already mentioned this above, but riding bikes there was seriously so fun, especially by Navy Pier! I would definitely like to do this as a way to get to more destinations next time we are there! It was a really nice break from walking; my feet started hurting!
$20 for 3 day train ticket
I think this was a pretty great deal and we used the train several times throughout the trip. Ethan was really good at navigating and knowing where to get on and off of the trains, but if it weren't for him I would not have felt comfortable or confident doing it. It's definitely different than living in the 'burbs! But it was cool to experience and if you're there for a whole weekend, I think the 3-day pass pays for itself.
Uber/Lyft
Of course, Uber is always an option too. We did end up using Uber a couple different times when it wasn't convenient to walk or there wasn't a train route where we needed to go. It was also pretty cheap and quick to get to most places, but of course, not as cheap as walking or using the train.
So. Much. Walking!
Obviously I love being active, but even I underestimated exactly how much walking we would be doing on this trip. I ended up with around 7 miles and 16-17,000 steps on my Apple Watch by the end of each day! I really enjoyed walking and seeing all the sights, but I just did not pack accordingly. See section below on what to wear. ; )
What to Wear
I have to admit; I did NOT come prepared at all, which is sad considering I'm the queen of over-packing. I am definitely not used to the city life, and I didn't realize how much cooler the temps would be compared to KC! They are not kidding around with the name "The Windy City". And who would expect it to be 60 degrees in May vs. the 90s we've been having at home? Needless to say, we had to make a couple spontaneous shopping trips to get more appropriate attire, but hey — I got a cute new cardigan, sweater and adorable pair of pink tennis shoes out of the deal, so it wasn't all bad. Ethan might feel differently about that.
With that being said, these are the main pieces of clothing/attire that I would recommend bringing on your next trip to Chicago:
#1: COMFY. SHOES. I knew we would be walking, but I severely underestimated just how much, and ended up buying comfy (and somewhat stylish) tennis shoes to wear from Marshall's for $29. If I go back to Chicago, I will honestly not even bother packing any sandals (and definitely not heels), but just comfortable tennis shoes of some sort. I brought my Converse shoes and wore them a few times, but even they started to hurt after several hours of walking. If you get anything from this post, I hope you understand the importance of packing good walking shoes, and also don't expect for your whole outfit to look cute. It just doesn't even matter anymore.
Like I said, it was cold. Cold for May anyway. The unseasonably warm weather in KC really threw me off, and I was expecting summer-like temps. So again, please hear this — bring LAYERS. Plenty of jackets, cardigans, sweaters, maybe even a light coat. I'm sure it gets somewhat chilly at night throughout most of the year with the wind, so it never hurts to be overly prepared! I literally packed all sleeveless tops, and wore Ethan's flannel shirts 80% of the time.
Additional Food Recommendations
Here is a list of brunch recommendations that I compiled from a bunch of my followers! I have only tried the ones I listed above, but I'm sure these are all great too!
Kanela Cafe
3 Dots and a Dash
Summer House Santa Monica
The Beatrix (River North or West Loop)
Three Arts Club of Chicago
Wild Berry Cafe
Yolk
Hampton Social
M Henry
Lula Cafe
Zella's (buffet/bottomless mimosas)
Seven Lions
Hub 51
Orange Restaurant
Little Goat
Beatnik
Bad Hunter
The Kitchen (on the river)
The Madison
Lastly, I want to address the fact that I fully enjoyed all that Chicago had to offer, without stressing about every calorie or anything of that nature on this trip. It was amazing. I had so much fun with Ethan and tried a ton of delicious food, desserts and drinks, because I know that a few days of indulging won't undo the healthy lifestyle that I live 80% of the time when I'm not on vacation. Life and food are meant to be enjoyed, so if you go on a fun trip, don't be afraid to splurge a little yourself! Some of my meals were healthier than others on this trip, but the memories we made are so much more important than calories consumed. I will cherish the memories from this trip forever and ever.
I am already back to my normal routine and my body is definitely thanking me for it! I can only go so long eating that way, because I truly don't feel my best when I'm eating fried food, alongside beers and vodka sodas for days on end. I'm still feeling a little "puffy" and bloated post-vacation, but I'm definitely not restricting myself to make up for everything I ate. I'm just focusing on drinking plenty of water (since I didn't do near enough of that in Chicago), getting back to my workouts at Health House, and eating lots of fruits & veggies! I hope that helps give you some perspective on your own choices when you are / are not on vacation.
Thank you all for following along during our trip to Chi Town via my Instagram stories & for reading my trip recap!! I hope it was helpful if any of you are heading to Chicago soon too! 🙂
Talk to you soon!
Shanna
#WellnessForTheWin #WFTWtravels #ChicagoRecap