When Rhett turned 6 months old, we started on the fun, and somewhat nerve wracking, journey of introducing solids! After doing a lot of research, I wanted to do a *mostly* baby led weaning approach to encourage self-feeding and teaching him how to become an independent eater early on. I have learned SO much about this over the past several months both from experience with Rhett and from all of the amazing resources that are out there. I wanted to share some of my favorite baby led weaning tips and resources here in hopes that it helps anyone out there who is curious or starting their baby on solids soon, too!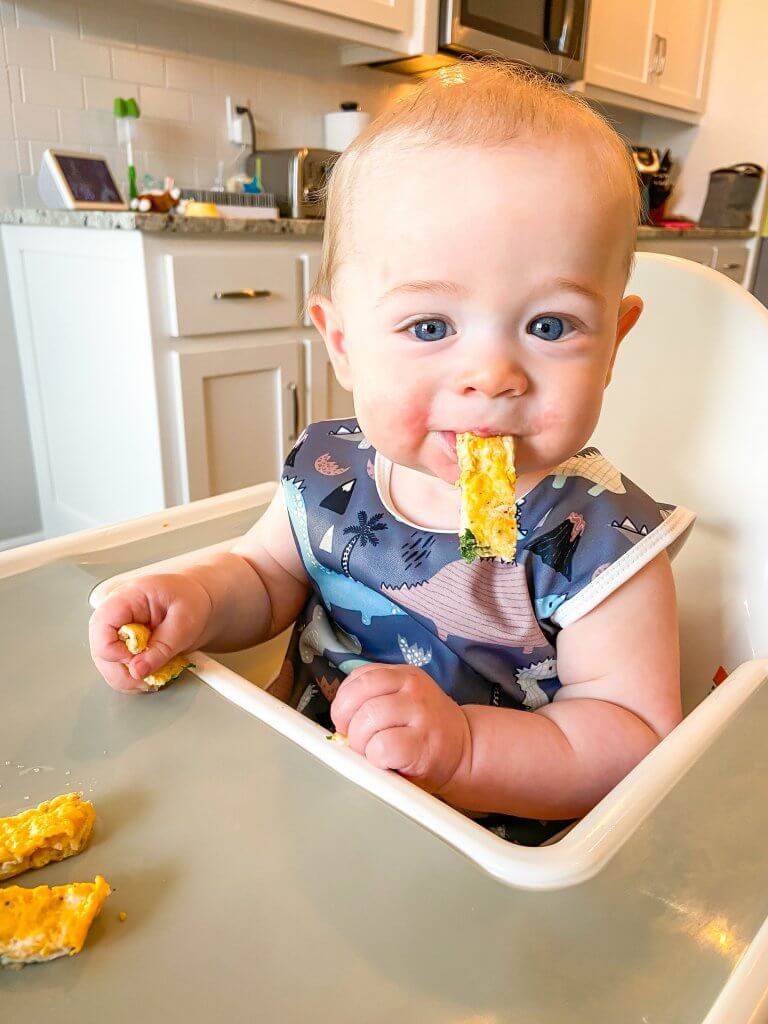 Disclaimer: always talk to your pediatrician if you have any questions or concerns about starting solids with your little one. I am including a lot of information below and resources that can also help you determine if/when your baby is ready to start eating food. Most of all, always remember that YOU know what is best for you and your baby.
I'm not saying that anything we are doing is the "right" or "best" way — we are all different! I hope to just provide some tips to help you with your journey and give you the confidence to make some informed decisions along the way! And have a little fun with it, too. 🙂
ALSO, be sure to check out my BLW highlight on Instagram at @wellnessforthewin – I have saved a ton of pictures of his meals there as well!
At the time I am writing this, Rhett is 8 months old, so has been doing solids for about 8 weeks!
when should you start offering solids?
It is now recommended to wait until 6 months of age OR until showing signs of readiness to start offering solids to your baby. For premature babies, for example, this might be their adjusted gestational age of 6 months. You want to ensure they can sit up and hold their head up independently so they can safely swallow foods. Ideally you want them to be showing some interest in food as well!
Many pediatricians will still tell you that you can start offering solids at 4 months, however, this is not in line with the current recommendations. Their digestive systems are still very much developing and starting them earlier than 6 months can be hard on their tummies, in addition to the fact that most babies aren't showing all signs of readiness at that point.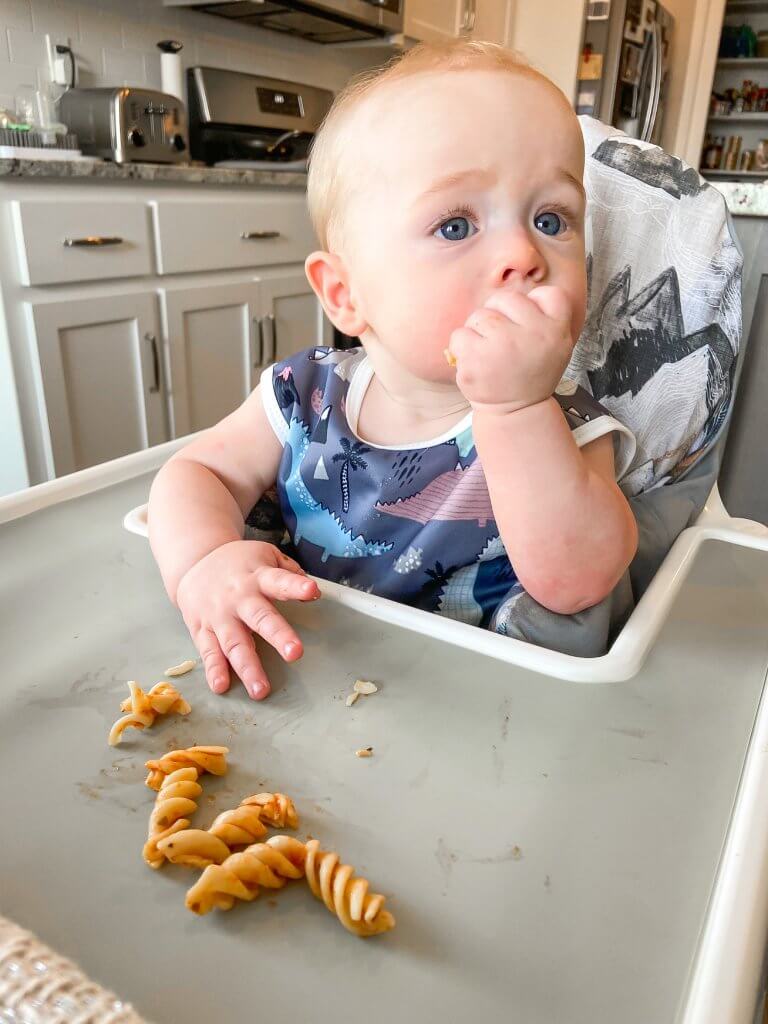 Check out some of the resources I mention throughout this post for additional information on the other signs of readiness.
Rhett started sitting up on his own pretty much the week he turned 6 months, so that is when we started.
do you still breastfeed and/or give bottles along with solids?
Yes! Breastmilk and/or formula is supposed to be their main source of nutrition until they are 12 months of age, so you still want to offer that first. When you are first starting solids around 6-7 months of age (or when showing signs of readiness), try to offer food 1-2 times a day.
Our pediatrician encouraged us to be offering 3 meals a day by the time he is 9 months old, but around 7.5 months he was mostly getting that already. (Twice at daycare and once at home in the evening.) This will vary depending on the baby and a variety of other factors, including signs of readiness, interest in food, etc.
Our rough feeding "schedule":
Breastfeed at 6:30 AM
Offered solids at daycare around 7:30 AM
Bottle around 9:30 AM
Bottle around 12 PM
Offered solids at daycare around lunch time (honestly not sure what this timeline looks like)
Bottle around 3-3:30 PM
Breastfeed around 5:15 PM
Offered solids at home around 6 PM
Bedtime around 6:45-7 PM
I will say that around 8-8.5 months, he didn't always want to breastfeed when he got home from daycare like he used to, so we have been experimenting with just offering dinner around 5:45-6 pm and then nursing immediately before bed around 6:40 pm-ish.
does Rhett spit up a lot of his solids?
Surprisingly, Rhett has rarely spit up any solid foods. I say surprisingly because he has been a bit spit upper his whole life! Our pediatrician calls him a "happy spitter" and says it's a "laundry problem, not a medical problem" ; ) and she's right! It was a huge pain throughout his life when he was smaller, but around 6 months it really slowed down a lot, and 7-8 months it was way less frequent. It still happens here and there, but nothing compared to what it once was! He also mostly spits up after breastfeeding, not after eating solids.
tips on finding the right size to offer — not too small to pick up but not too big to choke
I HIGHLY recommend downloading the Solid Starts app, and be sure to follow @solidstarts on IG. The app is literally the most helpful thing ever. I went ahead and got the paid version (I think it's just $1.99/month) so I can log all of his food – you can take note of when they try different foods, mark them as "favorites", make notes about how you served it, any reactions they may have had, etc. It's really nice to be able to refer back to this, and also fun to see how many different foods they've tried!
MOST IMPORTANTLY, for every single food you can imagine, the app tells you exactly HOW to serve it, along with pictures. They have detailed information on how to serve for 6-9 months, 9-12 months, 12-24 months, etc. They often have helpful videos as well. This app is truly a godsend when you are first starting especially.
The main thing that I remembered from all that I learned from podcasts, IG accounts, etc. was that when you are first starting, you want things to be roughly the size of an adult pinky finger. Babies at 6 months have their "palmar grasp", so they can't pick up tiny pieces quite yet, but they can wrap their whole hand around something of this shape. Another podcast taught me that you want things to be soft enough to smash between your fingers. So nothing hard, crunchy or too sticky, as these are choking hazards.
Between 9-12 months is when they say the pincer grasp typically develops, and you can begin offering smaller, bite-sized pieces of food. Rhett started to be able to do this with certain foods around 7.5-8 months.
Foods that Rhett has eaten in the first 2 months of starting solids
Here is a list of foods that we tried with Rhett early on in our feeding journey! They are not necessarily listed in the order they were introduced. I tracked each new food he tried in the @solidstarts app so I could see how many different foods he had eaten and also make note of any allergic reactions he had to foods.
Sweet potato — initially offered mashed mixed with breastmilk, then roasted sweet potato strips (with skin removed), seasoned with avocado oil and cinnamon, or other spices such as pepper, garlic powder, paprika, etc.
Avocado — initially tried to offer in strips but it was really slippery and he struggled with it, even when rolled in hemp seeds, so I typically just mashed them and offered in a bowl, mixed with a little breast milk and offered on a pre-loaded spoon
Banana — same as avocado above! This is also how we first introduced peanut butter. Mixed some natural peanut butter in with mashed banana and breast milk on pre-loaded spoon.
Oatmeal — just cooked old-fashioned oats with water in the microwave and then poured in some breast milk, cinnamon, mashed berries and/or nut butters. (Note that cinnamon can cause a rash if it makes contact with the skin so if your babe has sensitive skin this might be something to watch for.)
Carrots – roasted in strips with skin peeled (added seasonings like paprika, black pepper and garlic powder – it is okay and actually great to add spices to foods to expose babies to different flavors! Obviously just be cautious of super spicy things!)
Eggs — omelet with spinach mixed in and cut into strips
Blueberries – mashed and added to Greek yogurt and/or oatmeal
Raspberries – same as above. We always have frozen berries on hand and will just thaw in the microwave and use a fork to mash.
Black beans – mashed with a fork and mixed with breast milk and some Greek yogurt. He was obsessed with these!
Greek yogurt – plain, full fat from ALDI
Pulled pork — offered in small pieces
Chicken — small strips from a soup with low sodium chicken broth (you want to make sure it is nice and moist. BLW Made Easy podcast recommended offering chicken thigh over breast first since it is higher in fat and not as dry. Dry meat = choking hazard.)
Mango – mostly got this in puree form at daycare
Zucchini — offered roasted and cooked with extra virgin olive oil, garlic powder and pepper. Just peeled off the skin and it was nice and soft for him to self-feed with his hands. He was a big fan of this!
Green beans — ate cut up in small pieces at daycare
Chickpea pasta — rotini shape with a little bit of no-sugar-added marinara sauce
Broccoli — steamed
Peaches
Tomatoes / marinara sauce – the organic sauces at ALDI have no added sugars, they do have sodium but he isn't eating massive amounts of it so not worried about it
Edamame – blended in food processor with some avocado oil and mixed it with mashed avocado (this is one of the top 8 allergenic foods — soy)
Cheese — shredded
Peanut butter — mixed in with mashed banana or oatmeal + breast milk
Almond butter — same as with peanut butter
Spaghetti squash
Ground venison — made for "sloppy joes", had some tomato sauce on it with pepper, paprika, made really small pieces and he used his hands to eat, closer to 7.5 months
Spinach — mixed into egg strips and mixed with pasta shapes
Watermelon — the first time we offered it was in a slice where he could hold the rind and bite pieces off himself, he LOVED it!
Cauliflower — loves this steamed. Will usually drizzle with some ghee and add black pepper
Kodiak Cakes pancake/waffle mix – they have a mix with no added sugars and they are also 100% whole grain. They do contain wheat/dairy/egg so make sure you have introduced those allergenic foods first with no issues. We cut up into small, bite-sized pieces and mixed with some Greek yogurt + smashed berries to make them nice and moist and safe to swallow.
Pumpkin puree – mixed with a little Greek yogurt or by itself, he loved!
favorite baby-led weaning resources — podcasts, IG accounts, courses, etc.
Podcasts:
Baby Led Weaning Made Easy Podcast — I swear this podcast taught me 90% of what I know. Sooooo incredibly helpful!
Nutrition For Littles — Alyssa is an RD and mama and is super approachable and I love her perspective. She also promotes intuitive eating for mamas so I like that this is incorporated in the way she discusses feeding our little ones, too.
Instagram Accounts:
@babyledweanteam — this is the host of the Baby Led Weaning Made Easy podcast! Katie is a Registered Dietitian
@feedinglittles
@nutrition.for.littles
@pediatric.dietitian
@thefamilynutritionist
@growing.intuitive.eaters
@theclinicdietitian
@newwaysnutrition
@kids.eat.in.color
@the.baby.dietitian
@kids.nutritionist
@mymunchbug_melaniepotock
Courses:
I took most of the Feeding Littles Baby Led Weaning course and it had some really great info! I would definitely recommend it if you are more of a visual learner. I personally love podcasts and find it so much easier to listen to them when I'm driving or on a walk, etc. so that is how I learned almost everything (with the shows I listed above). But Feeding Littles course was definitely helpful and included some really helpful handouts and tip sheets that I think a lot of people would love to have. (Grocery lists, info on the allergens, etc.)
favorite baby led weaning items
I have linked all of my favorite baby-led weaning items on my Amazon page under BLW! Click below to check them out.
This list includes long-sleeved bibs, bowls, spoons, and more.
CLICK HERE FOR AMAZON PAGE (affiliate links)
highchair details
We have this $20 IKEA highchair, and then we got a bunch of accessories from @yeahbabygoods, including the silicone placemat, silicone floor mat, leg wraps, foot rest and cushion + cushion cover! They gave me a code WELLNESSFORTHEWIN15 for 15% off your purchase if you are interested in these accessories! (Not an affiliate code.)
Do we love the highchair? Honestly, it's fine, haha. It does the trick! The main downside is that the tray is pretty much impossible to remove. Otherwise, I feel like it's a pretty standard high chair. I like that it is the same height as our kitchen table and overall it is pretty compact. Someone asked if I feel like it is sturdy / won't tip over – the answer is yes. Thanks to the accessories, it is pretty cute too!
I've learned that having a footrest is really important for their posture while they are eating, so if you are in the market for a high chair, make sure you try to get one with a foot rest OR buy a footrest to add like we did!
what are the top 9 allergenic foods?
Most food allergies are caused by these 9 foods:
Peanuts
Tree Nuts
Dairy
Eggs
Soy
Wheat
Fish
Shellfish
Sesame (more recently added)
how to introduce allergenic foods
It is a common belief that you need to wait 3-5 days between introducing new foods. However, from the resources I mentioned above, I learned that in most cases that really is not necessary, outside of the top 9 potentially allergenic foods. Per Baby Led Weaning Made Easy podcast recs, I always waited about a week in between introducing these foods. Otherwise, I did not space out other things like avocado, sweet potato, banana, etc. when first starting. If your babe seems to be having digestive troubles however, you could try spacing things out OR just taking a little break from solids before starting up again.
Apparently most babies don't have a reaction on the first try with an allergenic food (if they are going to have one) and often times it happens on the second or third exposure, or even later. So unfortunately, you still need to be aware and watch for any signs after the first time you try. I would suggest talking to your doctor about a plan prior to starting these foods to ensure you know what to do if/when they have an allergic reaction. We had Benadryl on hand and knock on wood, haven't had to use it so far.
If your baby has severe eczema or an increased risk of allergies for whatever reason, again, talk to your pediatrician about a game plan for introducing allergenic foods.
For dairy, we started with plain Greek yogurt. The first time he had no issues. On the second or third try he did develop a decent rash on his belly. He was otherwise acting completely normal. I ended up breastfeeding him, and about 30 minutes later, the rash went away on its own, so we didn't give him any medication. Note: I added cinnamon to the Greek yogurt when this happened and apparently cinnamon can sometimes cause a rash when it makes contact with the skin, but I'm not sure if this was the issue, but he hasn't had any issues with dairy since. We also gave him some shredded cheese shortly after as another dairy exposure. Since then, haven't had any issues.
For eggs, I just cooked up some scrambled eggs / more of an "omelet" so it was easy to cut it into strips he could hold onto. He loves eggs! I often mix spinach into them as well, plus some pepper.
I introduced peanut butter by mixing a small amount into mashed banana and stirred in some breast milk so it was more thin and liquidy. You don't want to give big, sticky globs of nut butters, as this is a choking hazard.
For almond butter, I did something similar, but mixed it in with old fashioned oats and breast milk.
Wheat — Rhett had some noodles at daycare I think before we had tried wheat at home. Thankfully, no issues. : )
For fish, we have done baked salmon, which is soft and flaky and easy for him to eat. He LOVES salmon, just like his mama!
Soy — I cooked some shelled edamame in the microwave with some water, and then threw it in my food processor and mixed with some breast milk. He actually had a small rash after this, but it was hard to tell if it was related or not. (He has sensitive skin in general and sometimes would get a rash just from crawling around on the floor, getting dog hair on him, etc.) We honestly need to try soy again soon and see. Might try with tofu next.
We have not yet tried sesame or shellfish, but need to soon! We will probably try scallops since those are pretty easy to cook and similar in texture/softness as salmon! And Ethan loves them.
do you ask family / babysitters to give him solids if they are watching him?
We haven't really had to navigate this much yet. Since he is still mostly doing breast milk and not eating crazy substantial amounts of food, if he was offered solids 1-2x throughout the day and we are having someone watch him in the evening (which is usually the case), then I don't have them worry about giving him food. If they do, I will just have them give a fruit/veggie pouch from ALDI served on a spoon, so they don't have to deal with cleaning him up + a mess haha.
I'm not totally opposed to him occasionally being fed by someone else rather than feeding himself. I think it's important to remember it doesn't have to be all or nothing with baby led weaning. BLW doesn't mean you can never, ever do purees, and it doesn't mean that you can never help them eat either! IMO. 🙂
how do you work it in timing wise with working and bedtime? so hard!
This part is SO HARD. It was by far the hardest part of getting started, and it continues to be a challenge at 8.5 months. Ethan and I both work full-time and Rhett goes to daycare during the day. He usually gets home around 4:30-5 pm (or even close to 5:20 pm depending on the day), and he is usually tired and ready for bed by 6:45 pm, or earlier. When he gets home from daycare, I try to breastfeed him around 5-5:15 pm, and the goal is to have dinner around 6 pm. If I don't have something at least halfway ready to go or a very quick and easy meal to throw together, it is freaking hard to make dinner happen.
Some nights we simply do not have time, or he is super tired and fussy and it's not even worth the effort, and ends up going to bed super early. I know he is being offered solids twice while he is at daycare, so if dinner doesn't happen, I don't stress over it, but it is a goal to try majority of the time so I can do things my way and offer certain foods. It's one of those things I'm just trying to let go of control of because it's just really damn difficult, haha. If you're in the same boat, SOLIDARITY.
did you freak out about choking? i like the concept but i'm too nervous
I was definitely a little nervous about choking, but from all the resources I used to educate myself beforehand, I felt a lot better about it. Keep in mind there is a huge difference between choking and gagging. Gagging is completely normal and protects them from choking. They will gag more early on as they are adjusting to eating solid foods as opposed to just liquid breast milk or formula. If they take a big bite of food, it is easy to feel a little nervous about it, but they will most likely gag and then spit out the majority of it.
Ease yourself in slowly with easier foods like mashed avocado or mashed banana, mashed sweet potato, etc. Also, not sure if it is helpful or not to know that babies can choke on purees too – not just solid foods.
You will continue to offer soft foods – nothing hard or crunchy – so they can safely swallow them. Things like scrambled eggs, or well-cooked rotini/shape pasta with a little bit of sauce can be good things to try next!
Every time you watch them eat, you will gain confidence in their ability to chew and swallow a variety of foods. I promise. It just takes time and practice!!!
did rhett ever just gag when anything besides pureed foods were in his mouth?
He still gags randomly and he has been eating solids for 2.5 months. Again, it's a normal part of the process and they are still figuring out how to eat, how much food they can handle at once, etc. So yes, he does occasionally! But not as much as he did in the earlier weeks!
Q. my LO will get a small bite of something and gag / not mash it up and swallow – tips?
Rhett sometimes does this. It is called "pocketing" I believe, where they will kind of store food in their cheek or just keep it in their mouth and not swallow. A few times this has happened when we didn't realize it, and then laid him down to change his diaper and freaked out about him choking because he still had food in his mouth 15 minutes later!!
Thankfully this has gotten better over time, too. Unfortunately, I'm not sure exactly how to prevent it. (If you know any good tips, please feel free to share.) What we always do is just try to sit and eat with him, really exaggerate our own actions when eating — like putting the food to our mouth, showing him chewing, swallowing and then opening our mouth to show the food is gone, haha. Gross, but maybe it helps?? WHO KNOWS! The silly things we do as parents! Haha.
do you feel like it's a lot of extra work to prepare his food?
If I'm being completely honest, sometimes yes. He is still not able to eat 100% of what we eat or there are certain things I don't feel comfortable giving him yet. For the most part I can give him modified versions of what we are eating, like if we are doing a Mexican dish and having black beans, I can mash up the black beans for him and mix with some breast milk or Greek yogurt, or if I'm making roasted sweet potatoes, I can make him some also, but I usually peel them for him, etc.
If I roast other veggies, like cauliflower, I feel like it gets too crispy and I feel more comfortable steaming him some cauliflower separately and giving him that. So sometimes I do end up preparing separate things or just taking an extra step to make something safe for him to eat. It is definitely an adjustment and requires some more planning and intentionality ahead of time for the week. But, it has gotten better with time, and I ALWAYS have super easy backup stuff I can give him if I need to, like avocado, Greek yogurt, eggs to scramble, banana I can mash up, oatmeal, whatever.
final tips
Try to minimize distractions during dinner time – no TV, try to stay off devices as much as possible, etc. and one of the best things you can do is sit down and eat together. They will learn so much from watching you, AND kids tend to be less picky when they have family meals + the parents are modeling eating a variety of foods!! Motivation for everyone to eat well. 🙂
I hope these Baby Led Weaning Tips and Resources will be helpful for you and your baby in your journey of starting solids! Did you learn anything? Planning to snag any of the items I mentioned or utilize any of the resources I linked? Be sure to tag me on IG at @wellnessforthewin so I can see! It means SO much when you share and let me know that my content benefitted you in some way!
Thanks so much and happy eating!
Shanna