How To Make Cold Brew Coffee At Home
This post is apparently overdue because I've been getting more and more questions about it lately. I have a two-minute YouTube video tutorial on How To Make Cold Brew Coffee At Home, but figured I'd add the "recipe" and additional info here for you!
Cold brew maker linked here:
Check out the video here:
how to make cold brew coffee at home
In case you didn't know, it is SO EASY to make cold brew at home and it has saved us TONS of money since we aren't running to Starbucks all the time anymore. It is seriously delicious and I have almost come to prefer it over Starbs!!! Crazy, I know.
Don't get me wrong — we still like to treat ourselves to the fancy stuff occasionally, too. 😉
I can only speak to how to make it using the specific cold brew pitcher that we have, but I highly recommend purchasing it because it has been worth every penny.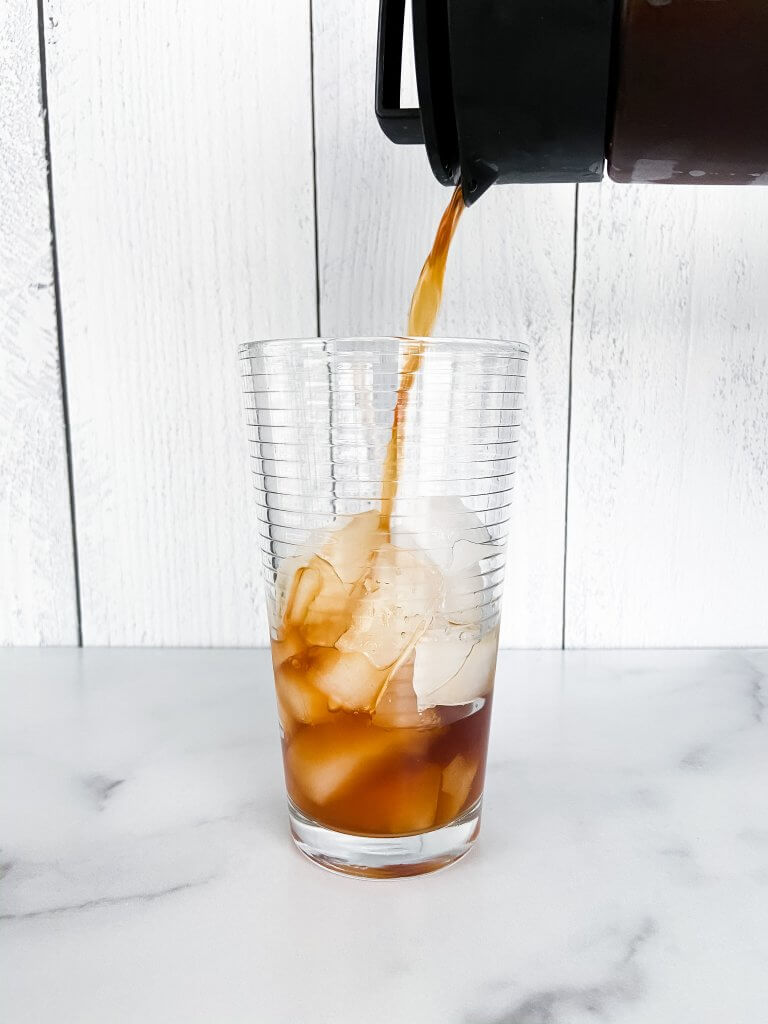 Scroll down for the "recipe" for this homemade cold brew coffee.
is cold brew stronger than regular coffee?
This is an important question to address, because when we first got our cold brew maker, we were putting 2 cups of coffee grounds in the filter (per the instructions) and it was SO strong.
We didn't realize that these were the instructions to make a cold brew "concentrate" and you were supposed to dilute it with more water after serving.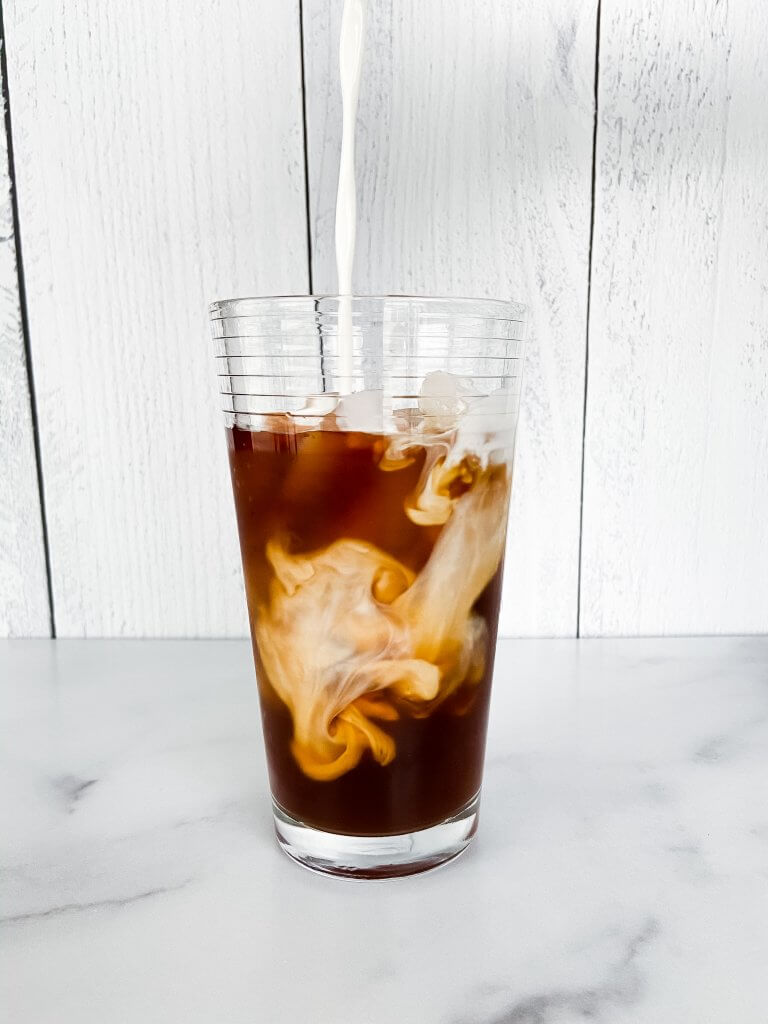 We have since switched to using only 1 cup of coffee grounds and we think it is the perfect strength. You can of course use more or less based on your personal taste. We do not dilute it with water after serving. We'll just go ahead and add half & half and stevia.
According to this article, cold brew is actually lower in caffeine than hot coffee per serving, despite popular belief. I think our homemade brew has the perfect amount. It doesn't make me jittery when I drink it (whereas the stuff from Starbucks sometimes does), but it does give me a little energy boost.
Most of all, it's delicious, and that's my main source of motivation for drinking it anyway. 😉
Is cold brew less acidic than regular coffee?
A while back I shared on Instagram that I was taking a break from coffee for a while because it was upsetting my stomach. I have IBS unfortunately, so I am fairly sensitive to certain foods/drinks.
Back then, a lot of people recommended that I try cold brew instead, because it is supposedly less acidic and therefore easier on your stomach. One gastroenterologist says that there is no scientific data to support this claim, and the difference between cold brew and regular iced coffee is negligible.
But hey, to each their own — if you notice that you tolerate it better, you do you!
I'm not sure if I have noticed a significant difference in how I feel after drinking one vs. the other. I think my gut health is just better than it was back then. *knock on wood*
what's the best drink to get at starbucks?
Yes, this post is about making your own cold brew coffee at home, but every time I go to Starbucks I get questions about my order.
Here it is: grande sugar-free vanilla iced coffee with cream + cinnamon powder on top (no classic). It never fails. Try it ASAP and thank me later.
If you haven't already checked out @themacrobarista on IG, he is another great resource for ALL the delish coffee order ideas! Even if you don't care about macros, like me. : )
What you need to make cold brew at home
You only need a few ingredients + the cold brew maker itself:
Cold Brew Maker — $28 on Amazon (originally $35, but it appears it is permanently on sale, haha!); we have the 2 Quart and are thinking about getting a second one because we drink so much LOL. One for Ethan, one for me. ; )
Any ground coffee you like — we get the French Vanilla ground coffee from ALDI
Sweetener of choice (optional — we love liquid Stevia from Trader Joe's)
Half & half or creamer of choice (optional)
CLICK HERE to watch my super quick (2 minute) & easy YouTube video tutorial for making this cold brew if you need a visual. Be sure to like & subscribe while you're at it! ; )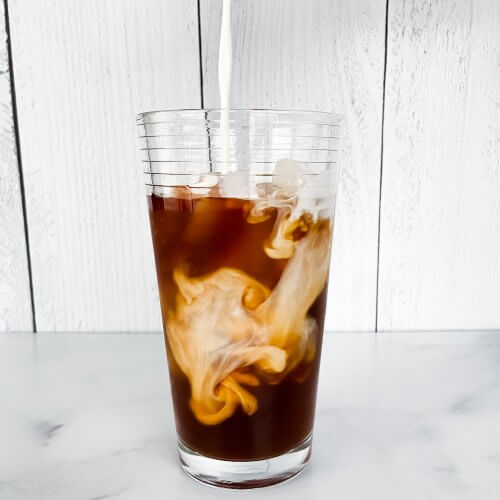 Homemade Cold Brew Coffee
It is so easy to make delicious cold brew at home and you only need a few ingredients. This will save you tons of money on going out for coffee!
Ingredients
Water

fill pitcher most of the way

1

cup

ground coffee

French Vanilla or flavor of choice

3/4

cup

half & half

or creamer of choice

1

Tbsp

sweetener of choice

optional
Instructions
Fill your 2 Quart cold brew pitcher almost to the top with water (leave enough space to add filter back to it and not overflow).

Add 1 cup of coffee grounds to the coffee filter. Screw the lid onto the filter and insert it back into the water. Screw the top lid on tightly.

Let cold brew sit in the refrigerator overnight or about 12-18 hours. You can either let it sit upright or on its side. Shake it well before serving.

Pour cold brew over ice, preferably in an insulated cup.

Add creamer and/or sweetener to cold brew if desired. Enjoy!

Note: we leave the coffee grounds in the filter until the pitcher is empty, then discard them and rinse well. We do run it through the dishwasher every couple batches, as it is dishwasher safe.
Nutrition
Calories:
39
kcal
Carbohydrates:
1
g
Protein:
1
g
Fat:
3
g
Saturated Fat:
2
g
Cholesterol:
11
mg
Sodium:
12
mg
Potassium:
39
mg
Sugar:
1
g
Vitamin A:
107
IU
Vitamin C:
1
mg
Calcium:
32
mg
If you want some yummy breakfast recipes to eat alongside your cold brew, click here for banana bread, muffins, cinnamon roll recipes and more.
Now you know how to make cold brew coffee at home! I told you it is the easiest thing ever!
I am confident you'll love it as much as we do. Let me know if you try it! If you have any questions, drop them below!
Enjoy,
Shanna