Healthy Banana Bread Recipe
This Healthy Banana Bread Recipe is the first recipe I posted on my blog all the way back in May of 2015 when I first started! I believe it was one of my Grandma Cookie's old recipes, but of course I made a few modifications to make it healthier. ; ) She's probably rolling over in her grave because of it. Sorry Grandma – love you!
Despite the modifications, this recipe has always been a crowd pleaser! Even among my family members who like to resist my healthy substitutions as much as possible and/or refuse to admit they like something if they know it has been *healthified*.
Anyone else have family members like that?! Usually it's just better if you don't tell them. ; ) Especially for things like my Fudgy Black Bean Brownies… which are also very popular. And no, they don't taste like beans!!! Promise.
why I make this healthy banana bread all the time
The first and most obvious reason is because it's freaking delicious.
But also, we seem to ALWAYS have bananas that start turning brown before we have a chance to eat them. Luckily, those are the best bananas for baking all kinds of goods! Banana bread, banana muffins, pumpkin banana bread, baked oatmeal… to name a few.
Back when I lived at home with my parents, they pretty much always begged me to bake banana bread once the bananas started getting spotty. I am a total people pleaser, so I pretty much always obliged. I got to benefit from it, too, so I didn't have a big problem with it. ; )
Now that I'm married, the tradition continues! Although I tend to pressure myself to do it these days, haha. Ethan definitely doesn't complain though!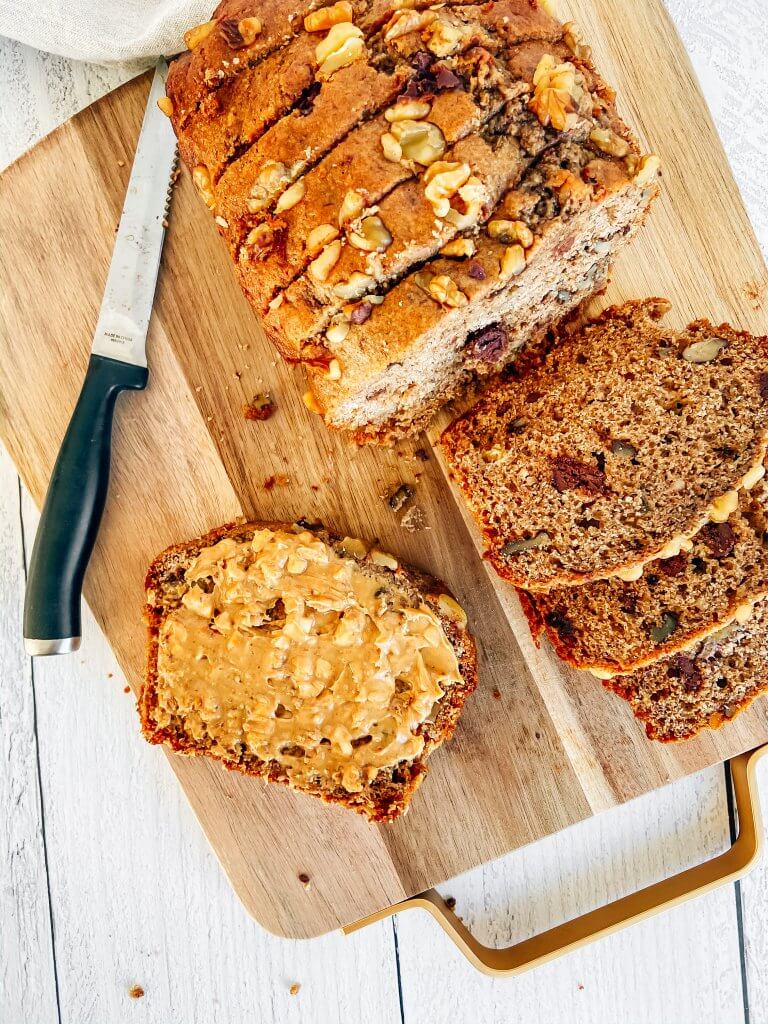 what makes this healthy banana bread recipe "healthy"
This banana bread is made a little bit healthier because it doesn't contain large amounts of refined sugar or oil.
Keep in mind that honey still counts as "added sugar", just like white, refined sugar does; however, I know some people do prefer honey since it is a more *natural* form of sugar.
Other ingredients found in this banana bread:
100% whole wheat flour
Plain Greek yogurt
Unsweetened almond milk
Eggs
Honey
Walnuts or other nuts (optional)
Dark chocolate chips (optional, but highly recommended)
optional mix-ins and serving suggestions for this healthy banana bread:
I typically stick with chopped walnuts and dark chocolate chips for my mix-ins/toppings in this banana bread. However, the possibilities are endless!
You can add any type of nut you like — pecans, almonds, etc. You could even add in blueberries if you'd like to get some extra fruit in.
I love to serve mine warm with some peanut butter or almond butter spread on top, and I typically eat it alongside some scrambled eggs, for a healthy, balanced meal!
how ripe should bananas be for banana bread?
The best banana bread bananas should at least have some brown spots on them. The more ripe, the better! (Ripe = more brown.) If they are green, they are not even close to ripe, and shouldn't be used for banana bread for several more days!
If you ever have super ripe bananas and don't have a chance to bake something out of them, don't throw them away! Peel, break in half and freeze them in a freezer-safe bag for later use in a yummy peanut butter banana smoothie. You could also let them thaw and use them for this banana bread or any other baked good.
how do you keep banana bread moist?
Store banana bread in an airtight container or sealed Ziploc bag in the refrigerator so it doesn't dry out.
how long does banana bread last?
I usually keep mine in an airtight container in the refrigerator for up to 3-4 days; however, I like to go ahead and freeze most of it within a day or two so I don't have to worry about it spoiling before we have a chance to eat it all! Sometimes it can be hard to go through it with just two of us, so freezing is a great option.
To freeze, I will wrap it tightly in foil, and then place it inside a sealed freezer-safe Ziploc bag. It will stay good in the freezer for months! You can either slice it before you freeze it or freeze the loaf whole. If you freeze it whole, you can thaw it in the refrigerator overnight and then slice once it is soft. Just place in the microwave for 30 seconds or so to reheat!
inspiration for this healthy banana bread recipe
Like I mentioned, this banana bread recipe was inspired by my Grandma's old recipe, combined with this version from Cookie + Kate!
I made a few changes such as using plain Greek yogurt in place of oil, as well as unsweetened almond milk. I also added chopped walnuts and dark chocolate chips, because what is banana bread without nuts and chocolate?! #amiright
Okay, here we go!
Healthy Banana Bread Recipe
This Healthy Banana Bread Recipe is made with 100% whole wheat flour and naturally sweetened with honey. Spice it up with your favorite mix-ins, like chopped walnuts and dark chocolate chips! Delicious, easy to make and family friendly.
Ingredients
1/4

cup

plain Greek yogurt

½

cup

honey

2

eggs

2

bananas

large, mashed (or 2.5 medium)

¼

cup 

unsweetened vanilla almond milk

or milk of choice

1

teaspoon

baking soda

1

teaspoon

vanilla extract

½

teaspoon

salt

½

teaspoon

ground cinnamon

plus more to sprinkle on top

1¾

cups

whole wheat flour
Optional Mix-Ins:
1/3

cup

chopped walnuts

or pecans

1/4

cup

dark chocolate chips

or blueberries, dried cranberries, etc.
Instructions
Preheat oven to 325 degrees F. Grease a loaf pan with non-stick cooking spray.

In a large bowl, mix the Greek yogurt and honey using a whisk. Add the eggs and beat well.

In a small bowl, mash the bananas using the whisk and stir in the almond milk, then add to the large bowl and whisk to combine.

Add baking soda, vanilla, salt, cinnamon and whisk to blend. Switch to a large spoon and stir in the whole wheat flour, just until combined.

Gently fold in any additional mix-ins, such as walnuts and chocolate chips.

Pour the batter into the loaf pan and sprinkle cinnamon on top, and/or additional chocolate chips/walnuts if desired.

Bake for 50-60 minutes, or until a knife inserted into the center comes out clean. With mix-ins, mine is usually done around 60 minutes, but all ovens are different! I would suggest checking around 50 minutes and adjusting time accordingly.

Once bread is ready, let it cool for 10-20 minutes before slicing, and enjoy!

See post above for storage/freezer instructions.
Nutrition
Calories:
176
kcal
Carbohydrates:
32
g
Protein:
5
g
Fat:
5
g
Saturated Fat:
2
g
Cholesterol:
28
mg
Sodium:
212
mg
Potassium:
195
mg
Fiber:
3
g
Sugar:
16
g
Vitamin A:
52
IU
Vitamin C:
2
mg
Calcium:
37
mg
Iron:
1
mg
I hope you all love this classic Healthy Banana Bread Recipe as much as my family does and that it can become a staple in your household, too. : )
Please be sure to tag me in all of your delicious creations on Instagram @wellnessforthewin, pin this recipe on Pinterest, and be sure to leave a rating and review if you have a chance to try it! Thanks for your support!
XO,
Shanna